With the advent of advanced CMS like WordPress, you don't need advanced technical knowledge like coding to build a website or blog. You can buy a domain within five minutes, install WordPress manually in the next five, and then select a desirable theme for your website.
Choosing a WordPress theme must be an informed decision. You have to take care of certain factors, including:
Mobile-Friendly:
Your WordPress theme must be responsive and mobile-friendly. It means that it should adapt to all devices (desktops, tablets, smartphones) for the best user experience.
Easy Customization:
WordPress theme should be easy to customize and personalize. As a lawyer and Attorney, you must accept that backend internet frameworks can have a learning curve.
LawBlog is a responsive, multi-purpose and HTML5 / CSS3 WordPress theme specially designed to fulfill the needs of lawyers, attorneys and legal firms. LawBlog WordPress theme delivers a modern, responsive, elegant and sophisticated web design that will boost your professionalism to an entirely new angle. This theme uses Font Awesome, Glyphicons, daneden/animate, SmartMenus jQuery Plugin, and Bootstrap as a design tool. Additionally, LawBlog also includes several internal layouts for your convenience.
LawBlog Theme's homepage is fully customizable through the admin area to meet your requirements. The homepage also includes an attractive slider and a contact us section.
With LawBlog's lawyer demo site, hundreds of successful lawyers, attorneys, and legal firms have created their modern, and functional websites. With latest SEO enhancements throughout this robust theme, your legal website will get top ranking in no time at all. You do not need to do any more effort for your website SEO. Try LawBlog on for size, and see how well your legal business adjusts to the top shelf!
LawBlog Theme main Features:
If you're looking for a responsive WordPress theme, here are the features that LawBlog theme comes with:
1. Simple Easy to Use Theme
LawBlog is a simple theme and no coding skills are required for Installation. You can setup this theme easily. It is compatible with various devices. LawBlog is a Cross-Browser Compatible theme that works on All leading web browsers. LawBlog is easy to use and a user-friendly theme.
2. Fast Loading Speed
To find the fastest loading speed of the WordPress theme, the loading time of the default website demo for each theme was measured using the PageSpeed Insights from Google. According to Google PageSpeed insights, LawBlog is a light-speed WordPress Theme and Google always encourages light-speed websites.
Desktop Speed
Mobile Speed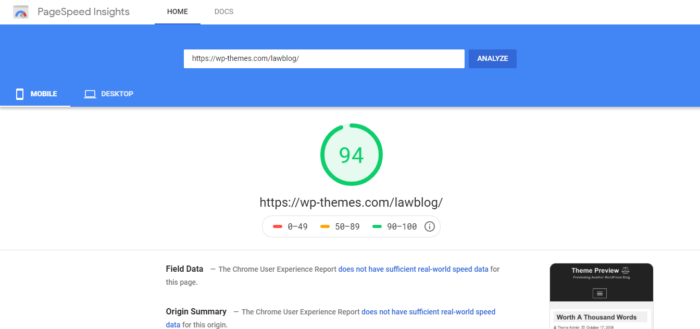 3. SEO Optimized
LawBlog Legal WordPress Theme is an SEO-friendly theme. Your website can rank in Search Engines easily without too much effort.
4. Widgets
To make your site attractive LawBlog WP Theme has two widget sections first for sidebar widget section and second for Footer widget sections.
5. Responsive and Mobile-Friendly
Mobile-friendliness is a key factor in determining your online success. So, it is important to ensure that your website passes the Google mobile-friendly test.
LawBlog by Attornist is a responsive and mobile-friendly theme and it is also optimized for all devices i.e. desktops, tablets, and smartphones. The theme was tested using the Mobile-Friendly Test from Google.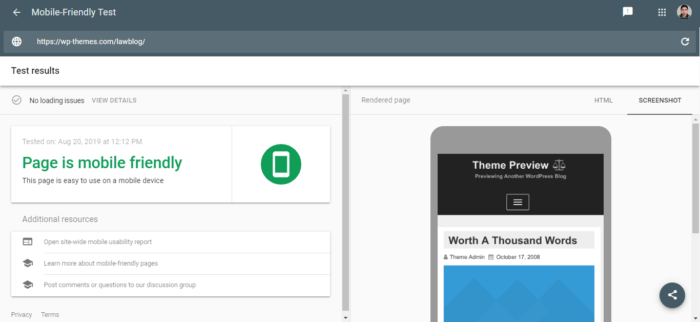 6. Customizable Header/Footer
You can set a custom menu in the header set primary location. Social media links also added in the footer section to add your social links.
Installation Requirements:
Requires at least: WordPress 4.7
Tested up to WordPress 5.2
How to Install LawBlog
In your WordPress admin panel, navigate to Appearance -> Themes and click the 'Add New' button.
Type 'LawBlog' in the search bar and press the 'Enter' key.
Click on 'Activate' to use your new theme right away.
Navigate to Appearance > Customize in your admin panel and customize accordingly.
So, we can conclude that LawBlog is simple, multi-purpose, responsive and SEO-optimized WordPress theme for lawyers or any legal firms.