WordPress is one of the leading content management systems on the market today. WordPress works best for certain types of sites. Personal portfolios, blogs, and brochure sites, for instance, are super-easy with WordPress.
Prior to 2004, most websites were designed using HTML, CSS, and PHP code but today content management systems (CMS) have taken over the industry. These web design platforms do most of the coding work for you — all you need to do is add content.
WordPress is one of the most popular platforms on which you can design an attractive and functional website. WordPress is free, flexible, and ideal for large or small-scale operations.
Thanks to well-developed WordPress plugins, you can also easily build e-commerce sites as eCommerce WordPress Theme, job boards, social networks, and other custom sites.
WHY CHOOSE WORDPRESS BLOGGING PER SE?
First of all, you no longer need to worry about knowing the code, because the WordPress blogging software does the code part for you – that's why it's one of the best website builders according to Website Advisor. When you log into your WordPress blog, you have to do only two simple things to publish your thoughts, reviews, and ideas about sports:
Write your post.
Click a button to publish your post.
You cannot say a blog is a website because there are three key differences between a traditional website (homepage) and a blog:-
Blog is extremely easy to add information to it. A blog is like an online journal, so you just log in, type what happened today, post it, and it is done.
You can add a simple little feature that automatically tells a whole bunch of another website that you have made an update to your blog – every time you make a change.
There is a "comments" system like others blog system that allows bloggers to have "conversations" with their readers by allowing visitors to post their comments or views on the topic of discussion.
So if you want to build a website using WordPress as the Restaurant WordPress Theme, this tutorial will cover up everything you need to make a website from scratch.
I realize that many of you are desiring to build a website but you may not have the technical skills or the know-how, that's okay. In this tutorial, we'll go over how to build a website using WordPress, starting with installing WordPress and then working all the way through customizing with themes and plugins.
You do not need any coding experience because we make it easy for you to build a website from scratch, just simply use your imagination and a few clicks of the mouse.
Before we start, I'll show you why you should choose the WordPress platform to build a website for your own:
Let's look at the three most popular website building platforms: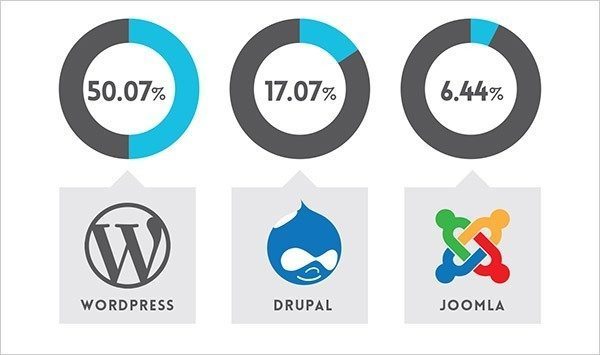 As you can see, over half of the websites on the internet are running on the WordPress website platform.
Why should WordPress be chosen to build a website?
It's totally FREE, with loads of layouts to choose from.
WordPress is Easy to Use and Learn.
WordPress is Extendable by Using Themes and Plugins.
WordPress is Search Engine Friendly and Mobile-friendly.
WordPress is Easy to Manage.
WordPress is Safe and Secure.
WordPress can Handle Different Media Types.
There's a huge support community.
What ways to use WordPress?
WordPress can be used in many different ways. It is open to possibilities. You can use WordPress as the following:
Arcade
Blog
Content Management System (CMS)
Gallery
Portfolio
Rating Website
Shopping Store
Video Collection Site
Membership Site
And much more…
It's the easiest platform I've ever worked with, but it's flexible enough to suit everyone from small business owners and freelancers to creative artists and bloggers. I hope you had your own choice to build a website. If it is WordPress, let's move on to the next steps for boosting your WordPress website from scratch.
Here is a step by step process for designing your own WordPress site.
Register for a domain name — It is ideal to pick something catchy that people will remember while also representing your business or enterprise. This is how people are going to find you on the internet.
Select and register for a web hosting service — Bluehost is a popular option that works well with WordPress, allowing for 1-click installation.
Now that you have a web host, you can log into your account and select the "WordPress" or "website" option from your control panel.
Select your domain name, click install now, and receive immediate access to your new WordPress site.
Choose a theme or template for your website. This is where you can get creative and pick a theme that suits your brand, whether it's a personal blog, a website for a restaurant, or an accounting agency. Click on your WordPress dashboard in the left-hand corner, go to "Appearances", and click "Themes". Here is a link to a list of free WordPress themes.
Now it's time to start adding content! Click on "Pages" under your Dashboard and then "Add New". Think about adding an "About Me" page, "Services", or "Contact Us". These are static pages that you will always have on your website and can be added to your menu bar.
If you have a blog for your website or you want to create dynamic pages that you plan on updating over time, you're going to want to add "Posts".
To add posts or pages to a menu bar, go to "Appearance" and then "Menus". Select a page or post you created and add it to your menu by clicking the checkbox and selecting "Add to Menu".
1. Choose a Domain Name and Web Hosting
To get a new website online, you're going to need two things:
A domain name (a web address like yoursitename.com)
Hosting (a service that connects your site to the internet)
Choosing a Domain
How to start a blog would require you to choose a name. It would seem the easiest but this should be something not to be taken lightly. Choosing a name and sticking to it would take away the hassles of renaming and moving your blog someplace else. The best names are memorable, simple, and can pass as a brand name. If you can see the name on calling cards, a T-shirt, or even a letterhead, and that is something that you can be proud of telling people about, then go with it.
Next would be if the name is available as a domain. This is the tricky part as you may need to change the name if it already exists. Because of this, creativity in naming is a must. You can refer to some domain search tools like Name fresh that can help you search for domain names.
If you get it free from a web hosting company, your domain name will include the company's name. I don't encourage you to use the "Free" domain unless your objective of creating a blog is just to create a platform to share your journal with your offline friends.
The reasons to avoid the "Free" domain and started with your domain are:-
Your domain name is easy to remember.
Your customers always know how to get to your site.
It can entice people surfing the Web to visit your site before someone else's. You can easily move your site to another host while keeping your domain name.
No web host company's advertisement on your website.
You can easily customize your look and web template at your wish.
You can get a Free domain name from these hosting website with the purchase of web hosting, 1and1 is one of our favorite web hosting company that I tested personally.
Getting a good domain extension comes next. If you cater to the local market, choose something like .com.au, or .com.ph. If your target is to service globally, then go with .com or .net. Also, check if the social media handles are available for the name selected.
Maybe these articles will be helpful for you:
Once you've bought your domain name and set up your hosting, you're well on your way!
Choosing a Web Host
For web hosting, there are many options out there. If you're a newbie and just starting out, shared hosting would best suit you. It is advisable to get a Linux based host that has CPanel so you could easily manage your domain and hosting account. For websites with major traffic, opt to go with a more robust setup that can easily support your needs and would take care of WordPress installation, site performance, and backups.
When you choose a web host provider, the service is always the key factor you should look at. I had done a lot of internet research before I selected these web hosting sites to provide the best hosting services for beginners to advanced users: HostGator, BlueHost, Host Monster, and Lunarpages.
The reason I choose them because of their reliable services, they have excellent customer service available 24 hours a day. Their uptime is 99.98%, and they had super-fast connectivity and made my web pages were loaded quickly. Secondly, its price is also compatible.
Now it's time to get your website up and running. The next thing you'll need to do is install WordPress to your domain.
Step 2: Installing WordPress
How to start a blog is made easy through WordPress. WordPress is known for being user-friendly and easy to install. It takes less than 5 minutes to set up. First, here are the things you need have and do now before you install WordPress: You should have access to your web server, you need a text editor, an FTP Client, and your chosen web browser.
Begin Installation by:
Checking your web host should have the minimum requirement to run WordPress.
You are equipped to download the latest version of WordPress.
The downloaded file should be unzipped.
A secure password should be created.
Here's a 5-minute guide for instructions to Install WordPress:
WordPress package should be downloaded and unzipped.
Make a database for WordPress on the webserver.
Create a MySQL user that has privileges for all access and to modify.
It will provide your username and password to login to your WordPress admin panel.
After login, go to the setting page and change according to your requirements.
Upload WordPress files to your preferred location on the webserver.
If you choose to integrate WordPress into the root of the domain, upload or move all contents of the WP directory excluding the WP directory into the root directory of the word server.
If you prefer your WordPress have its own subdirectory on your website, make the blog directory on the server and upload the WP package to the directory through FTP. (Note: If the FTP client has an option to convert names of files to lowercase, this should be disabled)
Access the URL in the web browser and run the WordPress installation script. The URL used should be the one where you uploaded the WordPress files.
If WordPress was installed in the root directory, you should go to http://sample .com
If WordPress was installed in the subdirectory, go to http://sample.com/blog/
Given that WordPress is so easy to install, let's go more into the details of choosing the right domain name and hosting.
Configuring WordPress Blog
Installing a Theme
Once you have successfully installed WordPress on your domain, you'll see a very basic yet clean site like this:
It's Twenty Fifteen – default theme for WordPress in 2015. But this theme is so basic and maybe you need more layouts, more features, more colors for your site, so you'll need to change your WordPress theme. Thanks for WordPress with the ability to change your theme at any time you want to. So this guide will show you the quickest way to change your WordPress theme.
To set up the WordPress theme, go to Appearances> Themes and from here, click on the "Add New" button and start choosing from the themes displayed. You can check out all themes in the theme collection. After choosing a theme, customize it by going to Appearance> Customize. Widgets are code that adds to a function that is useful for your website. Headers, footers, and sidebars can be put in using widgets.
Another way to add your WordPress theme manually is by using FTP client: (source: codex.wordpress.org)
Adding New Themes Manually (FTP)
To add a new Theme to your WordPress installation, follow these basic steps:
Download the Theme archive and extract the files it contains. You may need to preserve the directory structure in the archive when extracting these files. Follow the guidelines provided by your Theme author.
Using an FTP client to access your host web server, create a directory to save your Theme in the wp-content/themes directory provided by WordPress. For example, a Theme named Test should be in wp-content/themes/test. Your Theme may provide this directory as part of the archive.
Upload the Theme files to the new directory on your host server.
Follow the instructions below for selecting the new Theme.
Selecting the Active Theme
To select a Theme for your site:
Log in to the WordPress Administration Panels.
Select the Appearance panel, then Themes.
From the Themes panel, roll over the Theme thumbnail image for the Theme you are interested in to see options for that theme.
You can view more information about any theme by clicking the Theme Details.
A live preview of any Theme (using your blog's content) can be seen by clicking Live Preview.
To activate the Theme click the Activate button.
Your selection will immediately become active.
If you don't know what WordPress will be compatible with your business, you can check out the collection of many kinds of WordPress themes by WPArena: WordPress Themes Collections or try the Themify theme explained below.
Free Premium Theme – Themify Ultra
If you're looking for a WordPress theme, chances are it's rare to find something that is both beautiful AND free. We've partnered with Themify to offer you a free version of their most popular theme, Themify Ultra. The free version we are currently offering is a stable version of the official and most recent version of the Ultra theme.
The Ultra is loaded with a number of instant demo import sites that actually function and work for their intended use. Use their shop to market your affiliate product links and make the most of your eCommerce WordPress site. Perhaps you need to set up a quick portfolio site – this is easy using their instant demo import. Create a site with identical features and layout, and use Themify's industry-recognized Builder to tweak as much or as little as you want!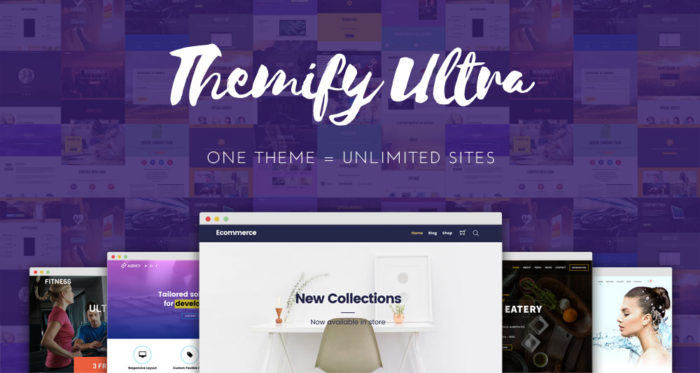 It is intended for personal and educational uses only. It has all the features of the premium version except the 12 bonus Builder Addons are not included. If you like it and would like to take your relationship with Themify to the next level, we have a 20% off coupon code for you. Please use this coupon code for your 20% off today: BLOGGERSIDEAS
Ultra Theme Features
The Ultra Theme will give users access to the following:
19+ Skins/Demos (Including the New Ultra Coffee Skin, Lifestyle Blogger Skin, Horizontal Skin for photobloggers, and so much more!)
12 Free Bonus Builder Addons (Not available in this free, educational version of Ultra)
Use On An Unlimited Number of Sites
Access to One Year of Downloads, Updates, and Support
30 Day Money Back Guarantee!
How to Install Themify Ultra:
Download the themify-ultra.zip and save it on your computer (don't need to extract the zip file)
Go to Dashboard > Themes, click "Add new", then click on the "Upload Theme" button
Upload the themify-ultra.zip and activate it
Themify Ultra documentation: for more information on how to use the Ultra theme, refer to their Ultra theme documentation.
Example: If you're running an eCommerce site, this collection is for you:
Or you need an effective marketing strategy in the restaurant and food business? Check out this list: WordPress Restaurant Theme…
Menus are very important for websites. For most websites around, you can see the menus on the top of the screen which mostly has pages "About", "Contact Us", "Services" etc. You can choose any page you'd like to put in your blog. The positioning or placement of the menu would be dependent on the theme was chosen. Tips for a good menu: it should be intuitive, concise, and a representation of what your site has to offer.
Background usually comes in plain colors. Keep it simple.
Installing Plugins
Adding new Plugins such as social sharing enables you to share content all across different social sites and spread the word out that your blog is great. Other plugins can be for security, maintaining a portfolio for images, or contact forms.
Next, you need to install some useful plugins for WordPress. Plugins are tools that provide additional functionality to your application.
Plugins are ways to extend and add to the functionality that already exists in WordPress.
The core of WordPress is designed to be lean and lightweight, to maximize flexibility and minimize code bloat. Plugins then offer custom functions and features so that each user can tailor their site to their specific needs.
WordPress Security
Now your WordPress site has almost completed, I think you should concern about WordPress Security.
WordPress itself is a very secure platform. However, in some cases, WordPress blogs are compromised because of their outdated core files and/or plugins which might be traceable and it's an open invitation to hackers.
How to keep your blog away from the bad guys for good? Follow these articles written by us. All of them will help you have the best WordPress security strategy.
Adding pages to your website helps in segmenting your content. By putting pages, you can customize them too and have specific templates done Pages can be made to be part of the Contact Us requirement or a landing page.
The most important of all would be content. Content should be full of value and for your readers. There are thousands and thousands of websites that may be similar to yours and what would set you apart is the content that you share with your audience. Highly popular and widely read are tutorials, how to's, Getting to know your audience is critical in choosing the best content for your blog.
Here is a great infographic.

Summary
Congratulations – you're ready to launch!
If you've followed the steps in this guide, you should now have a fully-functional WordPress website. I hope you found this tutorial really useful and easy to understand how to build a website using WordPress. If you have any questions or need further help with one of these steps or feedback anything, don't be hesitate to share with us. We'll be very pleased to answer or share our knowledge.
For more info about Premium WordPress Theme such as Transport WordPress Theme, Resume WordPress Theme, eLearning Theme WordPress,…
That's it. Thanks for reading!