OceanWP is a free WordPress theme with premium features that can make any website professional. The creators of OceanWP understood the need for an affordable and functional premium theme; thus, OceanWP was created in hopes of providing users with exactly what they wanted.
For anyone looking to build their website with a theme that is functional and contains interesting features, OceanWP is what you need. This theme has seen the greatest amount of growth since its creation and users are always satisfied when they download it because it satisfies all of their needs for absolutely no cost.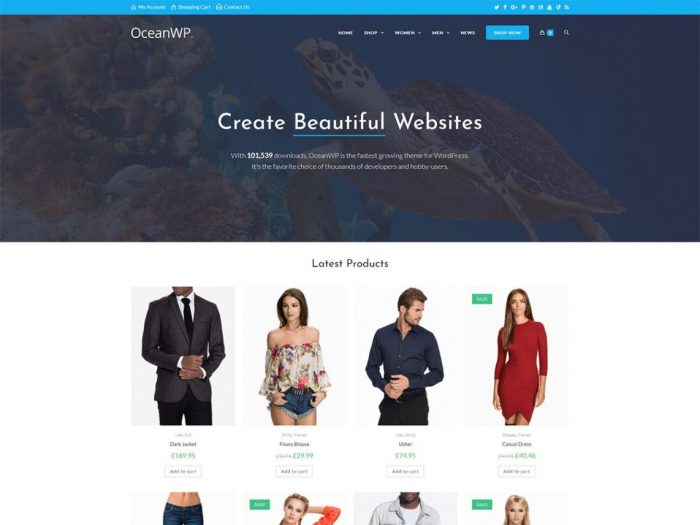 The Pros and Cons of OceanWP
A customizable and free WordPress theme, OceanWP can help any website become an attention-grabbing masterpiece.
Using OceanWP as a website theme presents the following pros:
OceanWP is lightweight, so there will be no impact on a website's performance or speed;
The website's data will always remain safe because this theme has a clean code;
This theme is highly responsive, so it will instantly adjust to the screen size;
OceanWP has built-in SEO;
Many different mobile menus are available;
Easy integration with WooCommerce;
Highly compatible with the WPML translation plugin;
Compatibility with PHP 7.1;
For complex menu, OceanWP has an advanced Mega Menu;
Integration with the Menu Icon;
Support for popular page builders.
These pros are highly desirable especially with the affordability of the OceanWP theme. Anyone creating a website from scratch will understand the value of such a theme; however, with so many pros, there are also bound to be cons.
The cons of OceanWP include the following:
WordPress beginners may find it a bit confusing to use the OceanWP theme because many of its options rely on option boxes in posts and pages;
Although this theme is free, its extensions of are not very affordable but thanks to their core extensions bundle that comes with fairly cheap price of $39;
OceanWP is a fairly young theme but developed by a very great WordPress dev and is backed up by a great team.
OceanWP was developed out of a GPL fork from underscore theme which is its purpose.
While the cons of the OceanWP theme show that it is not very suitable for use by beginners, the pros illustrate the versatility of this theme and how it is highly functional in the sense that it can be customized to suit the website's needs and the website developer's likings.
OceanWP Demos
In order to make the website building experience much easier, OceanWP offers a host of different one-click demos, including blogger, coach, travel, mega gym, simple, stylish, architect, lingerie, gym club, lawyer, store, personal and yoga.
Here is how you can easily import demo content:
Ocean Demo Import is a free plugin where demo content, widgets and customizer settings can be easily imported by installing and activating this plugin. Then, simply go to Theme Panel > Install Demos and choose the demo suited to the website.
The Theme Panel in OceanWP
Aside from the WordPress Theme Customizer, OceanWP comes with its own theme panel that allows for a quicker and easily accessible way to customize the theme.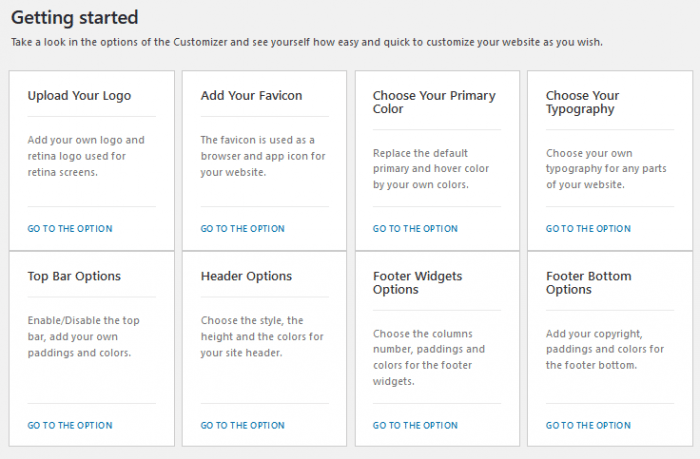 Any unneeded or unwanted customizer panels on a website can be disabled through the OceanWP theme panel; after which, other options like footer and header sections, typography and logo uploader can be accessed using the links provided.
A favorite feature of the theme panel is the typography option because the OceanWP theme allows users to change the text of their website in new and innovative ways including the font style of the content, headings, breadcrumbs, footers and menu options.
Custom images, social media icons, and logos can be integrated in the website. A mobile-only header menu can also be created (which is highly useful when building a website because of the increasing preference for smartphones over computers).
OceanWP caters to all of the customization needs that arise when building a website and this is why it has become one of the fastest trending themes on WordPress.
Extensions
In order to cater to the needs of the user, OceanWP has multiple free and premium extensions available for download. Extensions include:
Social Sharing allows for easy social media sharing by website visitors,
Woo Popup displays an advertisement when customers click the "Add to Cart" option,
Posts Slider allows for latest posts to be shared with website visitors,
Sticky Header extension which is the most popular extension,
Sticky Footer attaches a footer to the bottom of the website screen,
Modal Window allows for the insertion of any content into modals and for the opening button to be placed anywhere the website builder sees fit.
Final Thoughts
OceanWP is one of the first themes to have gained so much popularity in such a small amount of time. A free theme with such a diverse range of features is practically impossible to find nowadays and it is this fact that has launched OceanWP into the abyss of fame and popularity.
A large amount of help is available online for making the effective use of OceanWP easier for people who have downloaded the theme for the first time. Everything from Youtube tutorials to a comprehensive FAQ section ensures that website developers do not have to waste time in trying to figure out the functions of this theme.
For website developers who need a theme that serves many different purposes while maintaining the integrity of the website's content and performance, OceanWP is the best option. It is affordable, packed with multiple features and can improve any website.