WordPress this day is the most widely used and most user-friendly Content Management System (CMS). This CMS has grown from a simple content editing platform to a massive industry, allowing users to develop thriving online businesses in related industries.
To further strengthen its position as the industry leader, WordPress is completely revamping its content editing feature. The WordPress classic editing environment has been excellently simple, being inspired by native electronic document editors like Microsoft Word.
Though highly appreciated by the average user, the simplicity of the editor, however, lacks the capacity to enhance the creation of visually compelling online documents. This weakness inspired the development of drag & drop content editors by some fast thinking, high-end WordPress users.
For years, drag & drop content builders have constantly simplified the creation of beautiful and more engaging posts and pages in WordPress. But the recent introduction of Gutenberg and its blocks approach seems to announce dark cloud over the future of drag & drop content builders.
What is Gutenberg?
Gutenberg is the name given to WordPress's new editor.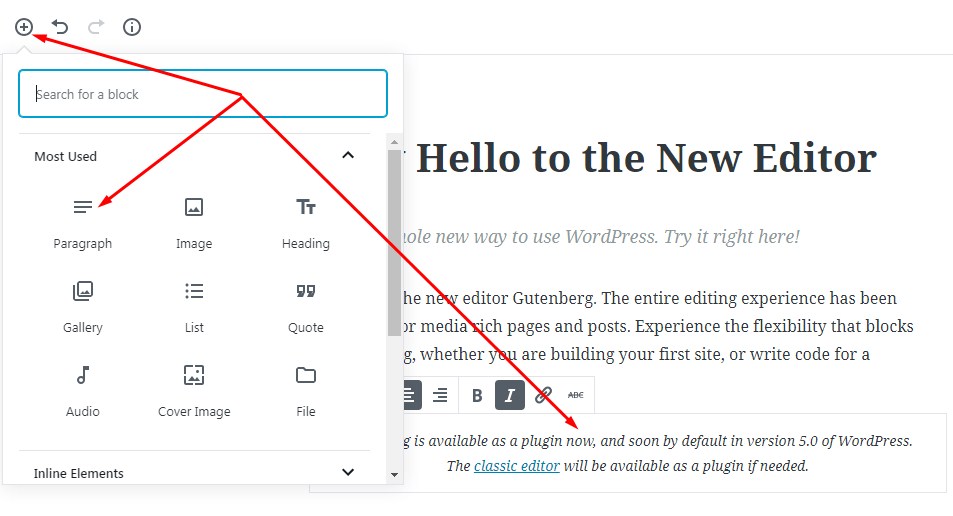 Gutenberg allows editors to create content easily by adding and editing blocks. There are different block types, depending on the type of element you want on the page:
Paragraph
Images
Audio
Buttons
etc.
Each block type has its set of tools allowing users to manipulate the block content:
Gutenberg Paragraph block

Gutenberg Image block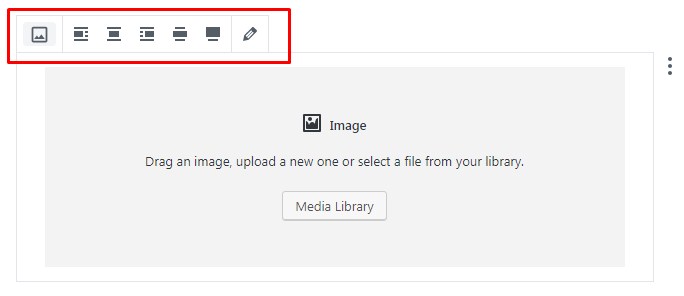 Prior to WordPress version 5.0, Gutenberg is a plugin. From Version 5.0 onward, Gutenberg will be enabled as default editor while the classic editors will still be available as a plugin.
Does this mean anything to content plugin developers?
Definitely!
Content plugin (including drag & drop) developers will have to rethink.
According to Yoast, Gutenberg is stage one of a three-pronged roll-out strategy:
Stage #1: Redeveloped editor (Gutenberg)
Stage #2: Page templates
Stage #3: Full site customizer
The long-term impact of these changes may have a huge result on both WordPress Plugins and Themes developing companies.
But at this point, we are just interested in seeing how it goes with content editing plugins.
Gutenberg Vs Drag & Drop content builders
I have had experience with different WordPress content builders in the past like Beaver Builder, Elementor etc… Basically, they all do the same thing with minor differences in design and approach.
Like Gutenberg, content editors work with blocks of different content types. Each block gives you a set of tools to interact with its content.
Besides providing tools to handle content in blocks, both Gutenberg and traditional drag & drop tools provide a set of tools to format the block containers – Block settings: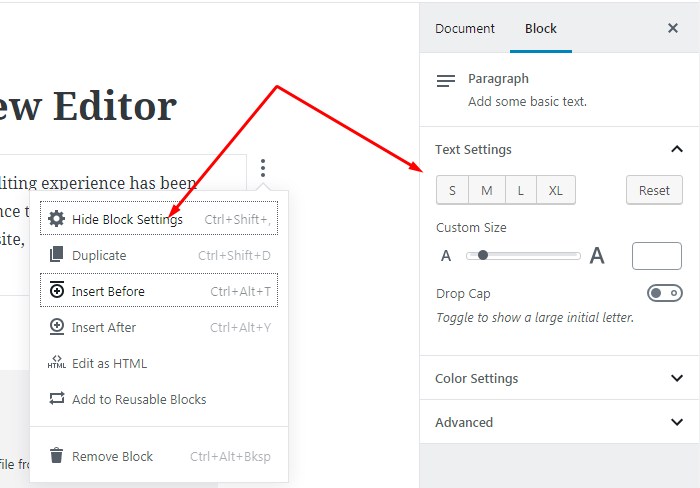 A quick look at Thrive Architect (drag and drop builder)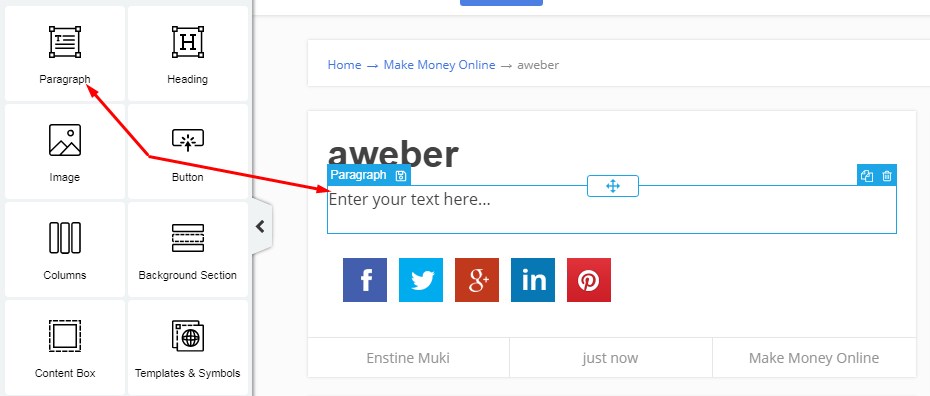 Like Gutenberg, we have our blocks ready to drag and drop. Each block's content, as well as its settings, can be edited accordingly with ease.
At this point, I don't seem to find out any major difference between Gutenberg and Drag & Drop Content Builders, logically.
Thrive Architect, however, has a slide edge over Gutenberg by offering a Landing Page facility and many more block types:
Social media buttons block
Credit cards block
Quick phone call block
Lead generation block
Star ratings block
Testimonials
Google Map
Facebook Comments
Pricing tables
Tabs
Background section
Etc
A place in the market
Content builders as we know are not free. As a matter of fact, you can get some from the WordPress plugin repository for free. For the most part, these are just baits. You will be expected to upgrade to premium to access some premium features.
Gutenberg, on the other hand, is open source. Anyone can use without paying a fee. 100% of the plugin is available.
Now, if both offer the same things to the community, why pay a price for something you can get for free with no side effects? However, if Drag & Drop content plugins have to survive the threat, they will have to throw in more block types.
Beyond the Content Area
Drag & Drop editors and Gutenberg are content editors. They both allow writers to develop and make changes that affect the content on their websites.
This absolutely has nothing to do with the template of your blog. With these tools, you won't be able to carry out changes on your sidebars or change the way your overall site looks.
However, if the second phase of the Gutenberg update aims at expanding to the complete theme of your site, this means content builders have to seriously adjust. As thrive themes announced its theme builder, we all wait to see how the battle of leadership rolls out.
The end result
What the WordPress core team seeks is to make the tool the best choice for every content marketer. The best approach, in my opinion, is not to compete with folks that seek to help them hit their target.
I'm not against introducing smart ideas to make the user experience more exciting. As an avid WordPress user, I applaud the restless effort from the team to make new things happen.
But I think coming up with an update that menaces businesses that are directly connected to its core is fighting against its own ambitions.
WordPress is still very simple to deal with
Setting up a WordPress site is one of the simplest things to do online. However, I understand it's still a hard shell for some to crack. I recommend getting in touch here and allow WPArena Team to do the job for you.
For beginners who don't know where to begin, Susan Valez published this guide on my blog. I think it's an exciting read.
The Classic Editor will still be available
Note as I mentioned above that the WordPress classic editor will still be available as a plugin from version 5.0. How long the team plans to maintain its compatibility with the whole system is something I hope to get in the near future.
My thinking is that at one point, the classic editor will become history. Some folks are still going to be sticking to it with time until obliged to quit. So I encourage already playing around with Gutenberg so you don't get embarrassed when it finally becomes the only option.
Other WordPress related businesses affected by Gutenberg
As WordPress is fast becoming (almost) everyone's choice, many businesses have setup to take care of the fast-growing industry. Some of these include:
Theme development: Maybe seriously affected with the second and third phases of the Gutenberg update.
Plugin development: Plugins that don't interact directly with content may not have a major impact.
Training Platforms and books: There will be serious need to upgrade
WordPress Hosting businesses: May not have a significant consequence. One of my blogging friends, John Hughes, made an exciting compilation of some top WordPress host to consider. Check out the document here.
Conclusion
What do you think is the future of content editors with the coming up of Gutenberg? Drop your comment and let's have a chat.