Today WordPress Page Builders are the most preferred choice of developers worldwide. It can be used to develop many things, starting from simple pages to the most complex ones. Apart from WP Page builders, some other free tools are available, too, the largest among them being Drupal and Joomla. But developers choose WordPress because of some simple yet powerful reasons given below.
Simple setup
Simple customization
Easy to use
According to most developers, WordPress boasts the most user-friendly interface. Knowledge of any code is hardly required to get a standard WP website up within a short time. The function and appearance can be modified in minutes by using themes. Plugins are pretty simple, and the appropriate one can be found by searching in the admin console.
Following are the comparison of various aspects of the top 3 WordPress Page Builders.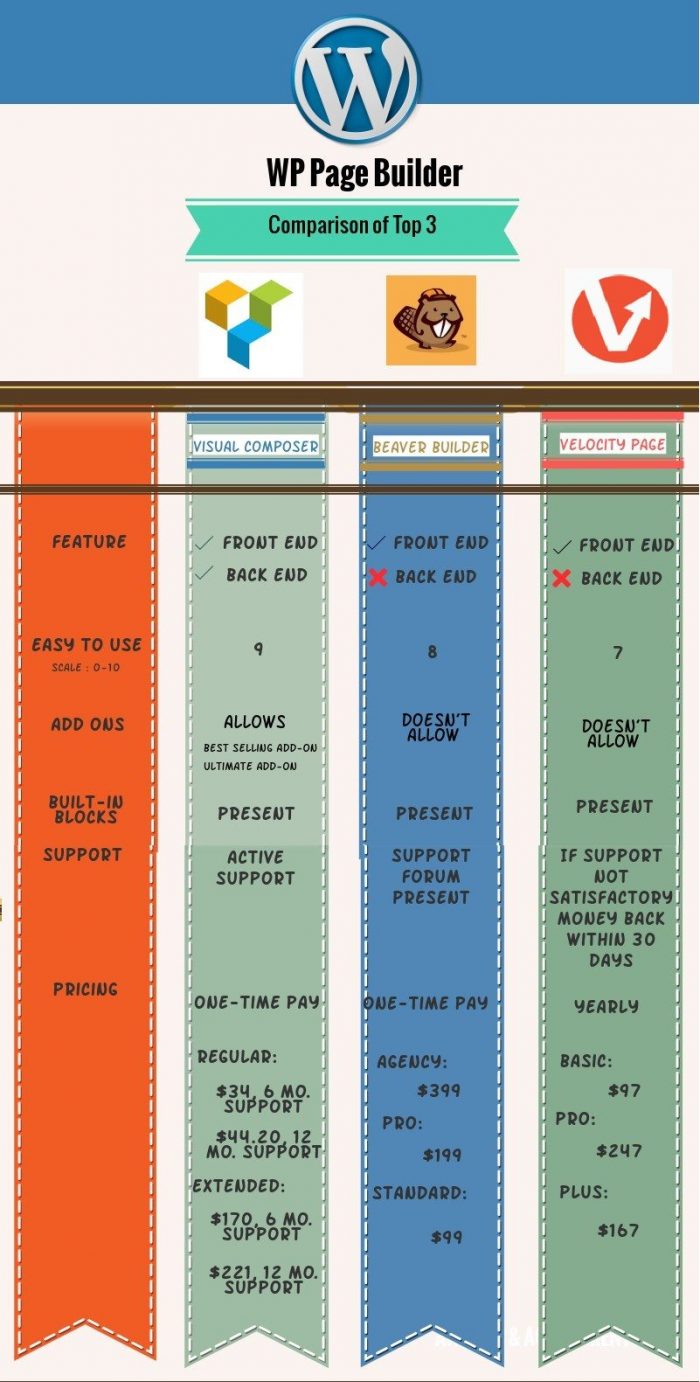 1. Visual Composer
Features
Visual Composer empowers you to alter content on the front-end or the back-end. No wonder it's a preferred choice compared to most of its opponents, as they only allow you to design pages using either the front-end or the back-end. Visual Composer comes with a mind-blowing span of content elements as well. The range includes multimedia components for images and videos, social media sharing buttons, and components related to content like post carousels, post grids, and post sliders. Support for "call to action" buttons is also provided.
Usability
The interface of Visual Composer on both the front-end and the back-end is designed in a simple, easy-to-use manner. It should ideally take 15 minutes after installing the Visual Composer to properly understand the relevant processes of adding content components and placing them into columns and rows. Although this plugin is very user-friendly, it'll take a few hours for the developers to create customized pages according to your needs and preferences. At first, you have to understand the choices that come with each content element. Some pre-loaded templates come with the plugin to speed up the process. It's advisable to load such a template first and spend time with it to shift objects around and twist content elements, etc. This way, you'll be able to know the working process soon.
Support
Visual Composer has been on the market for years, though the plugin is updated regularly with fresh features. As it's the best seller among all plugins on CodeCanyon, you can be assured that it'll get active support for some years. WP Bakery provides an extensive "knowledge base" on its website that can help you learn the use process. Developers also answer customer queries through a committed "ticket support process," and comments are actively responded to, daily, on CodeCanyon. Visual Composer doesn't charge any yearly fee. So, once you buy the plugin, you'll be able to receive updates and support for a lifetime.
Add-Ons
"Ultimate" is the bestselling "add-on" on CodeCanyon. Each element in this package is created with the ultimate attention paid to the details to provide you with the best experience. Add-on components consist of Info Box, Icons, Info List, Counter, Flip Box, Modal Popup Box, Interactive Banner, Extended Google Maps, and Timeline. The row backgrounds feature Vertical and Horizontal Parallax, Fixed Image Background, Video Background, Hover Parallax, and Multilayer Hover Parallax. With the help of WordPress Icon Fonts Manager, you can modify the Fonts of your Icon and search for Icon Fonts in your library.
Built-in Blocks
Visual Composer comes with more than 40 pre-loaded content blocks. These include Text Block, Text Separators, Facebook Like, Pinterest, Single Image, Call to Action, Video Player, Google Maps, Pie Chart, Media Grid, etc. Unfortunately, it comes only with JavaScript files that save bandwidth and time.
Rates
In an almost saturated market of page builders, Visual Composer can easily be considered the most favored and best choice available to WordPress users. The user-friendly interface and excellent-looking content elements make it a prominent one. Unfortunately, unlike some free page builders, visual Composer doesn't have any option to insert the widget into pages.
2. Beaver Builder
Features
The Beaver Builder is compatible with any WordPress theme, including the custom designs. It allows you to develop pages from the front end. The main benefit of this front-end development is that it saves you from having an imaginary view of the page's look. Beaver Builder comes with a selection of 11 inner page designs and 12 pre-loaded home pages. The page designs include templates like services, about us, contact, portfolio, etc., and you can fully customize all designs according to your needs. Unlike many other page builders that you can use only on a single website, you can install Beaver Builder on all websites that you handle.
Usability
Once the Beaver Builder plugin is activated on your website, you're on. A set containing small options is there to help you configure it, but they won't take much of your time. The settings menu lets you decide the page templates, modules, and post types.
To initiate the builder, you must create a new post or a page. Then hit the tab marked "Page Builder" or click the link mentioned "Page Builder" available on the post list screen.
After launching Page Builder, the view changes to the front end of the site, and now you are free to select any of the pre-loaded 12 home page design templates or 11-page designs that contain content.
Three modules are available in Beaver Builder: WordPress widgets, advanced and essential. The first category shows all of the active widgets of your website, including the fundamental WordPress widgets and those which have been connected later. Depending upon the control system of the module, it permits you to include images and format the components and texts in various ways.
You can edit all components of the designs by accessing the context menu. Once you create the custom page design, you can save it from the Tools menu. You can use the saved designs as the beginning point when developing a new page in the future.
Support
The world-class support team of Beaver Builder provides solutions generally within a short time. But in the case of any delay, it'll take a maximum of 24 to 48 hours. Also, there is a support forum of Beaver Builder, where you can post your query or go through relevant questions and the respective answers provided by the support team.
Built-in Blocks
Beaver Builder comes with lots of built-in content blocks. Some of them are slideshows, tabs, pages, buttons, testimonials, forms, and pricing tables.
Rates
Developing web pages generally involve a lot of effort and time, especially when multiple projects are going on simultaneously. Beaver Builder allows you to create pages without touching codes. The excellent interface helps you to complete your job within a short period. Unfortunately, it doesn't allow you to fit a column inside other columns.
3. Velocity Page Builder
Features
Velocity Page is a comparatively new WordPress plugin that empowers you to create page designs and modifies those page contents from the front end. Velocity Page is compatible with WordPress pages. Thus, you can develop a new page or easily edit existing pages. You can't use this plugin on existing WordPress posts. When you enable the Velocity Page, the existing content of that page is hidden or ignored. You can use the present theme of your site or select from the pre-loaded templates.
Usability
After enabling Velocity Page for your web pages, you can modify the content only through the front end. After logging in, you'll see the "Edit" button on the page, and you can hit it to enable the modification controls. You can use the editor to view the available options before making a call quickly. Though you can alter the column row by using the button "Change item type" button, you can't modify the width of a column.
Support
Once you've purchased Velocity Page, you can be assured of their support. If the satisfaction level doesn't delight or thrill you after using it for 30 days, they'll return your money. All the support queries go through a highly efficient support ticket system, and the support team doesn't stop until they make you feel delighted.
Add Ons
Unfortunately, Velocity Page doesn't allow any outside add-ons.
Built-in Blocks
There are lots of pre-loaded blocks in Velocity Page that you can easily use to match your page design. You must use the simple "drag and drop" system to add a block. These blocks are image, MailChimp forum, media, Aweber forum, text, etc.
Rates
Velocity Page is a good option for designers and website owners looking to add some content to the pages quickly. It truly makes adding pictures and videos easier without changing the design and looks of your page. However, the price may become a constraint for some. Also, you can only design pages with Velocity Page. It is compatible with most WordPress themes, but not with all. The good thing is that you'll get your money back if your theme is incompatible with Velocity Page. It is ideal for those who have no idea about WordPress Dashboard or codes.