WordPress is a popular content management system (CMS) that efficiently controls the contents without any technical background. However, this is a multi-functioned key to open all the doors for you. If you want that people find your content easily, deep research and knowledge about Search Engine Optimization (SEO) is necessary.
Self-hosted WordPress blogs are probably the fastest way to get to the top of the organic search engine rankings. There are thousands of WordPress plugins available, but I will only discuss the best two WordPress SEO plugins.
Are you telling me that you don't know about SEO? Don't worry because WordPress will offer you a solution. All you need is to select the right SEO plugin.
There are many SEO plugins available in the WordPress repository to choose from, but you will only need a single SEO plugin for your website.
The two WordPress plugins that help with SEO and search engine rankings are WordPress SEO by Yoast and All in One SEO Pack.
Here we start discussing both plugins one by one. Let's talk a look at WordPress SEO by Yoast first.
1. WordPress SEO by Yoast
WordPress SEO plugin by Yoast is by far the most popular plugin. It includes a full range of SEO tools. It displays an SEO section below each post/page in your Admin view. This section contains all the relevant tags you want to fill in for that page, including title tags, meta description, and others.
The On-page SEO section will also give an analysis report of that page's SEO, including specifying changes that should be made to improve it. It will make suggestions ranging from issues like increasing the page's word count to noting that your keyword isn't used in any headings.
The plugin also gives each page a clear color ranking of either green, yellow, or red to tell the page's SEO quality. One can find the color of each page on the post/page listing area. This is great to get a quick visual of which pages need more SEO work.
This plugin includes other SEO tools like creating a sitemap, RSS optimization, and webmaster tools verification.
Advantages:
Fantastic UI design.
Online resource.
Extensive features.
SEO feedback.
Disadvantages:
Limited XML sitemap options.
Too many features for users.
WordPress SEO by Yoast plugin allows you to integrate with Facebook open graph and Twitter metadata to make your site friendly with social networks. This SEO plugin will provide you with custom boxes in which meta description tags and keyword tags should be filled. It will automatically check the article's keyword density, URL, title tag, and links (internal & external). Besides, you will be suggested of the location to put the most effective keywords. You can also use the inbuilt Flesch Reading Ease scale feature, which helps you optimize your readers' content and improve readability. And below are other features for your information:
Allows editing robot.txt and .htaccess files.
Easy to enable XML sitemap.
Breadcrumbs.
RSS optimization.
Import & Export functionality
Multi-site Compatible.
And many more…
How to setup WordPress SEO by Yoast
Learn how you can easily setup WordPress SEO by Yoast on your website.
Importing Data
If you are using a plugin and are not happy with it, you can switch to its alternative. If your site has data related to the plugin, you can then do a proper migration by importing data. Yoast SEO comes with an import and export tool, and it has options for importing from All-in-One SEO as well: Dashboard >> SEO >> Tools >> Import and Export >> Import from other SEO plugins.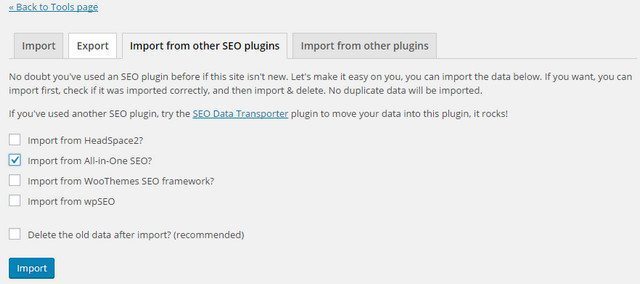 General
After the installation and activation of WordPress SEO by Yoast plugin, you will have an "SEO" icon on the left menu inside the Dashboard.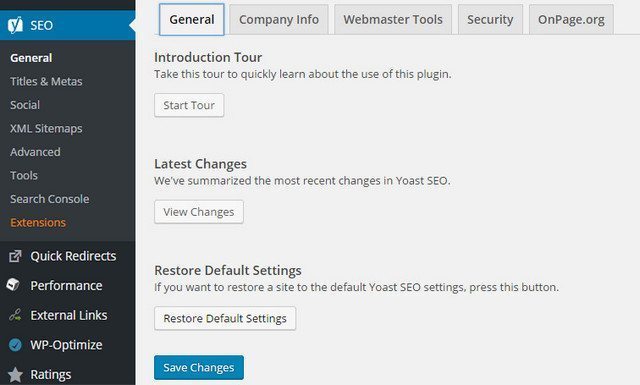 In the General part, come to the Webmaster Tools tab to add meta codes.

Titles & Metas
This section will choose your title separator that shows between your post titles and website name. People often use "|."

Social
Just fill in your Social Profile URLs to properly link your social media accounts with your site.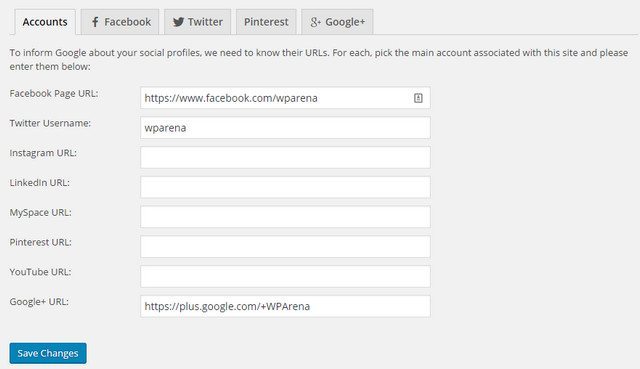 XML Sitemap
The sitemap is an essential component because it is associated with the search engines and the published contents. Make sure to select the checkbox below and the checkbox of the User Sitemap tab.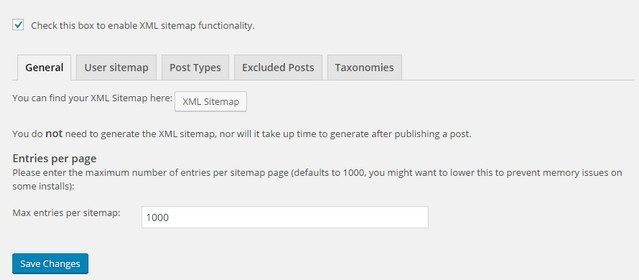 Now, please take a look at our second choice.
2. All In One SEO Plugin
The latest version of the All in One SEO Pack plugin has options for adding your WordPress blog's home title, description, and keywords. The most advantageous option for SEO is the Rewrite Titles option. This option will display the more search-engine-friendly title of your post before your blog's name in the title tag. Helping the keywords in your post title will get your post picked up first by the search engines.
Advantages:
XML sitemap options.
Unique performance optimizer.
Fewer features to get your head around.
Disadvantages:
UI design isn't good.
Too limited for SEO.
All In One SEO Plugin Features
XML Sitemap support – submit your sitemap to Google and Bing and improve your SEO
Google AMP support (Accelerated Mobile Pages)
Google Analytics support
Support for SEO on Custom Post Types
Advanced Canonical URLs
Redirect attachment pages to a parent post
Automatically notifies search engines like Google and Bing about changes to your site.
Built-in API so other plugins/themes can access and extend the functionality
ONLY free plugin to provide SEO Integration for e-Commerce sites, including WooCommerce
Nonce Security built into All in One SEO Pack
Automatically optimizes your titles for Google and other search engines
Generates META tags automatically
Avoids the typical duplicate content found on WordPress blogs
For beginners, you don't even have to look at the options; it works out-of-the-box. Just install.
For advanced users, you can fine-tune everything to optimize your SEO
You can override any title and set any META description and any META keywords you want.
Compatibility with many other plugins
Translated into 57 languages
PHP 7 100% Compatible
Check out the tutorial in a video format!
All In One SEO is a great plugin built for bloggers, magazines, online businesses, and eCommerce sites. With an All-in-one SEO pack, meta description and meta keywords will be automatically generated for you. It will also help you optimize the title and add tags to replace the post's image. By checking your site's duplicate contents, this plugin can also help you to avoid your site from being penalized in Google. Especially, this is a great plugin for supporting eCommerce sites, including Woocommerce.
Final Thoughts
The above two plugins and options and good keyword-rich titles and, of course, the original content will help you to top search engine rankings easily. Both WordPress SEO by Yoast and All in one SEO plugins are top-rated, widely used, and highly rated by users. You can check the features of each plugin individually and decide which one should be utilized.
Continued use of best recommended Google practices will get you at the top of the search engines in no time. Don't believe me? Then, try any of the above SEO plugins and follow the Google and Top Search Engine gurus guidelines.
On WordPress Arena, we use WordPress SEO by Yoast plugin because of its constant updates and improvements. And we are delighted with it.
Let me know your thoughts in the comments section below.