The design and look of your Website and blog play a very important role in building some loyal readers and getting Advertisers for your Website. The WordPress platform is a part of the Websites and Blogs. Regardless of whether you need a hand with design or development, the WordPress Theme and Plugins have you covered! With each new project, you can buy premium WordPress plugins and templates to hit the ground running.
Today, I'll review only a handful of the newest and most popular templates and plugins on sale at Mojo-Themes, CodeCanyon, and ThemeForest in no particular order.
Premium Themes

Premium WordPress Themes are our specialty. With a premium WordPress template from MOJO Themes, your WordPress CMS or blog-based site will be transformed with a fresh, clean and professional look. MOJO Themes offers a wide variety of flexible WP theme styles including magazine WordPress themes, portfolio WordPress themes and business WordPress themes. And, each premium WordPress template features detailed set up instructions, rich documentation, 24/7 support and more!
Best: E-Commerce themes and Plugins on MOJO
Most people would assume to just checkout their Magento category. The following list is sure to bring some new surprises to what's possible with E-Commerce platforms and design.
Shopping Cart For WordPress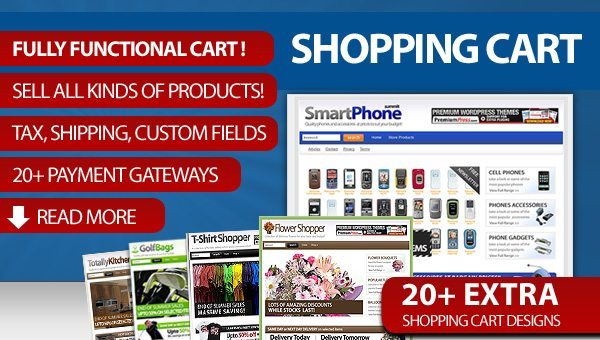 ShopperPress is a premium WordPress theme that makes it easy for you to sell almost anything online. You simply install, select your store layout (includes 20+ store layouts), add products (posts) and your ready to start accepting orders.
WP Auctions – Premium Plugin For Auctions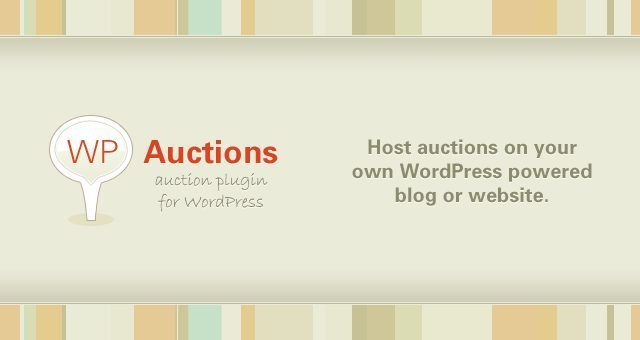 WP Auctions is a plugin that lets anyone with a WordPress powered blog or site host their own auctions. You can use it to sell anyting you like to your readers in an auction format.
Magento E-Commerce Themes:
Bookstore CD/DVD Magento Theme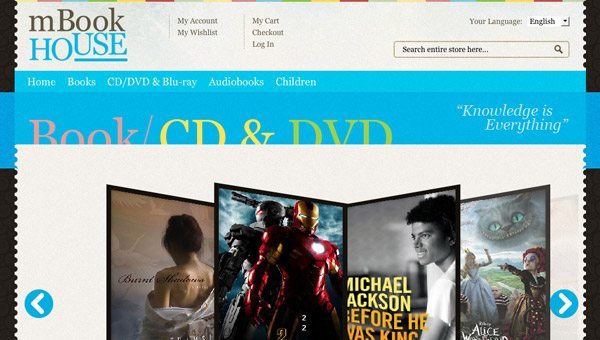 Designed with old-book style, this theme makes customers feeling they are visiting the real bookshop. The coverflow slideshow perfectly fits to show off your best-selling books and CD/DVD. This is definitely must-have Magento theme for Bookshop!
Simple Store Magento Theme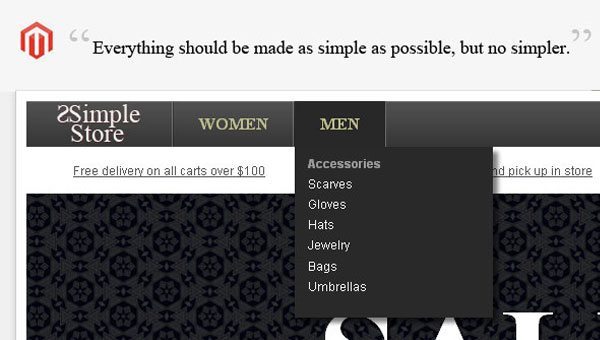 The Simple Store Magento theme was designed to sell. It touts a simple header (no space wasted) to bring your products and calls to action higher on the page.
Large gallery images to showcase your products. Large related products section to intise the user to "complete the look" and purchase 3 or 4 items instead of just the 1.
Good Soil E-Commerce – HTML Template
E-commerce theme focusing on book sales in the preview, although it could be used for a variety of products.
Digitalis – Business and Portfolio WordPress Theme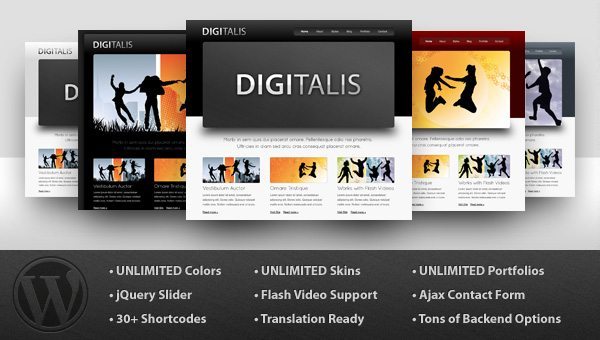 Digitalis is truly a WordPress Theme of the next generation. It is extensively customizable, it supports unlimited colors, unlimited layout variations, custom backgrounds and has a ton of backend options. The possibilities are endless. You can transform the theme till it fits your needs exactly.
Fuse Music – WordPress Theme (customizable)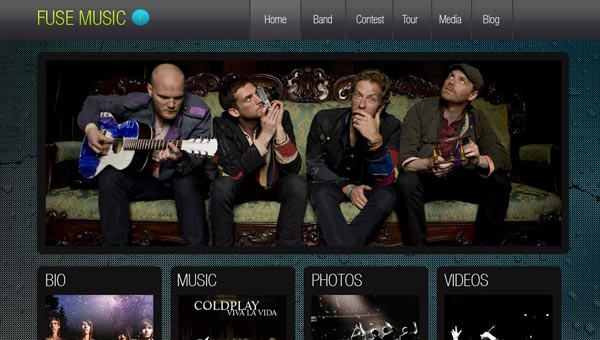 Fuse Music WordPress theme is a theme targeting Musicians. This theme was created for bands or indiviuals who are looking to create a blog or portfolio for their band or team members. This theme also uses a social media plugin which allows you to add any exsiting social media websites that you or your band are currently on/using.
Cleaner Business WordPress Theme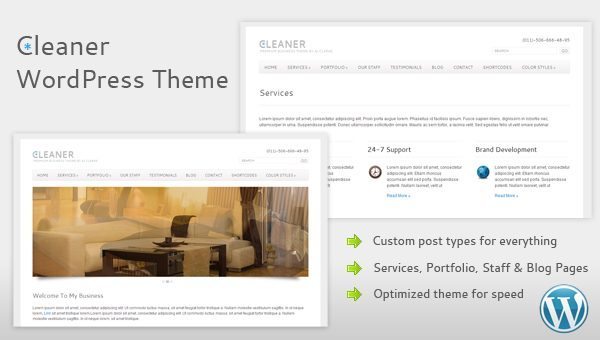 Are you running a dirty business? Is so, it's time to clean it up with Cleaner Business for WordPress. This premium WordPress theme has been designed for those looking to create a very clean and minimalistic website to show off their business or personal portfolio.
Restaurant WordPress Theme – Aroi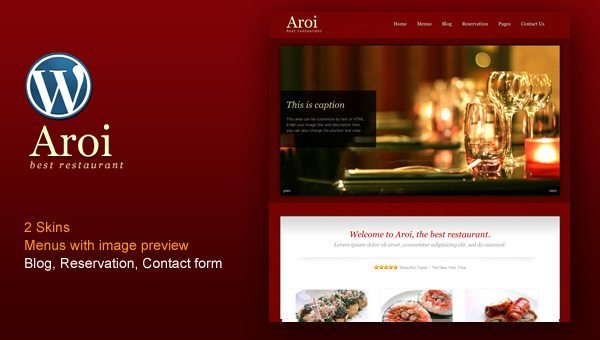 Aroi is a restaurant WordPress theme built specifically for cafe & restaurant business. With 2 style variations, reservation, contact form and many more.
Bulldog – Premium Professional WordPress Newspaper Theme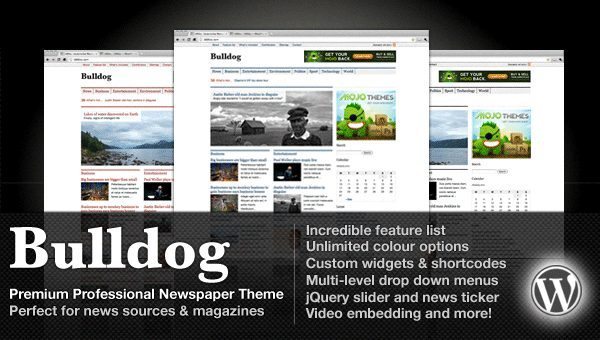 Bulldog is a Premium Professional WordPress Newspaper Theme.
New and improved version 1.2. We've taken on board your most requested additional features, and crammed even more into Bulldog.
If you or your company provide any form of news service, a local newspaper, newsletter, or even a blog and you're seeking a truly professional way to present your content, then Bulldog is the solution for you.
Wordshaft WordPress Theme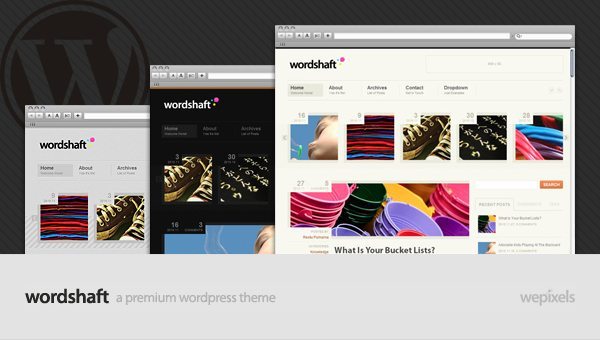 Wordshaft is a great WordPress theme for community or personal blogger with clean design and neat code. The rich theme admin panel and widgets enable you to control your content, manage your  advertisement, and show your latest tweet, video, photos, and more.
Origami – WordPress Theme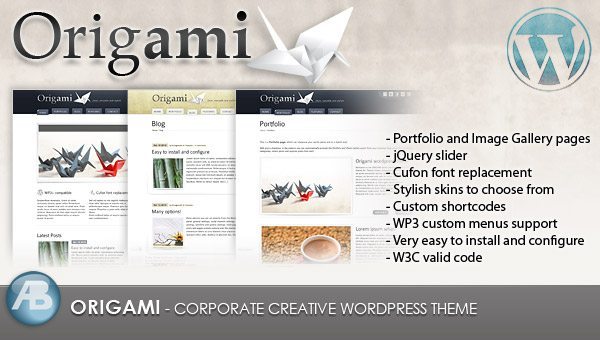 ORIGAMI is a corporate creative premium WordPress theme .
It comes with many integrated features like: portfolio and image gallery pages, jQuery slider, different skins, shortcodes, custom menus, and many more…
---

ThemeForest is an Envato Marketplace. At ThemeForest you can buy and sell HTML templates as well as themes for popular CMS products like WordPress, Joomla and Drupal with prices ranging from just $5 up to $40. Items are priced on the complexity, quality and use of the file. The site is home to a bustling community of web designers and developers and is the biggest marketplace of its kind.
FLER – Your Modern, Simple & Elegant All-use Theme
FLER combines what's best in usability with its modern and elegant design and its administrator panel features.
Detail
Synergie Premium WordPress Theme
Synergie is a powerful WordPress theme that can be use for everything. With a really innovative system, the home page can be modified to really fit your need. You can turn on/off any of the 5 modules and stack the the way you want in 10 seconds. Give it a try!
WP Pro Real Estate 2 WordPress Theme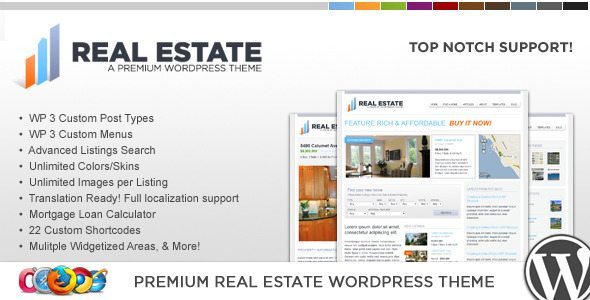 Hundreds of hours in development, WP Pro Real Estate 2 is the most advanced and easy to use real estate theme for WordPress on ThemeForest, if not in the industry.

Make's use of WordPress 3.0's Custom Post Types and Taxonomies offering unparalleled property listing management and search capabilities. With Google Maps integration, Advanced Search, Custom User/Agent Profiles, Easy Image Management and more!
Prestige – Ultimate WordPress Theme
Prestige is an unique and advanced WordPress theme . It comes with a big pack of various skins, shortcodes, widgets and fonts. Thanks to massive CMS options panel you can fully customize this theme to your needs. Prestige is the ultimate package with functional and powerful features.
Jing – Portfolio, Business, Photography template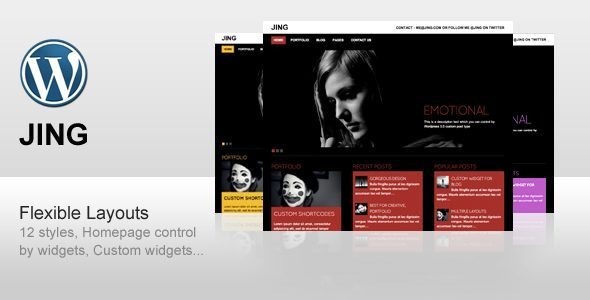 Jing is the flexible portfolio, business or photography template (WordPress version). With 12 possible style variations, built-in slider inside portfolio page, 2 blog styles and more
Alchemist Portfolio and Corporate WordPress Theme
Alchemist is a powerful WordPress solution for you Portfolio or Blog. Various content objects as well as interesting ways to showcase your portfolio are integrated into the theme. You can use shortcodes to generate a slideshow or thumbnail galleries through the content editor using shortcodes. The theme is designed to showcase your products focusing on a front page that can easily act as selling point and lead to various product showcases.
Striking Premium Corporate & Portfolio WP Theme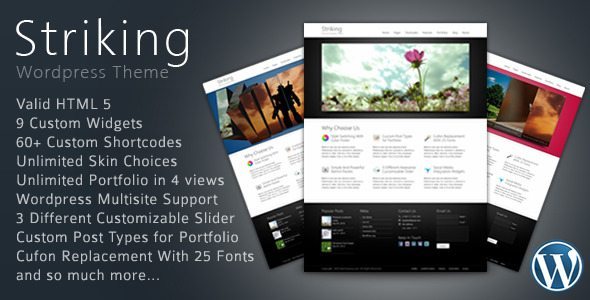 Striking is a Powerful Professional Premium WordPress theme made for your Blog, Portfolio, Business or almost any other kind of website. It is incredibly easy to use with the admin panel, and give you full control over every major design element throughout your site. With the color and font options page, you can customize you website more than you could ever imagine.
Screen offers you unlimited possibilities to present your business or brand for sure! Because its extensive package of features it is suitable for almost everyone. Whether you have a corporate business, a non-profit organization or you are a photographer, "Screen" has all the features you need to create a unique, customized look for your website with outstanding functionality. Most features and options are built direct into the Edit page for great ease of use. Actually "Screen" ended up with a lot more features than we had originally envisioned. We hope you'll have lots of fun working with "Screen."
PowerPhoto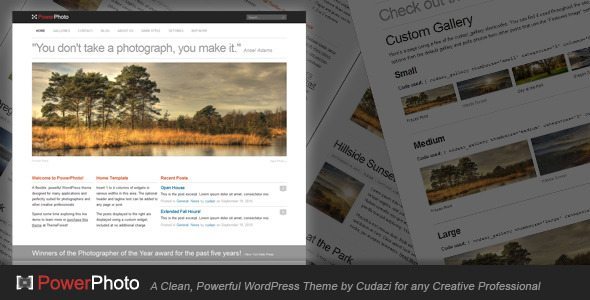 PowerPhoto – A clean, powerful WordPress theme for photographers and other creative professionals looking to showcase their portfolio.
KIN – Minimalist Photography WordPress Template
KIN is a minimalist magazine style photography template (WordPress version). With 2 style variations and support both image gallery and videos
PhotonWP – The Ultimate Photography Showcase Theme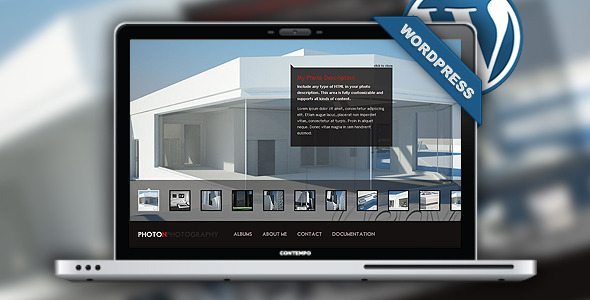 PhotonWP features everything that Photon already offered bt now with the option to be managed with WordPress.

Featuring the all new DDPanel. You can't miss out on this! Check out the theme screenshots to check out the new DDPanel.
Stuff is a horizontal-oriented WordPress theme created mostly for portfolios and blogs.
Xero Portfolio & Business WordPress Theme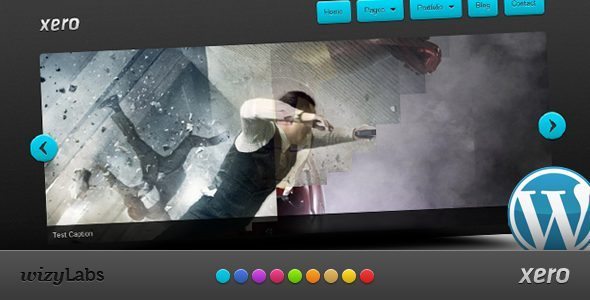 Xero WordPress theme is one of the most powerful WordPress themes on Themeforest. Tons of options that will make you not to buy anything else other than Xero WordPress theme .
Pushed WP – Business and Portfolio solution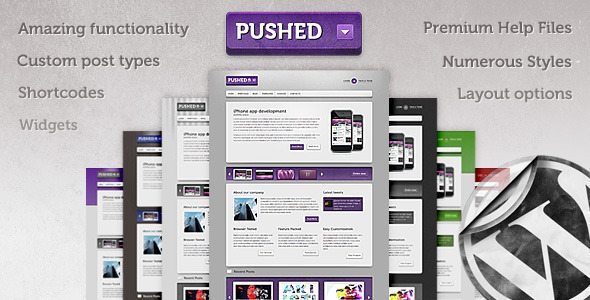 Pushed is a highly functional WordPress theme that has a custom homepage with a featured area powered by jQuery, and lovely homepage design as well as many other page templates. Pushed provides you with a wonderful toolbox to set up you website quickly and painlessly. You can have your Company website, Blog, Portfolio website up and running in no time. There are multiple skin combinations that can be made so that your website looks unique.
Dandelion – Powerful Elegant WordPress Theme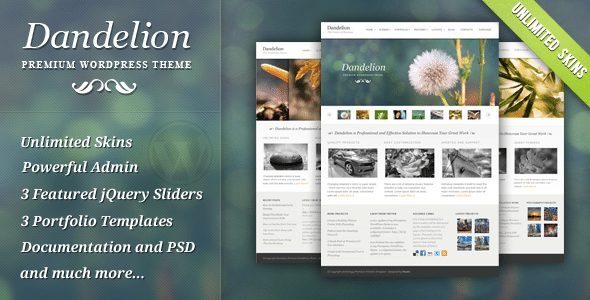 Dandelion is a Powerful Premium WordPress Theme . This theme provides all the main functionality you will need to present your products, work and yourself in an elegant and professional style.
CircloSquero – Premium WordPress Theme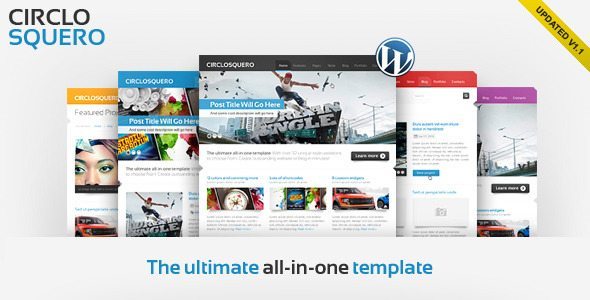 CircloSquero is a WordPress theme which has great and modern design to fit any business or personal web site. It is very easy to install and use, without unnecesary options that will just waste your time, yet very flexible. It has lots of handy shortcodes to present your content in the best possible way.
If you purchase CircloSquero, you can make sure that you won't lose days in installing and configuring our theme, this theme is focused on fast deployment and on presenting and selling your producs/services!
Alyeska Premium WordPress Theme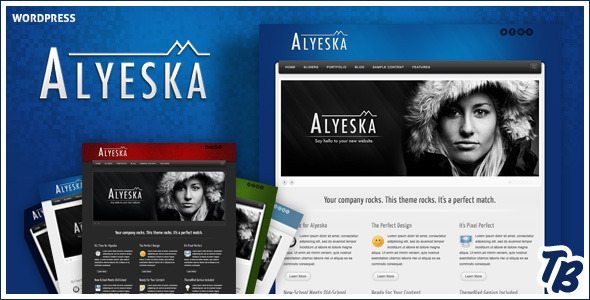 Elegance. Flexibility. Awesomeness. These are the words that instantly come to mind when trying describe this amazing WordPress theme . This is the theme that's going to get you or your client's site up and running in no time. With all of the possible combinations of layout options, you're sure to end up with a unique, elegant website that you can be proud of. Nothing has been held back with this one. It has all the professional touches you'd require in a WordPress theme along all the personal ones, as well – I've even named this theme after the mountain I grew up shredding as a kid in Alaska. It's professional. It's personal It's the best.
WP FlexiShop – A Versatile WP E-Commerce Theme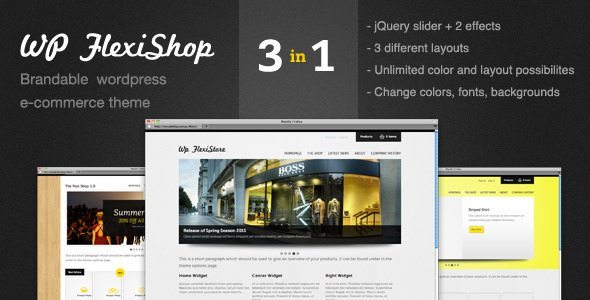 This theme utilises the powerful WP E -Commerce plugin to create a versatile and feature packed WordPress powered shop, with 3 different layout options and unlimited color possibilities. Make this theme your own.
Detail
inFocus – Powerful Professional WordPress Theme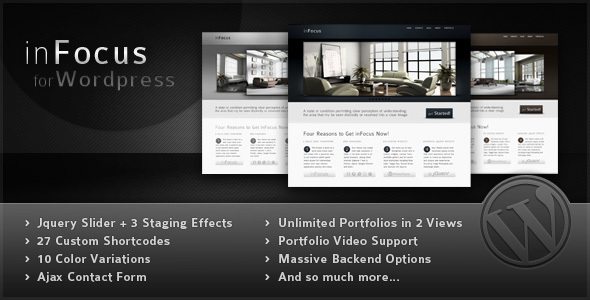 A state permitting clear perception and understanding; the area that may be seen distinctly or resolved into a clear image. Get inFocus!
Detail
Sideways is a portfolio theme that offers both horizontal and grid layouts. It incorporates eye catching full screen background images that scale to fit all resolutions and window sizes as well as strong and elegant typography and design.
Premium Plugins
---
Events Calendar Pro – WordPress Premium Plugin
The Events Calendar Premium plugin for WordPress enables you to rapidly create and manage events using the post editor. Features include Google Maps integration as well as default templates such as a calendar grid and event list for streamlined one click installation.
DDSliderWP – 11 Transitions – Slide Manager Panel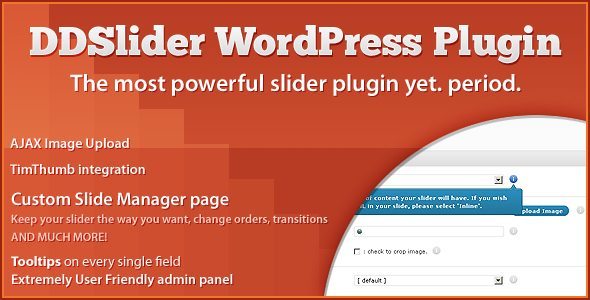 DDSliderWP features EVERYTHING that the jQuery plugin already offered PLUS a custom admin panel, with total management of slides.
Lightbox Evolution for WordPress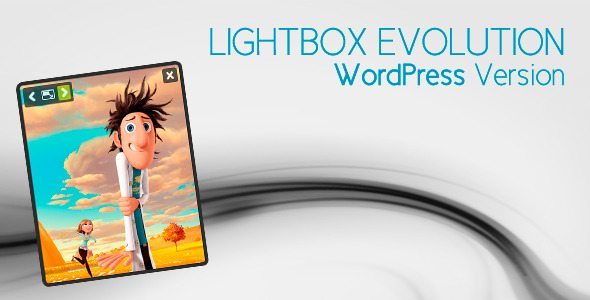 Lightbox Evolution is a tool for displaying images, html content, maps, and videos in a "lightbox" style that floats overtop of web page. Using Lightbox Evolution, website authors can showcase a wide assortment of media in all major browsers without navigating users away from the linking page.
UberMenu – WordPress Mega Menu Plugin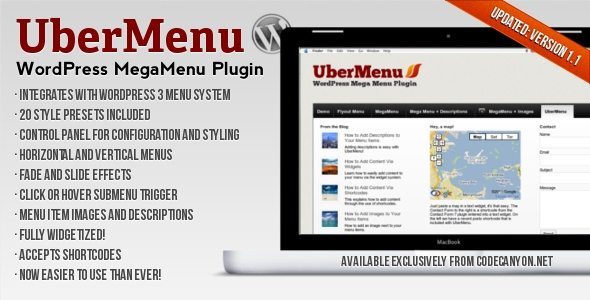 UberMenu is a user-friendly, highly customizable mega menu WordPress plugin. It works out of the box with the WordPress 3 Menu Management System, making it simple to get started but powerful enough to create highly customized and creative mega menu configurations.
WordPress Email Newsletter Plugin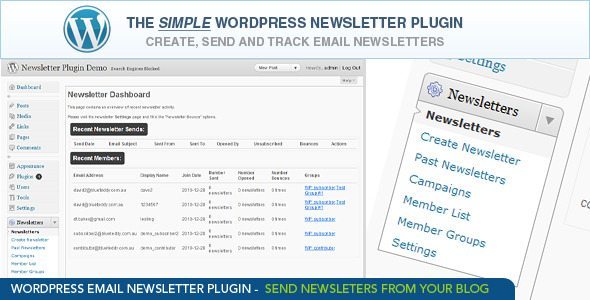 The email newsletter plugin is an advanced bulk emailer designed especially for WordPress 3. It is very easy to use and feature rich. Heaps of features which allow you to quickly send professional newsletters to your existing WordPress user database.
Simple WordPress Gallery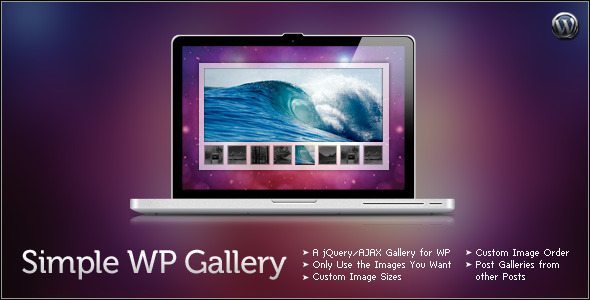 1. Added lightbox support. 2. Automatically scroll to next images with an optional "chrome-less" slider mode. 3. Lazy loading. Only the first 10 images are preloaded speeding up the loading of your page. 4. Fix thumbnail loading issues due to JS conflicts with other plugins
uPricing – Pricing Table for WordPress
uPricing is a pricing table for WordPress. We have been developing it for our WordPress themes , but have decided to release it as a standalone plugin. It is a premium quality Pricing Table with a nicely polished WordPress admin.
Premium Pricing Tables Plugin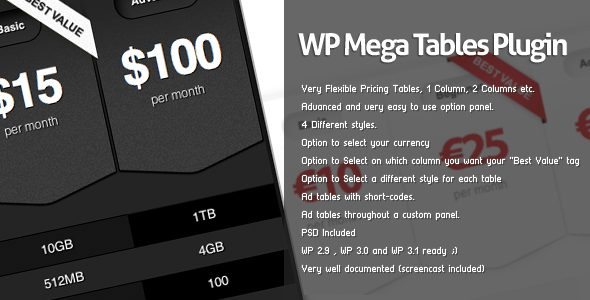 WP Mega Tables are the perfect solution for those who are in need of a well designed and more importantly a easy to use pricing table in there WordPress themes .
WordPress Like Locker – Like to Read Plugin
Tap into Facebook's 620 million users with the WordPress Like Locker plugin. WP Like Locker will allow you to add thousands of fans to your WordPress site on Facebook with almost no work. More likes = more traffic = more money!
jGallery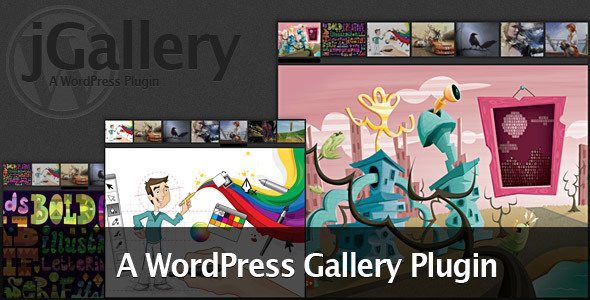 This WordPress Gallery Plugin gives you a simple and extremely customizable way to create a gallery on any post or page. You have the option to use widgets or shortcodes to insert your custom gallery into your web site. As well, the look of your gallery is fully customizable through the WordPress admin interface.
WP Geo Tagger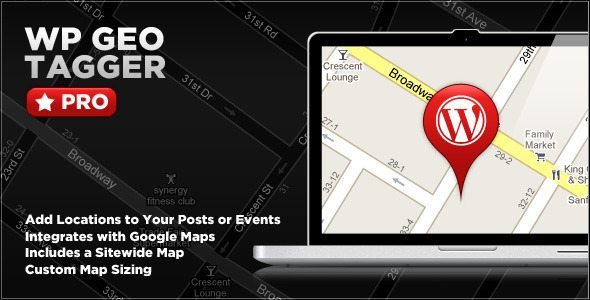 The WP Geo Tagger plugin can be used to add your current location to posts or to add an event location, so your readers can get directions in a snap. It even integrates Google Maps right on your posts!
User Locations
A WordPress Plugin which enables you to show your registered users locations on a frontend map from Google Maps. Comes packed with administrational settings for you to customize what information you want to display about your users and much more.
WordPress Premium Content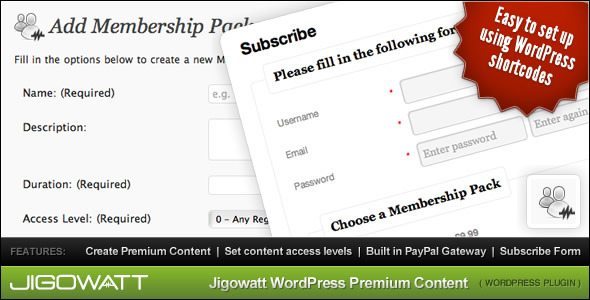 Jigowatt's WordPress Premium Content plugin allows you to easily set up a web site with content which is only accessible to users registered with an active PayPal subscription. You can easily manage your subscribers, change subscription prices and set up custom membership renewal options (annual, bi-annual or just month by month).
Live Preview | Detail
Relevant Search WordPress Plugin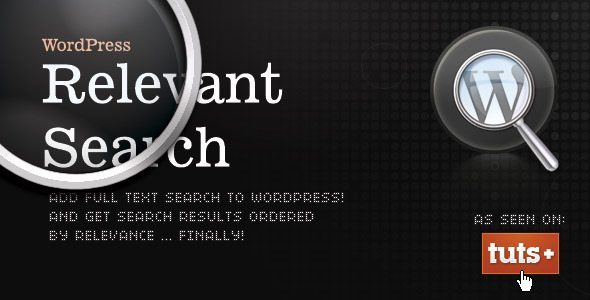 If you've always fantasized that WordPress would fix their search results and return something actually relevant (not ordered by date), but are let down on every new release. You've found the plugin to make that dream come true.
Dynamic Step Process Panels for WordPress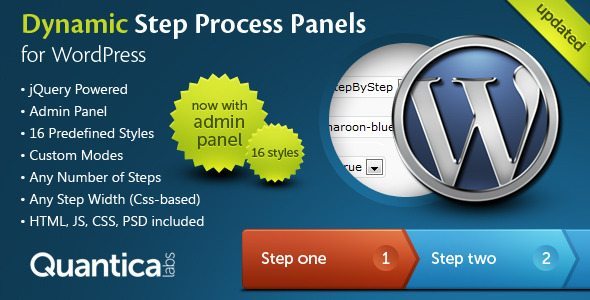 Dynamic Step Process Panels is a lightweight plugin for WordPress. It allows that any content can be represented in any number of tabs / steps.
uBillboard – Premium Slider for WordPress
uBillboard is a slider for WordPress. We have been developing sliders for our WordPress themes for over a year now, and all that experience has been distilled into this one slider plugin. It is a premium quality jQuery-based slider with a nicely polished WordPress admin.