The WordPress Multisite Shared Media plugin is by far one of the easiest ways to share uploaded media from one site to different network sites. The plugin itself is fairly simple to use and because of its simplicity, it is very convenient.
Instead of having to upload the same media twice on 2 different websites, the Multisite Shared Media plugin basically allows a website administrator to use the same media on one of their website on others as well. So, it makes the task more compressed in a way that the plugin user can simply share their images across the network without having to manually upload pictures.
Hence, you can save time, disk space and the trouble of having to upload an image twice (or more) with this plugin. What more can a website administrator want from a plugin?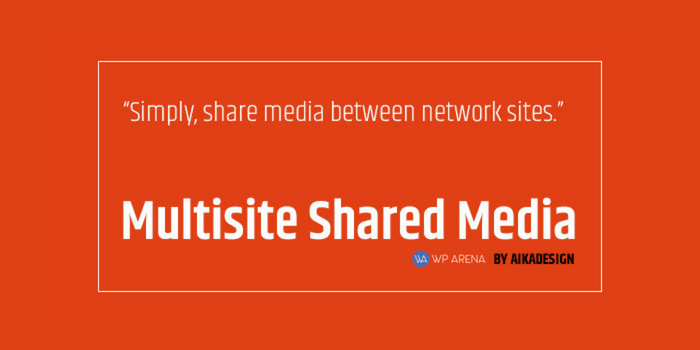 Features
The WordPress Multisite Shared Media plugin includes a number of features to make it easier for any website administrator to make use of the plugin when actually using the same media on different websites. The main features of this plugin include the following:
Automatic synchronization between network sites (which makes it easier and more convenient for you to control which websites your media appears on);

Deleted files are automatically cleaned up from the selected network sites (again, this gives you control over where your media is displayed);
Already existing media can also be synchronized;
File support from the website's own domain;
Completely translation ready;
Certain media items can be set to prevent replication.
All of the above-mentioned features ensure that the website administrator has control over their media and where they would like to display it. The control with the added convenience are why this plugin is the best option for multisite operations.
Applicability
This plugin is particularly useful for WooCommerce websites, where images may need to be shared across several different network sites. Another highly applicable area for this plugin is multilingual sites, where it needs to be ensured that the images that are displayed are the same across sites.
This plugin is especially useful for logos and icons (which may be commonly used across websites). These widely used images no longer need to be uploaded on each site separately because the Multisite Shared Media plugin makes this process one hundred times less time-consuming.
How Does it Work?
In any default multisite install, each website would have its own separate media library and this would require for the website administrator to upload and post media separately on each website. There would be no easy way to access media from a different site and post it on to another and the only options would be to use the Insert from URL option on WordPress or to manually upload an image.
However, with the Multisite Shared Media plugin, a new option will be added which allows the website administrator to share the media across different websites of his or her choosing. Once the plugin is installed, there will be an option that will allow the website administrator to share the media across all network sites once a file has been uploaded. Once a media file is shared, it will appear in the media library for each website it is shared on. Quite easy, isn't it?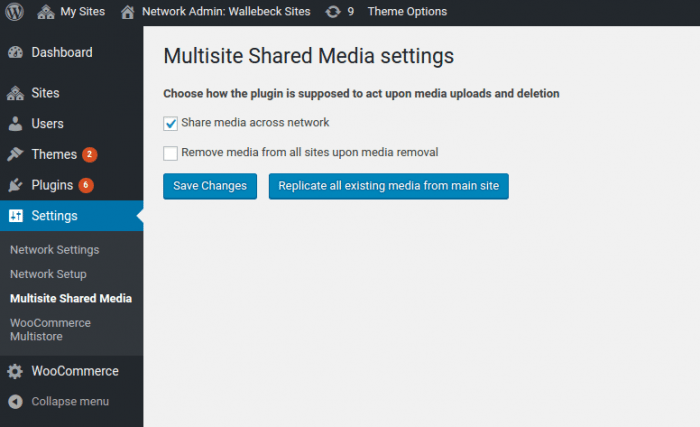 The website can even choose the specific websites to share the media on. Thus, the website administrator will have complete control over which media to share and where to share it. This control is far better than what is available on other multisite media plugins.
Price
The WordPress Multisite Shared Media Plugin is available for only $29 and includes 6 months of support and all future updates. It is a very fair bargain for the plugin's functionality and features. Also, the 6 months of support can be extended to 12 months with a payment of only $9.38.
This plugin is very useful and it is highly recommended for anyone who needs to share commonly used media across different websites. The price itself makes it one of the most market competitive multisite shared media plugin.
Why Buy the Multisite Shared Media Plugin?
This plugin is by far one of the essential ones for website administrators who want to share their media on other network sites. This is because of the fact that this plugin provides features and options that other plugins do not, for example, its support of Advanced Custom Fields.
Aside from its uniqueness, this plugin also makes it much more convenient and much less time consuming for website administrators to create their websites. Disk space is also easier to save when sharing media. Basically, managing multiple websites becomes much easier with the use of this plugin and it is a must-have for any website administrator or developer who is running different websites.
Final Verdict
The Multisite Shared Media plugin is by far one of the best ones of its kind and it provides complete value for its price. The features make it one of the most convenient plugins anyone would have in their plugin toolbox and it allows for busy website administrators to easily manage many different websites.
It is highly recommended for multilingual websites because it is very easy for those running a big multilingual multisite. This plugin is also unique because it provides support and features that cannot be found in other plugins.
Thus, for anyone looking for a way to easily share their media with absolutely no hassle, the Multisite Shared Media plugin is a very strong contender and it can provide a simple way for such website administrators to work their magic. This plugin is the complete package for any multisite operation.