When it comes to adding forms to your WordPress website, there are numerous options available. Nevertheless, not all WordPress form plugins are equal in terms of quality and suitability. While certain plugins cater to advanced users, others are more suitable for beginners, leaving the rest of us who fall somewhere in between.
The key is to find a form plugin that offers enough advanced functionality and design that you can create something truly unique but not so complicated that you get lost trying to do so.
That's where ARForms comes in handy.
ARForms was designed to be an all-in-one WordPress contact form plugin requiring no coding knowledge. Instead, it comes with all the built-in design and features needed to create simple or complex forms on your website.
Let's take a look and see what it offers so you can decide for yourself. We are going
Table of Contents
What is ARForms?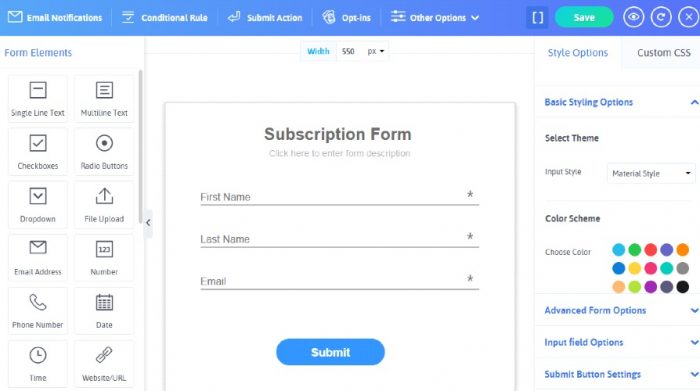 ARForms is a premium WordPress form builder plugin with a real-time editor, so you always know what you are creating while developing it.
It comes with a fully responsive design, so site visitors on any device or screen size will be able to see your website's forms and use them. In addition, it was built with a clean and solid code for the ultimate loading speeds and performance.
Not to mention, a dedicated support team is on hand, ready to help you with your form needs should you run into trouble.
Take a look at what else this comprehensive form plugin offers in terms of standard features:
Fully Responsive contact forms
Multi-Column & field resizable forms
25+ Form elements & Real-time editor
Lightning-fast loading performance
Conditionally hide/show form fields.
Built-in math rules for calculating totals, averages, and more
Integration with nine popular email marketing tools
Ready Form Templates are available to save time.
Inbuilt Popup forms facility, no need to buy the separate plugin
Multi-language support with 12 pre-translated languages and RTL support
Automated email notifications upon form submissions
Captcha-free anti-spam mechanism
Multi-step forms and surveys
Autosave form progress
Navigation menu popup forms
Pre-populate form fields
Tooltip on form fields.
SMTP Support
Data import/export capable
Form Submission Confirmation Summary
Custom CSS options
Google fonts integrated
Visual Composer and Cornerstone support
WPML compatible
And so much more
As you can see, ARForms has a solid foundation, and we haven't even gotten into the main features or what things look like on the backend.
ARForms Main Features
Custom Design Forms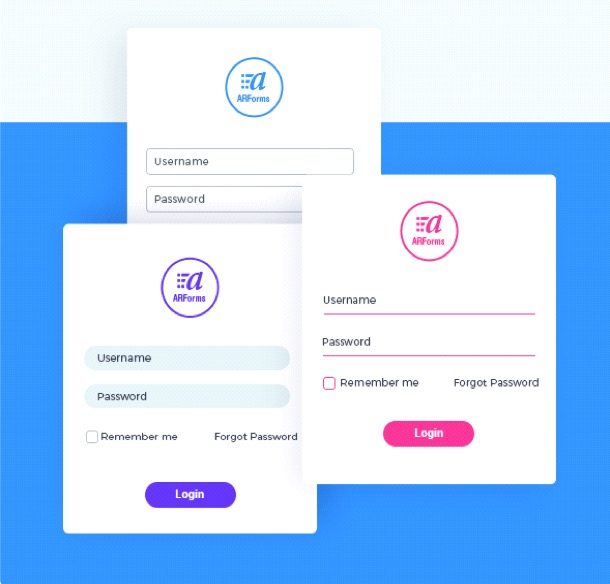 No matter what kind you need, customizing your forms is easy when you use the popular WordPress contact form plugin – ARForms. That's because it has an intuitive backend full of features designed to give you the chance to create a one-of-a-kind form that people will want to fill out.
To start, ARForms comes with a trendy material design. However, unlike many form plugins, ARForms provides nothing but crisp, clear flat designs, complete with rounded and standard styles.
When you first start creating a form, you can choose from 12 pre-made templates. For example, make a registration form, a contact form, or a donation form. Or, if you prefer, create a custom form using the blank template.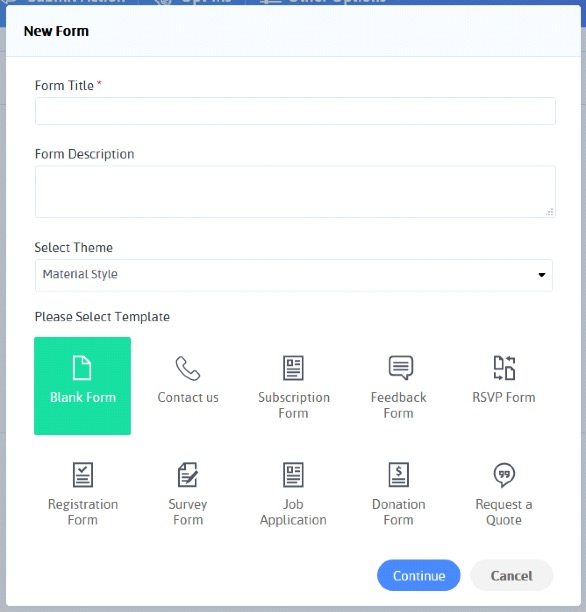 From there, pick from 15 different color schemes, customize your font styles using Google Fonts, add multiple rows and columns to your form as you see fit, and even create custom radio buttons or checklist boxes by uploading images.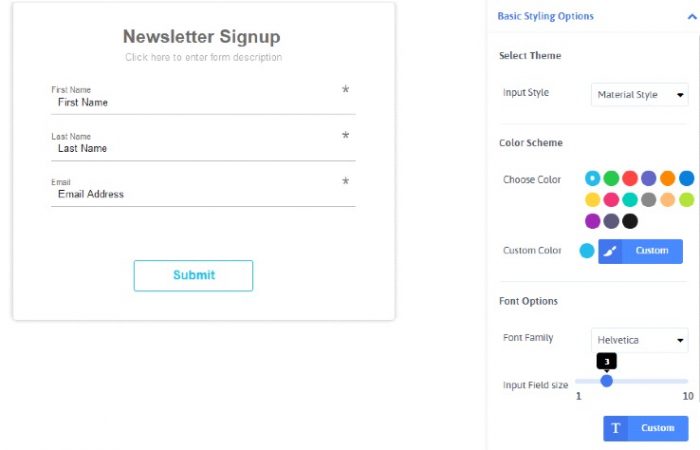 Even better, ARForms gives you 25 elements to choose from that are easily dragged and dropped directly, in real-time, onto your form.
Choose from checkboxes, email addresses, phone numbers, images, page breaks, and dropdowns. Then, create a fully customized form, depending on your needs, and see how everything will look in real-time as you do it.
User Experience
It's not enough that ARForms makes form building super simple for website owners. This form plugin also offers your site visitors a seamless user experience:
Allow site visitors to edit their form entries even after form submission
Let visitors auto-save their form entries and come back later to finish filling them out
Don't hassle users with annoying captchas thanks to the built-in spam protection
Know that all file uploads are AJAX-based
Enable pre-populated form fields to make filling out your forms a cinch
Add user-guided tooltips to help users fill out your forms
Pre-populate form fields
Popup Forms Trigger Actions
One thing that makes ARForms so powerful is its built-in popup form functionality with the various triggers. Such a facility is not available in every WordPress contact form builder. Using trigger actions, you can enable your forms to get the attention of site visitors in many ways, thus boosting your form conversion rates.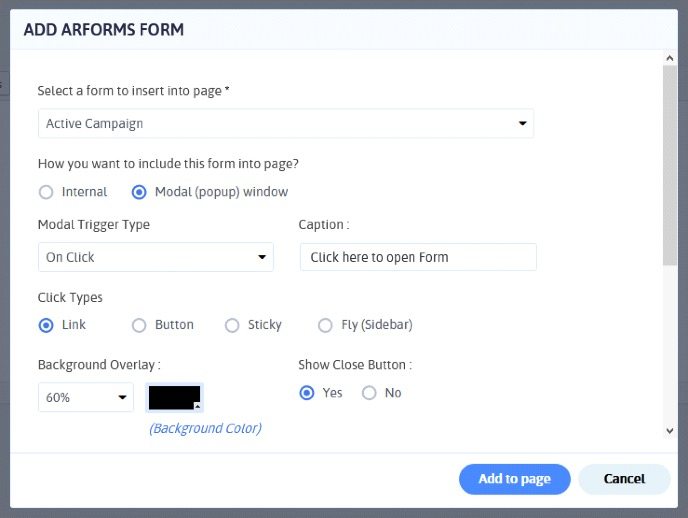 Chose from the following trigger actions:
Exit Intent. Remind visitors as they are about to leave your website that you have what they are looking for and encourage them to subscribe. This may be your last chance to convert a visitor into a subscriber or customer.
On Idle. If you notice someone has been silent for a time on your site, reveal a form and show them why they should continue engaging with your content, ask them if they need help and give them away to reach out, or provide a discount to secure a last-minute sale.
On Scroll. If a reader is scrolling through your content, clearly they are interested in what you have to offer. So why not give them away to continue getting the valuable content you have in the form of a newsletter.
Inline Sidebar. If you prefer to be more subtle when it comes to your forms, whether you are asking for a donation, looking to build a more extensive email list, or are just hanging out ready to help when needed, add your form to your sidebar so when visitors are willing, they can input their information.
On-Page Click. When a site visitor lands on a significant web page that may help your bottom line, display a form to ensure your visitor sees it and has the chance to sign up.
Lastly, and perhaps most importantly, ARForms gives you the ability to enable a form display when a site visitor clicks on a specific navigation menu item.
Again, this is a great way to grab the attention of site visitors in ways they aren't used to boost conversions and increase site engagement.
Conditional Logic
One thing that not many WordPress form plugins have, whether free or premium, is conditional logic. Create intelligent forms that react according to how your site visitors behave while filling out your form.
ARForms makes this feature available to all form fields, including multi-step forms.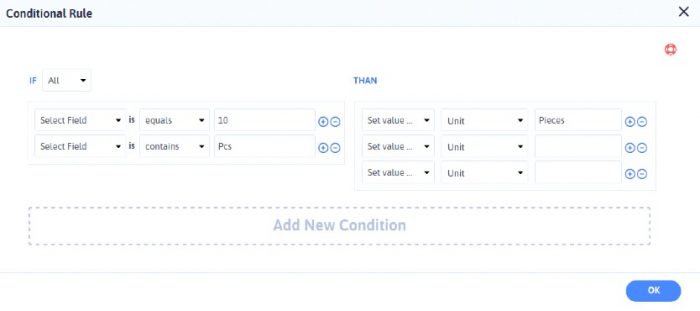 Show or hide fields based on how your site visitors answer fields on your form. This way, you only gather the correct information from the right site visitors.
For instance, if you are looking to gather the names of your site visitors' parents, display a separate set of form fields asking for that information only once a site visitor begins filling out your form.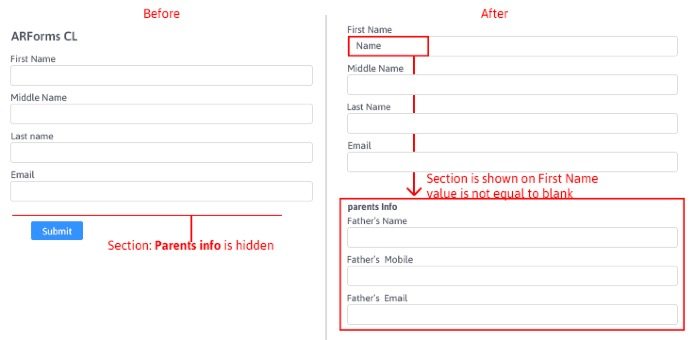 The great thing about this is you can set up conditional logic to hide and display fields however you want to. For example, ask previous customers questions about their buying behavior in your eCommerce shop when they fill out your contact form to see what brings repeat business.
On the other hand, make sure new customers don't see these same questions. Instead, once finding out they are a new customer, ask your site visitor what types of products they are looking for.
Mathematical Calculations
Another essential feature is that Arforms have a facility to do mathematical calculations for totals and averages, which can be shown dynamically on the form. And also, those dynamic values be passed to the payment gateway to collect payment accordingly.
So, for example, if you have a form with a product listing and want that upon users' selection of one or more products and plans total amount should be adjusted, then it's straightforward to achieve in ARForms.
Connect Forms to Popular Email Marketing Tools
Arforms comes with out-of-the-box support for nine popular opt-in tools. So, collecting emails from your subscribers is automated. And you can send data to your choice of email marketing tool. All you need to do is configure APIs and map form fields.
Supported email marketing tools are Aweber, MailChimp, GetResponse, Active Campaign, iContact, Constant Contact, Mad Mimi, GVO, EbizAc,, etc.
Built-in Analytics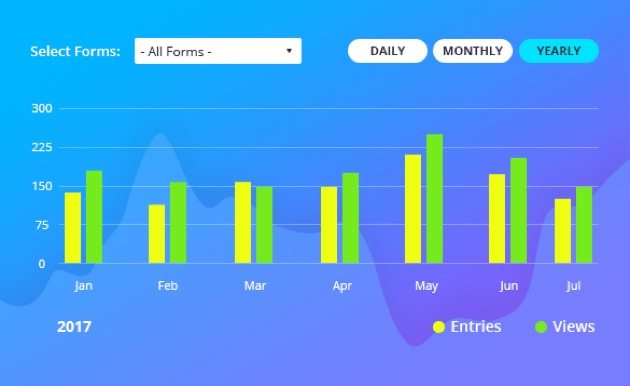 One of the best ways to tell if your forms are working for you rather than against you is to monitor the activity of your forms. This will tell you precisely what is working on your site and what needs improvement.
Luckily, rather than fight the enormous amount of information found in Google Analytics, ARForms makes seeing your form entries according to daily, weekly, and monthly behavior easy to do on the backend of your site.
Once you have some form entries that site visitors site visitors have submitted, you can easily navigate to those entries from the WordPress dashboard.
You'll see the name, email, date of entry, browser, and country of the user that submitted a form on your site.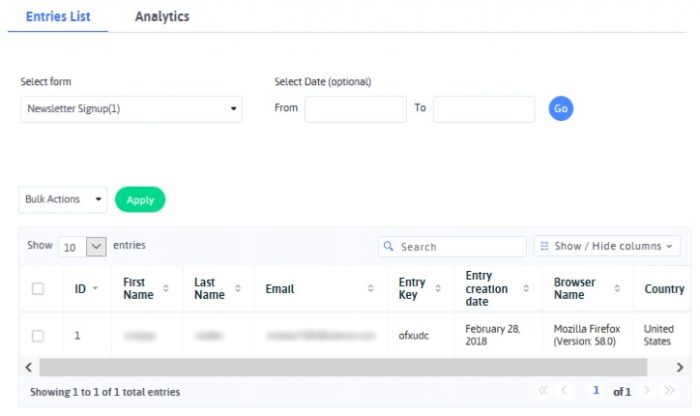 You can also check out the more detailed analytics portion to see the activity of your forms over time. You can choose from a line chart, bar chart, and worldwide map chart.

It even breaks the numbers down into the number of views your forms have versus the number of form submissions, making it helpful to see whether your forms are being overlooked or not when site visitors view them on your site.

The options are endless.
In the end, this is a great way to learn more about your site visitors so you can cater to their needs and wants more than you are already doing.
Premium Add-ons
ARForms offers many premium addons that can help extend the functionality of your WordPress forms, no matter which type you have on your website.
Let's take a look at the available addons:
First, add the option to collect payments (donations, product/service payments, or recurring payments) on your forms using the secure and popular payment gateway,, PayPal.
If you want to collect credit card payments on your forms, enable the Stripe payment gateway.
Net. Another way to process credit cards on your website is to use the Authorize.net addon.
PayPal Pro. This advanced eCommerce payment gateway makes accepting product/service and recurring payments more accessible than ever.
User Signup. Allow site visitors to register on your site, edit their profile, and change/receive their password from the front end of your site.
PDF Creator. Create PDFs from all the data captured on your WordPress forms and even attach the data to a notification.
Create subscribers for your MailPoet email lists with this powerful addon.
Another email service provider integration, this addon lets you add subscribers to your Mailster email list.
When you need to collect site visitor signatures, do so right on your WordPress form, making the process seamless.
Digital Download. Give site visitors the ability to download any digital download upon form submission. This is great for times you incentivize subscribers with an exclusive eBook, checklist, or other valuable downloads.
Send SMS notifications through Twilio, Nexmo, Clickatell, or SMSGlobal.
Though ARForms comes with built-in spam protection, you can enable reCAPTCHA technology as an added layer of security, which is especially helpful for those with membership websites that require user registrations.
Post Creator. Create WordPress pages and posts, as well as custom posts, using data captured from your WordPress forms.
And to top it off, ARForms will soon have Infusionsoft, ActiveCampaign, and Zapier addons, making your email marketing efforts even more accessible.
ARForms Documentation and Support
ARForms has extensive documentation to help guide you through the many features available. With step-by-step instructions, as well as easy-to-understand images, there is nothing you can't accomplish without the help of the documentation.
If you require additional help, ARForms is dedicated to providing superior customer support to their clients. The support team aims to answer all questions within 24-48 hours of ticket submission.
Support includes questions regarding the product and its features, bugs and other issues, and updates to ensure compatibility with new software versions.
Final Recommendations
In the end, it can be hard to determine which WordPress form plugin is the best choice for you,, given the sheer number of free and premium options available today.
That said, if you are looking for something highly customizable, aims to help boost your site conversions and eCommerce sales, and yet remains accessible enough for even a novice website owner to use, ARForms comes highly recommended.
---
Frequently Asked Questions
Q: What is ARForms?
ARForms is a premium WordPress form builder plugin designed to create simple or complex forms on your website without any coding knowledge. It comes with a real-time editor and a fully responsive design for optimal performance on any device.
Q: What are the main features of ARForms?
ARForms offers a wide range of features, including custom design forms, user-friendly experience, popup forms with trigger actions, conditional logic, mathematical calculations, integration with popular email marketing tools, built-in analytics, and much more.
Q: Can I customize the design of my forms with ARForms?
Yes, ARForms provides an intuitive backend with a material design and 12 pre-made templates to choose from. You can customize the color schemes, font styles using Google Fonts, add multiple rows and columns, and even create custom radio buttons or checklist boxes with images.
Q: Does ARForms offer a seamless user experience for site visitors?
Absolutely! ARForms allows site visitors to edit their form entries, auto-save their progress, provides spam protection without annoying captchas, and offers pre-populated form fields for easy filling. It also supports user-guided tooltips and enables a smooth navigation menu popup forms.
Q: Can I create smart forms with conditional logic using ARForms?
Yes, ARForms allows you to create intelligent forms with conditional logic. You can show or hide form fields based on how site visitors answer previous fields. This helps gather the correct information from the right visitors and deliver a personalized form experience.
Q: Does ARForms have built-in analytics for monitoring form activity?
Yes, ARForms has a built-in analytics feature that allows you to monitor your form entries and view daily, weekly, and monthly behavior. You can see detailed information like user names, email addresses, entry dates, browser details, country information, and analyze the performance of your forms over time.
Q: Are there any premium addons available for ARForms?
Yes, ARForms offers various premium addons to extend the functionality of your WordPress forms. Some of the addons include payment gateways (PayPal, Stripe, Authorize.net), user signup, PDF creator, MailPoet integration, digital download support, SMS notifications, reCAPTCHA, post creator, and more.
Q: Where can I find documentation and support for ARForms?
ARForms provides extensive documentation on their website, including step-by-step instructions and helpful images. If you need further assistance, their dedicated support team aims to respond within 24-48 hours and assist with any questions