Have you started a blog? With WordPress CMS, starting a website or blog is quite easy. It will take only a few hours to set everything up. And one of the main things every website needs is contact forms.
While using WordPress, we don't need to use any HTML for creating the form and CSS for styling it. There are so many WordPress contact form builder plugins are available in the market.
Some of them are free and some of them are premium. Well, you know, we got in this field for a long time. So, we probably know the best one in the market with better features and support.
However, if you are looking for a contact form plugin for WordPress, we are going to introduce you to the one – Formidable Forms. In this post, we will be able to read the complete Formidable Forms review.
Formidable Forms
While we using WordPress for our business website and blog, we know that there are so many plugins are available for the same task. In this case – the form building, so many plugins are available like WPForms, Ninja Forms, Gravity Forms, etc…
Well you know we will always recommend the best plugin for our readers. While using Formidable Forms for our company website TechAbout, we found that this is one of the best and easy to use form builder plugins available.
Without writing a single line of code, we will be able to create forms from our WordPress dashboard.
Formidable Forms Review
Thankfully, Formidable Forms is a freemium WordPress plugin. This means there's a free version plugin available (Formidable Forms Lite).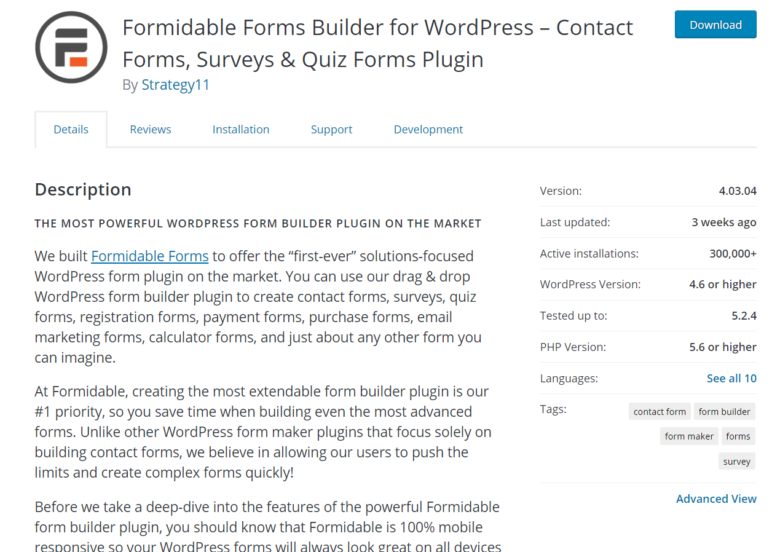 And as you can see, the plugin is used by more than 300,000+ WordPress blogs around the globe. For basic contact forms, the free version plugin is good.
While you need to create payment forms and anything related to it, you might want to consider upgrading to the premium version. Plus, the premium plugin comes with so many awesome features you'd love.
In that case, you need to choose the Formidable Forms premium. In this Formidable Forms review, we will show it.
Features
In this section, we are going to show you the features you will love at Formidable Forms premium WordPress plugin.
Drag and Drop Form Builder
Most folks will look for a solution that is easier for them. And when comes to form building, typical PHP websites will use HTML for creating the form, CCS for styling it and PHP for sending the email to the destination.
Well, as a beginner, these all might be a little hard for you. And there, you might want to hire a developer for doing that task for you.
While using WordPress, no harder codings for creating forms. Formidable Forms comes with a drag and drop form builder which will help you to create any type of form without any coding!
As you can see in the above image, the left side of the wizard is filled with fields. All you need to do is, drag the fields from there, drop them on the right side. You can see a live preview of the form on the right side.
Once you got finished the building, simply hit the save button. The form will be saved to your database.
Email Marketing Integration
Not building an email list for your online business?
No matter you are running a personal blog, a business website or offering some service for clients. You might want to consider building an email list for your business.
There are so many WordPress lead generation plugins are available for collecting email addresses through pop-ups, full-screen overlays, etc… Plus, you could see so many email marketing services for storing the collected email addresses.
Well, if you are getting higher conversions in your contact forms, you can easily integrate those forms to your email marketing service, automatically add those email addresses, name to your email marketing service.
Totally automated task. You don't need to do anything else.
Formidable Forms offers integration with almost all email marketing services like Constant Contact, Mailchimp, SendInBlue, AWeber, etc…
They do have a rich documentation section for your reference. If you need personal help, easily contact their support team. They will assist you personally.
Payment Gateway Integration
Want to create a donation form or accept credit card payments? With Formidable Forms' PayPal and Stripe integration, you can easily create those forms from your WordPress dashboard and start accepting payments.
With Stripe, you can accept all major credit and debit cards. Plus with the form templates feature, you can easily import pre-made form templates to your existing forms.
All these created forms are 100% safe.
User Registration
Running a membership website?
A membership website is an easy want to make money online by offering private content. If you are starting a membership website, you probably need 2 type forms.
User Registration.
User Login.
With the Formidable premium plugin, you can easily create these forms. From scratch or using the form templates.
Spam Protection
Some folks are using the WordPress contact forms for spreading spam or promoting their product/ business in the wrong way.
Well normally, there is no way for preventing spam. However, Formidable Forms comes with spam protection features such as:
Honeypot Spam Protection.
reCaptcha.
Akismet.
Comment Blacklist.
etc…
So, your forms will get free from spam.
Zapier Integration
Need to integrate your forms with third-party apps or services?
Zapier is one of the famous services online for connecting apps and services together. Here, Formidable Forms offers integration with Zapier.
You can do dozens of things with Formidable Forms and Zapier. Something like sending notifications to the Slack and copy uploaded files to dropbox, etc…
Pricing
Right now, the team offers 3 pricing options.
They are:
Basic – $99 a year.
Business – $199 a year.
Elite – $399 a year.
The higher plans will get more advanced features and support. You can choose a plan according to your usage. If you want only the basic features and integrations, the Basic plan is good enough for you.
When you represent a huge company and need more professional forms, the Business or Elite plans would be a great choice!
However, just like I said, you could choose a plan according to your usage.
Support And Updates
Every Formidable Forms premium plans come with 1-year support and updates. So, after installing, activating the premium plugin on your WordPress blog, you might want to consider verifying the installation with a valid license key.
So, you will get every update and you can do it from your WordPress updates page. Plus, if you need help with anything, you can contact the support team.
They will help you!
Get Started With Formidable Forms
You can get the premium version of Formidable Forms plugin from below.
Formidable Forms premium comes with 14-days money-back guarantee. So, if you are not happy with the purchase, you can get a full refund from the team.
We hope you found this Formidable Forms review helpful and enjoyed the read. If you did, please consider sharing this post with your friends and fellow bloggers on social media.
And probably it will help someone to choose the best WordPress form builder plugin.