We are running WPForms Giveaway. Participate and 3 Lucky winners will get a license of their choice.
Have you ever wanted to create a custom form for a particular use? Take for example the contact us form. We create it because it serves a purpose and we can even create drop-down selection mentions to better organize the emails coming in to address to our internal departments or ourselves if you are a one-person blog. We have talked about different contact form plugins more than one time on this blog already.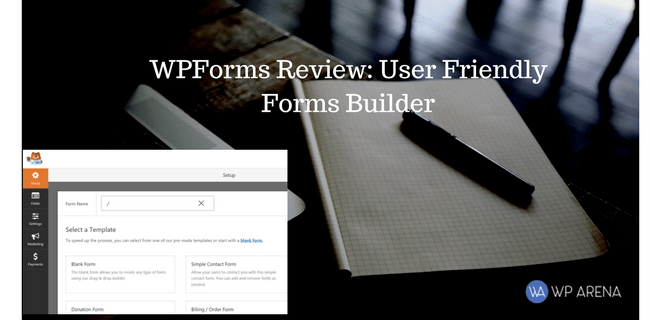 Today I'd like to introduce you to the ultimate user-friendly form plugin called WPForms. This plugin is owned by the same company which owns OptinMonster and MonsterInsights. I used this plugin on an old blog of mine and on that blog I had the free version. Today I would like to go through the paid version because it has add-on's which allows you to do great things.
WPForms Review – Create Many Forms

When we talk about easy plugins to configure, I'd have to mention that WPForms is right up there. I will admit, at first when I installed this plugin on my old blog; I didn't read the instructions, I winged it and did a great job. This time around I read some parts as I am showing you some of the premium add-on's that comes with a paid membership versus not having them with the official free lite version.
The pre-built templates make things a lot easy when designing any form. My design skills are still weak in my opinion so using a template that I can build upon is what works best.
Check the full features below:
Online Form Builder – Our powerful drag & drop contact form builder allows you to easily create WordPress contact forms and other online forms in just a few minutes without writing any code.
100% Responsive – Mobile Friendly contact forms
Form Templates – Use our pre-built form templates to save time. Never start from scratch again.
Spam Protection – WPForms utilizes smart CAPTCHA and Honeypot method to stop spam contact form submissions.
Instant Form Notification – Quickly respond to incoming inquiries with our instant contact form notification system.
Smart Form Confirmation – Show a custom success message, or redirect users to a custom thank you page.
File Uploads – Collect files and media through your contact forms with File Uploads.
Multi-Page Forms – Split long forms into multiple pages to improve the user experience.
MailChimp Forms – Create MailChimp newsletter sign up forms in WordPress and connect with your contact form to grow your email list.
AWeber Forms – Create AWeber newsletter sign up forms in WordPress and connect with your contact form to build your email list.
Campaign Monitor Forms – Create Campaign Monitor newsletter sign up forms in WordPress and connect with your contact form to build your email list.
GetResponse Forms – Create GetResponse newsletter sign up forms in WordPress and connect with your contact form to grow your email list.
PayPal Payment Forms – Create PayPal forms to collect payments, donations, and online orders easily.
Stripe Forms – Easily collect payments, donations, and online orders with our Stripe add-on.
User Registration Forms – Create custom WordPress user registration form.
Smart Conditional Logic – Show or hide fields and contact form sections based on user behavior.
Geolocation – Display location information about your users.
Custom Captchas – Create custom captchas for your contact form.
Advanced Fields
Form Layouts
Entry Management
Custom CSS
Constant Contact Forms
Drip Forms
Surveys and Polls
Login Form
Zapier Integration
Post Submissions
Signatures
Form Abandonment
Offline Forms
Form Locker
Bonus Form Templates
Still, thinking this plugin is just another contact form plugin? You will discover after using this plugin that you have unlimited combinations of how to use forms on your blog. You can even set up a payment gateway. (more on that soon).
Creating A Basic Contact Us Form
Back to basics. The section will show you how to build a contact form. Keep in mind I am using the premium version of this plugin so some features you see may not be available with the free one. (found in WordPress plugin database)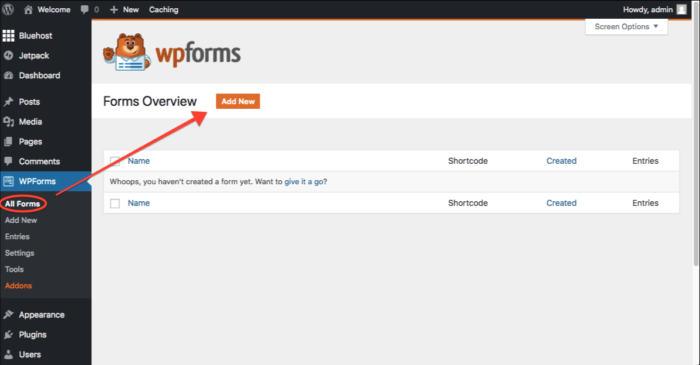 You will end up on an entirely new page (below) that is using the drag and drop technology. Get used to this interface because that's how we can create any form is through this panel. This is our admin panel for the WPForm plugin within our WordPress admin dashboard. Isn't cool stuff it? Ok, let's get back to creating a Contact us form.
I'll Take This Plugin Right Now!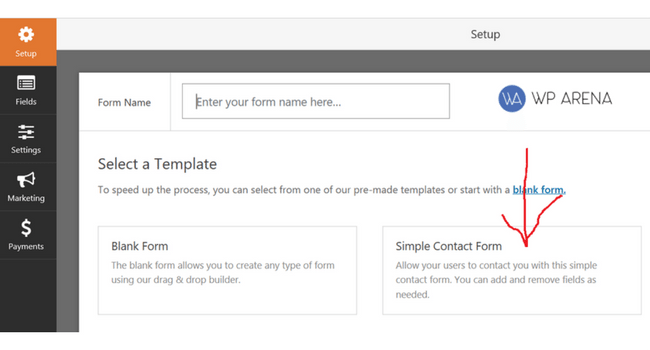 I am going to click on the simple box to begin creating a form. Keep in mind; I may skip a few steps because I am just showing you how easy it is to build any form and want to cover the payment option. The screen is where I will make some changes.

On the page above, I left all the box's as default and selected "Checkmark" on the left-hand panel because I want to create a drop down list of selections for someone to pick when submitting a question from the blog. This is good if you provide a service, sell products, all guest posting, advertising, etc. (Easy to forward email to other departments in your company)
I'm going to click on the edit button to add my desired text in and save this form. After I hit the save button, I click on the clearly marked "Embed" button to grab my shortcode to put in a new page. There is even a video on how to embed shortcodes on your blog for this plugin. That's very handy as you get to know this plugin while you create forms.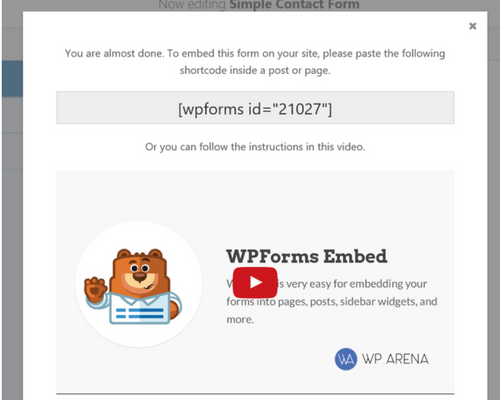 Final version: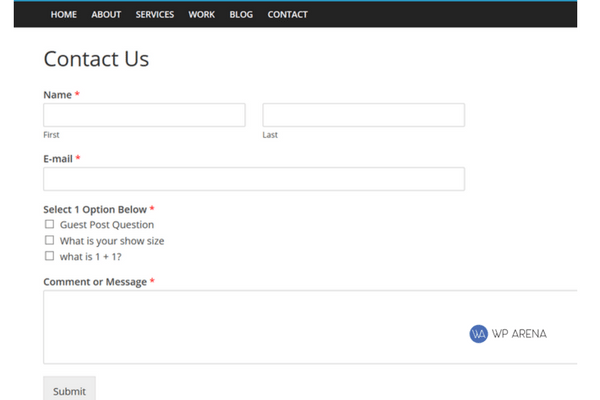 Do you have any questions so far about the WPForms plugin?
There is a payment option that I think may be useful to you or even spark up some idea's how to incorporate it. This comes with the premium version only.
Let's create a new form and this time, I'd like to create a donate money button to use. So we will select the "donate" box below.

The next blocks are self-explanatory. The add-ons are what makes this plugin excellent. It's updated fairly often and created by a very famous blogger Syed Balkhi of WPBeginner. You can't go wrong with one of their plugins. I now have 3 of their plugins I am using myself.
Grab WPForms for just $39 per year!