Are you looking for the best WordPress Dating Themes or WordPress Dating Plugins to build a WordPress dating site?
Is it complicated to set up a dating website, and most importantly, ensure it is secure, especially if you are using readily available dating software? Although it's hard enough to start a new business, entrepreneurs don't want to do technical things. They want something good that can work out of the box to modify it quickly, or their professional devs can handle the project.
If you already decided to run a dating website and the second most important thing to decide which platform they should use. There are both free dating scripts, and paid ones are available.
In this article, I focus on WordPress to use as a dating platform.
Building Dating Website is easy using WordPress Dating Themes and WordPress Dating Plugins.
I think it's important to ask why someone would want to use WordPress as a platform for a dating site? There are many reasons to use WordPress to run a dating website, as you must be familiar that WordPress is the simplest and easy to use platform. It is SEO friendly and an excellent platform to market with.
All you need to start a new dating business is select a reliable web hosting server and a domain name. In the beginning, you can go for shared hosting, but once your business grows, you must switch to the dedicated server or VPS.
No doubt, there are many options to enhance WordPress functionality, but there are very few dating plugins for WordPress. On the other hand, you can get WordPress themes with built-in dating features. From the following list, you can select any of them according to your requirements and choice. This list will be divided into two sections, i.e., WordPress dating themes and WordPress dating plugins.
These are a few of the WordPress themes I have tried to extend WP powered websites to provide the dating solution. I have explored every possible combination of plugins and extensions to WordPress to make it more interactive or more like a WordPress social networking or dating website.
If you're not familiar with BuddyPress, it's a social network plugin for WordPress, allowing your website to become a fully functional community portal. BuddyPress lets your users interact with groups, forums, friends, status updates, private messaging, and a lot more.
BuddyPress themes provide the opportunity to build a perfect dating, social network site, and an online community on the WordPress platform. BuddyPress and bbPress themes are highly recommended for running a social network for their company, school, sports team, or niche community.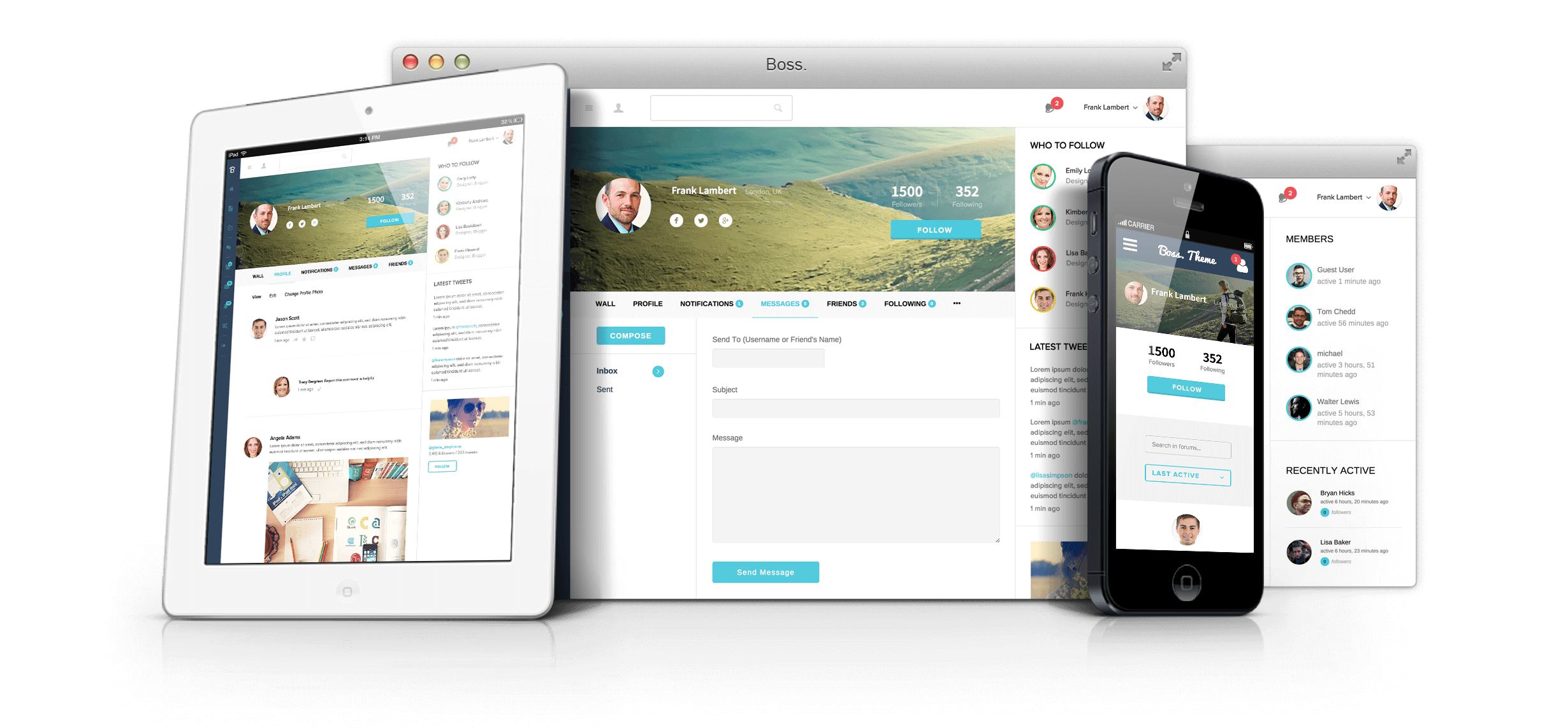 Boss Theme is ranked as No.1 on our list. A great company develops the theme, and no doubt, as I explored it myself, one can build a world-class dating platform using this theme. This theme is equipped with a lot of features that can be extendable easily. The theme can be easily customized without touching a line of code. It supports flexible layouts, and opportunities are endless. The theme is built on a powerful admin panel that is easy to use and comes with a lot of features. The look and design of the theme can be easily changed to whatever you dreamed of.
---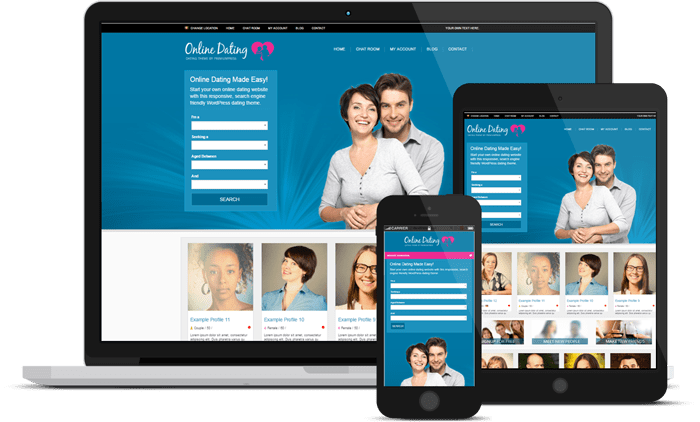 This is so far the number 1 dating theme in the WordPress market. The theme is so extensive that it offers almost all the necessary dating site features. It supports child themes, and around ten child themes have already been launched in the market.
Popular Features
Free & Paid User Profiles
Private Messaging & Contact Forms
Multi-Language Support
Easy to Customize
Supports WordPress Plugins
PayPal + 20 Payment Gateways
10+ Extra Child Themes
Gifts & Comments
Built-in Chatrooms
Search Engine Friendly
Custom Profile Fields
Responsive Website Design
---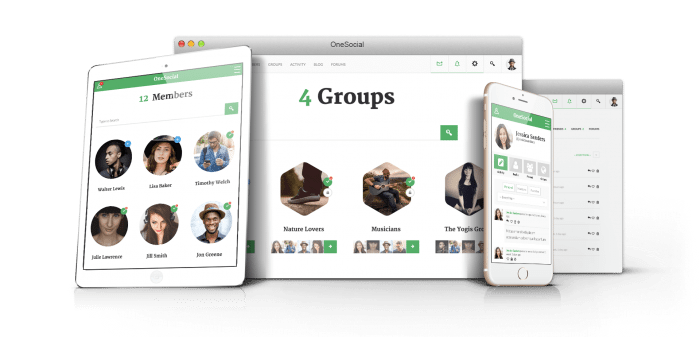 OneSocial is also considered one of the best WordPress Dating Theme. Equipped with many features and BuddyPress compatibility, this theme makes a place in this list. The slogan of this simple responsive WordPress theme is the ease of use and simplicity. OneSocial can be used to build any community site. The theme is based on minimalist design and comes with multilingual support. Some of the hot features of OneSocial Theme is Social Media Login, Powerful Admin Panel, Easily Customizable, Easily create a blogging platform by Blogging Add-on, Woocommerce Support, and Demo Import.
---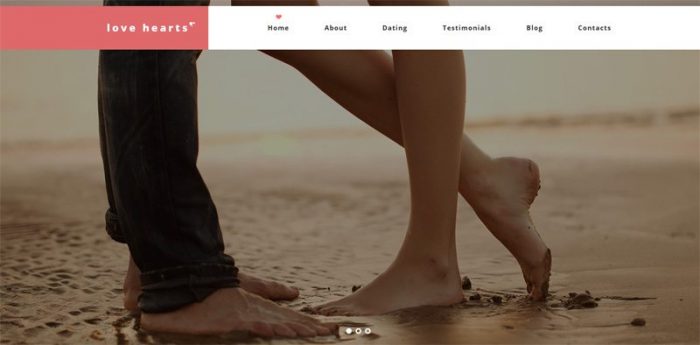 LoveHearts is the top favorite WordPress Dating Theme due to its high resolution and 100% Responsiveness. The theme is very flexible, easy to use, and comes with a lot of features. It supports Custom Post Types and Post Forms, Multilingual Ready, 80+ Shortcodes, and many more. The best part of this theme is the lifetime updates that the company is offering. The theme is compatible with top SEO Plugins and also has a built-in filterable portfolio gallery.
---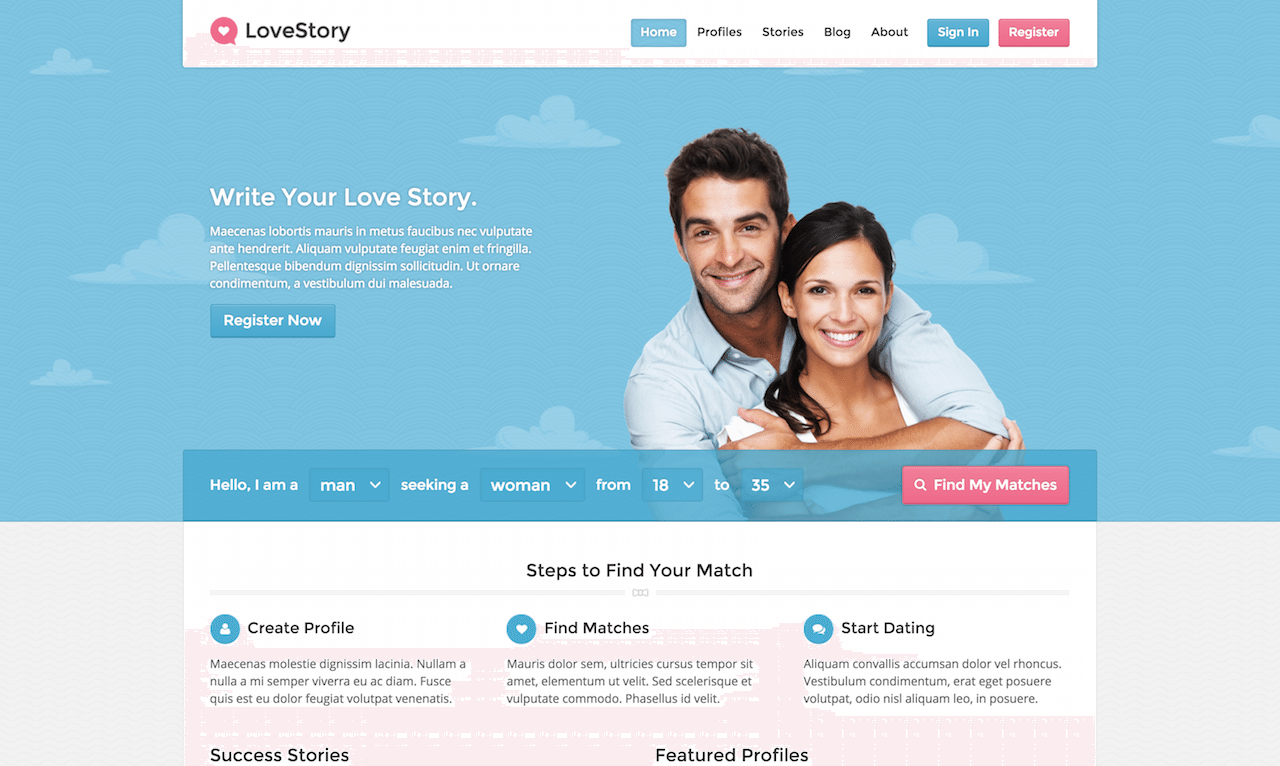 LoveStory is one of the best WordPress Dating Themes, a perfect theme for any dating or community website. It's not just a theme but an application with excellent built-in features, such as membership fees, virtual gifts, chat messages, and more.
---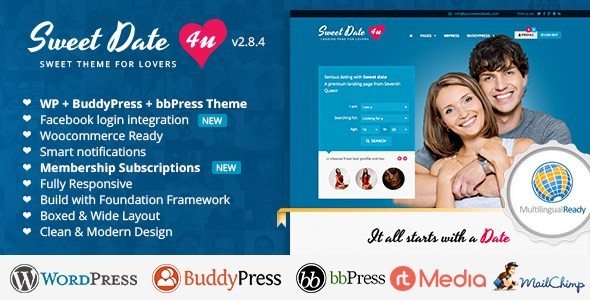 SweetDate WP is a unique, clean, and modern Premium WordPress theme. It is perfect for a dating or community website but can be used for any other domain. We put all the things that you need to create a perfect community system. Although we designed it to be used as a dating theme for WordPress, based on Zurb Foundation Framework, Sweetdate can be customized to match any business domain. Read in-depth sweet date theme review.
---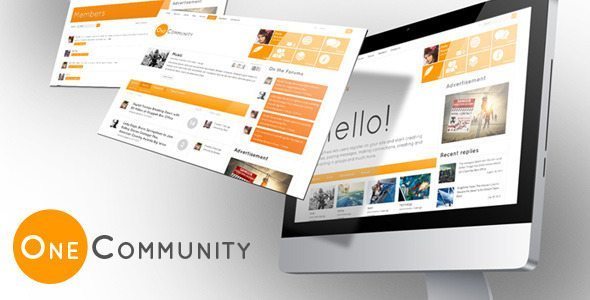 OneCommunity theme is integrated with a BuddyPress plugin, which lets users register on your site, create profiles, post messages, make connections, create and interact in groups, and much more. A social network in a box, build a social network for your company, school, sports team, or niche community.
---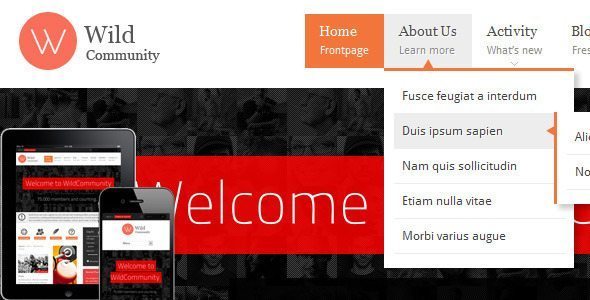 WildCommunity theme is integrated with a BuddyPress plugin that lets users register on your site and start creating profiles, posting messages, making connections, creating and interacting in groups, and much more. A social network in a box, BuddyPress lets you build a social network for your company, school, sports team, or niche community.
---
9. Huddle – WordPress & BuddyPress Community Theme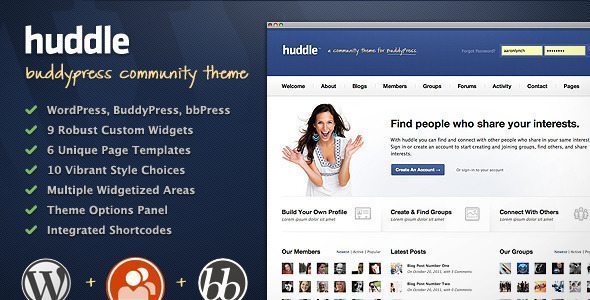 Huddle is a clean, robust, and easy to use community theme designed and developed for WordPress and make it compatible to run seamlessly with both BuddyPress and bbPress plugins installed.
Finally, a community theme is elegant, clean, modern, and easy to use, with top-notch features and functionality out of the box.
---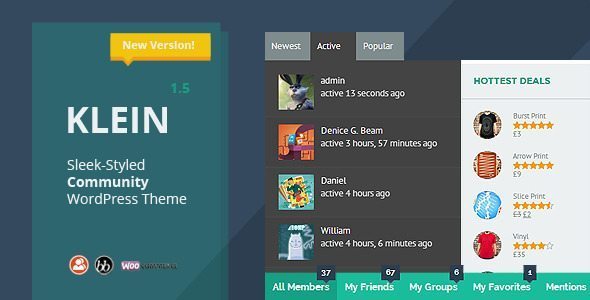 Klein is an innovative WordPress theme built to support BuddyPress, bbPress, and WooCommerce out of the box. Perfect for a website that interacts with a lot of users. Now your members can create a profile, send messages, add connections, or share what's happening in their life. Collaborate through forums or sell any products you want.
---
Cinematix theme is integrated with BuddyPress & bbPress, which lets users register on your site and start creating profiles, posting messages, making connections, creating and interacting in groups, and much more. A social network in a box, build a social network for your company, school, sports team, or niche community.
---
Razor is a clean, professional design for WordPress. Built on a responsive layout structure and supporting Retina enabled devices, Razor's beauty is more than skin-deep. The theme is packed with powerful modern features and the advanced controls you wish other themes included. There are endless possibilities for building websites, communities, social networks, and so much more.
Best WordPress Dating Plugins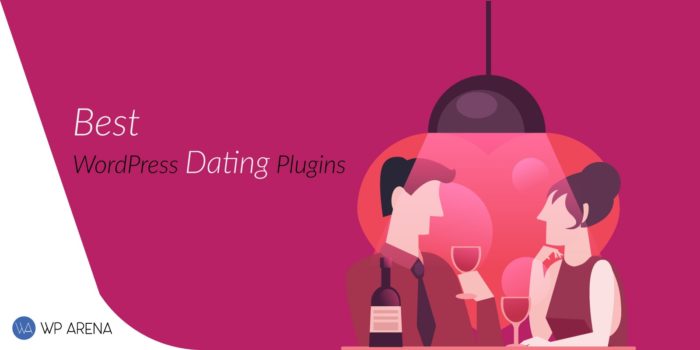 Below are the best WordPress Dating Plugins to make WordPress Dating Sites easily.
The simplest way to turn your WordPress website into a Social Network comparable to Facebook or LinkedIn. Mingle makes it easy to create a social network for your family, church, business, or even a premium membership site! Mingle uses your standard WordPress website and standard WordPress theme to create your Social Network instantly. So go ahead and try it out–give your users a more social experience on your website today!
---

WP Symposium turns a WordPress website into a Social Network! It is a WordPress plugin that provides a forum, activity (similar to the Facebook wall), member directory, private mail, notification panel, chat windows, profile page, social widgets, activity alerts, RSS activity feeds, Groups, Events, Gallery, Facebook Connect and Mobile support! You choose which you want to activate! Certain features are optional to members to protect their privacy.
---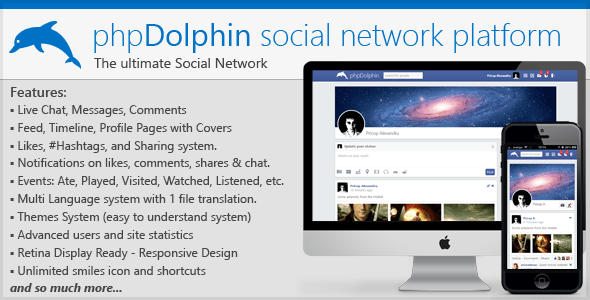 phpDolphin is a Social Network Platform similar to Facebook, allowing users to interact with each other by live chatting, sending messages, comments, likes, share photos, life events, and so much more.
Conclusion
I hope you have found out a WordPress Dating Theme or WordPress Dating site plugin for yourself. Any suggestion to improve this WordPress plugins, themes collection would be highly appreciated.
If you are looking for a WordPress Dating Theme free, we may go with another collection upon your request.