Whether you have a personal blog or business running with WordPress, a contact forms plugin is a must despite its function or traffic. And when it comes to choosing a WordPress forms plugin, users already have plenty of options out there. But there aren't a lot of responsive and feature rich contact forms plugins that you can use easily. Unfortunately, even the more powerful options are too complicated for starters. Until now, the latest appendage to the WordPress forms plugin world: weForms, from the WordPress product company weDevs.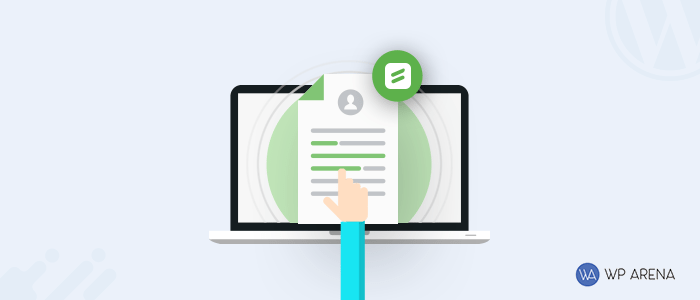 Let's take a look at weForms review and learn about its features, modules, and everything that makes weForms the easiest WordPress form builder plugin in the market.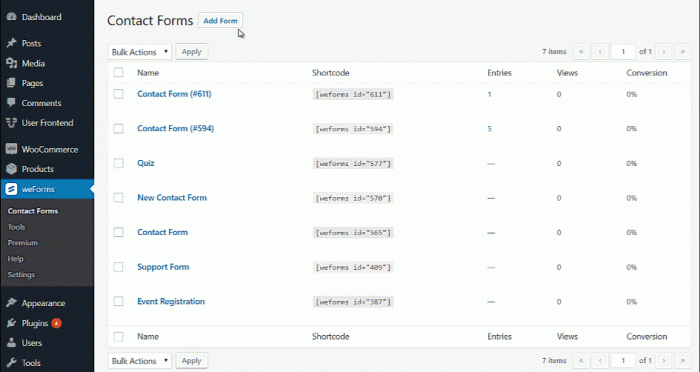 Create WordPress Forms Faster Than Ever!
Creating online forms in WordPress has never been faster! Thanks to weForms. It has got the spontaneous drag and drop elements that lets you build any kind of form in a blink. You don't have to write a single line of code.
The plugin comes with predefined customizable templates, so you don't have to build a WordPress form from scratch. You just need to pick a template and you are one click away to deploy the entire form easily.
Why is weForms So Easy to Use?
The interface is exceptionally easy to use, intuitive and super fast. You don't need to think about anything else, you will get your work done instantly. As it is built using the modern vue.js framework of JavaScript, everything works within a single page! Not just form creation is easy, their placement and appearance as well as how the forms will function- everything is very easy to understand and simple to apply in your website.
Amazing Drag and Drop Form Builder
First, you will get to select your template and then you will start straight to the drag and drop form elements. The drag and drop feature is quicker than any other existing contact form plugin in WordPress. Not just the drag and drop, it's really a user-friendly plugin since you can customize from numbers of elements from the menu.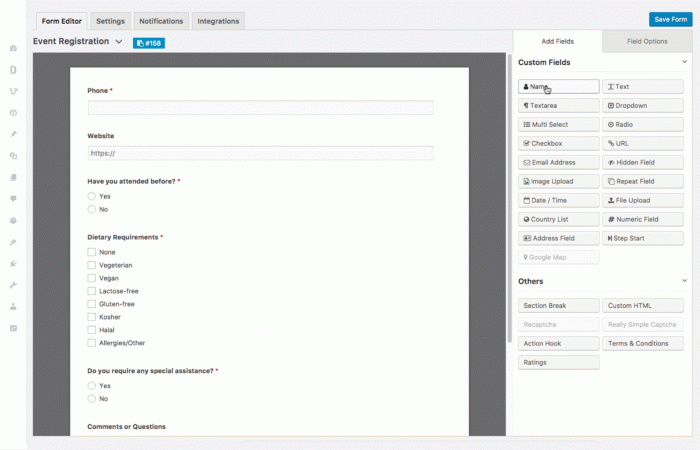 For example, if you want to add a "checkbox" field to your contact form, you just drag it over and drop it where you want. Then, if you want to customize that field, you just need to click on the field.
You can easily rearrange the existing form field by dragging it to the spot where you want it to stay.
Overall, the weForms is a satisfying, intuitive experience so far. Especially the beginners and as well as advanced users will definitely enjoy the interface.
Check Live Preview While Designing
weForms got an awesome 'Live Preview' mode as a built-in feature for reviewing new forms while you design them. No interruptions with theme styling or any possible script conflicts.
The form builder will update automatically all the changes that you are making in order to showcase you exactly how your form will look like.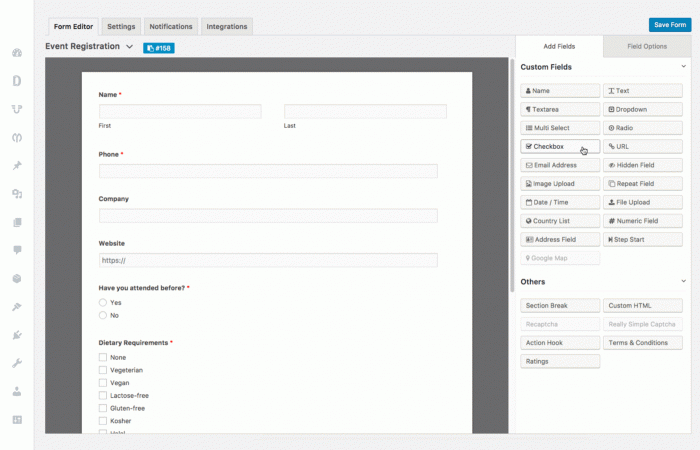 Responsive Mobile Friendly Forms
Responsive design is not essential only for small business, but for a personal blog as well. When you are creating a contact form for your users, it has to be responsive, so that they can use it from any device.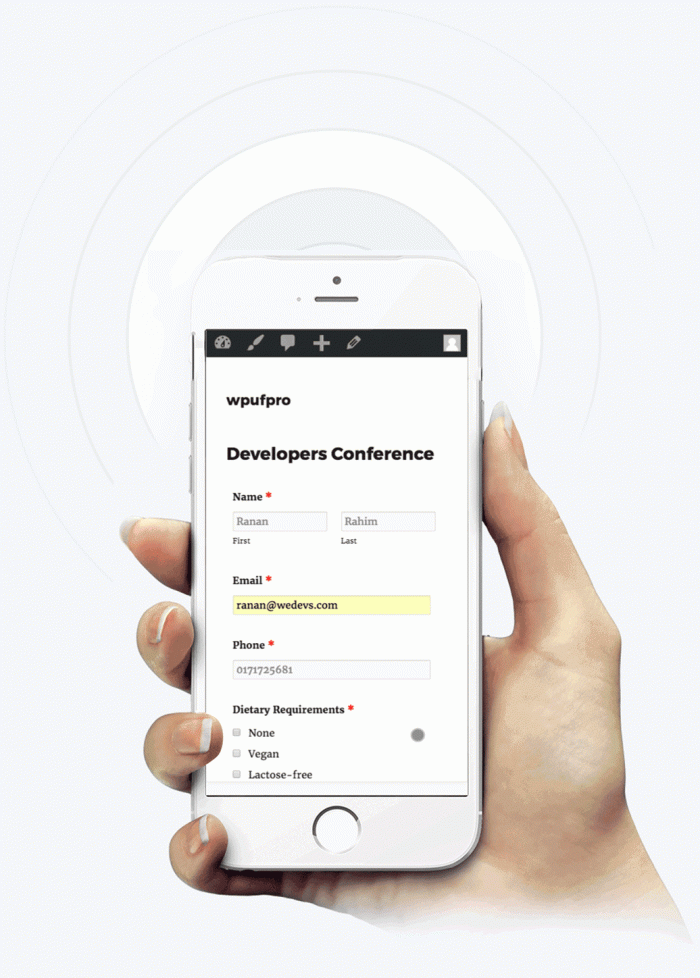 weForms is completely responsive and mobile-friendly. It has a fluid and flexible layout which adjusts according to the screen size. Whether your visitors check your website on a desktop, laptop, smartphone or tablets, your forms will always look great if it is created with weForms.
Extra Spam Protection Using reCaptcha
You must have seen issues with spam on your website, such as comments from the person who are not relevant or random blogs who are clearly not from a real person.  This is a very common problem on the website and weForms has got your back by adding reCaptcha to your forms.
Simply Sync with Popular Email Service Providers
weForms made it very easy to add email subscription signup forms using popular email service providers like MailChimp, MailPoet & Email Campaign. With the Pro version of weForms, you will have the access to import contacts from your email subscriber list.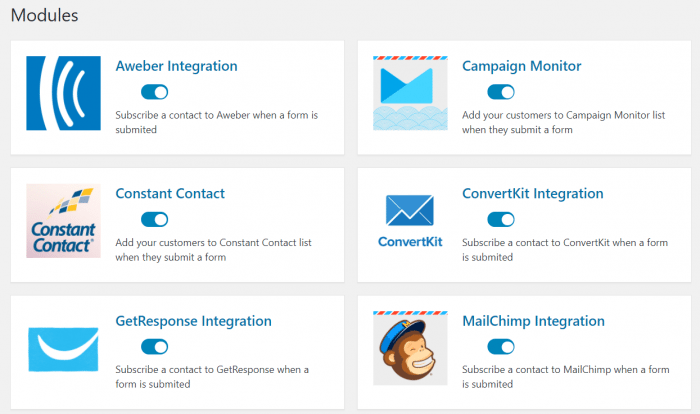 You can also set up multiple custom notification on each form with advanced mail forwarding system.
Forms Entry Restrictions
weForms has form entry restrictions & scheduling options. They allow you to limit specific entries to be submitted or restrict specific users from submitting the forms which can be very effective for creating exclusive campaigns.
Getting 24/7 Support System is a Bonus
weForms has support for free users on WordPress.org and ticketing support system for paid users. The maker "weDevs" is well reputed for fast and highly efficient customer support. For weForms, they have promised to provide the best possible support that you need. In addition, all the features are well explained in their extensive documentation, with step by step and easy to follow guides.
Limitations of weForms
In spite of the great user experience and advanced features, this brand new WordPress Form plugin has few integrations which are not completed yet. To get started with weForms you need to have WP User Frontend activated in the backend. Though it is automatically installed with weForms, some users can find it inconvenient. But the plugin is still in advanced development phase, we can expect more features in near future.
Pricing of weForms
weForms is a premium WordPress contact form plugin. But it has a free lite version available in the WordPress plugin repository with limited but useful features and support.
The pricing for the pro version starts from $39 for a personal site license. Aside from that, you'll get access to basic integrations and advanced features.

The professional plan gives you access to Google Analytics integration along with the basic features. With the professional plan, you'll get a license to use the plugin on 3 sites for $79. Then they have a business plan which lets you access to all the add-ons with 10 site license and priority support for a year, which costs $149.
But Now You Can Get weForms Personal License For FREE
As a promotional offer, weDevs is offering 3 months FREE subscription of weForms Personal License for everyone. For getting the free subscription, you have to visit the given link below and click on the "Request Pro for FREE!" option. After you fill up the form, they will send you a confirmation email along with further instruction.
Get weFroms Pro For FREE                                    Get The weForms Lite Version
Final Thoughts
weForms was built with a single goal in mind: build a WordPress plugin that's both easy and super fast, so that even the completely new users can build beautiful WordPress forms without any hassle.
The forms created with weForms are unbelievably fast and the live preview of drag and drop builder has made the form designing super attractive.
If you are looking for something more than a contact form, then you should seriously consider this plugin. We have great expectations for the future of weFroms since the creator company has a great reputation of product like Dokan, WP User Frontend, optimization and support.
We don't have any hesitation in recommending this pro forms plugin for your WordPress site.
Give it a shot and let us know your experience in the comments!