How many plugins have you either installed or tried out before creating all sorts of forms for your blog? I'm referring to, surveys, polls, lead forms, contact forms, quiz forms and many more. I have great news for you, I have found the perfect plugin that does all of this and the plugin is called CaptainForm.
CaptainForm has drag and drop functionality, thus making it very easy for bloggers to use and create forms quickly. I'm going to show how this plugin works by creating test forms.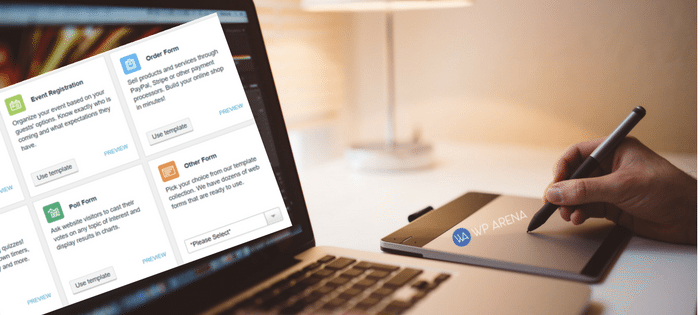 There is a free version of this plugin and 3 paid options, which allow even more features. To test the plugin, the Hero license has been purchased and below you can see the list of features for all the paid plans.
CaptainForm Plugin Options
By using CaptainForm, you are free to use any type of form template you want and customize it according to your needs and requirements.
Form templates that you can use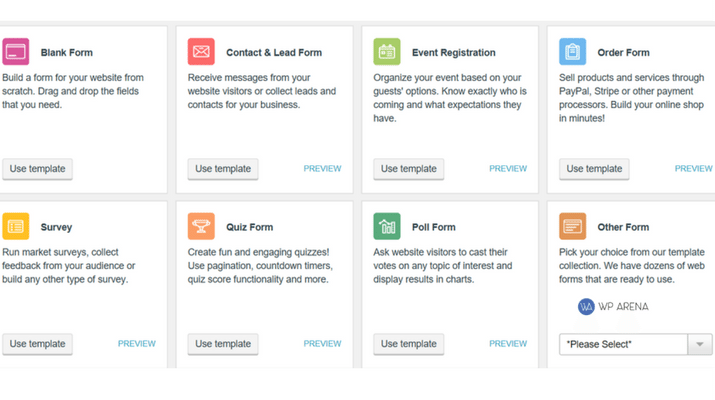 Main Features of The Free Version
Real-time drag & drop form builder
30+ form templates and the option to start from scratch
25+ types of form fields, including the file upload field, which allows you to receive attachments through forms
Required fields and optional fields
Field validation and field instructions that contribute to a good user experience on your forms
Forms with pagination and multiple fields per row
Mathematical operations for advanced calculations
Conditional logic (1 rule)
Predefined form themes and the option to customize form design extensively
Various form publishing options: in pages and posts, in widgets, as pop-up forms and auto-popup forms, in theme files
Email notifications sent to the form owner
Notification copy and default autoresponder sent to the form user
Custom Thank You page
Submissions archive and export to CSV and Excel
Google Analytics tracking
Various CAPTCHA types: simple, smart, reCAPTCHA
Country filters and IP limitation
Mobile forms (forms are compatible with mobile devices)
With the CaptainForm WordPress forms plugin, you get so many more advantages over what other plugins typically provide. You can create different kinds of forms to know your audience likes, dislikes or even the things that they are not aware of. The possibilities are endless as you can use your imagination to create custom forms. This plugin can do wonders for your blog and helps you provide content that your visitors are actually looking for.
Let's say I am looking for ideas on "what to write next" and want an opinion from my site users on "what they want". I am going to create a poll and let it stand up for a week to make sure, I get enough votes. Let's create a demo poll with CaptainForm plugin.
How To Create a Poll
In your WordPress dashboard, navigate to the "CaptainForm Menu" on the left side and click on New Form as shown below. You should be on the below page, so we can select a pre-made template to use while creating a poll.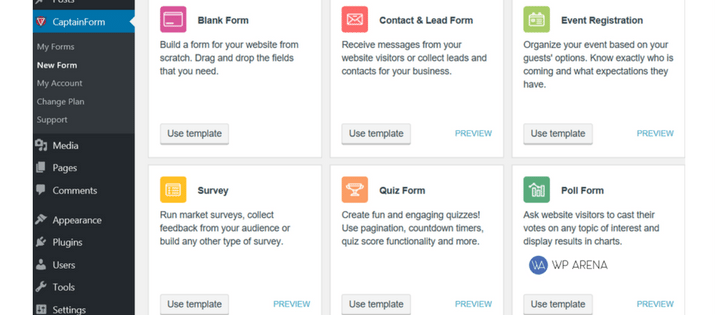 Let's get started, click on "use template" of "Poll Form" template, and you will be editing the poll pre-made template. I made some changes as shown below and there is more you can add to this poll with a paid plan.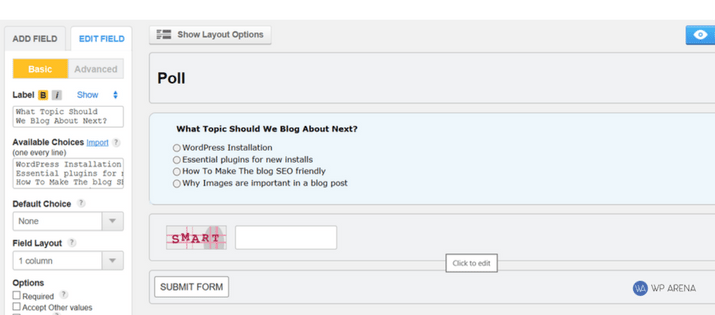 You can customize the layout options as shown below. I am keeping things default as that suits my taste for this survey.

When you are editing the form, there is a publish button at the top of the screen. Just click it to save settings and make the poll active. You will have to add the poll to the actual blog for public visibility.
CaptainForm "shortcodes" feature can do this job pretty easy. You just have to copy the shortcode and add it into a text widget to show the poll in the sidebar for maximum views. You can also use this shortcode inside your posts or pages.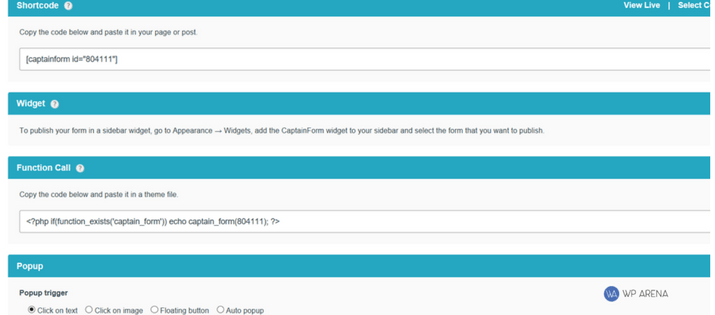 Here is how I created the basic poll quickly using an existing template "Poll Form". It took me 2 minutes to create this poll. The hardest part was what options to show for the visitors to choose from.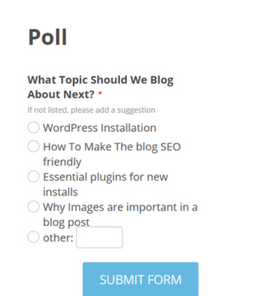 What About Poll Stats?
Yes, how will we know the stats of the poll options in our admin dashboard? This is quite simple as well. Just navigate to the "My Forms" section in the left side panel and select any form that you had created earlier, the results will be listed there. If you click on the (1) button next to the "Poll form", you will see the detailed stats as shown below.

My Final Thoughts
This plugin is super easy to create forms and has a lot of features. It took me two minutes to create a poll as I shown above and I bet if I created other forms that I have access to, it would not have taken me more than 2 minutes. Everything is self-explanatory when creating any form. There are detailed instructions available and a video to learn more about CaptainForm.
Check out this video
CaptainForm Knowledge Base – Please read it before downloading as these are detailed responses to questions that have been asked before in the past.
Get CaptainForm Today