Web design agencies often find themselves stuck in a cost-benefit paradox when it comes to excellence. You can only attract a growing roster of lucrative accounts if your team continues to re-earn a reputation for design perfectionism, which generally requires significant time investment per project. And yet, you'll never be able to widen your agency's revenue stream unless your team is able to turn around projects with ever-increasing efficiency over time.
This is exactly why choosing the best site development and design platform for your agency needs to hinge on functionalities that support quality output with efficiency. If your tech stack is a siloed mess of patchwork if it requires you to work from scratch every time, and if it involves several disparate services that need to be manually integrated with one another, then your business will never be in a position to grow.
In this post, we'll compare two popular web design platforms, Duda and WordPress, to see which one is better for agencies that are looking to build high-performance websites at scale.
Key Differences Between Duda and WordPress
Duda is a platform and site builder that enables your team to build professional-grade original website designs quickly.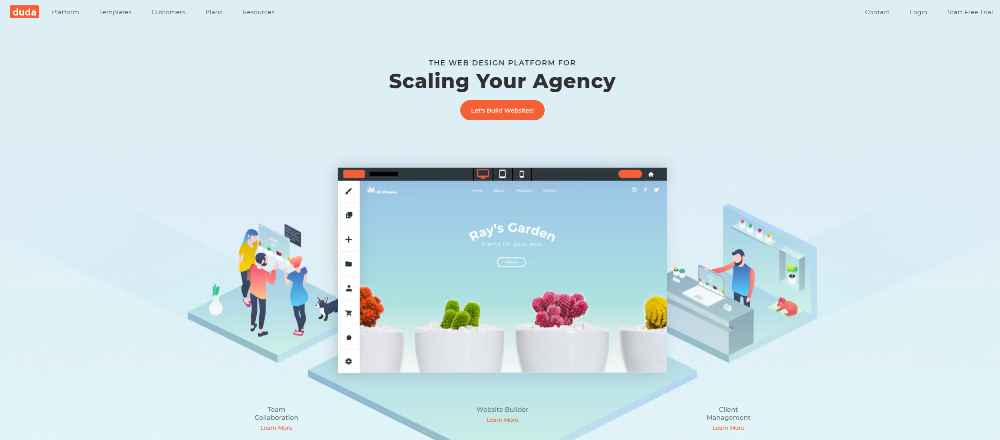 It's built specifically for web design agencies, digital agencies, publishers and SaaS companies. Duda allows web designers to build fully responsive websites using custom collections of templates and widgets. To date, nearly 15 million websites have been launched on the platform.
WordPress, on the other hand, is the most popular open-source CMS, powering nearly 34.8% of all websites today.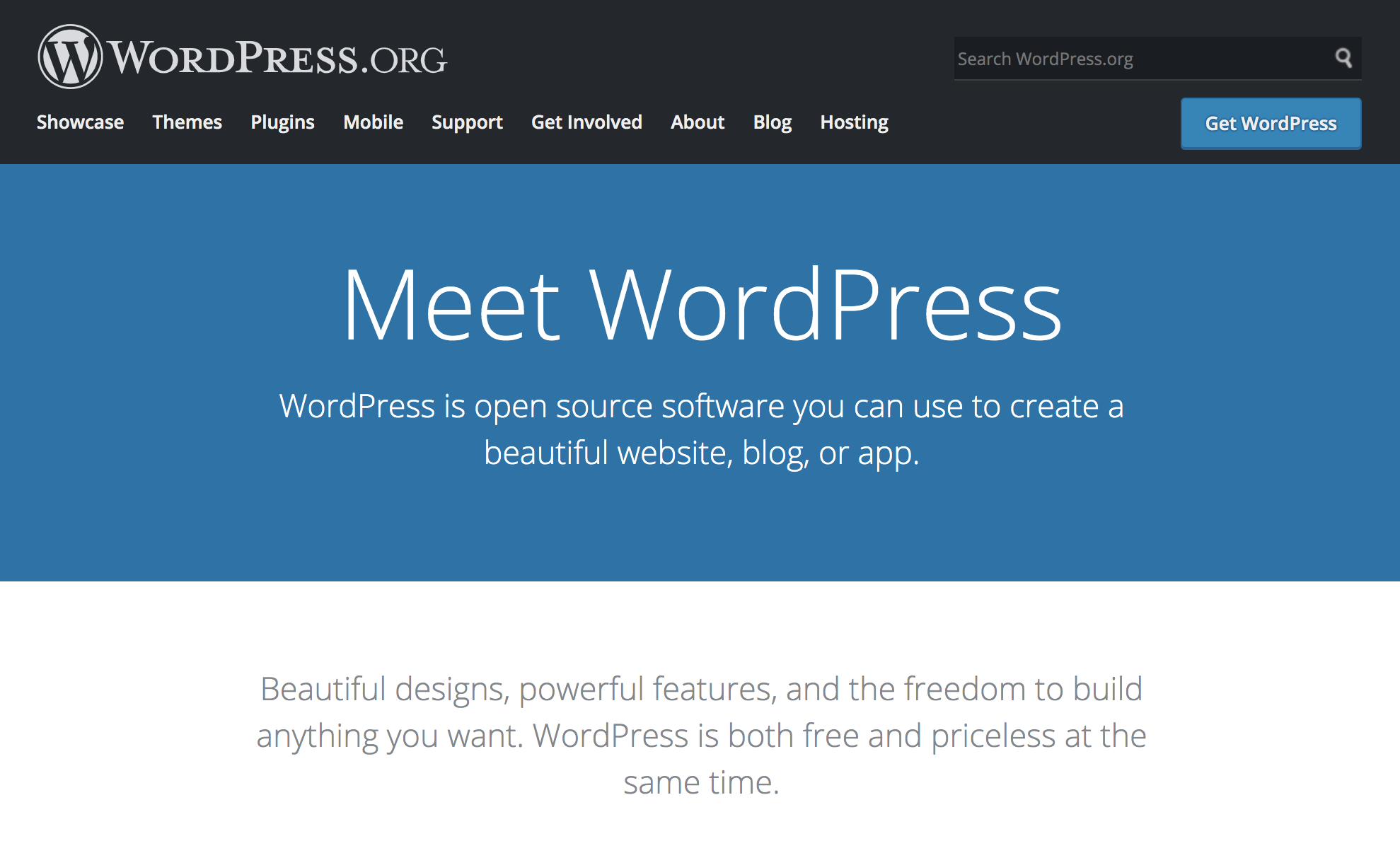 With WordPress, web design agencies can install the platform's software on any compatible hosting service and begin to design and build websites from scratch using themes and plugins. The CMS is made to be useful to everyone, in every site build use case, which means that it is not optimized for efficient, scalable team output.
Let's drill down into some of the specific areas in which the experience of building websites in each platform differs.
Duda's user-friendly and intuitive drag-and-drop website builder helps you speed up your site-building process by allowing you to create libraries of elements across projects. It lets you easily duplicate any page on any website and use its layout and design in additional sections of the same site, or for customization on multiple sites. You can also use it to assign specific site sections for implementation by specific team members.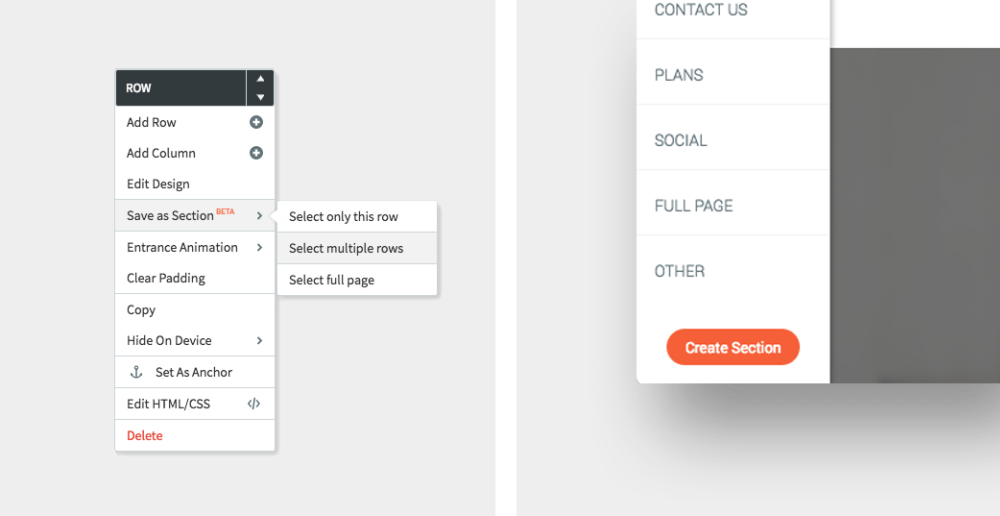 What's more, you can customize each element by device type and decide how you want your sites to look and function on desktop computers, mobile phones, and tablets.
Duda's content import feature lets you collect content from your customer's existing website or digital library automatically and import it directly into your own content library. This way, all of the information and visuals are in one centralized place.
In addition to this, you can add different widgets to sites, including a contact form, pop-ups, Disqus comments, online scheduling, and maps. You can also build your own widgets using Duda's widget builder.
With Duda, you get full e-commerce support including product pages, tax options, payment options, and digital downloads. In addition to this, Duda offers multi-language support for over 55 languages. Duda lets you use pre-made personalization rules, so your clients' audience members can see different versions of the content depending on their geo locations or browsing histories, for example, although you also have the option to combine any mix of triggers and actions to create your own personalization rules.
The dynamic pages feature lets you design a page once and use it to build multiple pages. Each page created this way will have the same layout but different content based on the dataset you plug into it. This connected data feature makes API-driven site creation simple and scalable.
WordPress, on the other hand, was once known for offering no native support for drag-and-drop design, although third-party premium plugins like Elementor made this functionality possible. Last year, WordPress rolled out its controversial Gutenberg page editor, which does allow you to move elements around.
You can use a WordPress theme, page builder, or custom code to design your website. However, these options aren't easily scalable across projects.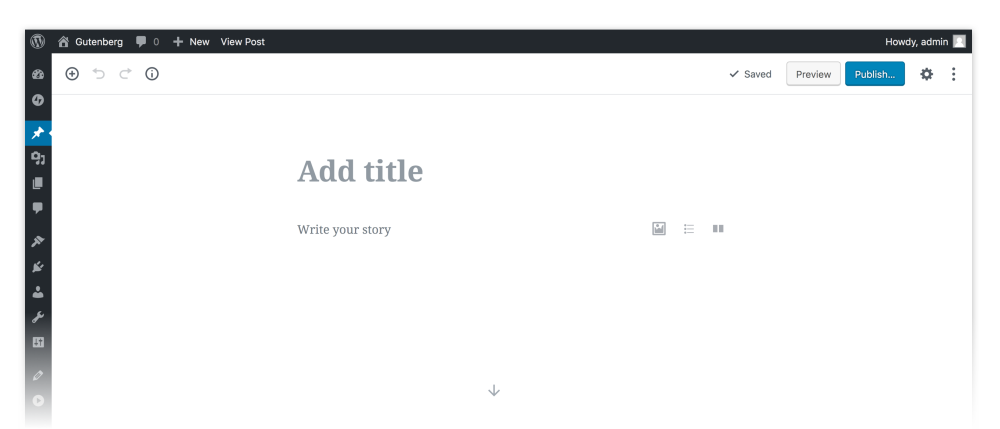 The widgets you can add to your website – and where you can add them – depend on the theme and plugins you're using. To access advanced features such as duplicating pages, e-commerce, or multi-language support, you'll need to use plugins.
In addition to this, you don't get any tools to speed up the process of collecting content from your clients.
2. Team Collaboration Tools
Duda's team sections feature lets you and your team create, save, and share entire sections and pages. Similarly, you can reuse Duda's predesigned sections and templates or one of your own to save time spent on development. Its team sections dashboard gives you access to a collaborative space where you can work together with team members.
You can also build widgets using the widget builder and share them with your team members.
The site comments feature makes it easy to discuss mockups and adjust pages as they're being worked on. No more tedious emails with stacks of marked up screenshots required.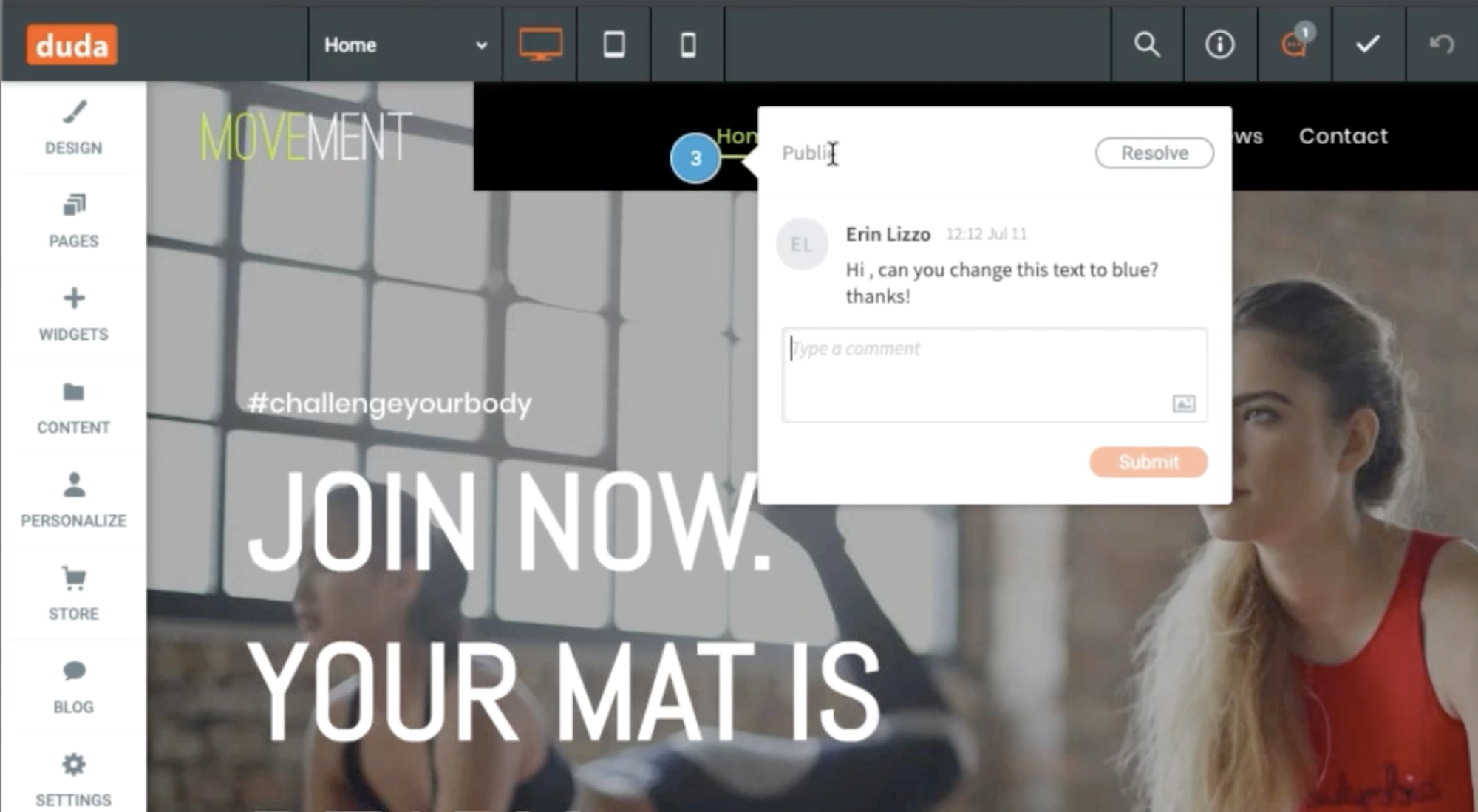 Duda also lets you create groups and set group permissions to facilitate collaboration. You can give individual permissions to team members for managing client sites. You can create an admin group, designer group, store manager group, and blog group, and give each group different access permissions based on their assigned tasks.
WordPress comes with six predefined roles out of the box, each with different capabilities (for example, contributors can't publish articles). These include:
Super admin
Admin
Editor
Author
Contributor
Subscriber
These are very limited user role options which are mainly designed for blogs and magazine sites only. Moreover, WordPress doesn't have built-in team collaboration features, so you have to rely on plugins and third-party services. But there's no such thing as a master WordPress account for all of your projects, where you can store, share, assign or discuss these elements.
3. Client Management
Duda lets you involve your clients in the site-building process so you don't have to go back and forth over the phone, send cumbersome emails or impose on your clients to log in to your project management platform.
The aforementioned site comments feature, for example, allows your clients to comment on different website elements as you're building them. This is a great way to quickly get clear feedback in real-time.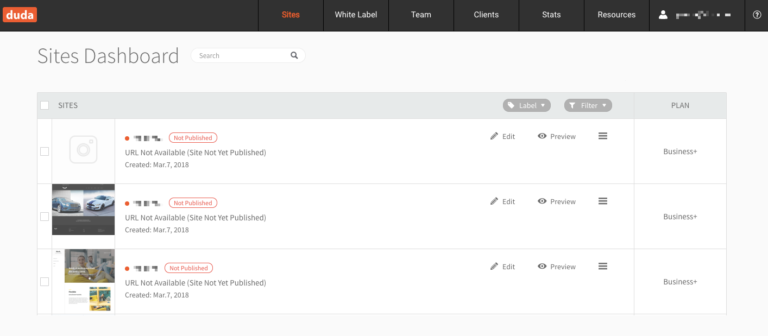 Duda comes with a complete multi-site management dashboard that lets you change the design, content, or code of each individual website from within the dashboard without having to log in and out of multiple CMS installs or hosting accounts. This is great for web design agencies that work with multiple clients at a time.
Duda is fully white labelable, which means you can add your agency's custom branding including logo, text, buttons and color schemes to the platform's back end. In addition to this, you can send automated messages to clients which include website stats and analytics.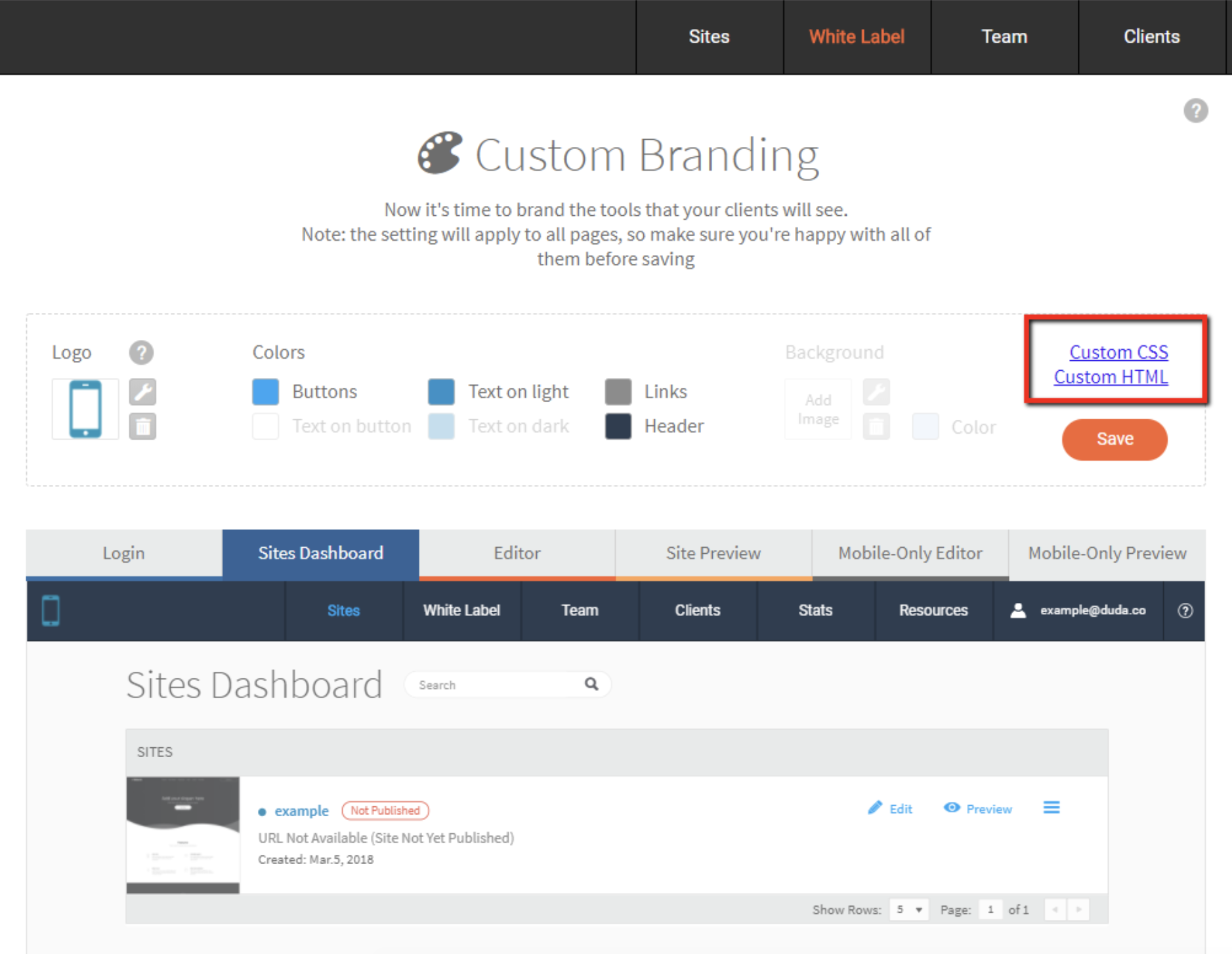 You may have different types of customers with varying levels of site management skills. Depending on their level of expertise, Duda's client permissions feature lets you choose which sections you'd like to give clients editing access to. For example, if you want to let clients manage their own content, you can give them content editing permission. Or if you want to let them manage their online store, you can grant them e-commerce permission.

On the flip side, WordPress offers no client management features out of the box. You have to use plugins to white label the websites you build or grant editing permissions.
4. Website Infrastructure
Duda uses Amazon Web Services to host all their websites, with unlimited storage and bandwidth included. Each Duda website gets a free SSL certificate that can be activated in a single click. You can also create complete site backups any time you want, which makes it easy to revert back to a previous version.
Duda delivers your site's content (like images and videos) using a global CDN, from hosting servers nearest to their geographic location, which improves page loading times. In addition to this, all Duda sites are automatically optimized for Google PageSpeed, offer Open Graph support, and let you set up 301 redirects.
Duda supports direct integrations with a number of platforms, including leaders in these categories:
Business and Commerce (Google Sheets and PayPal)
Social (Facebook and Instagram)
Videos (Vimeo and YouTube)
Location (Mapbox and Google Places)
Marketing (Mailchimp and Constant Contact)
You can also build progressive web app (PWA) versions of your clients' sites in a single click. In addition to this, all Duda websites are mobile-friendly, which is great for SEO.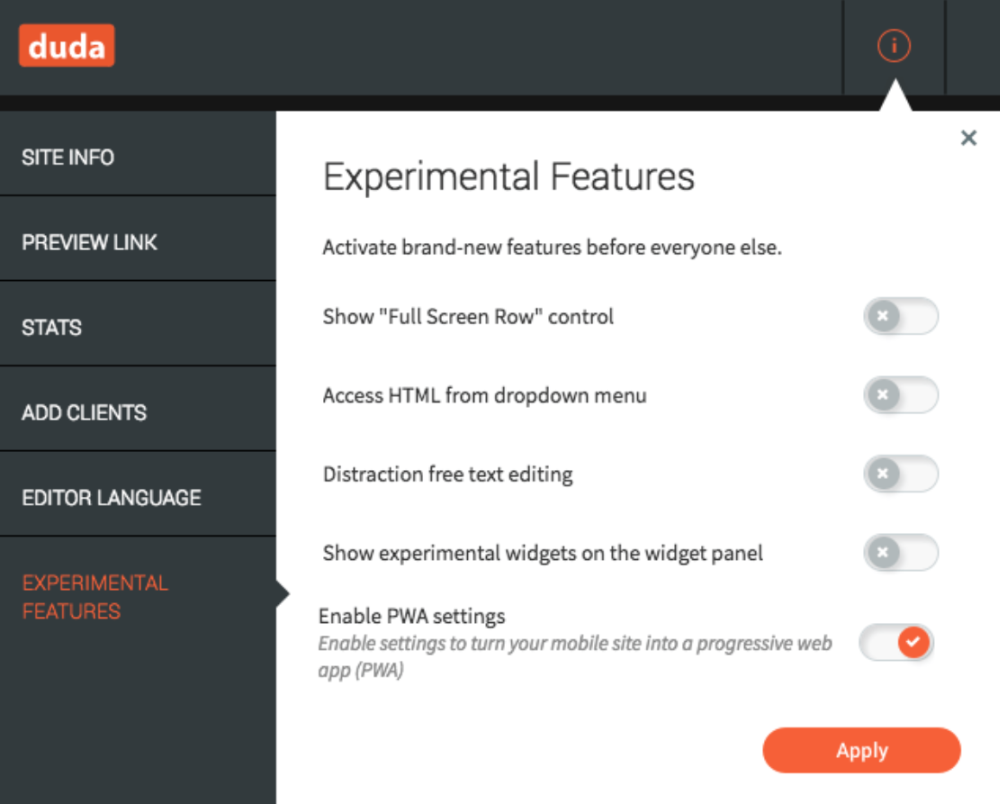 WordPress, on the other hand, is a self-hosted platform, which means you have to purchase hosting separately to get your clients' sites up and running. You also need to install the WordPress CMS on your hosting server, which often requires some prior technical know-how.
Moreover, WordPress doesn't come with a built-in CDN service. And to create site backups, you'll have to use a plugin or pay extra for automated backups offered by your hosting provider.
WordPress offers a number of built-in SEO, tools which includes the ability to use .htaccess for creating static URLs called permalinks. You can also use a plugin (like Yoast SEO) to manage many aspects of search engine optimization, although optimizing for speed often requires involved processes of trial and error.
Conclusion
To recap:
Though WordPress offers a lot of flexibility, Duda packs powerful client management features, website builder, team collaboration tools, and website infrastructure that'll help you build websites at scale. For agencies that prioritize growth, Duda is clearly the superior option.