After publishing the article on "+200 Google ranking factors," I understand that it is essential to clearly understand the SEO process before starting an SEO campaign. Without this understanding, creating specific plans for the campaign will be impossible, and you may take meaningless steps. Therefore, in today's article, I will discuss the topic of "SEO Process."
The Search Engine Optimization process includes 7 basic steps: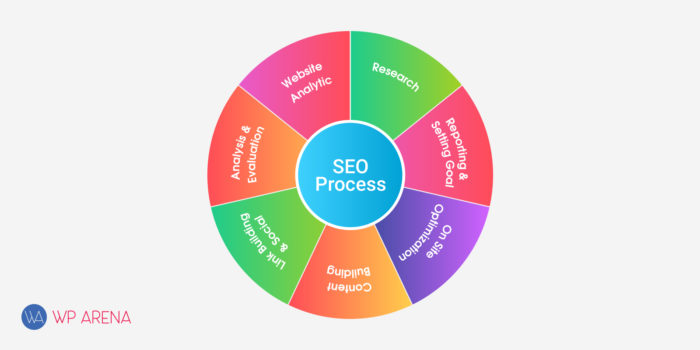 Table of Contents
And now we will proceed to examine the SEO process in a detailed and organized manner.
1. Website Analysis
The initial task of an SEO professional is to perform a website analysis. This process allows you to collect data about the site, including current traffic volume, ranking, and top landing pages. Furthermore, through this step, you can assess your competitors in terms of target keywords and backlinks.
2. Keyword Research
Keyword research is a crucial step in SEO because there is no SEO without keywords. Keywords serve as the foundation for your SEO campaign. Conducting keyword research allows you to identify the specific terms, phrases, and keywords users enter into search tools to find relevant information in a particular field. Additionally, it enables you to determine high-ranking keywords on the result pages.
Once appropriate keywords for your field are found, you can extend to find similar keywords. There are many tools to do this work. However, people tend to use the Keyword Planner which gives you similar keywords and monthly search volume. Should you choose keywords with high monthly search volume? The answer is no because it is difficult for you to get high ranking with those. You should find a set of 10 keywords for each field. The more detailed information will be described in the next article of the WordPress SEO Tutorial series.
Competitors
There is a famous sentence:
He who sees through life and death will meet with most success.
Studying competitors is the key to understanding why they have high rankings and numerous hits. This will enable you to develop your own strategy to stand out. SEO metrics, such as internal and external links, content, and social networking, can be utilized. Here are some tips from successful entrepreneurs and business owners in various fields to gather information from competitors:
Be further than a Google search: To study competitors, you should start with a simple Google search or direct access to the competitors' sites. If you worry about spending too much time on this job, I recommend using tools from Google such as Google Trends, Google alerts, SpyFu,…
Reporting: A very effective way to analyze your opponents is to follow companies or organizations who often give analysis, and release reports related to your field. These reports will include information about you and your competitors, new trends, market demands, which markets should be developed…
Social Network: Due to the significant expansion of social networking, it is now essential for companies to utilize social platforms for marketing purposes. Additionally, this approach provides an opportunity to gain insights into customers' opinions regarding competitors' products and services. Therefore, engaging with and following your competitors' pages is recommended to stay updated and enhance your strategies.
Ask your customer directly: this is a fantastic idea. Create a form for new users to provide feedback on the products they have used and how satisfied they are with them. And when a customer stops using your products, it would be good to have a form to understand why they left. Additionally, you can gather information about your competition and generate new ideas for your marketing campaign.
Participating in conferences and forums is valuable to gain insights about your competitors. By attending these events, you can discover who your competitors are, what they offer, and how they engage with customers.
3. Reporting & Setting Goals
After identifying keywords and analyzing competitors, create a precise report on targeted keywords, monthly traffic, estimates, and strengths and weaknesses of competitors. This will help establish and enhance SEO plans and goals. However, it is essential to note that these goals should always align with specific business objectives.
4. On-Site Optimization
The main purpose of SEO is to achieve high rankings for your web pages. Below are key factors to optimize on the page:
Navigation.
URL Structure.
Internal link
Duplicate content.
Phrase targeting.
Quality.
Titles
ALT, meta tags.
Crawlability & Accessibility.
Site speed.
Sitemaps
Clean up the code.
All of them will be clearly stated in the next post of this series, then wait to see the latest information.
5. Content Building
High-quality and valuable content is essential for retaining and attracting readers to your website. Search engines also favor it. Additionally, optimizing content is vital for achieving a high ranking on search engine results. To achieve standard SEO for content, you must optimize various factors, including the title, URL, and duplicate content.
6. Link Building & Social
Getting a link from a reputable site such as .gov or .edu within the same field can enhance your website's ranking. However, it is important to avoid association with spam sites. Regularly using link checkers can help keep your site clean.
You are undoubtedly aware of the influence of sharing content online through social networks. It can propel your business to new heights, expanding your reach to a broader audience and facilitating customer engagement.
7. Analysis & Evaluation
After completing the above steps, a post-optimization report should be created to compare rankings, website traffic, social media presence, and other crucial data. This data will be used to develop an SEO plan based on the website's objectives.
Conclusion
In conclusion, the SEO process is crucial for businesses in today's digital age. It enables websites to rank higher on search engine results pages, leading to increased visibility and organic traffic. Through keyword research and optimization, businesses can target their desired audience and attract relevant visitors to their site. Additionally, SEO involves optimizing website design and navigation for a better user experience, reducing bounce rates and improving conversion rates. The importance of SEO cannot be overstated, as it allows businesses to stay competitive, establish authority, and ultimately drive growth and success in the online realm. By investing in a well-executed SEO strategy, businesses can position themselves for long-term success and achieve their marketing goals.