There are only a few major search engines. But there are hundreds of smaller ones that range from very general to very specific in nature. What search engines can do for your website?
On the back end, a search engine is a piece of software that uses applications to collect information about web pages. The information collected is usually keywords or phrases that are possible indicators of what is contained on the web page as a whole, the URL of the page, the code that makes up the page, and links into and out of the page. That information is then indexed and stored in a database. On the front end, the software has a user interface where users enter a search term — a word or phrase — in an attempt to find specific information. When the user clicks a search button, an algorithm then examines the information stored in the back-end database and retrieves links to web pages that appear to match the search term the user entered. [Reference: SEO: Search Engine Optimization Bible]
Major Search Engines and Directories
1. Google Search Engine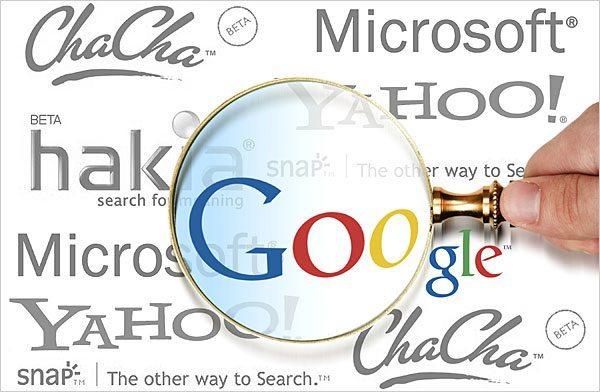 To get your site listed in the Google Directory, you need to get your site listed in the Open Directory. The Google Directory is created from the data included in the Open Directory. Click here to learn how to get your site listed in the Open Directory.  Alternates of Google Search Engine
2. Yahoo! Directory
The Yahoo! Directory has a PR8 rank so it's a good site to get a backlink from. Is it Worth Getting Into the Yahoo! Directory?
3. Open Directory Project: Dmoz

Help build the most comprehensive human-reviewed directory of the web. Submit Your Site to Dmoz
4. Microsoft: live.com
5. Ask: www.ask.com
Ask.com is the #1 question answering service that delivers the best answers from the web and real people – all in one place.
The Failure Of Ask.Com, The Highly Competitive Search Market And Google's Monopoly.
Secondary Search Engines
Secondary search engines target smaller, more specific audiences. They are basically the topical and regional search engines that can provide a user tremendously narrow and focused search results when looking for specific information. However, the volume of traffic they generate is much lesser than the primary search engines do, but their results may gain valuable traffic that should not be overlooked.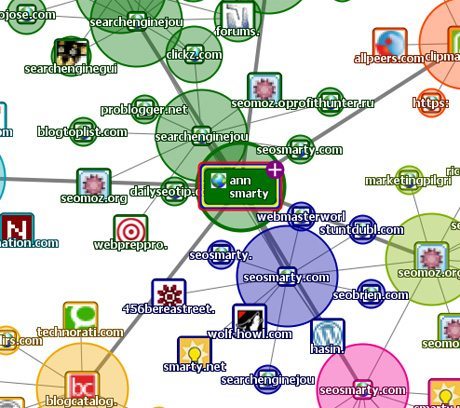 Incitylife: https://www.incitylife.com/
AlltheWeb: www.alltheweb.com (same index as Yahoo)
AltaVista: www.altavista.com (same index as Yahoo!)
Slider: www.slider.com/
7Search:
Miva: www.miva.com/us/
Search123: www.search123.com/
All the Internet: www.alltheinternet.com/
Windows Live: www.live.com/
MySearch: www.mysearch.com
Alexa: www.alexa.com/
HotBot: www.hotbot.com
Netscape: www.netscape.com
SearchIt: www.searchit.com/
Wisenut: www.wisenut.com/
Lycos: www.lycos.com/
Findtarget: www.findtarget.com/
Towersearch: www.towersearch.com/
Entireweb: www.entireweb.com/
Scrub the Web: www.scrubtheweb.com/
SearchHippo: www.searchhippo.com/
ExactSeek.com: www.exactseek.com/
Information.com: www.information.com/
Jayde: www.jayde.com
LinkMaster: www.linkmaster.com
Qango: www.qango.com
ZenSearch: www.zensearch.com
1800Miti.com: www.1800miti.com
AXXASEARCH: www.axxasearch.com
Infotiger: www.infotiger.com
WhatUSeek: www.whatuseek.com
Where2Go: www.where2go.com
SearchKing: www.searchking.com
Genius Find: www.geniusfind.com
01 Web Directory: www.01webdirectory.com
Yeandi: www.yeandi.com
So Much: www.somuch.com
Start4all: www.start4all.com
Wow Directory: www.wowdirectory.com
Business.com: www.business.com
Gimpsy: www.gimpsy.com
Go Guides: www.goguides.org
JoeAnt: www.joeant.com
Skaffe: www.skaffe.com
Web-Beacon: www.web-beacon.com
Beaucoup!: www.beaucoup.com
Complete Planet:
AlltheBizz.com: www.allthebizz.com
AbiLogic: www.abilogic.com
BizWeb: www.bizweb.com
Directory Archives: www.directoryarchives.com
Mavicanet: www.mavicanet.com
Re-QUEST do net: www.re-quest.net/
SuperSeek: www.superseek.org/
Web World Index: www.webworldindex.com
Bigall: www.bigall.com
International Business Directory: www.internationalbusinessdirectory.com
Cipinet: https://directory.cipinet.com/
America's Best: www.americasbest.com
LCN2000.com: www.lcn2000.com
BizWeb.com: www.bizweb.com
BamInfo.com: www.baminfo.com
Run your own Web Directory by using WordPress
1. ArticleDirectory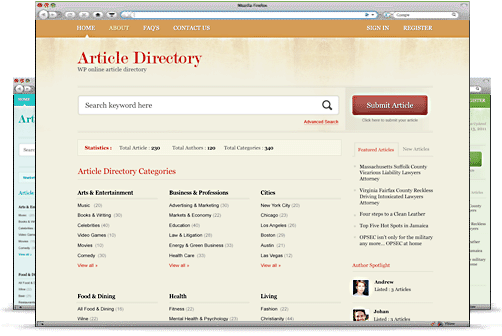 Create advanced Article Directory website and manage it with ease with the power of WordPress
Bulk upload articles, manage your site with the power of WordPress. Let your users submit articles, featured articles and do the Advanced Search and do a lot more with this advanced theme.
2. Sofa OpnPress – Publishing Platform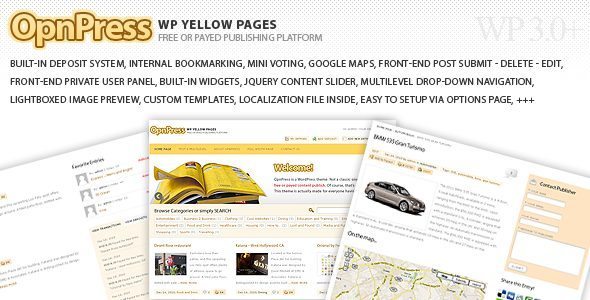 This theme can be used for more than just one purpose; article submission, yellow pages, classified ads, Q and A, reviews, press releases, file sharing, real estate listing, websites showcase, etc, etc. You can literally build a community website that fits any niche.
3. Geo Places City Directory WordPress Theme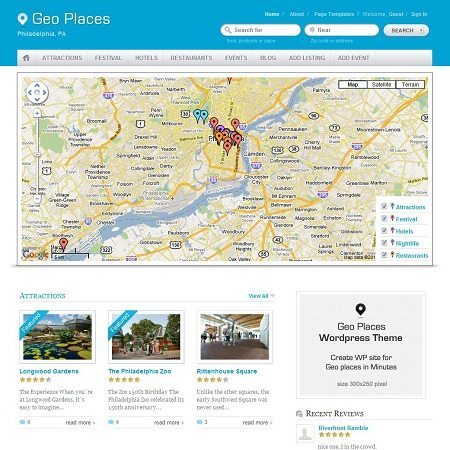 Create & manage your out of the box city directory website easily in WordPress. Geo Places is a premium WordPress Theme which has been developed to make it easy for you to create a city portal or directory website by harnessing the CMS power of WordPress and Google maps. Geo places come with a 1-click install feature which will automatically add listings, descriptions, images, widgets, blog posts, testimonials, and pages to your site. This dummy content will make it much easier for you to figure out how the theme works and will help get you right on track. You can also delete everything with one click and start from scratch if you wish to do so as well.
4. ReviewIt – Review & Community WordPress Theme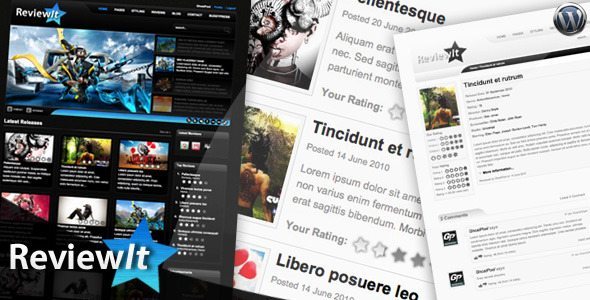 ReviewIt provides you with a powerful review and community theme, that is also 100% BuddyPress compatible!
5. Directory Press Directory WordPress Theme
Directory Press is a full-featured Directory WordPress Theme that will turn your site into a very powerful online link directory. Now you can have the power, security, and flexibility you need to create a link directory website that doesn't suck.
This theme has a very professional and modern design unlike some link directories out there, so it is sure to make your site stand out from the rest.
6. TheCorporation WordPress Theme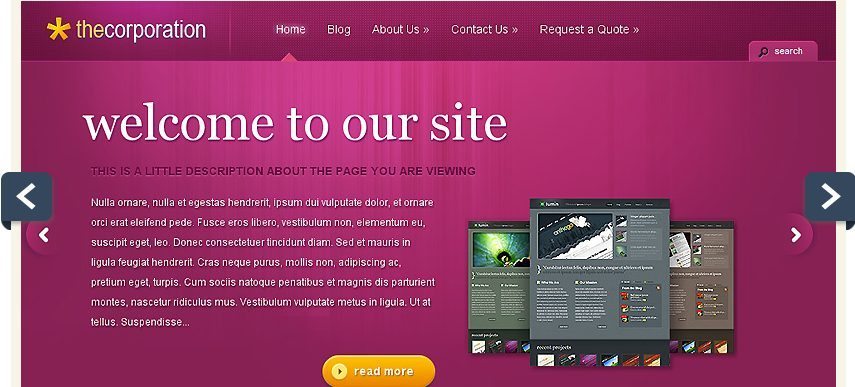 TheCorporation is a sleek and professional theme for business sites. Grab your visitor's attention immediately with the prominent and flashy jQuery slider, and let them know who you are via the simple page-based homepage design. TheCorporation was built to be sophisticated and userfriendly, and will surely impress your potential clients.