It doesn't matter what industry you operate in, the importance of a good website cannot be ignored today. Not only does your website need to look amazing and reflect your brand, but it also needs to be quick to load, easy to use, and provide an enjoyable customer experience. You may assume that your website ticks all of the boxes, but does it really? Read on to discover some of the common web design mistakes that you are probably making.
Website Design Mistakes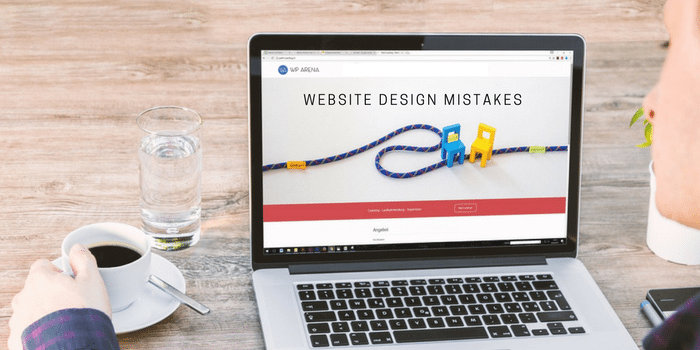 Not having a clear call to action on every page
You need to ask yourself the following question: do your website users know what they are supposed to do after visiting every page on your website? If the answer to this question is no, you need to make some changes. None of your website pages should lead to a dead-end; every user needs to know what to do afterward. Make sure all of your call to actions are clear and impactful, whether they are promoting signing up for a service or your newsletter.
You have not optimized your website for mobile use
This is one of the biggest mistakes that business owners are making today. Optimizing your website for mobile use is a necessity. You only need to look at the statistics regarding mobile Internet usage to see why this point is so important.
Most people use their mobile phones to browse the web today. If you have not optimized your website for all devices, when someone searches for your site on their mobile, they are going to be met with a website that is difficult to read, involves a ton of scrolling, and generally doesn't look very good. This is going to result in them clicking the back button and heading to one of your competitors, which is the last thing you want. By optimizing your website so it is responsive, it will look great across all devices, it will be easy to use and navigate, and it will provide an exceptional user experience overall.
It is also worth pointing out that SEO is different for mobile devices as well, so you will need to tweak your strategy on this front to ensure your website is featuring at the top of search engine result pages when people are searching on their smartphone.
Visitors cannot find what they are looking for when they enter your website
Your website should be easy to navigate. This is one of the most important rules when it comes to effective web design. It needs to be intuitive. People should land on your website and know where to go without giving it a second thought.
The best way to find out whether your website is difficult to navigate is to ask a few of your friends and family members to try out your website and get an honest opinion from them. Stress the importance of them being truthful, rather than simply telling you what you want to hear. If they cannot browse your website and find the things they need with ease, then your navigation is all wrong.
Also read: 5 Web Design Tips for Boosting Your Conversion Rate
Users should never have to go searching, nor should they even have to think about where all the important information and features may be. It should be easy and obvious.
Not paying attention to analytics
Do you measure the success of your website? Do you take the time to assess critical data to determine how your website is performing? If not, then you are definitely making a big mistake. After all, how do you expect to determine how your website is performing if you do not look at the facts and figures?
The only way you are going to be able to improve what you have to offer and decipher how you are truly performing is by paying attention to analytics. Moreover, when you consider the fast pace of the Internet today, and the need to keep up with the latest trend and developments, you see why this is even more important.
Also read: 9 Web Design Trends You Can't Ignore
After all, your website may be performing well one month, and then a few months down the line this could all change if you have not been keeping abreast of all of the algorithm updates and such like.
A lack of quality content
You know what they say, content is king, and this is most certainly the case. If your website is lacking in quality content, this is going to be a big problem for a number of reasons.
First of all, it makes your business look amateur. If people struggle to read the content on your website, or you are providing them with an overload of information that is presented in a way that is difficult to read, they are simply not going to bother reading it.
Also read: Design Tips for Building Better Websites
Secondly, this is bad for search engine optimization. Gone are the days where you would simply keyword stuff content to get to the top of Google. Today, Google is looking for quality content, which is relevant, original, and engaging, with the natural use of keywords. If you provide the opposite of this, your website is likely to fall down the search engine rankings, rather than move up them.
Search engine bots are much more sophisticated than they used to be, and they know how to spot duplicate content, as well as content that has merely been created for the purpose of ranking for a certain term. Organic, natural SEO content is the only way to go.
Your website takes too long to load
Think about the reason why the Internet has become so popular. It is because it is all about convenience. People prefer online shopping because they can do it from the comfort of their own home or while they are on the train going to work. It doesn't take much of their time. They merely have to click a few buttons and the item will be delivered to their front door.
Also read: The Ultimate Guide To WordPress Speed Optimization and Performance
So, if your website does not provide this speed and convenience, they are simply going to look elsewhere. No one wants to wait a minute for a page to load, especially if they are going to be browsing through several. You need to take a look at your page load times, and if they aren't good enough, look for ways to improve this, for example, by removing any large media files.
Pop-ups
Last but not least, the dreaded pop-up. Now, this is not to say that pop-ups should never be used, but they need to be used carefully and with caution. If someone heads to your website, and they see a pop-up before they even see any of the information on your website, they are going to leave. Of course, if the pop-up appears after a short while to offer the user a discount, this is a different matter entirely.
Are you making any of the web design mistakes that have been mentioned above? If so, make an effort to rectify these issues as soon as possible, and you will notice a big difference in terms of traffic, conversion levels, and overall user satisfaction. A winning website is one of the best ways to stand out from the competition today, so make an effort to ensure that your site is firing on all fronts.