First impressions matter online. Nowadays, online customers judge websites based on their "look and feel" which basically implies that creating a site with a good design matter so much. In fact, research conducted at the Missouri University of Science and Technology has revealed that online visitors make their first impressions in as little as 2.6 seconds.
If you're serious about building a digital business that succeeds, you need to make sure that your website has all the essential ingredients to hook audiences the moment they land on your website. You can avoid all possibility of potential customers bouncing off your site by following these simple yet powerful design strategies.
1. Choose a website builder that prioritizes speed and top-notch design
A lot of online business owners and bloggers fail to realize that speed is an essential component of the web design process. More people are using their handheld devices to shop online. If you aren't aware, half of all web traffic now comes from mobile.
Google has stated that speed greatly impacts a website's revenue. Online shoppers want to accomplish their goals more quickly (view a product, check out, etc.) and an optimized page speed solves that dilemma. Facts on page speed reveal that online shoppers spend 70% more time on a site that loads quickly. Before choosing a website builder, be sure to review the top website builders to make sure the platform you choose has the most optimized page speed, tools and other features you need to make your website run smoothly.
Incorporate speed in your website design from the start by using Duda for professionals and online marketing agencies. Duda tackles speed issues head-on by following Google's PageSpeed Insights rules.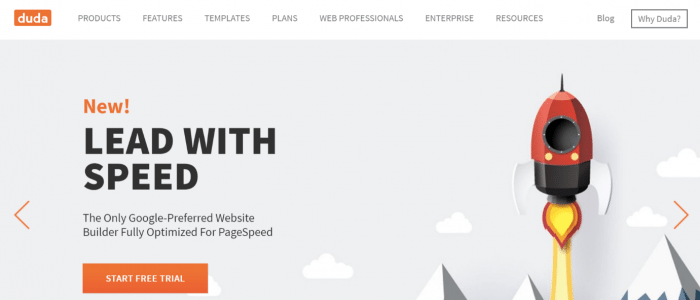 Duda, in an effort to build websites that readily optimized for speed, accomplished the following:
Automatic compression of images while retaining top-notch image quality.
Critical CSS is rendered at the top of the page while non-essential CSS is pushed to the bottom of the page.
Compression and minification of HTML, CSS, JavaScript.
Refactored JavaScript framework so it doesn't render a page.
When you put speed in mind in the process of web designing, you can benefit from more page views and fewer people bouncing off your site.
More great recommendations to make your website more beautiful and functional:
Your site needs to be planned well with your customers in mind. Think about the appropriate images as well as the font sizes and colors that will help them accomplish what they want.
Pick the right template that matches your industry.
Avoid using images that are of low-quality. In case your images have high resolutions, you don't have to worry about getting a slow-loading site because Duda automatically makes them smaller, preserving their quality at the same time.
2. Have a clean and intuitive website navigation
Website navigation can make or break your conversions. There's nothing more frustrating to your customers than arriving at a website and not being able to find what they're looking for. The reason? Your website is disorganized and cluttered.
A good website design must be navigable. It should serve as a map or compass, making it extremely easy for first-time visitors to see the main sections. Moreover, people should be able to get to their destination in just a few clicks.
Here are some tips to achieve clean and intuitive navigation:
Place your menu or navigation in a standard location – across the top of your web page.
Use specific categories in your navigation. In the example below, Babble.com, an online magazine, classifies common topics under certain categories. Their categories are Parenting, Pregnancy, Entertainment, etc.

Include a search bar. This allows people to quickly find more hidden content by simply typing certain words or phrases.
3. Consider the size and style of your fonts and call-to-action buttons
Size matters in this mobile age. Think about the quality of your customers' experiences when viewing your website using their smartphones with one eye, one hand, and at arm's length. Will they be able to read your text and click on your "buy" or "sign-up" button without zooming in?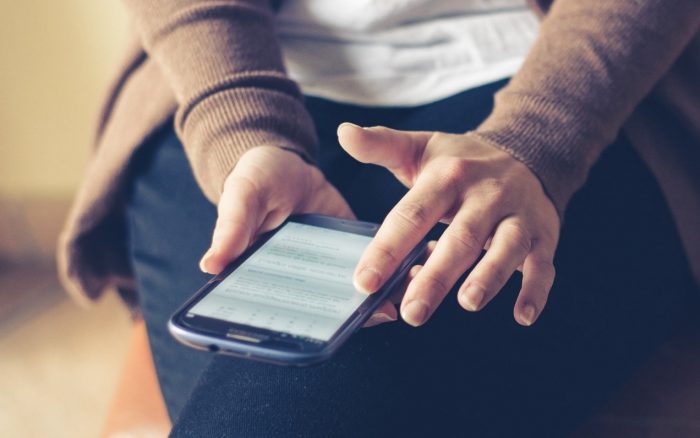 Remember that even the smallest tweaks in your website design can spell the difference between a good and bad user experience. For your fonts, avoid using a size smaller than 16 pixels because they become harder to read.
Also, keep your typefaces as simple as possible. A lot of web designers use sans serif fonts because they go easy on the eyes.
Make sure that your call-to-action buttons are clickable. In addition to choosing a larger size to suit small and big fingers, pick a color that contrasts nicely with your background color. For example, a blue background goes well with an orange button.
Conclusion
The devil is in the detail. To grow a business website that thrives and gets you a constant flood of paying customers, you need to prioritize a quality web design. Factors you must pay attention to include simplicity, usability, and most of all – speed. All of these works together to win your customers' trust and keep them happy.