Internet marketing and e-commerce have made it essential for businesses to have an online presence. However, many companies may not be specialized enough to create their sites. Web designing is a field where specialist agencies handle the clients' requirements to build and design their specific websites.
Sometimes words alone are not enough to convey a message. However, creating a web page that includes text and pictures involves more than randomly inserting graphics on the page. It would help if you struck a proper balance between the information presented as text and information conveyed through images.
WordPress platform is helping graphics experts to express and present their creativity.
Accurate, a single picture can sometimes provide more meaning than ten text web pages. However, even the most outstanding images require a bit of explanation. WordPress is giving the strength to Design Professionals to present their Design Work. But unfortunately, great WordPress agencies and web development professionals are difficult to find.
Across the Web, pages make extensive use of graphics. Unfortunately, many sites that offer great visuals lose impatient visitors who are unwilling to sit through long download times.
Then WordPress came and now ruling the Web, especially web professionals providing their services through this stage.
Creating a website for media agencies is difficult, especially for designers, because they have to express their 'Love for Art' and 'Innovation,' 'Creativity' and 'Integrity' to attract clients and create strong relationships with their customers.
Here is our list of best web development and design agencies for your upcoming projects to hire in 2023.
Top 20 Web Designing Companies
Here we list the best web development agencies to help you find a better developer/designer for your project. The list rank also represents the Agency Rank.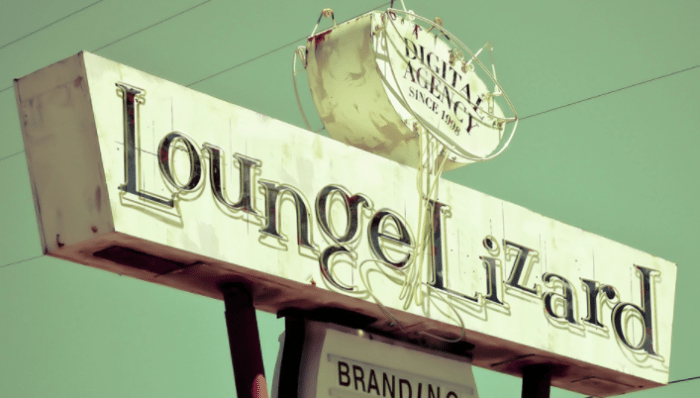 Lounge Lizard specializes in developing websites and developing unique layouts for websites. The agency takes pride in researching the client's brand and products before starting the design pattern. This is a significant reason for the success of a web designing company since the research provides a better idea of what is required in the market. Lounge Lizard is the winner of many awards as recognition for its efforts. Employees at Lounge Lizard are a team of professional graphic artists, designers, content writers, programmers, and digital market specialists to evaluate the market to produce desired designs. The main focus is on developing simple and appealing designs to increase the percentage of users.
Location: 41 East 11th Street, 11th Floor New York, NY 10003
---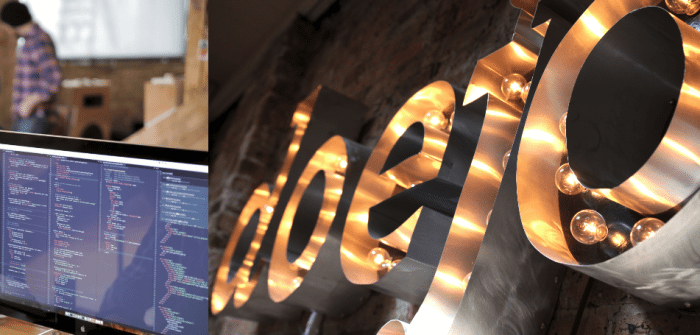 Doejo is a creative designing company that believes in providing valuable experiences for clients. The company's primary focus is creating unique web designs that clients can associate with. At Doejo, innovation and creativity are used to create designs for brands, products, and various projects to serve clients. The company specializes in promoting (marketing) the products through designing and managing the content for websites. Doejo uses UX strategic designing and branding methodologies to achieve success. Video and motion photography is integrated to present the clients with exclusive displays of their sites.
Location: 444 N Wabash 5th Floor, Chicago, IL 60611
---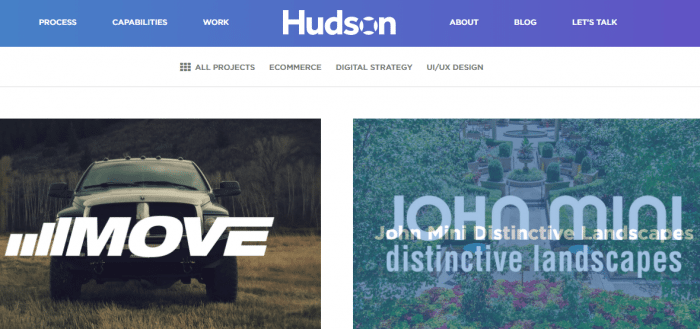 Hudson is a creative company that has set an example for standards of creativity after evaluating the client's brand. The company's primary focus is to create customized and unique website designs to enhance clients' experiences. Hudson offers creativity through digital and technological solutions to target the e-commerce market through attractive designs. Development of apps, custom projects, and e-commerce hosting businesses are some projects the agency handles. Services of the company also include website & logo designing, along with content & web portal management for the clients.
Location: 299 Market St. Suite 250 Saddle Brook, NJ 07663
---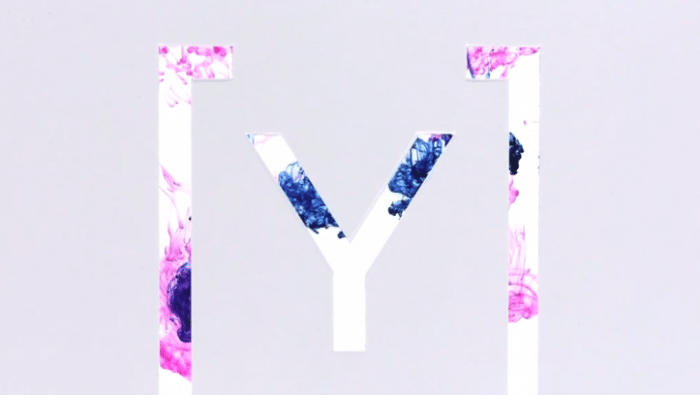 Yoke provides quality services to clients by creating strategic designs and web layouts. A unique quality of the agency is that they take each project and handle it through a different approach. An excellent class that has earned Yoke recognition is that it focuses on analyzing the needs of the clients and businesses to create solutions for them. With creative thinkers and a digital designers team, the agency handles branding and designing through digital marketing, web development, and innovative strategies to guarantee client satisfaction for future endeavors.
Location: 42 Cambridge St Collingwood, VIC, 3066
---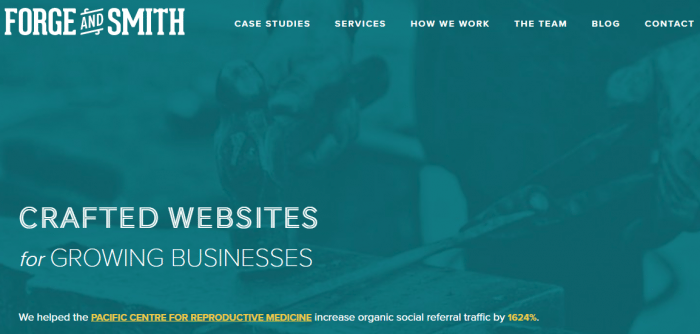 Forge and Smith focus on enhancing the user experience through designing the websites, prototype management, management of blogs, and e-commerce sites. Social media engagement is driven through enabling SEO, digital media, and content marketing techniques. Also, the company manages; adward campaigns and brand positioning of companies and products. Meeting the demands of the clients is the goal of the company. Preference is given t the content of high quality and media management to provide a high-performance speed to the user—clients of the company range from non-profit organizations to globally established brands. In designing, the company also manages the architectural framework of the sites.
Location: #101 – 620 Royal Ave, New Westminster, BC V3M 1J2
---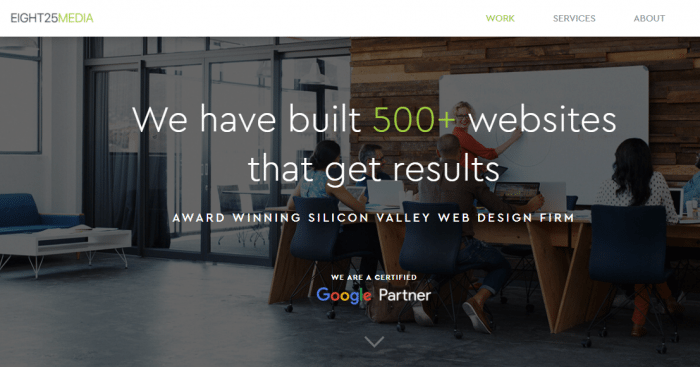 Eight25Media designs creative and straightforward websites for easy navigation. The company is proficient in providing consulting and strategic sites for innovative web development. It is formally known for applying creative ideas to simple layouts to provide individualized but appealing solutions for websites. Eight25Media is famous for using a friendly and convenient approach to projects to create user-friendly solutions. The latest styles and trends are followed in the process of web designing. Furthermore, the demand for commercial and e-markets is considered when addressing the client's requirements. As a result, websites are created to increase the number of virtual visitors.
Location: 48377 Fremont Blvd Ste 117, Fremont, CA 94538
---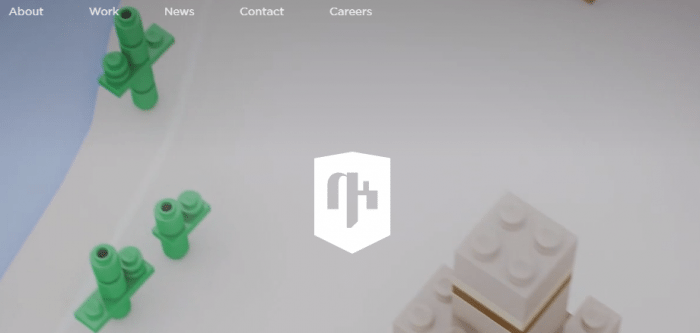 North Kingdom prides itself on providing services that play an essential role in people's lives. The web designing agency is dedicated to finding solutions for clients. The company's primary functions include designing and implementing digital strategies and innovation, tech, and creative visions. The North Kingdom uses elements of art direction, concept development, prototyping, motion, and gaming designs to create high-quality products. High levels of creativity and motion techniques enable the North Kingdom to work with the world's top companies (clients). Some of the affiliate clients of the company include Google, Disney, and King.
Location: Storgatan 32 93131 Skellefteå, Sweden
---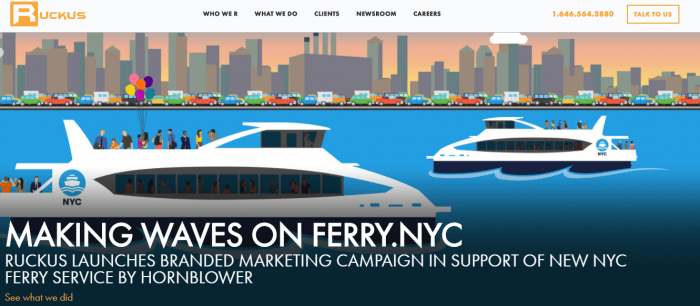 Ruckus is an inspiring and goal-driven agency that focuses on developing sites through compelling and creative solutions. The company offers the services of the most talented individuals and teams to give clients a unique experience. Ruckus believes in building brand strategies to provide businesses with what they require. Therefore, the company designs the structures and positions the brands to produce effective results. The image of companies needs to reflect through its website, and the company ensures that the corporate image of the clients' business matches with its website.
Location: 261 WEST 35TH STREET, 10TH FLOOR NEW YORK, NY 10001
---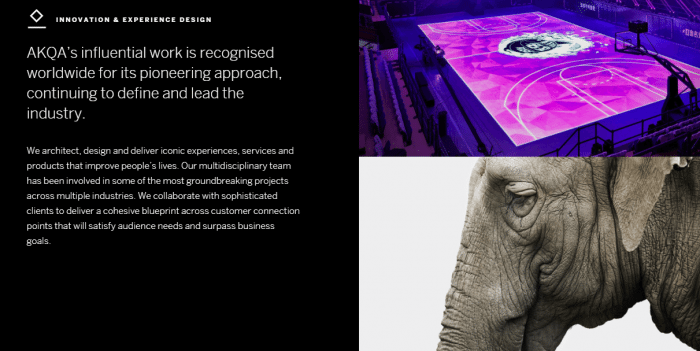 Akqa specializes in providing designing services that are unique and customized. The company has raised the standards of creativity in the digital and visual designing field. The benefits of an experienced and goal-driven team are used to present clients with innovative designs while keeping in mind their requirements. Akqa provides solutions for challenging and complex issues and develops sophisticated designs for every product. The creative agency believes in performance and staying ahead of its competitors. The company has achieved client satisfaction through pure dedication and consistent improvement and continues to work harder.
Location: 1 St John's Lane London, EC1M 4BL, United Kingdom
---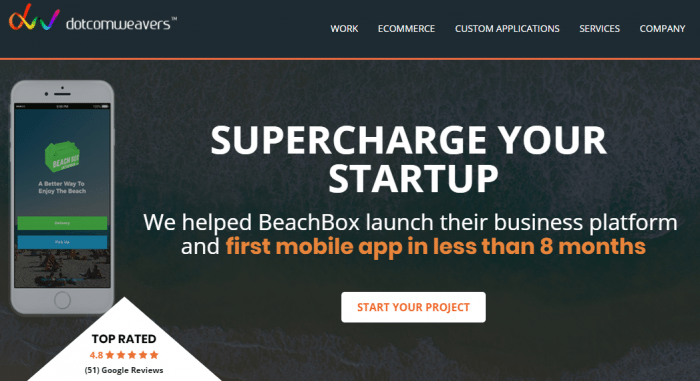 Dotcomweavers focuses on building and designing creative sites that are effective in the process of marketing. The idea is to create meaningful and helpful sites by using innovative techniques. By utilizing creative skills, the company specializes in increasing the number of consumers through digital and e-commerce platforms. In addition, support is given to small businesses and startups to provide them with a boost for entering the market. Dotcomweavers achieves this target by providing a range of services, including; designing logos for the brands, managing the content and copywriting systems, and positioning the brands.
Location: 3505 Lake Lynda Drive, Suite 200 Orlando, FL 32817
---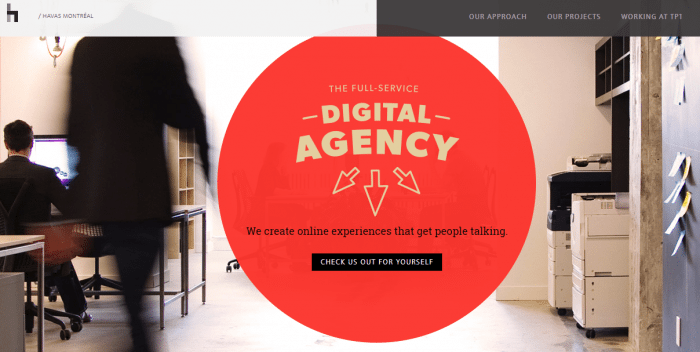 TP1 works statistically and forms a collaborative approach for distributing the work between teams. The creative agency spends time researching for clients' best possible design choices. It firmly believes in following a practice of trial and error, where time and space are given to testing and experimenting before preparing the final version of the designs. This is in full accordance with the values and motto of the company that each project can produce better results for creativity. Each product is treated as a new project with room for experience and learning. There is a four-step approach that the company follows for all projects. First, the client's involvement is essential to generate the best ideas. It is crucial that each employee and designer feels entitled to test different ideas and designs to reach a final design.
Location: 1253 McGill College Avenue, 3rd-floor Montréal, Québec H3B 2Y5 CANADA
---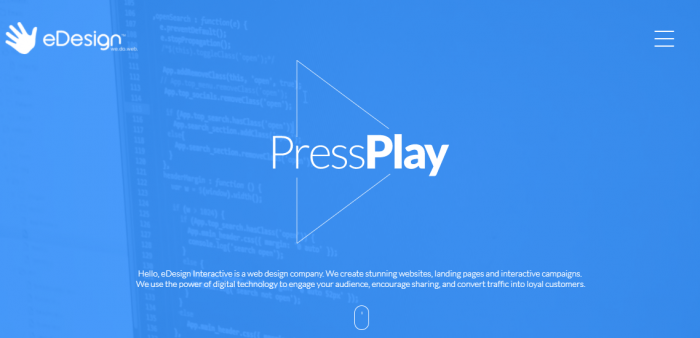 eDesign is an accessible and interactive Web designing agency known for treating each project uniquely. The company enjoys helping clients and creating specialized sites for them. A bonding structure of individuals work in coordination with each other and invest time & energy into every different project. Complete devotion and creativity develop web designing strategies to fit the requirements of the client's businesses. The company prides itself on designing websites and landing pages for the customers and creating high-quality designs that are simple and complex simultaneously. Also, the company ensures that all designs have been used and made after considering different perspectives.
Location: 163 Madison Ave. Suite 220-5, Morristown, NJ 07960
---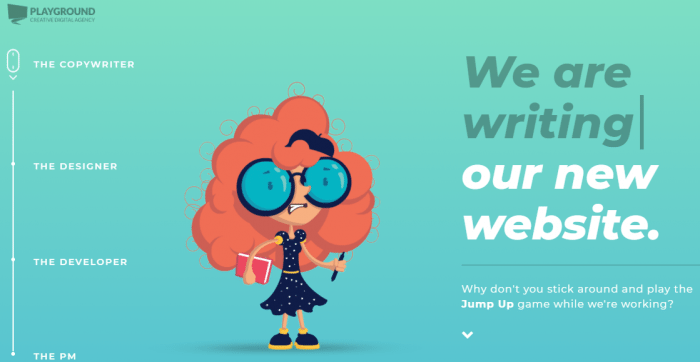 Playground Digital is a creative media and web designing company that works under four main domains; copywriting, designing, developing ideas, and giving the site a formal structure and look. The company is a simple, creative agency that helps brands and organizations to learn more about creative and digital marketing techniques. To provide quality services to the clients, the agency offers services of specialized professional designers. This gives power and initiative to the experts who manage to devise the best creative designs. Another primary aim of the company is to make the site simple to use by a maximum number of users, and thus this is achieved through simplicity in techniques.
Location: Via G. Mazzini 3/C, Cernusco Sul Naviglio (Milano)
---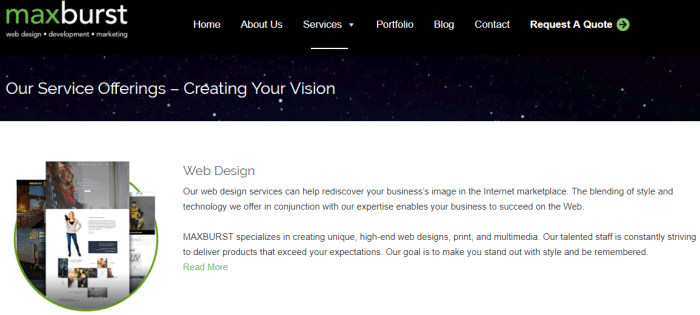 maxBurst functions by building the image of the brands by providing creative services. The company creates sites that are unique, stylish, and high-quality layouts for various businesses. maxBurst believes in making creativity practical and simple to make things work. Images of companies are managed by comparing sites in the market to understand the requirements. Therefore, the agency effectively uses digital and creative strategies that can enhance the productivity and functionality of the sites.
Location: 565 Broadhollow Road Suite 12e Farmingdale, NY 11735
---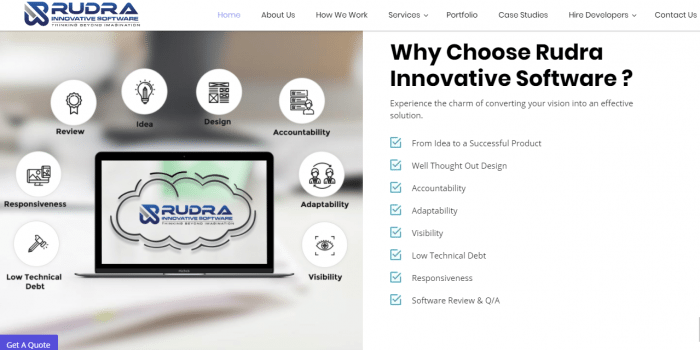 Rudra is a creative company that builds and designs websites and essential apps for corporate companies, businesses, and small-scale startup projects. The company is specialized in web designing and development services. Rudra provides graphics and creative solutions to sites that are responsive and unique. These services also include the management of the content and media forums by providing cost-effective, quality solutions to the clients.
Location: The company is located in India at SCF 47, First Floor, Phase VII, Industrial Area, SAS Nagar, MOHALI- 160059
---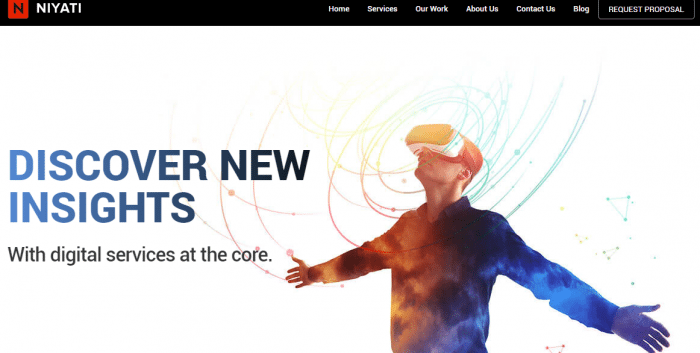 Niyati is a complete website upgrade digital agency that provides a range of functions for a complete makeover and designing of the site. The company includes solutions for UI and UX designing for sites and software, along with the development of the websites. This gives the business an edge for creative and digital marketing through content and the presentation of designs in a formal manner.
Location: 18 Sin Ming Lane, Mid View City #08-10 Singapore 573960
---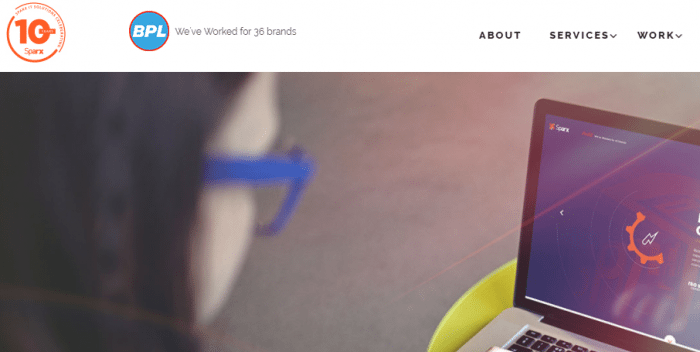 Sparx is a creative digital web designing agency whose primary focus is to enrich users' experiences by providing them with various services. The company believes in giving each product a sense of branding and identity for each project. The primary services of Sparx include designing the site, logos, brochures, business cards, and the formal layout of the sites. Sparx prides itself on being a leader that provides website designing options to the users. Client satisfaction is guaranteed by building relations with users.
Location: A-2, Sector-63, Noida,Uttar Pradesh 201301, India
---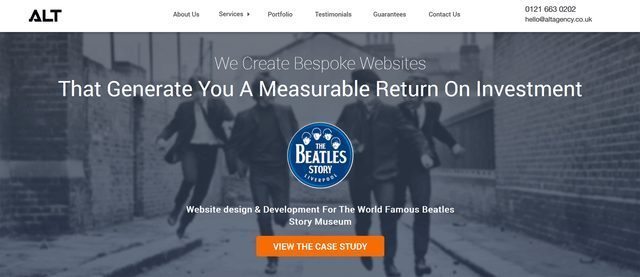 Our chosen partner for WordPress development. ALT is a WordPress Development company based in Birmingham, England. These guys have years and years of experience developing the WordPress website and can work on fundamental to advanced custom-built WordPress solutions.
---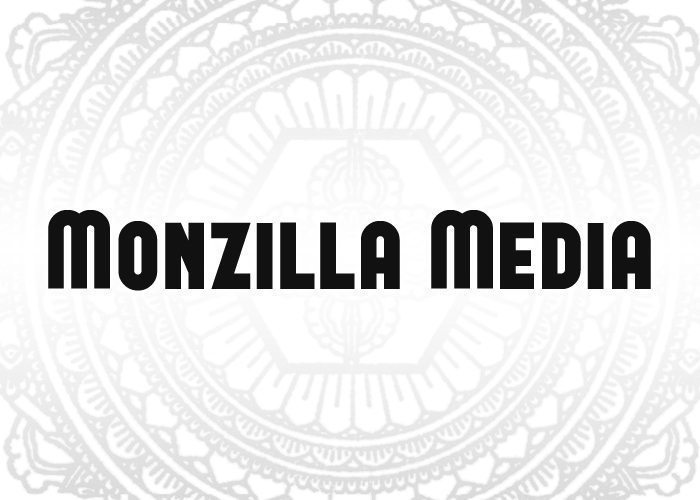 Founded in 2004, Monzilla Media specializes in web development and site security. Monzilla Media delivers beautiful, super clean websites that are fast, secure, and easy to use. Clients of Monzilla Media include Smashing Magazine, .net Magazine, Lynda.com, CSS-Tricks.com, ProBlogger.com, and many other top brands. Their services include web design & development (specializing in WordPress plugins and themes), site security, performance optimization, server configuration, SEO, graphic design, and everything. Monzilla Media is owned and operated by Jeff Starr, a professional web developer and book author with over 15 years of experience. Jeff works with WordPress daily, designing themes, developing plugins, and securing sites. His books include Digging Into WordPress, WordPress Themes In Depth, and The Tao of WordPress. In addition, Jeff actively promotes over 20 WordPress plugins and has published over 1,000 WordPress articles around the Web. To learn more, check out PerishablePress.com and DigWP.com, where he shares code snippets and in-depth tutorials on security, web development, and how to succeed with WordPress.
---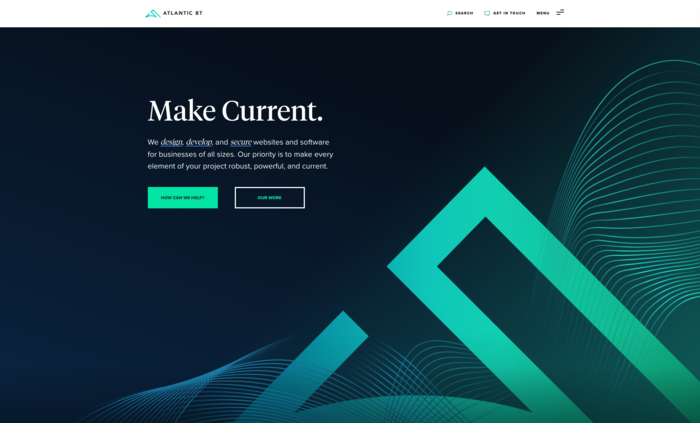 Atlantic BT excels in modernizing websites and applications, using clean, user-friendly designs and new technologies. They specialize in building complex websites in highly regulated industries such as Higher Education, Healthcare, eCommerce, and Government. Furthermore, Atlantic BT's cybersecurity team can help you find and implement essential tools to protect data. You can count on Atlantic BT for a high-performance website, user-friendly web design that boosts conversions, secure AWS hosting, and continual service to keep your technology up-to-date.
Location: 2121 RDU Center Dr. STE 200, Morrisville, NC 27560
---
Conclusion
The top 20 web designing agencies featured in this article have earned recognition because of the digital and creative services they provide to their clients. Each company focuses on creating web designing solutions for the brands and products of its clients.
With such a significant number of Developers and designers available in the market, it's not difficult to develop a custom solution. Primarily, web developers are working on the WordPress platform nowadays and can quickly build their custom solutions on this platform. If you think you know an excellent WordPress web design agency or professional, let us know in the comments section below or email us at jazib@wparena.com.