Are you planning to start an online project on WordPress? Well! WordPress is a superb option. It is loaded with the most user-friendly and powerful content management system that can help you set up a professional website, blog or e-commerce store conveniently.
So if you want to take your business to the next level, take full advantage of this amazing content management system.
Here is a beginner's guide to installing a WordPress. For local WordPress installation, follow "How to Install WordPress locally?"
How to Install WordPress Manually
Installing WordPress manually is fairly easy. Although there are plenty of easy methods available to install WP yet still most people prefer to install WordPress manually because it is the best way to learn more about the functionality of WordPress.
A precondition to Install WordPress
Make sure you have access to the Cpanel of your web hosting.
You must have FTP access to the public_html directory. It is a folder where WordPress installation files are kept.
Another important thing that you must have is a standard database like MySQL.
let's begin with the installation steps.
1.Download WordPress
First of all, you need to install the WordPress CMS package from WordPress.org. Downloading will not take more than a minute.
2.Upload WordPress to your Hosting Account
It can be done in 3 ways
Uploading through File Transfer Protocol.
UPloading through File Manager.
Uploading through Secure Socket Shell.
You may log in to cPanel and build a WP-database via MySQL database icon located within the databases tab.
3.Create the MySQL Database and User
To generate the MySQL database and user, you need to access the cPanel of your web hosting site.
All the information on a WordPress site is stored in a database. It stores each and every piece of content users see on your site. Apart from this, the database stores data such as themes and plugins as well.
Follow the below steps to create the database user.
Log in to your Cpanel. Here you will find MySQL database wizard within the database section.

Next, you have to create Database Users and enter the database name. Click next step.
Choose a unique DB username and password and Hit 'Create User'.
Now you can add the user to the Database. Next, you will be lead to 'Privileges' options. You may choose these options as per your requirement. If you need to create an admin account then you can pick all the options. On the other hand, if you want to make a user account for an employee, you may restrict his activities on your site by offering limited privileges.

Note- It is advisable to note down all the details mentioned above such as DB name, username, password, etc. in an individual text file and save it in a secure folder. It will be used in further steps.
4. Update Your WordPress with Same Details-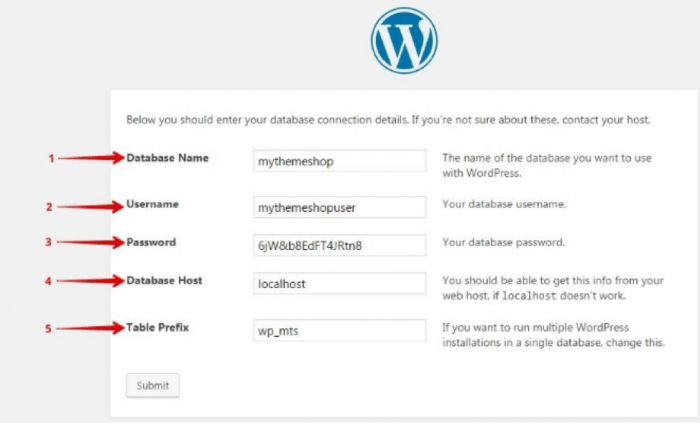 Once you have set up your DBname, password and other database details, your next step should be connecting your WordPress to the database. Here you need to fill up all the details you have saved in an individual text file.
Let's learn how to connect WP with the database.
When you will start WP on your browser, it will ask for details required to connect up with the database. Put the database name you had generated before.
Next enter database name and password.
Choose the database host- you may ask your web host for the same.
We would advise you to keep the table prefix different from 'wp'. It will help you make your database more secure.
Submit these details. Now your WordPress is connected to your hosting database.
5. Run WordPress Installation
You're done with all your primary steps. Now just hit the final button to make your site live on the web. By default, WordPress comes with a basic theme. However, you can choose any eye-pleasing WordPress themes from the WP directory.
Your last job will be executing the installation script from the installation page. You may use any of the below URLs to find the script.

You just need to change 'yourdomain.com' with your own domain name. After this step, you will be followed by the page that says the following message.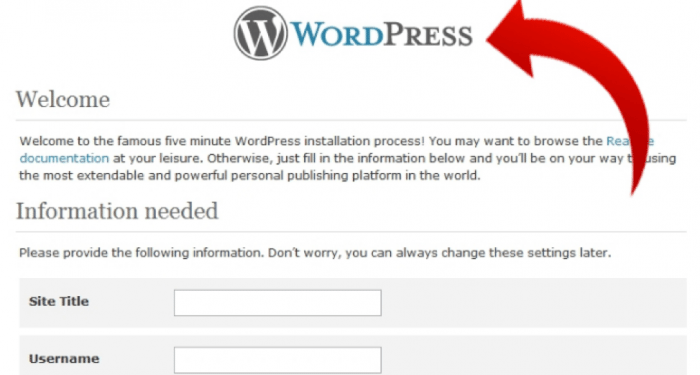 Congratulations! You have successfully installed WordPress.
WordPress Installation Via One-Click Installer
Most top web hosting companies are powered by the 'auto-installer' feature that lets users install WordPress sites within few minutes straight from their hosting dashboard.
It is the most beginner-friendly method, so if you're new in the world of WordPress, you may try using this method.
Let's see how can you do this.
Log in to the control panel of your web hosting company.
Next, choose the option 'Web Hosting' from the hosting & domain section of the main menu.
Choose the domain name that you want WordPress to be installed on.
Now click on "configure application" on the one-click installer tab. Here you will find options to install different scripts such as Drupal, Joomla, and WordPress. You can find 'WordPress' under the 'Content Management' options.
Once you have found WordPress, hit the  'Install Now' button.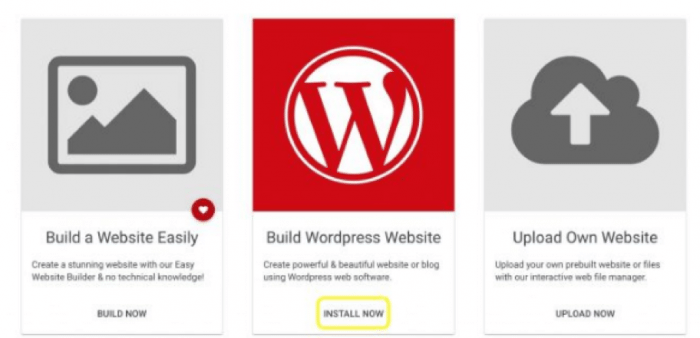 It may take little time to complete the installation process. Take your time, enjoy your coffee; you will be notified once your installation is ready to ship.
Quick Notes-
Every hosting company may have different ways to install WordPress via a one-click installation. However, the basic options and functionality are the same.
Choose a reliable hosting provider only. After all, you're making a huge investment in your online business.
Always choose the recent or current version of WordPress.
For a better understanding of WordPress, read the WordPress End-user License Agreement carefully.
Always choose the strong login credentials for the better security of your WordPress website.
Final Words
All-in-all, we can say installing WordPress is a piece of cake you can install it quite easily with no or minimal assistance. If you have any queries about how to install WordPress, let us know in the comment section below.