For anyone who has ever forgotten their password or username, Magic Password can help you login in the easiest fashion. This astonishing plugin is the perfect way to gain easy access to a WordPress account with just the click of a button. No need to ransack your mind for the password or username because all you will need is your mobile phone to access your WordPress account.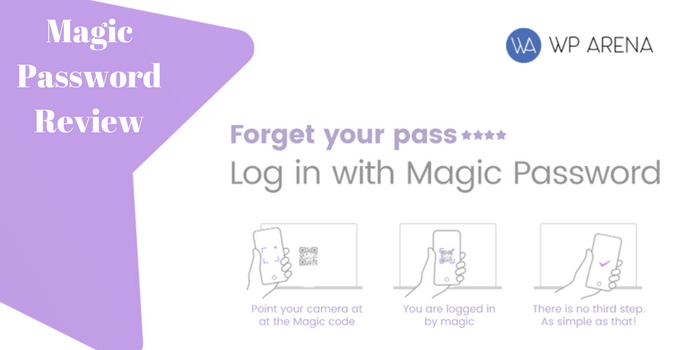 How to Use Magic Password
It's pretty simple! All that is needed is a mobile phone for passwordless authentication. Magic Password has two products which can be used, including an app for mobile phones and a WordPress plugin. Both are absolutely free, so potential users do not have to worry about whether they will be getting value for the money they have paid for a plugin.
The WordPress plugin and mobile app are very easy and convenient to use. First, the Magic Password plugin must be installed, then use your mobile app to scan the Magic code provided to you by the plugin. Finally, you can magically access your WordPress account without having to go through a tiresome process of having to find your password and username and login.
Using the latest hash-based method, Magic Password allows users to securely login to their accounts. Hackers will not be able to access your account because of the highly secure end to end encryption that allows for access without the need for any personal identification information. The code generated by Magic Password changes every 30 seconds in the background and each code is unique, so the chances for hacking into your WordPress account are minimal. Further, the user or admin don't have to worry about it at all.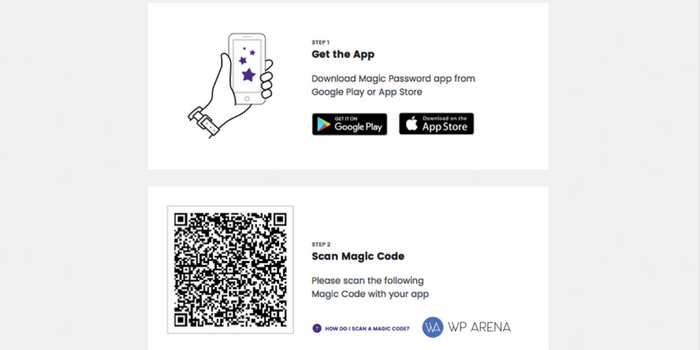 How Useful is Magic Password?
The Magic Password app works on both Android and iOS software, which means that practically anyone can download the app on their phones for absolutely free. This app is very secure, so it can be used with great ease to gain access of your WordPress account. Other people will not be able to access your account if they do not have access to the app on your phone. The best part is that you don't need a password of any kind.
For people who have memory issues or do not like to use the password system, Magic Password is the best option for you. Also, you may find yourself forgetting your password if you have not accessed your WordPress account in a while and this forgetfulness may also be the cause of your unwillingness to use WordPress, so this new app can be the best way for you to become a regular when it comes to your website and blogging related experiences.
Magic Password is also something that avid bloggers love to make use of because it means that they have more time to blog and less time spent on actually logging in to their WordPress accounts. Passionate bloggers have commended this app for its incredible speed and efficiency. It allows for them to save their time when they have a busy work schedule.
Not only is Magic Password useful for bloggers, it is also greatly useful for website developers who have no time to remember passwords for their account(s). Website developers are usually in need of all their material as soon as they can possibly access it, so having this app in their phone can be very helpful for them to gain quick access to what they need.
The Cons
There isn't much use for Magic Password outside of WordPress. This app and fast password authentication method is very effective for people with a WordPress account; however, it is quite limited in its use. If Magic Password's use were applied to different apps, accounts, and platforms, it would be multi-functional and highly useful for the entire population. Hence, the limitation of Magic Password is in the fact that it only caters to the needs of WordPress account users.
Another limitation is that Magic Password is only accessible by those with an Android or iOS phone. However, this limitation is not the fault of the app developers are the magic code that is generated through the app is also used on many other platforms and it is a universal problem.
Final Thoughts
Magic Password, although limited in its universality with other platforms, if very useful for WordPress users. People who are avid bloggers or website developers may find this app to be greatly useful. Also, the fact that WordPress safeguards the personal identifying information of its users means that WordPress cares about its users a lot more than many different platforms.
Another huge facilitator that WordPress has offered with this app is its free of cost price tag. Thus, WordPress is making its best efforts to ensure that its users get exactly what they need when they need it. The fact that it is free also means that the millions of users who have WordPress accounts can be encouraged to frequent their visits to the site and avail the various services WordPress has to offer with great ease.
Thus, for anyone with a WordPress account, this new login method is highly secure and extremely useful. It can help in saving time and it can be helpful for people who have issues in remembering their passwords. Magic Password is also an amazing method to prevent hackers from accessing accounts (especially for high-risk accounts with very easy passwords).
So, say goodbye to those long usernames and passwords used to ensure that hackers cannot access your information and give a hearty welcome to Magic Password.