Pinterest has established from a photo bookmarking website to spread visual thoughts and ideas to inspire the creative minded people, and used to drive referral traffic like any other social media website. Even other products or projects can be promoted to inspire and attract  the  millions of people. Other photo sharing websites like Flicker had changed their home page and adopted Pinterest-Style (Flickr Gets a Makeover, Looks Like Pinterest).
Although the presentation of Pinterest-Style layout is not new, there is a jQuery Plugin "Masonry" developed by David DeSandro, according him:
"Masonry is a dynamic grid layout plugin for jQuery. Think of it as the flip-side of CSS floats. Whereas floating arranges elements horizontally then vertically, Masonry arranges elements vertically, positioning each element in the next open spot in the gerid. This minimizes vertical gaps between elements of varying height, like a mason fitting stones in a wall."
First thing first, How can you use Pinterest to your advantage? and how to use it. In the following lost you can find tutorials and tips about how to use Pinterest, why and how to use Pinterest to get more visitor to your blog or Website. Now, let's learn about Best Pinterest WordPress Themes and Plugins by links below:
Premium WordPress Pinterest-Style Themes
Being the hottest Social Networking Website, Pinterest has virtual pinboard wherever user can upload and manage creative work for their collection under different categories. On the other hand WordPress is the most popular used platform for blogging as well as for Websites. So for WordPress users its possible to ride the Pinterest-Style by activating the WordPress themes based on Pinterest design and features. In the following list, you can find the most latest and creative Pinterest-inspired WordPress themes for your blogs or website.
You've got to love this new theme we have to offer – Pinboard. It features an auto stacking layout with infinite scroll as seen on the Pinterest desktop site. If you are unfamilar with the term "infinite scroll", it means that new posts are loaded automatically when you hit to the bottom of the page.
Gridlocked is a grid-based, post-format supporting, layout-shuffling, minimalistic theme for creatives. It is both a classic portfolio for showcasing your work and a modern tumblr-style blogging system.
A truly versatile theme, Gridlocked can be configured to focus on your work, your blogging, or both. Support for post formats means you can jazz up your blog with your own self-hosted video, audio, images, galleries, asides, links, quotes and of course good old standard posts.
Photolux is a powerful and elegant Portfolio and Photography WordPress Theme which is best suited for photographers and creatives who use portfolios to showcase their work. Photolux theme is powered by advanced Pexeto Panel, which provides tons of options to manage and modify any aspect of the theme – it is well suited for both beginners with no coding knowledge and developers. The theme comes with three base skin choices: Dark, Light and Transparent, as well as numerous of backend options for eazy customization and bulding your skin.
Brick + Mason is ideal for photographers and/or design studios. It utilizes infinite scrolling so users don't have to leave the page to experience all your talent. This theme also uses the jQuery masonry plugin so the content will fit any browser size.
Grido is a new Tumblr-like theme to join the responsive theme family (Tisa, Suco, Elemin, Funki, Minblr, Wumblr, and iTheme2). It is colorful, trendy, and stylish. The theme comes with 9 gradient backgrounds for you to style the post individually. You can choose a color scheme to reflect the mood of the post or select a different color for each post to make your blog look like a wall of sticky notes. The posts are automatically stacked on top of each other and automatically loaded when you hit to the bottom of the page.
Megalithe is the perfect solution for your business & portfolio website. Megalithe is a Genesis Child Theme developed with a beautiful grid portfolio and gallery available in 2,3 and 4 columns.
Now you can share your content with style. Featuring a crisp, modern design, TheStyle will give your blog that unique visual impact you have been looking for. With its unique jQuery-enhanced fluid width design, your posts always get displayed in a way that is best suited for your visitor's resolution.
Origin is a stunning grid-based theme that tells a story through imagery. The theme creates a truly engaging experience by saturating the screen with your beautiful photos. The theme is also responsive, meaning it will look and work great on mobile devices as well. If you are an artist looking to showcase your latest work, or if you are a blogger looking to give your visitors a fun new way to browse your latest posts, then Origin is great choice for you!
Notebook is a fun multimedia theme that takes advantage of WordPress post formats and advanced CSS3 animations. The result is a unique and highly engaging design that is sure that impress your visitors. Notebook makes it easy to share a variety of content, including audio, video, photographs and standard blog posts.
A funky new theme to showcase your posts in a slick, dynamic wall that arranges itself beautifully based on the user's screen size. Also bundled is the 'Dynamic filter' plugin that lets your users filter your posts dynamically with one click. Get on with the Pinterest craze with ecoStrips!
Zoho is an artist's gallery packed full of options, inspired by a simple, subtle Golden Grid foundation. It's a great way to present your work, or show off your blog or gallery. With isotope filtering, Zoho allows your work to be neatly organized and filtered. Along with the cool filter feature, Zoho has unlimited color schemes, 16 pattern options, 11 page templates, single page templates, and just for fun, it offers the premium iShare plugin for easy social networking.
SideWinder for WordPress is a unique portfolio theme, driven by the dynamic vGrid Plugin. It comes with all of the features that you would expect in a premium WordPress theme, and a little bit of extra magic to make it worth your hard earned cash.
No gimmicks, no "a million themes in one" silliness… just great design, great coding, and a smooth user experience from both sides (yours and the viewers!). Reflex is a dynamic portfolio theme, developed from the ground up to be the easiest, most customizable grid portfolio theme possible.
Gridler is a grid-based portfolio theme with a tumblr style blog supporting a range of post formats. This theme is built upon a rock solid HTML5 WordPress framework. It's optimized for awesome SEO , quick loading and full of useful theme options.
Artiste is an "all-about-the-work" WordPress portfolio theme for the professional creative. It's clean yet functional, and concentrates on showcasing your work to potential clients and employers with little distraction. Go get hired more.
Show your work in a beautiful way with this section, Detaggli Portfolio can be use for show a photographer's work, a designer's work or just to show personal images using great transitions and effects driven by CSS3 and jQuery, also, all happens in just one site thanks to ajax.
Thank you for choosing CosmoThemes and purchasing one of our Premium WordPress Themes – your choice is greatly appreciated!
FacePress represents a community-builder theme with multiple skins and layouts suitable for different needs:
Community builder,
Portfolios,
Image gallery,
Content-sharing with front-end uploading,
Classic blog
Combination of all content types.
Helious is the WordPress theme for Portfolio, Creative and Photography built with latest WordPress features. Custom Post Type, Skin & Colors, Extensive admin panel etc.
HyperGrid is a feature-rich, responsive WordPress theme which easily transforms your basic blog into a fully functional gallery showcase website. It comes with a built-in submission form to accept user-submission entries into your collection. Use HyperGrid and start your very own gallery site!
Bookcase is a uniquely interactive portfolio theme perfect for freelancers, web designers, photographers and videographers alike. Its user interactive interface delightfully enhances your most loved portfolio pieces.
Sliding is a clean and simple theme for WooCommerce, designed by Chris Rowe and featuring a homepage which elegantly showcases a large catalog of products. There's a featured product carousel as well as two other content sliders showcasing recent and best selling products.
Designed to be a fluid WordPress Portfolio Theme, FolioGrid has shown an impressive flexibility to be used for much more. Video embedding, fluid layouts and multiple colour schemes make FolioGrid Pro great.
Gridnik is a WordPress Theme for those who dare to be unique! With it's flexible layout it can be resized to large sized monitors or even to small and narrow screens e.g. Mobile Phones. It also comes in 9 slick colors enhanced with 15 font's options served by Google!
Grido is a powerful responsive business/corporate/portfolio & blog premium WordPress theme. Grido has been coded in HTML5 & CSS3 and jQuery. Grido will fit your large desktop screen, all the way down to your iPhone – and of course any Tablet or iPad.
Premium Pinterest WordPress Plugins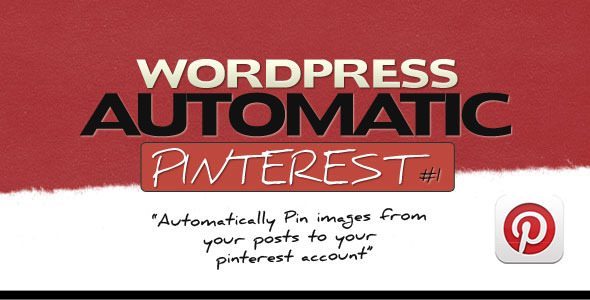 Pinterest Drives More Traffic Than Google+, YouTube and LinkedIn Combined and this is why I did this plugin that will pin images in your post automatically to pinterest.com just install and forget your pinterest account as pinterest automatic will do pinning work for you .
Did you know that Pinterest drives more referral traffic than Google Plus, Linkedin, and Youtube COMBINED ? Shareaholic. Pinterest Auto Pin for WordPress allows you to quickly and easily add hover – over pin it buttons to your images on the fly making them instantly pin-able to any board on Pinterest!
Free Pinterest WordPress Plugins
Easily add a Pinterest "Pin It" Button to your site and encourage your visitors pin your awesome content!
Pin It On Pinterest places a "Pin It" button at the end of your posts, and allows you to predetermine what gets "Pinned" at Pinterest. Spawned by the idea of Jamie Swanson ofThe Modern Tog and developed by William Bay of Flaunt Your Site.
Pinterest for Galleries adds a pin-it button under each thumbnail of WordPress galleries (the ones added to posts with the native WordPress gallery feature). It does not work with NextGen Gallery and may not work with customized galleries (it depends on themes and/or other plugins).
Pinterest badge is a fully customisable pinterest badge plugin for wordpress. It adds a widget to your blog that will display a list of your latest pinned images from your pinterest profile or page. It also displays the number of people who have followed you in pinterest along with the follow button.
Add a Pinterest "Follow" button to your sidebar with this widget. Also includes a shortcode.
"Follow" Button Features:
Simply drag the widget to your sidebar, enter your Pinterest username, and voila!
Select from the 8 official Follow button images or specify your own
Use a shortcode to display the Follow button anywhere else
This Pinterest plugin will enable your sites visitors to pin individual images on Pinterest, the pin button will appear just underneath every image in the main content.
This is an early version of the Easy Pinterest widget for WordPress, please let me know at http://thisismyurl.com if you have suggestion how to make it better.
The plugin adds a 300px wide Widget to your website which fetches your Pinterest RSS feed and displays the images on your website. Currently, you can select the number of images to display, the account to fetch and the title of the Widget.
This plugin allows you to place a widget on your sidebar that fetches the most recent contents of a Pinterest user's RSS feed and displays the corresponding thumbnail images. You can choose whether to show the description below the image, and you can set the height and width of the thumbnails to fit your theme. You also have the option of showing 4 different sizes of the official "Follow Me On Pinterest" button below the list of your pins.
This plugin adds a Pinterest widget much like the pinboards on Pinterest. It uses the original thumbnails from Pinterest itself. The plugin aims to have the same look and feel as the pinboords on Pinterest. To improve your site's performance, the pins are cached every 15 minutes.
This plugin allows you to display thumbnails and links to yours (or anyones!) latest Pins from Pinterest in your sidebar. It is styled after Pinterest and offers a clean and modern look to show off your pins.
You can  reach your audiences or grab more traffic for your blog of website that would be beneficial for Internet marketing. If you like this post, then follow follow wparena on Pinterest for mor interesting and latest tips and tricks about blogging.