What is Blockonomics?
Blockonomics is a bitcoin payment plugin offered for WordPress users to add to their website so that they start accepting bitcoin payments from users.
The plugin integrates with two WordPress stores:
We will be reviewing the plugin of the following parameters:
Installation and Set-up
Security of Funds
Privacy
Customization and Options
Pricing
Support
Rating – Reviews
Installation and Set-up
Step 1: The installation process of the plugin is perhaps its best part. Simply install and activate and you have a working plugin in less than 2 minutes.
By default, the payments are sent to a blockonomics wallet.

You can also easily configure it to accept payment directly to your wallet, a video tutorial is available here:
Security of Funds
When it comes to payment plugins on WordPress this parameter holds very high importance for the right reasons.
Blockonomics offers direct-to-wallet bitcoin payments which means it does not hold your funds at any time during the transaction.
This is a major plus point for this plugin as there have been many instances in the past with top bitcoin exchanges, such as BitFinex, BitStamp, Poloniex getting hacked for the money that it holds for its customers.
Just recently BitPay, a major payment processor for bitcoin, froze transfers for Amazon RainForest Charity and Hong Kong Press, inciting global backlash for its centralized business model.
Given the decentralized nature of the currency at hand, it makes the most sense to let users be in charge of their funds and not let a middleman hold custody of them.
Although it is worth pointing out that the security of funds now lies in the hands of the wallet holder so special measures must be taken to protect it.
Privacy
When it comes to privacy the plugin offers some very nice features that ensure privacy for both merchants as well as their customers.
No KYC: The plugin does not require merchants to undergo identity checks like most payment processors. The plugin only needs an e-mail and xpub key for setup.
Integrated Checkout: With blockonomics, the checkout page is integrated with the theme of the merchant's website, which means the users are not redirected external website.
Customer Data Privacy: Since checkout happens within the shop, customer details are never submitted to an external server and remains within the merchant shop.
Customization and Options
Exploring a bit more about the plugin, we find, it packs many customization options to suit the needs of its users.
The plugin is Open-Source and the code can easily be downloaded from its GitHub page. The merchants are free to change the source code to better suit their website needs and theme.
Payment Gateway Settings: The plugin offers several options in its settings page at the WordPress backend. Few of them include:
Accepting AltCoin Payments: The plugin currently offers support for 2 altcoins: Litecoin and Ethereum.
Underpayments Slack %: This option allows users to make payments that are underpaid by a small amount.
Extra Currency Rate Margin %: This option increases the fiat to BTC rate by a small percentage to protect merchants against exchange rate volatility between exchanges.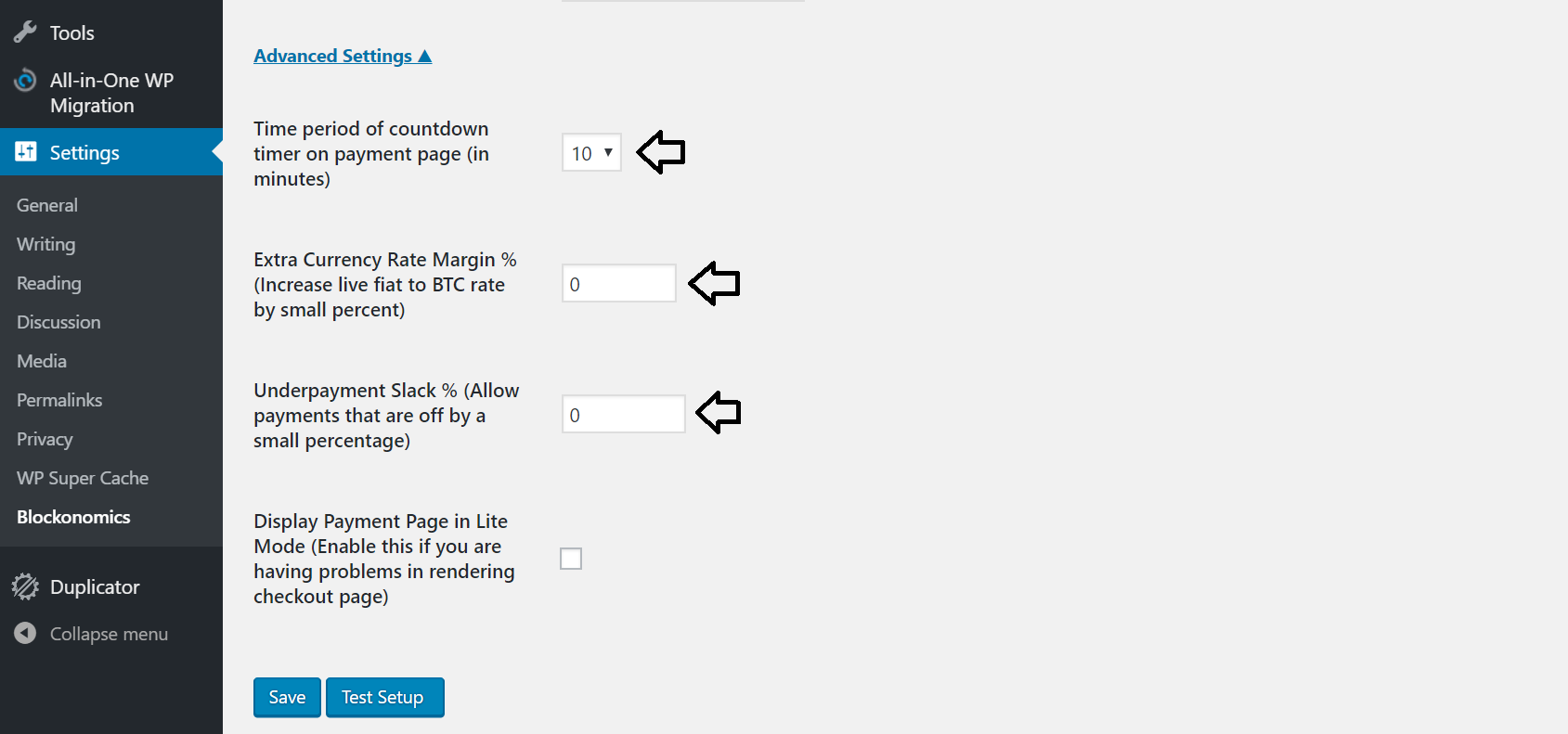 Locale/Translations: The plugin supports 7 different languages which include: English, French, German, Greek, Persian, Portuguese & Russian.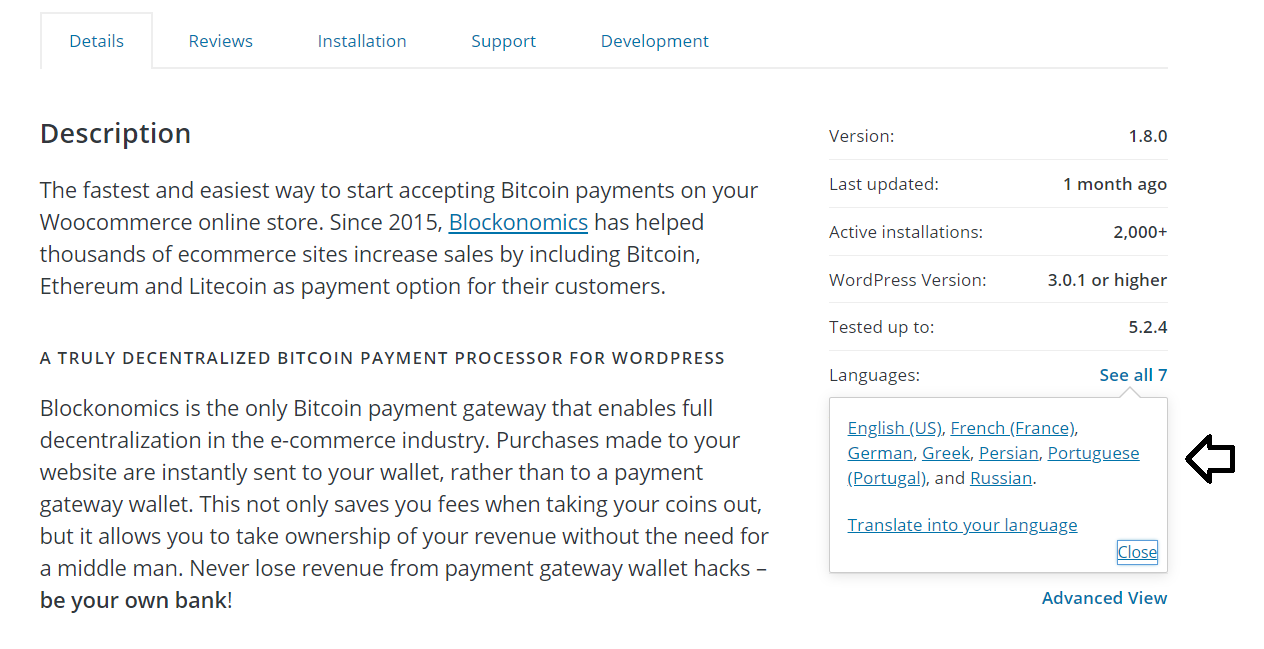 Pricing
Blockonomics offers the first 10 transactions free, after which there is a fee of 1% per transaction. Since blockonomics does not hold your funds at any time, you have to make sure you make this payment by adding a credit balance to your account, so do make sure your account has enough balance to cover your due amount.
In case, your account falls low on the credit balance, your service is never interrupted or blocked, instead, Blockonomics offers you a 30 day grace period to reload your account and fulfill the payment.
Support
The plugin offers 24X7 support across various channels including, Telegram, and online chat widget. The response is quick and you will have someone to answer your questions promptly.
The users can even log their questions/comments in the WordPress support forum for the plugin which have been responded to actively by their team.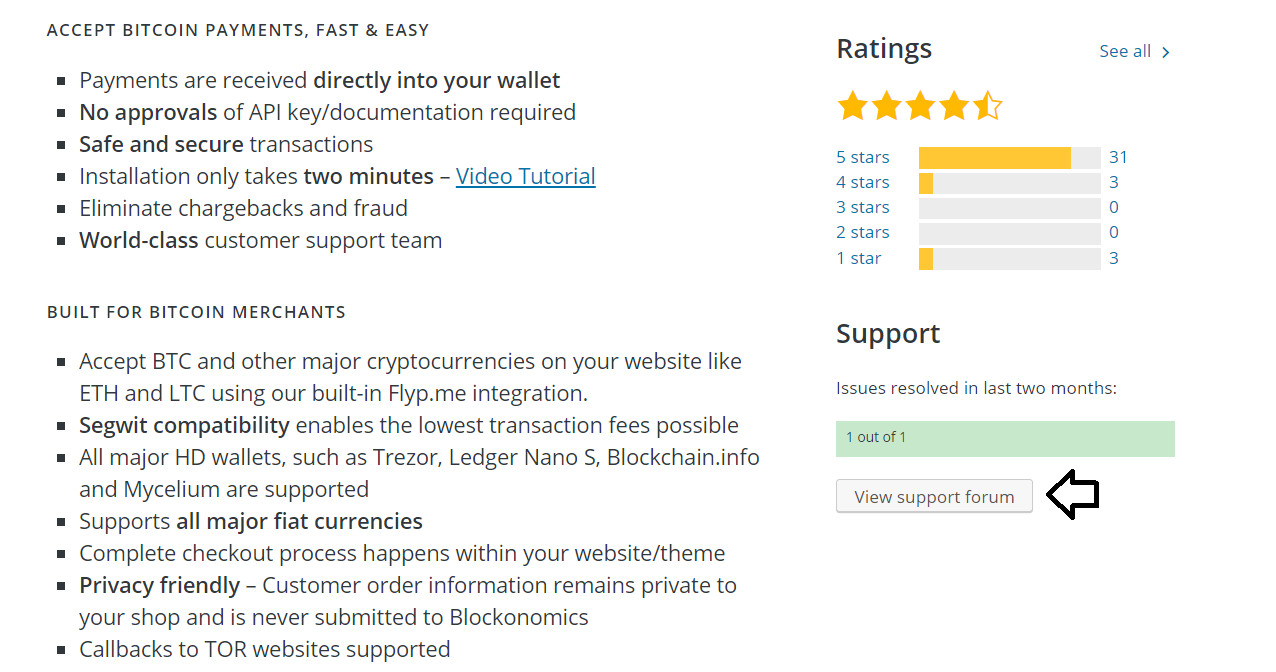 The team also seems to be pretty active on GitHub where they have responded to issues logged by customers
Rating – Reviews
Blockonomics is rated 4.6 out of 5 on the WordPress store by users of the plugin and has more than 2000 active downloads.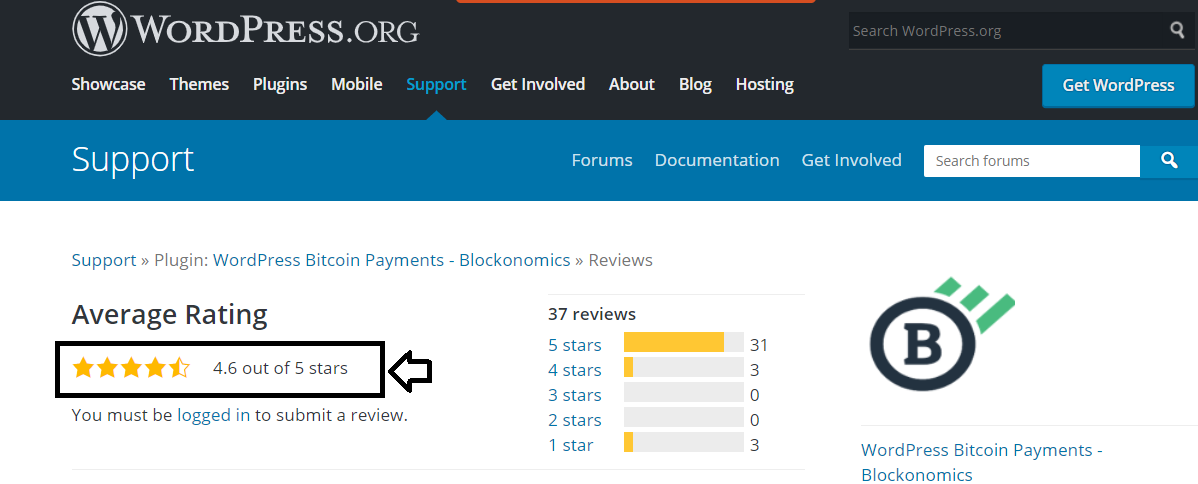 Verdict
Blockonomics is an easy to use WordPress plugin that lets you accept bitcoin payments without much hassle. The plugin shines through with its easy installation and transparent business model.
Although there are a few places where it felt a tad short compared to its competition:
The plugin does not yet support lightning network
Supported altcoin options are rather limited
Despite that, the plugin is a great choice for anyone looking to accept bitcoin payments on their website without a middleman.