Are you looking for an easy registration and login plugin for your WordPress site? For it, you can find the best user registration WordPress plugins through which you don't have to fill any signup forms or log in separately.
The login page is the gateway to your WordPress website admin panel. You can make your site secure by using a Login plugin for WordPress. In this review, we have a hand-picked best WordPress login page plugin that you can try on your website.
Benefits of WordPress Login Page Plugin
By default, the WordPress login page is very simple and looks the same on all WordPress websites. If you want to run a multi-user WP site, then you may want to customize it according to your requirements.
You also want to make the login experience on your WordPress website as seamless as possible without compromising on your WordPress site security.
How do WordPress Registration Plugins help?
A better way to manage new visitors: As the website admin, you can organize the new users carefully on your website. You can collect all information about visitors by creating custom fields while the default WordPress registration form lets you collect just username and email. Besides, it makes the user registration process more secure as you can use verification links and reCAPTCHA in the registration forms.
User registration plugins help to grow your email list: Now, you can create eye-catching user registration pages with the help of Login and Signup plugins, so that more users are likely to subscribe. In this way, you can increase your email list and contact the registered users easily anytime. You can also send your latest updates, product, and discount offers etc.
Ideal for guest blogging: If you are offering guest blogging on your WordPress website, a user registration plugin can help you in a great deal. You can enable the user role as 'Author/Contributor 'which allows the registered users to create a post on their own and submit it for review.
So, if you want to make your WordPress website more user-friendly by allowing the website visitors to register, a WordPress login plugin should be all you need. Here we will review a best user-friendly login and signup plugin, so let's start.
We have also implemented this plugin on WPArena for making the login process smooth and more reliable.
Fast Login WordPress plugin provides the facility to website visitors for fast login and signs up. The users that already have registered can login to your WordPress website with Fast Login without entering passwords, which provides outstanding user experience, increase retention and decreases abandonment. Fast Login also enables new visitors to create a new account with just their email address without the need for passwords.
Implementation of Fast Login in WordPress website
First, install the Fast Login plugin.
After installation, Activate Plugin.

Then click on the "Fast Login" menu.

In API's Tab, please submit "Fast Login API Key" and "Secret Key".

In "General Setting Tab", do the changes according to your requirements.

In "Choose the position of the floating icon" option, you can select the option of how you want to display Fast login icon on the frontend.

In "Choose where to redirect the user after successful login" option, select the page where you want to redirect the visitor after successful Login.

In "Choose what happens for authenticated users who are not registered on-site" option, select the option that will perform for authenticated users.
How to use Fast login plugin?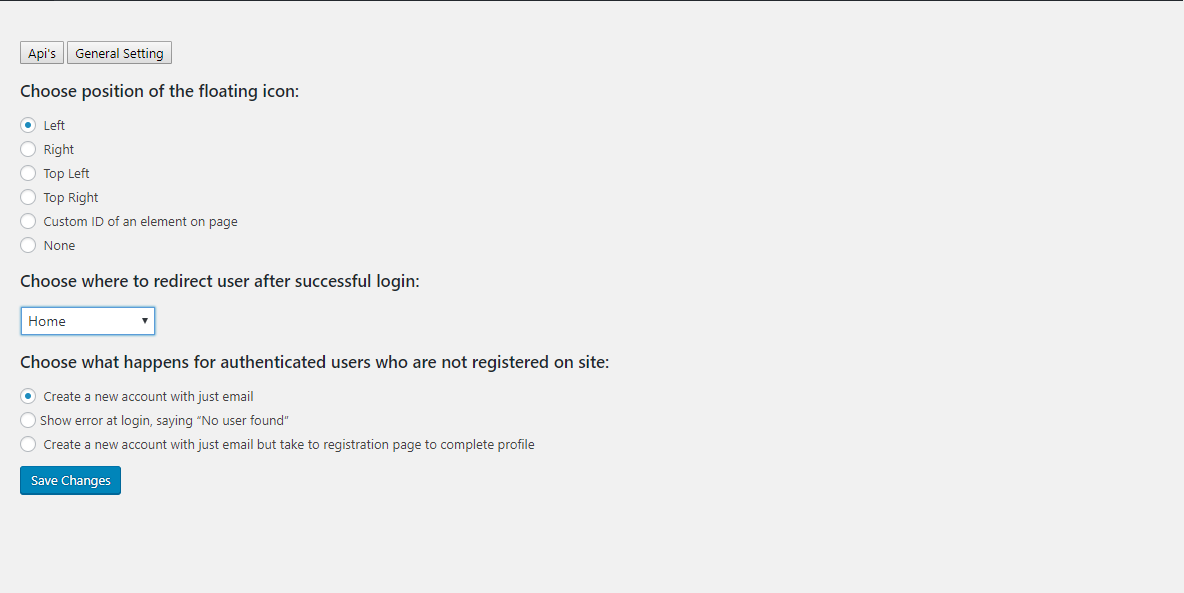 Here is how to use Fast Login plugin on your WordPress site:
Visitors click the "Login without Password" button or the floating icon

After that Users will enter their email address directly by clicking the button

The visitor will receive an email with a link to Login to your website

All done, the user is logged into his/her account! If this is their first visit, Fast Login will create them as a new user on your website.
Fast Login can add a login button or a floating icon to every page on your website, which remarkably increases the number of users which signup and login. Your website users and admin will love Fast Login for WordPress.
If you have questions or comments, please don't hesitate to contact the author of this plugin or use the comment form below.