Digital marketing is a complicated business. As the digital landscape persistently evolves and expands each day, marketing your content, products, and services online is getting harder and harder.
As a beginner in the art of digital marketing, WordPress is definitely the best solution a webmaster can choose. Since WordPress is the most advanced and compact content management platform out there, you can find a lot of good (and bad) educational resources that will point you in the right (or bad) direction.
Nevertheless, …anyone can create a WordPress site. It's easy – it takes 15 minutes to set up even if you're doing it for the first time.
However, one fact is clear: after creating their websites, most people can't attract enough people to their websites to make their efforts worthwhile. And for those that manage to get people, the pressing question is – are those the right people?
If you want success, there are many aspects to consider.
And yet, when you add SEO in the equation, thus developing your website according to SEO principles, everything changes. Search engine optimization offers you a competitive advantage and a consistent and reliable targeted traffic juice. Once you rank up, "they will keep knocking at your door".
But how? How do you effectively tap into the significant potential of SEO practices? The answer is simple: build an SEO-friendly website!
In today's post, I'm going to teach you exactly that. Ready? Let's go.
What is SEO and Why is Essential for Your WordPress Website?
Very quick, for those of you who are not even familiar with the concepts, here are some definitions and key concepts you that you should acknowledge:
SEO is the process of optimizing your website and content, making it relevant and useful for search engine users.
Search engines (Google, Yahoo Search, Bing, etc.) implement and leverage unique (and often secret) algorithms that differentiate the "good" websites from the "bad". The more you adapt to Google's "best practices" the higher your page ranking will get.
Developing a WordPress SEO friendly site means implementing various tools and on-page SEO strategies, thus adapting to the current applicable Google's ranking rules and expectations.
In simpler words, if you focus on SEO starting from day one, you will witness more organic and targeted traffic. That will boost your startup's potential as well as your initial results, giving you enough momentum to continue performing well.
Therefore, if you haven't yet decided how to create a website for your new business idea, stop seeking – WordPress is the perfect solution.
Create SEO Friendly URLs in WordPress
A friendly URL is basically a URL that is easily readable by the human eye.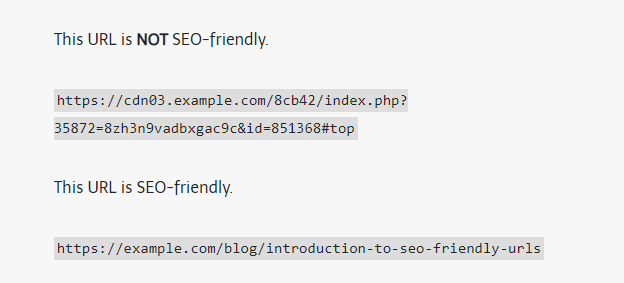 Here are some basic guidelines you should follow to improve the friendliness of your WordPress site's URLs:
To optimize for SEO and for the human eye, add your main keyword into the URL.
The URL should be short and concise, relevant, and obvious.
Your URLs should be closely related to your page titles.
Avoid using special characters
Avoid subdomains unless it's absolutely necessary
Lowercase URLs do better
Use hyphens if you want to separate your keywords
By keeping your URLs friendly, Google's going to reward you extra points and your website traffic will be able to easily identify your message even before entering your site.
Optimize Your Internal Linking
An internal link is a link placed on a page of a website that points to the same website domain, only to a different resource. Internal links are pointed towards other pages, downloads, pictures, etc.
Even though internal linking is an essential SEO ranking factor, many webmasters tend to neglect it and prioritize other things instead. Nevertheless, if your internal linking structure is well-designed, your traffic will spend more time on your website, consuming your content and getting familiar with your brand. At the same time, the more time spent on the website you get the more ranking rewards shall arrive.
Always link related articles together (even if they're very old posts). Use the keyword anchor text to do it discretely.
When you create an internal link, make sure it's relevant and attractive. Don't add links that don't add any value to the user.
When you create internal links, prioritize the user instead of focusing on what the search engine wants to see.
Click baits like "press this link" or "click here" should be avoided.
Keep it balanced – use both internal links and external and do not exaggerate.
Use WordPress SEO Plugins
WordPress plugins are amazing additional assets that will make your marketing life easier. Every single professional WP tool is designed to solve specific needs. Some will help you improve your backlinks, others will show you what competitors are doing.
When it comes to plugins, you'll want to "do your homework" well. That means you should take your time to explore the possibilities. Since you'll run a unique business that will have unique marketing needs, budget, knowledge, and skills, you'll need to find the plugins that can do what you can't.
Optimize Your Blog Posts for SEO
Content is king. If you didn't hear that before, I'm glad I'm the one to tell you. What this means is that everything you'll try to achieve in your marketing journey is related to content.
Your webpages are basically presenting content, your articles are content, your videos are content, your titles, your meta descriptions – everything is content.
To optimize your blog posts for SEO, you need to acknowledge a few standard practices. Here are some useful strategies to improve the SEO-friendliness of your content and show Google that you know what you're doing:
Start with keyword research. Before choosing the title, make sure you find the most relevant keywords that will represent your content. There are plenty of keyword research SEO tools out there, go find them.
Use semantic keywords. If you're writing about fitness, make sure you include keywords like gym, healthy food, nutrition, and basically keywords that are somehow close to your main keywords and topics.
Use images. Google loves visual content, and so do your website visitors. Visual content makes reading more interactive, making people engage more with your WordPress site.
Write longer content. Studies show that long and comprehensive content outrank short articles that barely touch the surface of the topic.
Do not overoptimize. The AI technology prioritizes natural content and discourages over-optimized one. Therefore, when you write your content, prioritize the user and write as if you're speaking face to face. Take care of the SEO details once you are done writing (add a few keywords, modify the subheadings if needed, and take care of the finishing touches.)
Make Your Site Mobile Friendly
Well, there's no need to explain the popularity of the mobile industry. Since probably 99.9% of your target audience has a mobile with an internet connection, that means your WordPress website must be easily accessible and navigable on mobile devices.
Mobile optimization starts the moment you choose a responsive WordPress theme, one that shrinks and fits any screen size on autopilot. Secondly, you'll need to capture your visitors' attention very quickly, as you don't want to lose the person's attention and engagement. Therefore, you'll need to keep your content, pages, and website design simple and easy-to-use.
Final Words
SEO is not a digital marketing trend, as king Google and queen YouTube are definitely "staying strong", preserving their importance in the eyes of us all. As long as people are going to search for information online using keywords, search engine optimization remains relevant and the key to any fruitful business or website development.
Therefore, if you start your business and marketing journeys right now, keep papa' Google close. Start by leveraging our tips and tricks and continue applying further knowledge. Be consistent, and you'll eventually stop worrying about traffic and start focusing on improving your brand and sales.