For a newbies, Search engine optimization(SEO) is very confusing because it's a time consuming job, with basic knowledge, following SEO related infographics must help them Visually understand the key concepts, as well they can get help to show their Website's online presence for maximum business growth.    Search Engines' traffic give the most valuable visitors, so for successful blog, e-Commerce or any niche website search results are very important. Creative Compelling Content with lots of ideas and better SEO is the best way to boost up your website traffic from Search Engines. (How to Create Compelling Content That Ranks Well in Search Engines)
If you like following infographics compilation, than bookmark this page or you can download infographarics for future reference.
Why does Search Engine Optimization (SEO) matter?  With over 240 million people in the United States using the internet and 80% of those people looking strictly at the organic listings in search engines, where your website ranks is extremely important.  Google is constantly refining its ranking algorithm; however, there are many things that have held constant over time.  This SEO guide will answer the question: What is SEO and how should I be using it?
Hopefully, you'll get rid of some confusions and get some answers in this infographic by RiseInteractive.com which presents basic information and key figures of SEO. This is the sort of smart-but-simple, pragmatic-but-comprehensive and helps to spell out the knowledge you want to know about search engine optimization. [Source: SEO101 beginners guide to seo infographic]

Search engine optimization can be confusing not only for SEO newbies, but also for people with a good understanding of the basics. This infographic on search engine optimization makes it easier to understand some of the key concepts in SEO by breaking it down visually.
As someone who kinda hates SEO -tho I've had great success SEOing for clients-, for some reason SEO guys flock to me. And I've had a privilege to work with some of the greats.
High Quality Inbound Links for Your Website
The complete research carried out by BlueCaribu is presented in this awesome info graphic they have produced:

Type the text that you would like to appear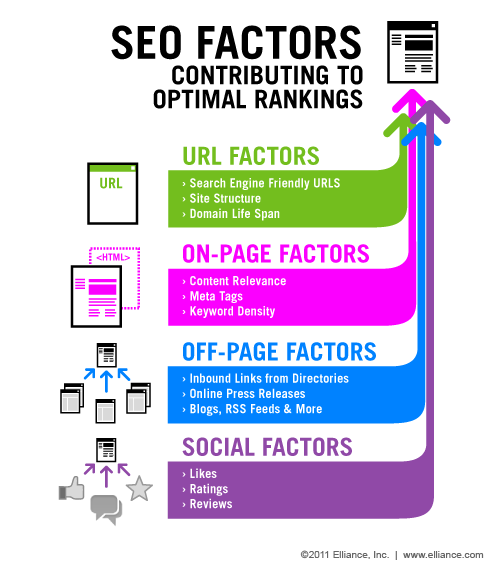 Any good search marketing campaign has a multi-pronged approach to achieving top rankings. Blending such factors as site structure, content relevance, and online press releases will influence your site's chances for success. Starting in 2011, engagement is a key metric that can be measured by activity in the social networks and how much time is spent by users on your site.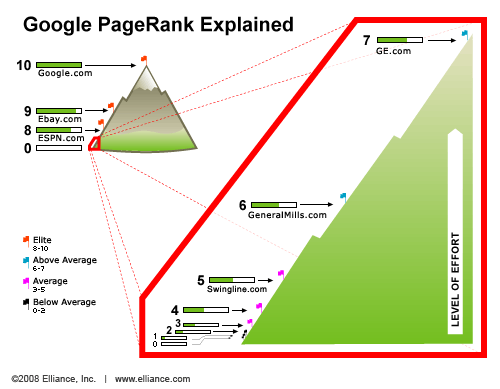 Google assigns a numeric weighting from 0-10 for each webpage on the Internet. This PageRank denotes your site's importance in the eyes of Google.
Scribe Makes SEO Simple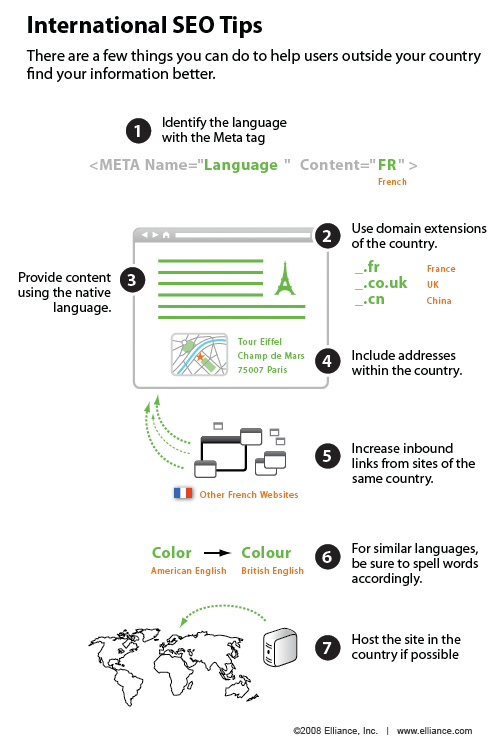 Search engine optimization can extend far past domestic versions of the major search engines. Some globally-focused companies want increased visibility in country-specific search engines outside of the U.S. market. This infographic illustrates some tips and best practices associated with successful international optimization.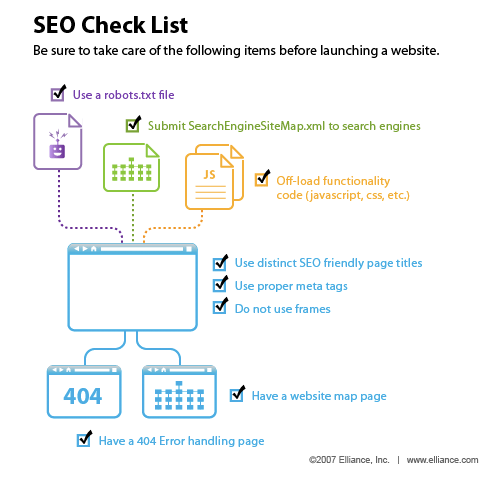 When it comes to SEO, there are certain elements that need to be in place for any newly-designed or updated website. Have 301 redirects been put into place? Is the robots.txt file authored to allow adequate crawling? This infographic depicts a handy checklist that will help get you through any new site launch or transition.
Images are a fantastic way to present data and abstract concepts, they're a much clearer way of getting information across and more people take the time to digest it. I thought it would be a good idea to try to present solutions and explanations to the more common SEO questions that we hear from our clients.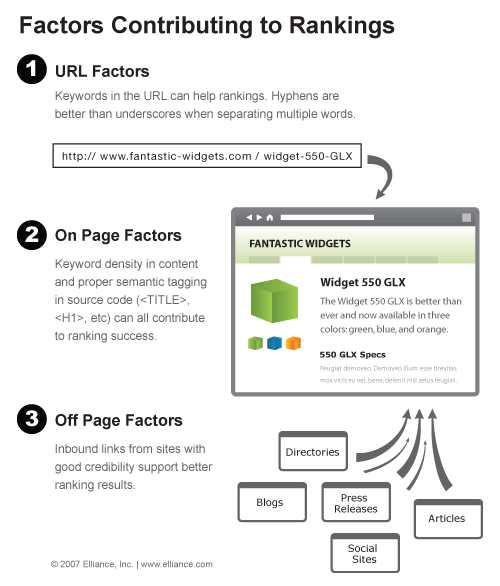 Strong SEO positions can be achieved by paying careful attention to three main areas: on-page factors, off-page factors, and URL factors. These forces, in combination, push pages towards the top of results pages.
The Fastest & Cheapest Way To Monitor All Your Keyword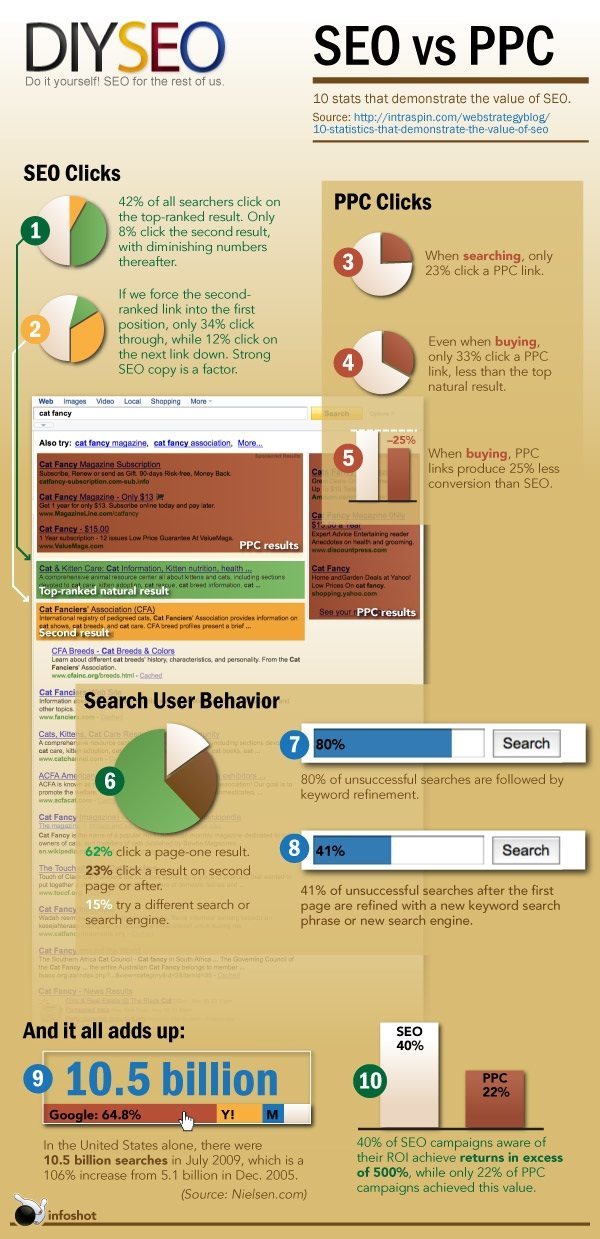 The infographic above will help you to recognize some significant benefits of using SEO compared to pay per click.
To improve your PageRank, you should try to get inbound links from other sites that already have a high PageRank. While you could go get hundreds of links from sites with a PageRank of zero, they will not count as much as a few good links from PageRank 5 or higher sites.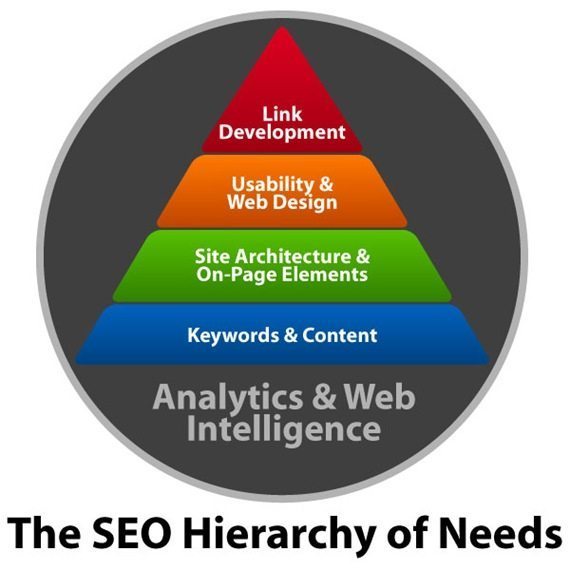 It pretty much sums up the SEO process for a new website or redesigned site from start to finish. Starting from Keyword research for content development, then matching your keyword research to the actual site architecture and other on page elements like title, header, and meta description tags.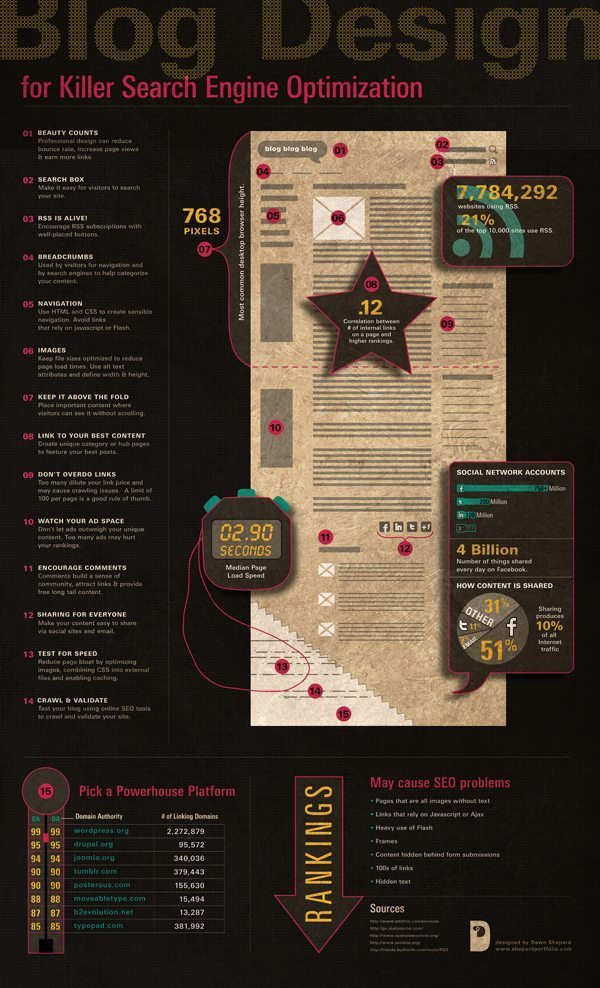 The infographic above contains a complete list of recommended platforms, along with the domain authority of each one.
Search engine optimization — SEO — may seem like alchemy to the uninitiated. But there is a science to it. Search engines reward pages with the right combination of ranking factors, or "signals." SEO is about ensuring your content generates the right type of signals. Our chart below summarizes the major factors to focus on for search engine ranking success. The Search Engine Land Guide To SEO explains factors in more depth, with tips and a tutorial on implementing them. Read on!
This is a very detailed infographic on how Google search works. The data is setup in a flow chart style starting with the creation of a blog post going through the possible routes the Google crawlers go through to pull that sites organic search results.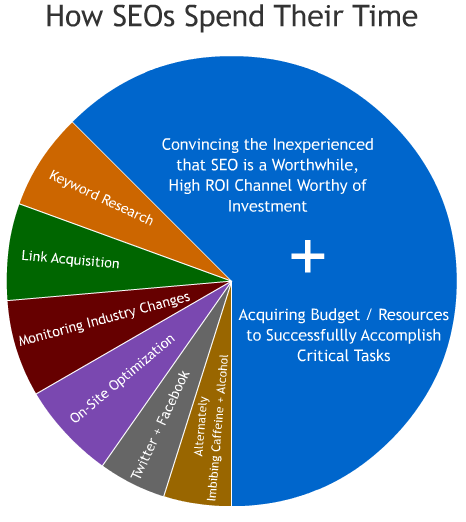 1 – Pie Chart of SEO Time Expenditure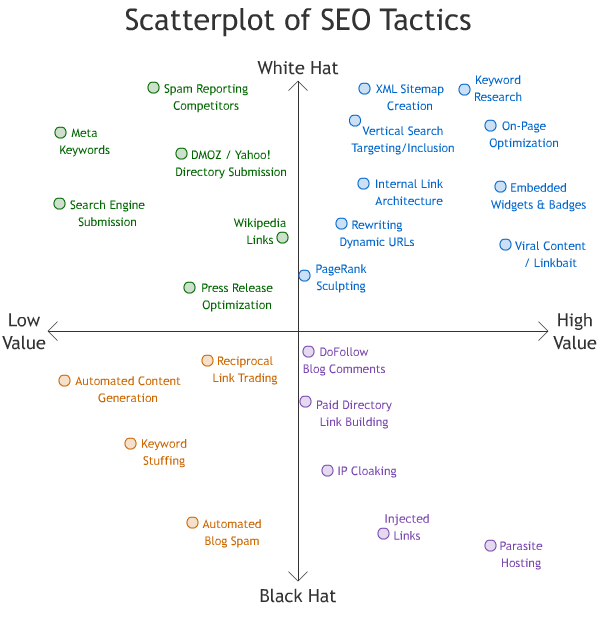 2 – Hat Color vs. Value Scatterplot of SEO Tactics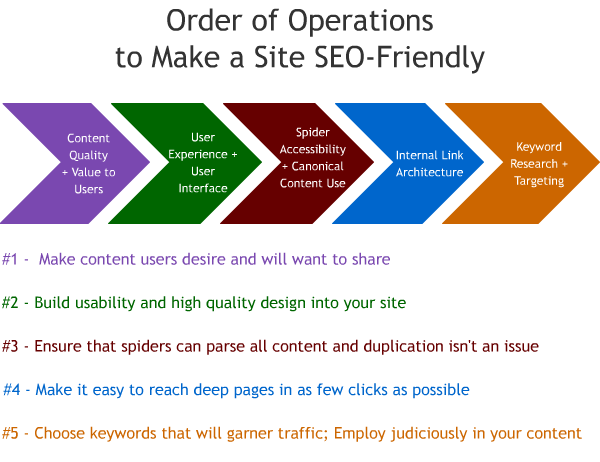 3 – Flowchart of SEO-Friendliness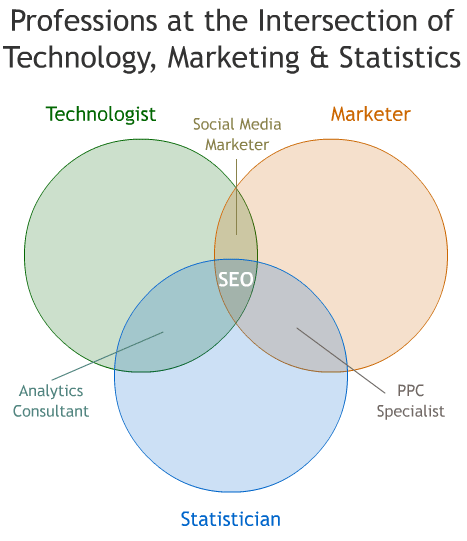 4 – Venn Diagram of Internet Marketing Professions
SEO infographic for link data visualization.

When it comes to building a web site, you can no longer just throw up content and hope for the best. The top ranking web sites in the world all have quality off page and on page SEO built into them. Take a look at the infographic below to learn how other web sites are using SEO tactics to continually improve their indexing and results in the major search engines.
Quickly, Easily and Automatically Build Quality One-Way Permanent Backlinks on Untapped Sites with Great Page Rank.
The beginning of the year is a great time "tune-up" your company's SEO strategy so that you can get off to a great start in reaching your 2012 marketing goals. We created this infographic to provide a good checklist of things to consider to develop a high performing SEO strategy that will provide winning results.
This content marketing infographic from Brafton is illustrating some of the strong points for keeping fresh, quality content a top priority if you want to pull traffic to your Web site. I recently wrote about how content strategy affects SEO, and this infographic underscores some of the critical aspects of content marketing.


When search engineers fight spam they do not like to flag too many false positives, but they do want to flag as many of the manipulative behaviors as they can to minimize the manipulative editorial influence of external parties. In SEO many things are good only in moderation.


How much does SEO cost? How much time do you have to discuss the various models and prices out there! However, a new survey sheds some light on the subject. The survey was conducted by SEOmoz and compiled into the infographic below by AYTM.

In a well documented and detailed graphicsMartina Seefeld has captured the most significant changes the algorithm of Google searches between 1998 and 2012 for t3n.de .More than 60 brands in the way of the Internet giant that has been happening every month in the sector SEO . A timeline that tracks the evolution of the search policy.[Source: MarketingDirecto.com]
A great link builder is a demanding role requiring diverse skills and several personalities. The Four Faces of Link Building is a wry look at the four main personas of the mighty link builder.
Brody Dorland whipped up a post on the "12 Things You Need to Do After Writing a New Blog Post". The checklist-style post was well received with thousands of retweets, likes and shares.
Content Marketing is hot. White hot. SEO and digital marketing thought leaders are declaring that Content Marketing is the next big thing. Even Rand is touting its importance.
This infographic has been created to demonstrate various link building techniques that can help you get noticed online and can positively influence your search engine rankings.
Other useful Search Engine Optimization (SEO) Resources
---
From SEOMoz Blog
How Google's Panda Update Changed SEO Best Practices Forever – Whiteboard Friday
How Organized Spam is Taking Control of Google's Search Results
Experiments on Google+ and Twitter Influencing Search Rankings
The Noob Guide to Online Marketing (With Giant INFOGRAPHIC)
10 Super Easy SEO Copywriting Tips for Improved Link Building
Search Engine Land
The Growing Portrait Of Google As A Big, Scary, Expanding Everywhere Copy Monster
Video: The "Brains, Brawn & Look" Of Google Search Speak Together For First Time
Top Internet Activities? Search & Email, Once Again
Likes Are Not Loves – How To Waste Time "Marketing" In Facebook
Everybody Deserves A Second Chance: Using Remarketing To Reach Abandoned Shoppers
WordPress Arena
SEO Tips that every blogger must know
How To Speed Up Your WordPress Websites Loading Times
How to Generate Search-Engine-Friendly Permalinks for WordPress Post
Major and Secondary Search Engines and Directories to Submit Website
David Naylor
Google Webmasters Flaw Allows You To Remove Any URL From Their Index
Google "Farmer" Update – Before and After
Adding Your Site To Webmaster Tools May Reduce Your Rankings
The Top 5 Keyword Research Tools
Is Google getting too big for the good of the internet?
SEOBook
Why You Should Use Multiple Web Analytics Tools
What's In Your SEO Toolbox?
The Ultimate Guide to Using Bing's Webmaster Tools
How To Make Awesome Landing Pages for Local PPC
Free Competitive Research on Domains
SEO Optimise
High Risk SEO: 33 Ways to Get Penalised by Google
30 (New) Google Ranking Factors You May Over- or Underestimate
30 Link Building/Link Baiting Techniques That Work in 2011
40 Google +1 SEO Resources
Can You Get a New Domain Ranking Using Just Facebook Likes & Tweets?
Search Engine Journal
How to Get Twitter Followers
The Dark Side of Success: Google in the Courtroom
How to Build Links and Good Karma
Bury These Deadly Search Myths
6 Ways Content Strategists Can Get Along with SEOs from the Beginning
The plugin will help you increase the performance of your WordPress website. We aim to do this by optimizing key features of the website's loading process thus increasing the loading speed and limiting the bandwidth consumption.
A new version of Scribe for WordPress. Here's what's new:
You already know about the new integrated keyword suggestion tool for researching and evaluating keyword options based on search frequency.
You can now restrict or allow Scribe access for different authors/users.
You can manually select the theme or plugin you wish to use with Scribe.
You can now use Scribe for WordPress with WooThemes, the wpSEO plug-in, and the Platinum SEO plug-in.
We've corrected a bug that caused some WordPress pages to not analyze properly.
There's now an enhanced Scribe widget box that shows you the number of evaluations you have left while editing.
Scribe WP is ready to go for WordPress 3.0.
Watch the demo video for Scribe WordPress
See Scribe's Plans and Prices
Take Scribe for a Test Drive
SEO Friendly  WordPress Themes providers: