WordPress has become the most feature rich and user friendly publishing platform. I have listed the best WordPress resources for WordPress beginners that help them to get into this amazing world of WordPress.
Free WordPress hosting
---
These hosting provide only to run your WordPress blog if you don't have much data, better host on blogger.com or on WordPress.com which is quick, painless, reliable and free as well. But with hosting there are lot of limitations as Most free hosting providers will incorporate advertising into their services in one way or another. The best Hosting for WordPress are: , hostmonster and WPWebHost.
Byet provides you with an ad-free load balanced free hosting service including PHP, MySQL, FTP, Vistapanel & more!.
Need a free bite? The Chocolate free web hosting flavor offered by Freehostia allows you to easily create a professional looking site for FREE. Try our Elefante Installer and install Joomla,WordPress, phpBB and many more free PHP scripts with just one click.
At Zymic we offer free web hosting, with a level of professionalism any paid web hosting company offers, along with a full range of free hosting features.
000webhost.com ($0.00 webhost), is an industry leader in providing top class free web hosting services without advertising! There are no hidden costs, no adverts, and no restrictive terms. Lightning fast speeds, maximum reliability and fanatical user support are just a few of the features you'll receive with our service.
Best Free WordPress Theme
---
Respo is amazing WordPress theme with clean, sleek and customizable design. The theme is suitable for presonal blogs and/or online magazines. This is a responsive theme, able to adapt its layout to the screen size of your visitors. (try resizing the screen and see for yourself) The sliders for this theme is responsive too, which means it works super sleek on mobile device like ipad or iphone. Features of the Respo Theme:
Responsive grid layout
Flexslider – jQuery slider with turn on/off possibility
Unlimited dynamic featured sections
Sidebar tabs (latest, popular, random posts + list of tags)
5 widget ready sections (1 in sidebar, 4 in footer)
Full Width template
Font styles (font family, size, style and color) for typographic elements like headings, body text, links, header, footer or navigation text and links and much more
300px dynamic ad widget
Custom "About Us Info" widget
Custom Search form widget
Easy Logo and favicon upload
Respo looks great out of the box but would also make an excellent base for customization. Download it today for from from Themnific. If you like how the theme works, make sure to check out the Themnific PRO Framework.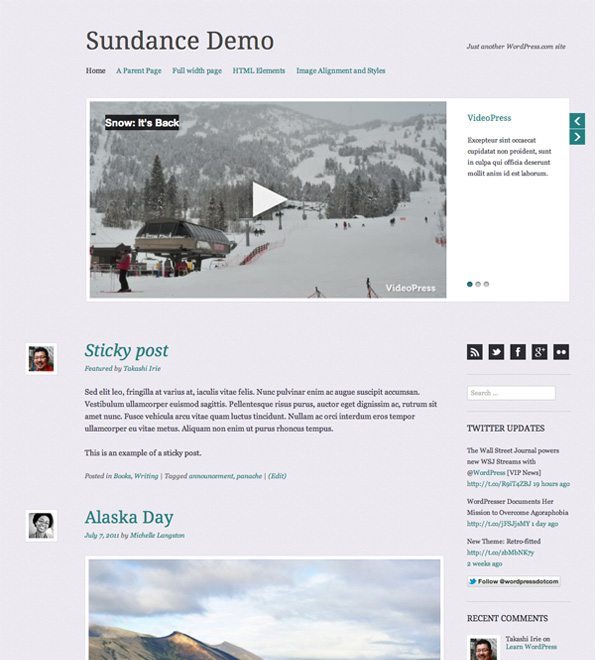 A free video theme brought to you by the folks at Automattic. Despite its minimalist design, Sundance was crafted with clean, elegant typography and close attention to detail. The home page offers a featured video carousel. It supports the video post format, widgets, custom background, custom header, custom menus, and a custom link feature for your social media pages.
Danko WordPress Theme is ideal for charity organizations. It's focused on raising funds for your charity. Use our free theme to do as much good as possible. Demo | Detail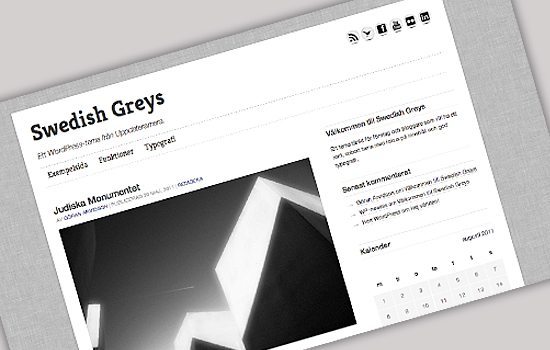 A WordPress theme inspired by the Swedish design era Swedish Grace, a nordic design period from 1910-1930. With emphasis on typography and the subtle nuances of the grey scale. Demo | Detail

Main Features
Responsive Design – Retouch adapts to different screen sizes so that your website will work (and be optimized for) iPhones, iPads and other mobile devices.
Galleries – Swipe or click through galleries. View an example gallery post for the full effect.
Post Formats – Retouch supports the Image, Gallery and Standard post formats.
Custom Background – Change the background from wood to a custom background of your choice.
Custom Header – Add a custom header image to bring some personality to your site.
HTML5 – Why? Because it's 2012 folks!
To download Retouch, just sign up for an account. If you need access to our support forum or video tutorials, you'll need to have a paid account.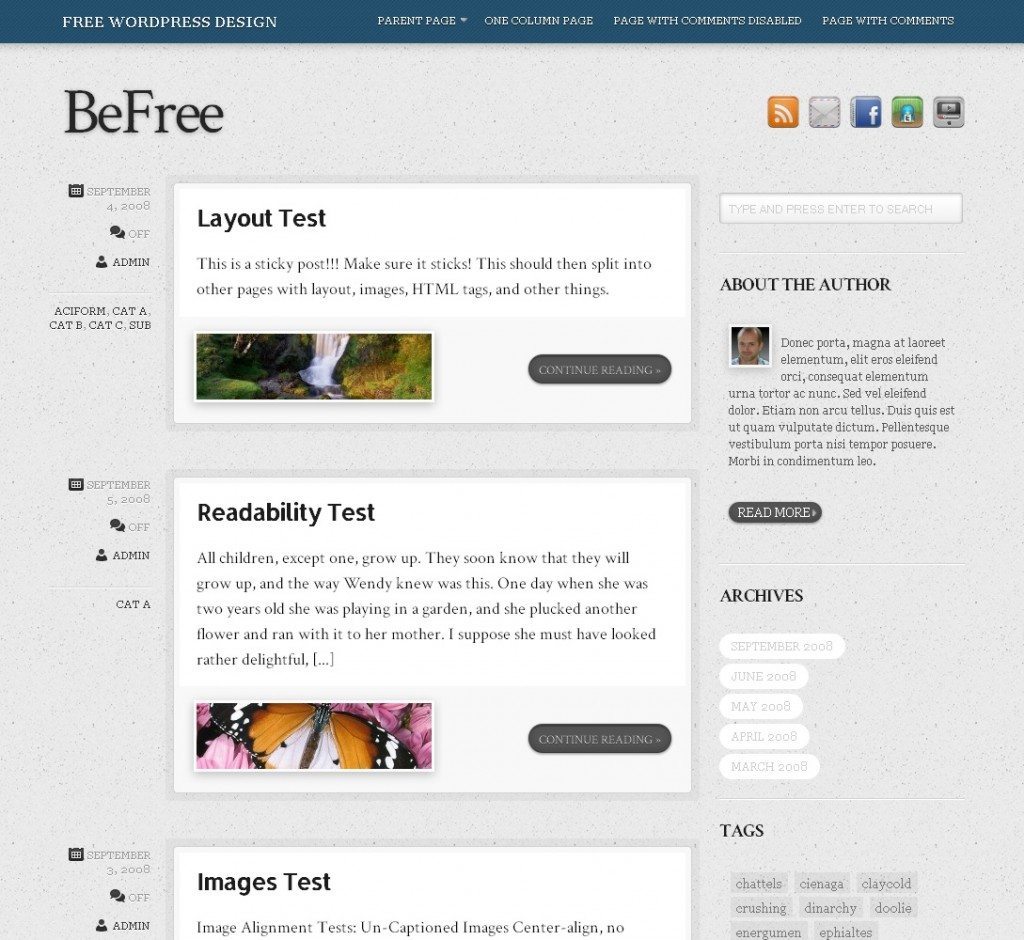 BeFree theme is for everyone who prefer simple, minimal, yet stylish WordPress theme. The theme supports automatic thumbnail resizing, custom colors of header and background, and offers numerous of Google Fonts selection. BeFree also offers one column or right sidebar layout, author bio widget, 5 subscribe buttons and up to 5 widget areas. To display your navigation items you can use 2 custom menu areas – header and footer. Intuitive and easy changing of your own logo, favicon or custom css. Pre-installed ads spaces are ready to monetize your blog for your requirements. Demo | Detail
Workz is a WordPress theme I've created exclusively for release at WPExplorer.com. It features a design/function specifically for business and portfolio style websites so you can showcase your work and what your business is all about. The homepage has a custom layout driven by custom post types with a tagline, nivo image slider, homepage highlights and recent works section. The portfolio allows you to easily add unlimited items and categories via custom post types. You can create a "filterable portfolio" as well as have paginated portfolio category pages. And of course there is a full blog section so you can post news/articles in a minimal fashion. Demo | Office Theme | Detail
zeeBizzCard is a clean and elegant styled Business Card Theme for WordPress that fits perfectly for a sleek homepage for personalities, freelancers, entrepreneurs or small business owners. It comes with a Featured Posts Slider, a custom post types based Portfolio and Shortcodes for Resume, AboutMe Box and Skills. The theme also has an extensive theme options panel where you can change colors, fonts, layouts etc. Demo | Detail
Do you care how your website performs on mobile devices? Did you know that mobile browsing now accounts for an estimated 10% of all web traffic in the U.S. and is predicted to quickly approach 15%? Mobile browsing is gobbling up market share faster than knife fight in a phone booth. How people engage with your online portfolio and business is changing. How you respond to those changes is critical to your site's success. Detail | Best Responsive WordPress Themes for All Devices and Screen Resolutions
Free Easy Docs WordPress Theme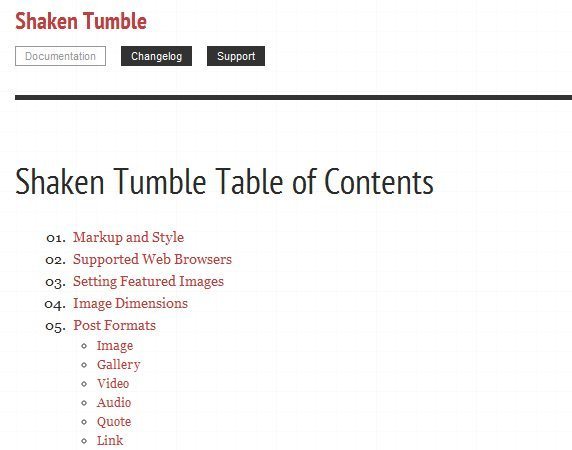 This one is targeted at a very niche audience — the people who have to write documentation for products. I came across the need for a documentation template awhile ago when I released my first two products (Shaken Grid andShaken Tumble). I decided to create this WordPress theme to streamline the process and make the task of writing documentation a little less painful.
Features
View the live demo to get a feel for what the theme is capable of. I built the theme to fulfill my requirements, which were very basic; a page for documentation with a simple way to navigate between sections, and a basic page template for simple pages like a Changelog.
8 Free Twenty Eleven Child Themes
FREE WordPress Child Theme For Twenty Eleven: Paper
FREE WordPress Child Theme For Twenty Eleven: Silver
NomNom Twenty Eleven Child Theme By Zeaks
WordPress 2011 Color Fun
Blue Splatter Theme
Twenty Eleven with Sidebar in Posts
A theme that has a stellar mix of color, texture and typography. Designed by Kcmr. It features a custom header, custom background, and maximum three widget areas in the footer. It comes with supports for several post formats including aside, gallery, image, quote, link, chat, and audio.
10 Free BuddyPress Themes Compatible with BuddyPress 1.5
FRISCO A BuddyPress child theme
BP Columns: A 3 Column Buddypress theme.
BuddyPress Widget Theme
Custom Community
Free Theme Framework for WordPress, WPMU and BuddyPress
Business Services
Business Services is all about showing off whatever you want – from services to products this theme fits the bill everytime.
Oceans11
Social networking in a box. Build a social network for your company, school, sports team or niche community all based on the power and flexibility of WordPress. BuddyPress allows you to stay in control of your site and create a totally customized, unique experience.
BlogTimes
BlogTimes is another one from Milo with a 5-column magazine/newspaper style fluid layout. It sports a grid design, sliders and a white color scheme.
A semantic, HTML5 minimal template with plugin-free flickr and twitter feed.
Launch Effect is a free one-page theme that lets you create a viral campaign in minutes. Here's how it works:
Visitors to your website sign up using their email.
Upon signing up, the page generates a special URL for them to share with their friends.
Use the URL to track your most active referrers and reward them for spreading the word.
Busby is a clean personal blogging theme with it's own options panel built with the UpThemesframework. I've been working on this for a while now, it's quite a different experience building a theme which will be released publicly rather than one for my own or client's use. There are a lot more things to take into account and lots more testing to do.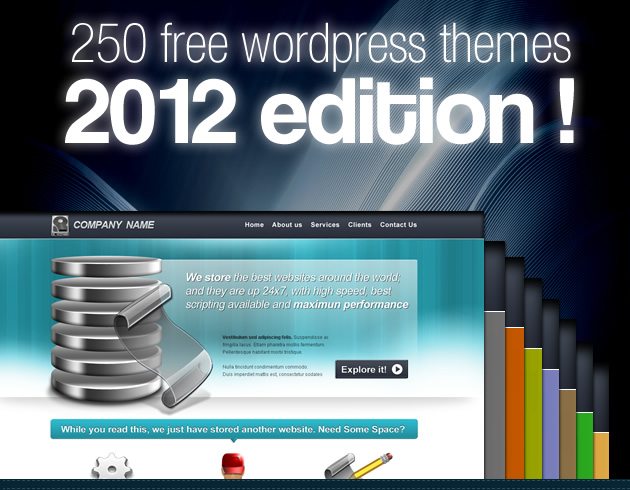 As far as WordPress freebies go, this is a big one. ThemeShock is offering a download that they've dubbed "The Best Free Bundle Ever" and wow is it packed full of useful goodies for your websites.
The PressWork Toolbox lets you style any theme in a live preview environment without any code, drag & drop to set your layout in seconds, add Google fonts, and much more.
Hard to believe that Obox Themes turns two today, it's been a roller coaster ride since the beginning and we've enjoyed every bit of it. The team has grown from a two man machine to four strong. The results have been awesome to see and we are incredibly proud to have gotten this far.
Hybrid Core is a WordPress theme development framework for creating solid parent themes. It allows theme developers to forget about all the complex functionality and dive straight into coding their theme's HTML, CSS, and JavaScript.
Expositio is a very simple & free portfolio WordPress theme for photographers, designers & artists. Expositio theme allows you in several clicks to showcase your works to the whole world. Adjustable main page lets you to provide any information. Integrated options panel helps to customize the template from font used to color theme.
17 Free WordPress Themes
WordPress Diary Theme
Enjoy this free WordPress diary theme and write down everything that pops into your mind.
News Free Theme
An extremely powerful theme made for use by news websites that includes an optional magazine layout for the home page and custom templates. It's the best way to make your news-oriented Web site shine.
Copyright Theme
Copyright Theme is a Modern and Clean WordPress Theme. It has a management console, is widget ready, advertisement ready and is an easily customizable theme to use.
Imbalance 2
Imbalance 2 turns you WordPress-based website to an attractive blog, portfolio or even online magazine. This free template designed in strict modern style with a minimalistic touch. Imbalance 2 can easily fresh up your web-magazine or blog.
gRID! Theme
Very elegant, clean and fast loading WordPress theme with minimalistic approach. Super design with premium functions for free from BeatTheme
Melville Free Theme
Melville was our first WordPress theme, and it's available for free. Inspired by classic literature, we wanted to create a theme with no widgets, no distractions—just a clean, beautiful design that focuses the attention on your writing.
Lysa is new free WordPress theme
Lysa is new free WordPress theme, that is rich and fully widgetized. Two columns layout, amazing look, eight colour schemes and other great features. You can use the default "blog name" or you can use your own logo like in sisterly theme Sucha.
AutoFocus 2.0 Free Theme
AutoFocus 2.0 is a clean and simple WordPress theme developed for photographers looking to showcase their work.
Abtely Theme
Very elegant, clean and fast loading WordPress theme with minimalistic approach.
Super design with premium functions for free! BeatTheme.
Grading Theme
Grading Theme is a Modern and Clean WordPress Theme. It has a management console, is widget ready, advertisement ready and is an easily customizable theme to use.
Yoko: Theme With Responsive Layout
In this post we are glad to present to you yet another freebie: a responsive WordPress themeYoko which was designed by talented designers Ellen and Manuel from Elmastudio and released for the Web design community.
Create a website to showcase your Videos by using WordPress.Create unlimited video categories, show popular videos, rate videos and share them on social network. This theme is just perfect for Video Blogging from Templatic.
Free WordPress 3.1 Theme: Splendio (With PSD Sources)
a new freebie: a beautiful theme, designed by Vlad and Elena Scanteie which was developed exclusively for Smashing Magazine and its readers.
Free HTML5 and CSS3 Themes for WordPress
HTML5Press: A New Free HTML5 Theme
TWENTYTEN FIVE: Bringing HTML5 to WordPress
HTML5-ified Twenty Ten
Toolbox Free Theme
Euclides
Euclides is the perfect theme from CSSigniter Themes for those who write tutorials online. While we concentrate on web workers, anyone can use this theme. Euclides is a free WordPress theme.
Free HTML 4.01/HTML5 WordPress Theme: Spectacular
Free HTML 5 WordPress Theme
Starkers HTML5 Theme
The Travel Theme
Free Dream
Roots Theme
Handcrafted WP is a starter theme
Constellation Theme
Brave New World WordPress Theme
HTML5 WordPress Shell
Thematic HTML5 Boilerplate
Orange Flower
JustCSS
Platform Free Theme
Grey: A New Free HTML5/CSS3 WordPress Theme
Temple Gate: An Accessible HTML5 WordPress Theme
WordPress Basis Theme
Free Coming Soon Themes
my blue construction
Free under construction blue WordPress theme.
Placeholder
This theme is perfect if you have a website in development and you simply need to let your visitors know how to get in touch and how long until the site will launch.
LaunchPad
Park your domain in style with WordPress and Google FeedBurner.
Ready2Launch!
Fast&Easy way to prepare "Under Construction" page – http://ready2launch.jedenbod.cz
WpLauncher WordPress Theme
WpLauncher is a free premium WordPress theme, that is simple with a single purpose: to provide an attractive, customizable domain parking theme for WordPress users.
Site Under Construction
This site is under construction
Holding Pattern
A highly customizable landing page theme featuring the amazing UpThemes Framework.
WP Blueprint
Like I mentioned at the beginning, in this section you will find the most popular files, so to speak. Unfortunately I have no time to continue to provide support, but each file has its documentation.
Beback Theme
What will you do if your site needs a rest?
Wordspop presents you a WordPress theme that can be used while your site is down, undergoing a redesign, or still under construction. Easy to use, easy to manage, as simple as a click.
Coming Soon
Use as a Coming soon page for your website / Application / Software
Showcase your product in one single page with featured image and description on the right. Lots of iPhone App websites are built this way. You can use this theme to create a website just like that.
Detail
TIMELAPH
A sleek, dark, spaced-out landing page or email newsletter subscription page featuring the amazing UpThemes Framework. Find the Perfect WordPress Theme at UpThemes.com
WordPress Anniversary Theme
That idea has helped millions of people easily create websites! That idea became WordPress!
WordPress Plugins
---
Google+ is Google's foray into the world of social media. Over the past six months we've seen it expand rapidly and the WPMU DEV Google+ Plugin has expanded with it.
The WPMU DEV Google+ Plugin lets you add a +1 button to your website so that people can tell the world how awesome they think you are. It integrates with Google+ Posts and Pages so that people can easily add you to their G+ Circles.
This plugin generates static html files from your dynamic WordPress blog. After a html file is generated your webserver will serve that file instead of processing the comparatively heavier and more expensive WordPress PHP scripts.
Akismet filters out your comment and track-back spam for you, so you can focus on more important things.
With the custom GrowMap anti-spambot plugin Andy Bailey from CommentLuvwrote based on an idea from Phil Hollows of FeedBlitz and improved by a suggestion from Dazzlin Donna Fontenot you can too!
How can I stop getting spam emails?
Fast Secure Contact Form celebrates Over 1 Million downloads from the WordPress Plugin directory. Also recognized near the top of Most Popular and Highest Rated WordPress Plugins. If you are a satisfied user, please help spread the word by posting to your blog, Facebook, or Twitter.
Let your readers choose to comment via Facebook, Twitter, Google or regular old WordPress – developed for WPMU.org, now available for you!
Dropbox Plugins for WordPress
Integrates DropBox with your blog allowing you to post images and files directly from your DropBox. Requires PHP 5.2 and cURL.
Upload single files or entire directories with subdirectories to your Dropbox account.
SMEStorage Multi-Cloud WordPress Backup
Back your WordPress blog up to any one of 10 storage clouds including S3, CloudFiles, MobileME, Gmail & Box.net
Any images, photos, pictures from your DropBox Public folder now are accessible to view in sidebar gallery of your blog.
Creates an archive of all your WordPress Data & Files and then stores them on Dropbox, Amazon's S3, or your FTP host.
A High Quality Free WordPress E-Commerce Plugin
Jigoshop is an eCommerce plugin for WordPress developed by professionals with years of experience delivering online shops for global brands.
Quickly Clone and Migrate WordPress Sites with the Duplicator Plugin
The Duplicator plugin is designed to give WordPress Administrators the ability to migrate a site from one location to another location in 3 easy steps. Just create a package, download it and install. No need to change all your settings and re-run import/export scripts. The plugin also serves as a simple backup utility.
WordPress Multisite to Power Multiple BuddyPress Social Networks
Start communicating! Bring live, two-way chat to your site. Host your own live chat sessions, interact with your visitors and boost your sales without needing any third party javascript or other code – works great with BuddyPress and Multisite too.