Jupiter X is a premium WordPress theme that can create websites with the help of Elementor page builder. Then, what is in it for you? If you are going to use a third party page builder then why to use Jupiter X theme? This is the first question, you should ask for yourself.
Why a theme that is not as good as it should be sold for over 100k times. This is called real marketing. The team of sellers behind it is just trying to sell it rather than making a compatible product. What's more? Read the below statement from a core WordPress developer 'Rud of WPSpeak.com'.
It's not fully SEO compatible and theme performance completely sucks, don't fell prey to fake claims of Jupiter X team.
I am not reviewing this theme without using it. Below screenshots will show, how much effort I put in to disclose the reality of this theme.
Today, I decided to reveal the industry's bad coded themes and the first one that I am trying from few days is Jupiter X. While other themes offer you a set preset of customization options, Jupiter X is using a page builder instead of its own specific builder like Newspaper theme has, the addition of Elementor page builder allows for endless options when it comes to the various facets and elements that make a great website in terms of looks and responsiveness. However, SEO junkies and Google lovers should stay away from it as it loads very slowly and loads tons of CSS and JS files from both the page builder and theme itself.
Avada, BeTheme, The7, Enfold, Porto, Flatsome, Bridge, Uncode and Newspaper are way better themes than Jupiter Theme for all kind of sites.

By: Derek of WPOutcast
Now, let's take a look at it.
Setting up Jupiter X:
After installing and setting up the theme, you will be instructed to install and set up the Jupiter X Core plugin (necessary to run Jupiter X Theme). Before starting, navigate to the dashboard and click Activate Jupiter X Core Plugin.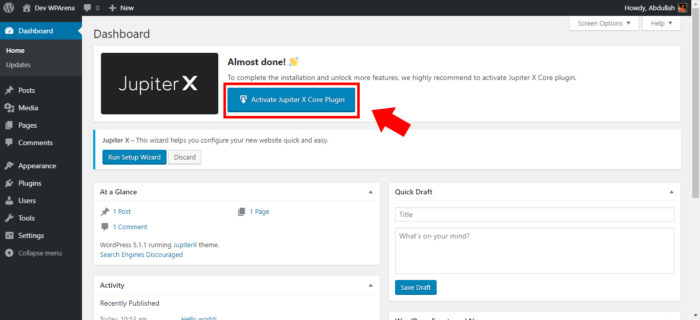 Activate Jupiter X Core:
After activating the plugin, the plugin will ask you to activate Jupiter X with the activation key that you got after purchasing. Copy and paste the key in the API key area and press the Activate Product button.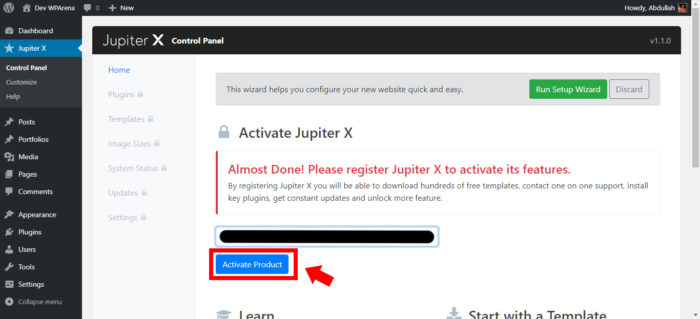 A pop-up of successful product activation will appear, and the page will show Jupiter X is Activated message. After activating the plugin, find and click Run Setup Wizard, and it'll take you to set up Jupiter X for the first time.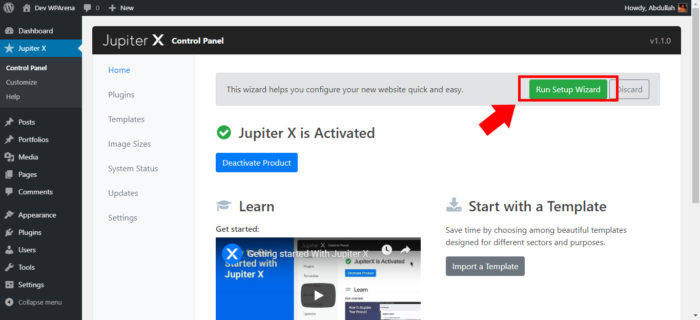 Plugins:
You've already activated the plugin to proceed to the Plugins step. A list of plugins will appear; these plugins are essential for Jupiter X to work correctly so select them all other than the ones which have the same purpose. For example, you can choose which slider plugin you want to go with and click Install Plugins.
Now take a minute to see at the list of plugins, It's hefty. They haven't developed anything themselves. It's just using third-party plugins and designing demos. The way these theme developers are developing themes is really bad. They usually don't care about your site Presence and speed but only for money.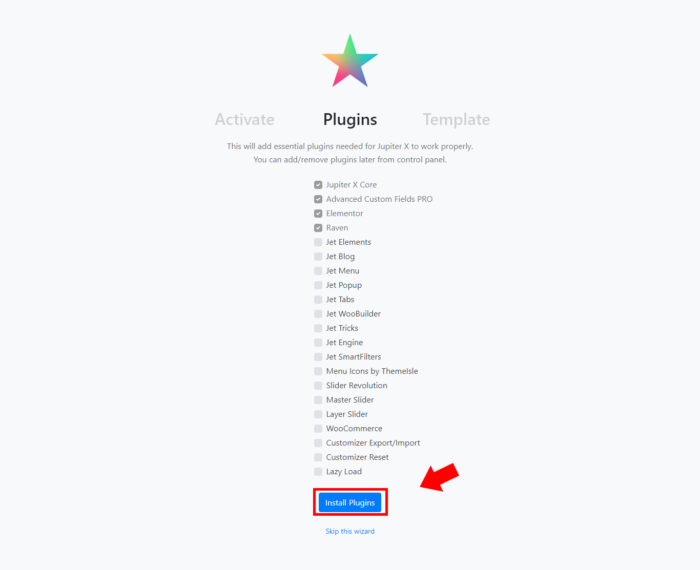 Templates:
After you're done installing plugins, you can choose a template from the collection of Jupiter X templates that you can import. Navigate through the collection and preview them to see which one fits according to your needs. This is another hack again for selling. Each template loads a lot files after activation.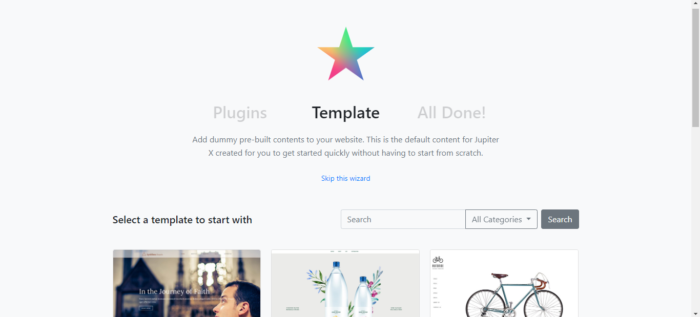 When you finally decide to go with your favorite template, you can click Import, and it will import the requested template files to your server. For testing, we imported Kale theme. You can also request video and images and import them. The theme will be installed and ready to customize.
Jupiter X Theme Features:
Elementor customization is the only part of Jupiter X as it enables to edit any page with just drag and drop. The state of the art theme comes with state of the art page builder plugin support and results in responsive websites that users love. Here are the features of Jupiter X:
Elementor page builder
Customizable header/ footer
Layout customization
Live Demos of pre-made websites
Make Portfolios
Page level customization
Jupiter X also comes with some essential plugins. They're bundled with the theme for optimal experience and increase the ability to customize the theme.
Here is the list of hefty plugins that are bundled with the theme, you can't use the theme without some of them. That's where it sucks the most.
Jupiter X Core
Advanced Custom Fields PRO
Elementor
Raven
Jet Elements
Jet Blog
Jet Menu
Jet Popup
Jet Tabs
Jet WooBuilder
Jet Tricks
Jet Engine
Jet SmartFilters
Menu Icons by Themelsle
Slider Revolution
Master Slider
Layer Slider
WooCommerce
Customizer Export/Import
Customizer Reset
Lazy Load
All these features are supported in themes offered by Jupiter X. If you're building a WooCommerce website, you can go with WooCommerce plugin and create e-commerce websites. But believe me, you might be get penalized using eCommerce on this theme.
Individual Pages
Unlike other page builder WordPress templates, Jupiter X gives much lesser options. You can customize every page of your website, the header, the footer, buttons, and everything to your hearts desire with a simple and minimalistic toolbox that opens the road to endless possibilities where the sky's the limit!
With Elementor, you can add forms, portfolios, grids, rollers, team members and table widgets. You can add widgets from Jet Elements or Raven widgets as these plugins are bundled with Jupiter X. Other than these plugins, you can also add page templates from the Elementor page template library. Raven is Artbees' plugin to add header/footer builder functionality to Elementor and some new widgets.
Using the Elementor Builder:
Through Elementor, you have a whole buffet of options when it comes to typography, placing elements on the pages, their respective sizes and other parts of your website. Designing your 404 pages, parts of your website under construction and other landing pages is a cinch with the theme due to how natural and fluid the website feels to use.
Even if you don't feel like being an artist staring at a blank canvas, Jupiter X offers a plethora of templates that have been made with Elementor ready to import and amend to your heart's desire. This saves you valuable time when it comes to choosing and applying a theme that you just want ready to implement.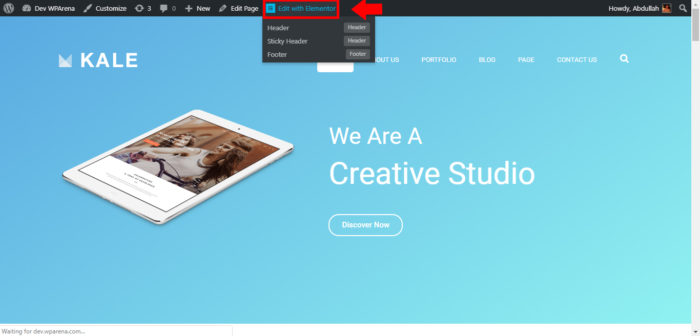 The theme allows you to also arrange the website to fit your personal layout choice. If you don't feel content with a part of your website, you can adjust the position by a simple drag and re-ordering it in the bar.
Another great feature is the ability to restore prior revisions of your website. If you feel like you made a serious mistake down the road, you can use a revision you saved an hour ago, a day ago or more.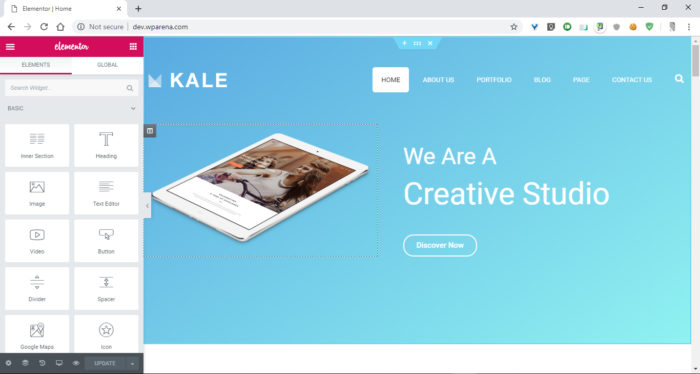 Responsive:
The theme is not as responsive as it's competitors are. If you are looking for a serious solution then look forward towards Avada Theme or Newspaper theme.
Due to how diverse the web is, it can be used for a number of websites and purposes but not for all devices. Whether you're looking to make an online store, a personal blog, or otherwise, Avada allows newcomers of WordPress to build beautiful websites in only a few clicks. There is very little to no extensive knowledge of WordPress development required in the whole process, and you have complete creative freedom.
Verdict:
Jupiter X is just on a way to make money. Stay away from it and move to Avada theme or Newspaper theme, that comes with a lot of better features. No matter what your niche is, the platform got you covered with highly customizable themes and enables you to execute your visual masterpieces without getting your hands in coding.
Save your precious sites from fake themes and fake developers.
Summary
Reviewer
Review Date
Reviewed Item
Author Rating