As of January 2020, there are so many WordPress plugins available for lead generation, and for adding a popup to the WordPress blog. And the free version popup plugins comes with some basic features and limitations. If you are searching for a lead generation plugin, you would probably land upon the OptinMonster and Bloom created by Elegant Themes.
Well, in this post, we are going to show you a new lead generation plugin in the market called WP Popups. You can read the complete WP Popups review from here!
WP Popups Review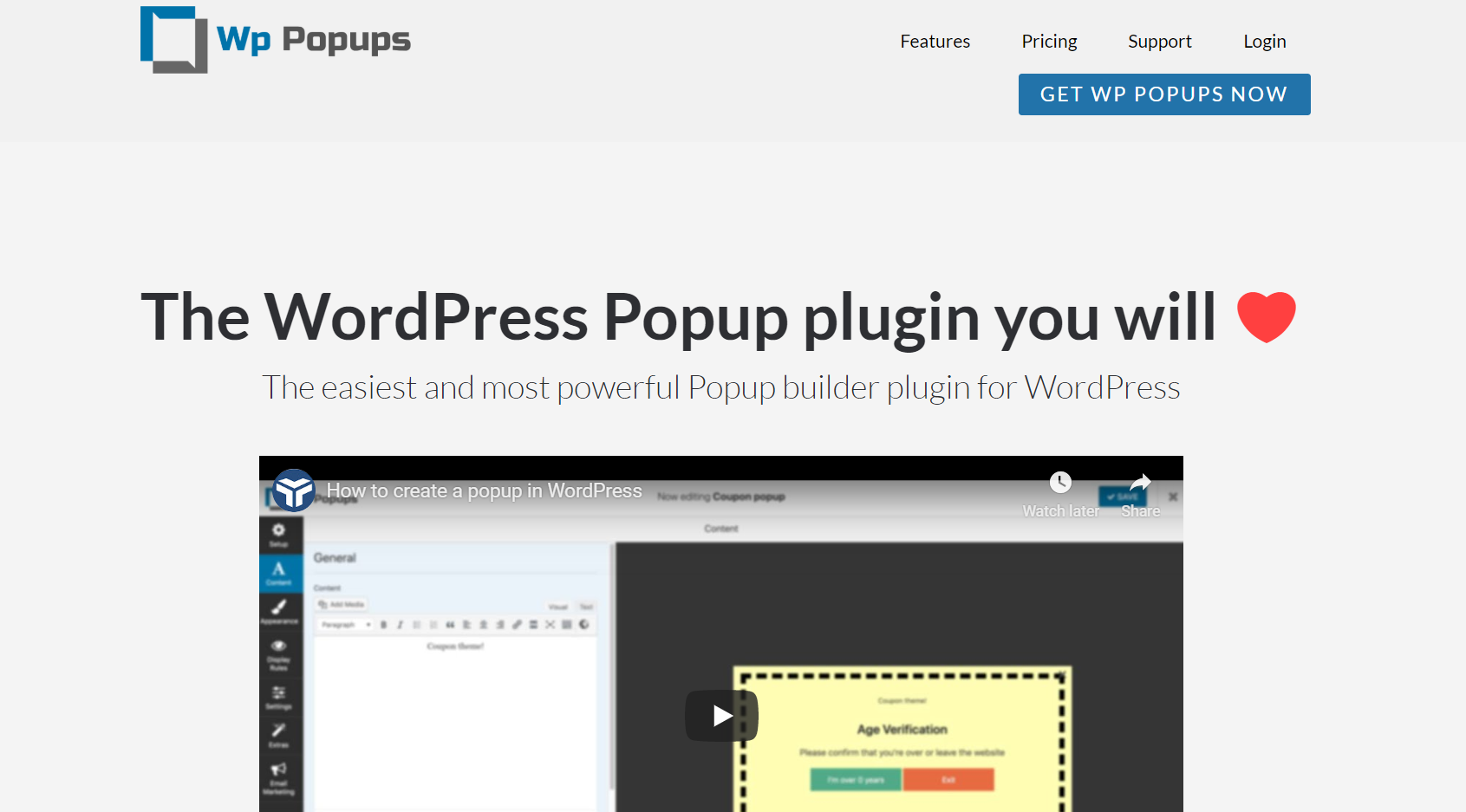 WP Popups is a freemium WordPress popup plugin. The free version called WP Popups Lite can be directly downloaded from the WordPress plugins repository. Since it is a new plugin in the market, only 3000+ folks are using it on their blog. But, the installation count is rising every week.
For creating sample popups, the free version plugin is good enough.
Well, there's a premium version plugin available called WP Popups Premium, and you will get more advanced features, integrations, display options there!
Without writing a single line of code, or editing your theme files, you can easily create as much as popups you want on the blog.
Features
Now, let's see the highlights of WP Popups, which will make it even better.
Drag and Drop Form Builder
As I said above, WP Popup offers a complete beginner friendly drag and drop WordPress form builder wizard. Thankfully, we can create forms without using any codes or custom CSS styling.
Here's an example of the form builder: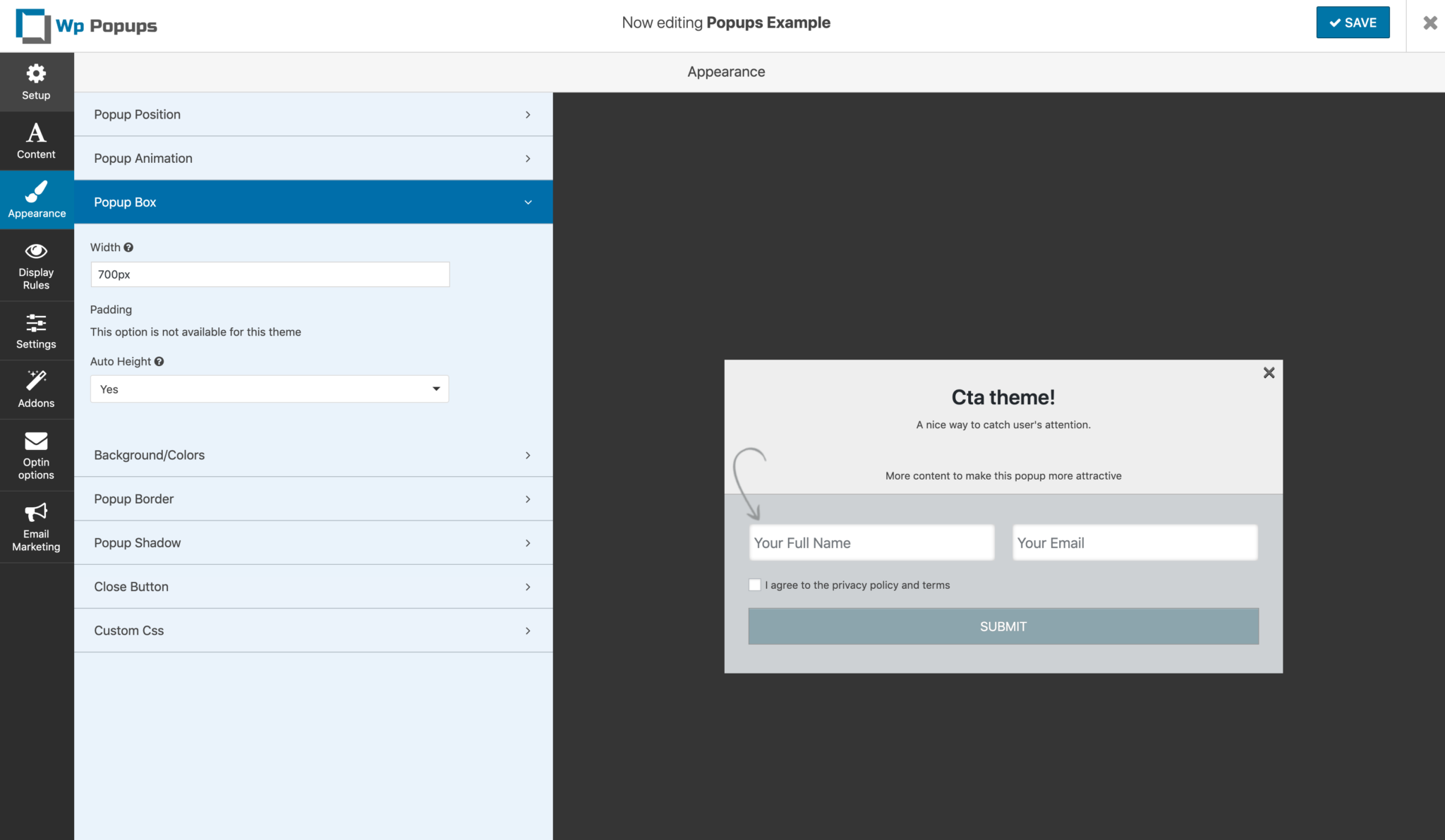 You can configure the form directly from there. From styling to email marketing integration!
Exit Intent Technology
Studies show that most folks that leave your website would never come back again. As a small business owner or an eCommerce shop owner, this will probably affect our business.
And with this exit-intent technology, we can display a popup right before the user plan to leave, hover the mouse over the close button on his computer.
This is a great way to save abandoning visitors.
You can show a popup, convince them to sign up for your newsletter. So, we still have his contact information. No matter they leave or what. When a new update or new offer available, we can send an email to the address, and he will probably come back!
Integration With All Form Builders
There are so many WordPress form builder plugins are available like WPForms, Formidable Forms, Gravity Forms, Contact Form 7, Ninja Forms, etc.
And WP POpups is compatible with all. There won't be any conflict issues, and you can integrate with all.
30+ Display Rules
You can target
Post types.
Tags.
Categories.
Referrers.
User-Agents.
Or whatever you want.
This will help you to optimize the popups for the specific devices or the chosen targeting option.
A/B Test Campaigns
If you need to increase your conversion rate, you probably need to do A/B testing.
We have an option in the WP Popups settings page where we can do the same. WP Popups will create a complete clone of the original popup; then you can edit it and make it better, and test the performance of both.
And in the end, you can pick a form that performs better.
Age Verification Trigger
In case if you are running a website which is specifically only for a custom age group, you probably want to add an age verification feature. For example, let's say that you are running a blog, which is only for folks above 18 years old.
So, 17 years and below 17 years, folks are considered as underage, and they need to opt-out before they see the site's content.
With this WP Popups, it is possible.
You can add an age verification gate where you can show a popup with the same. Underage people will get redirected to any other URL.
Pre-Made Templates
Just like the Formidable Forms offers form templates addon, you can get some pre-made templates in this plugin too. Creating a popup from scratch would take a lot of time. Especially if you are a complete beginner in it.
Thankfully, the team got created some pre-made templates in the plugin.
If you wish, you could easily import them to the form builder, save it, configure it! So, there, you have saved some time!
Advanced Analytics
You probably know Google Analytics. It is one of the services offered by Google to business owners and bloggers to see how their blog performs. There, we will be able to see the page views, bounce rate, average time on page, etc. and much more.
Thankfully, the WP Coupons offered the same!
With Analytics, you will be able to track the
Impressions.
Conversions.
Conversion Rate.
Etc.
Plus, WP Popups comes with built-in Google Analytics integration where we can integrate the plugin and track the same as Google Analytics events.
40+ Animations
Instead of showing the form directly to the visitor, we can add some animations.
Currently, the team offers around 45 custom animations that we can use on the forms. Some of the popular ones are
Fades.
Bounces.
Rotations.
Zooms.
Flash.
Flip.
Shake.
Jack in the box.
Etc.
You can configure these from the form builder wizard. And hit save, the animation will be reflected int he frontend almost instantly.
Geo-Targeting
One of my favorite configurations in the WP Popups plugin.
The WP Popups plugin will automatically detect the user's IP address, hence the location. So, we can set a custom popup dedicated to that geo-location.
Using these four display rules like
Country.
State.
City.
ZIP Code.
Etc, we can make the popups better.
This will probably help us to increase email signups or conversions.
For example, let's say that we are running an eCommerce website, and there's a custom discount for people from Russia. So, we can easily create a custom popup form, containing the features and target Russia as the country. And once a visitor from Russia comes to your blog, the popup will be triggered!
Email Marketing Integration
By integrating the forms with popular email marketing services like MailChimp, SendGrid, SendPulse, etc., we can easily store the visitor's email address to the email list. The manual method is like – copying the email address from the analytics page, pasting it to the email list, saving it, etc.
And it will probably take a lot of your time!
By integrating these email marketing services with the forms, we can easily store the emails right away! It's a great way to save time!
Premium Pricing
There are four premium pricing options available.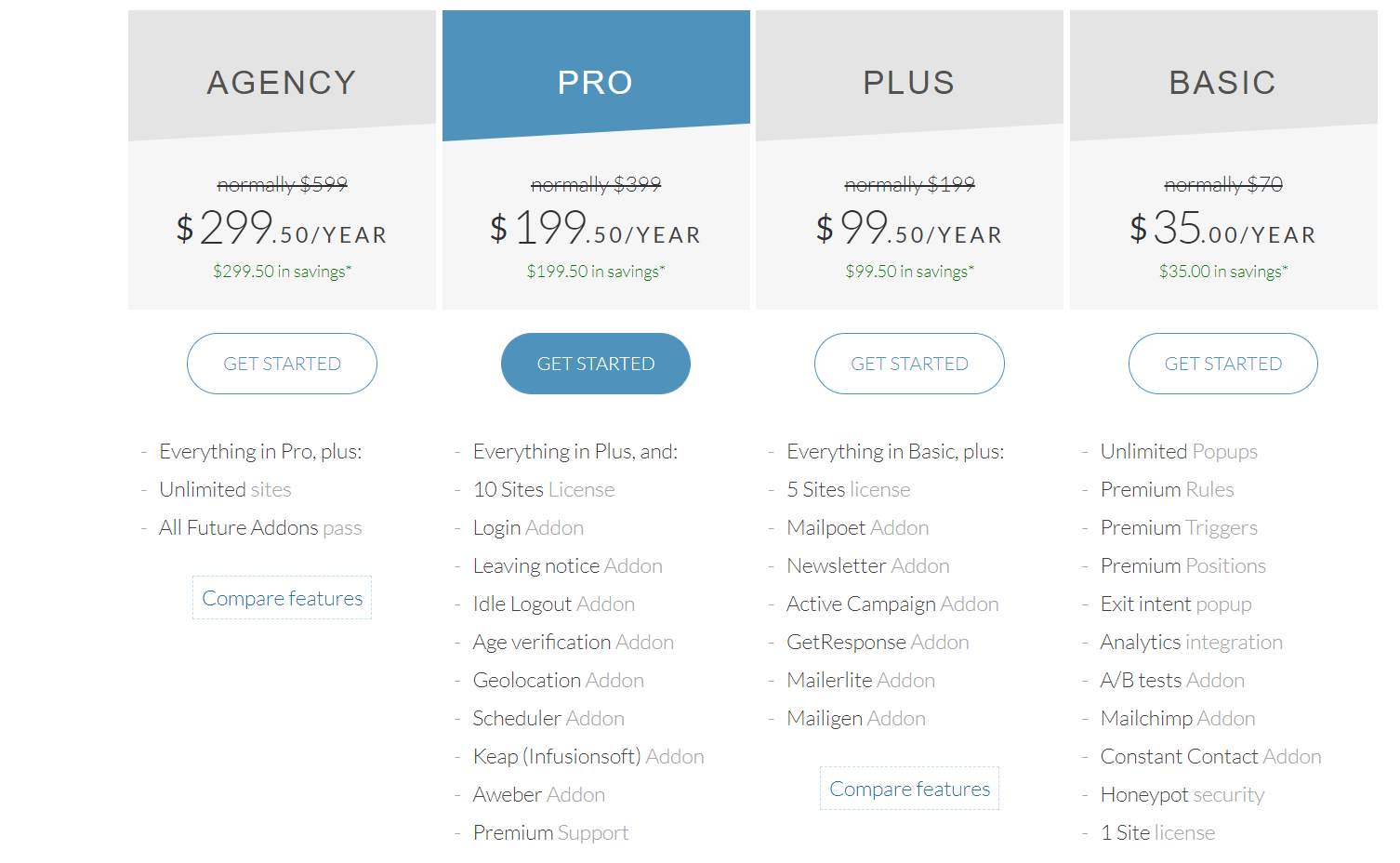 Basic – $35.00 a year.
Plus – $99.50 a year.
Pro – $199.50 a year.
Agency – $299.50 a year.
As the name says, the basic plan comes with basic features. If you need more robust features, you need to choose the Pro plan. The agency plan is built for eCommerce websites and web development agencies that will develop WordPress websites for clients.
So, choose a plan according to your use.
If you think you need to upgrade or downgrade your current plan after purchase, that is also possible. You could do it from your account dashboard!
Plus, you are covered with their 30-days moneyback guarantee. So, if you are not happy with your purchase, you can quickly get a complete refund. They won't ask you a single question.
You are covered!
Support and Updates
The free version plugin will get lifetime updates and limited support from the plugin's support forum. If you have the premium version, it comes with one year of updates and priority support.
If your license got expired, you might want to renew it for the updates and support.
Our Review
As you know, there are so many giants in this field, like OptinMonster, Bloom, Thrive Leads, etc. Well, in our experience with the WP Popups plugin, they offer the same features for a better price! So, we would give WP Popups a try.
Get WP Popups Now!
Are you ready to get the WP Popups free version? You can directly download the free version from below.
We hope you found this WP Popups review helpful and enjoyed the read. If you did, please consider sharing this post with your friends and fellow bloggers on social media platforms. And probably, this guide will help someone to choose the right lead generation plugin!