Are you looking for a proper way to grow your email list or subscribers? Make potential customers opt into your mailing list with OptinMonster. Today, we are going to explore one of the most talked about WordPress Plugin OptinMonster in detail. So, here is our hands-on OptinMonster Review.
OptinMonster Review
OptinMonster started off as a WordPress plugin, but now it's so much more than that.
Now, it's a full-on list building platform that you can use to create, deploy and test opt-in forms that will bring results.
You can either choose to make opt-in forms with their OptinMonster WordPress plugin, or you can take a snippet of code that can be used with any other website that supports HTML. So it's not a plugin just for WordPress.
This means all of your opt-in forms can be monitored from a central location, no matter how many sites you run.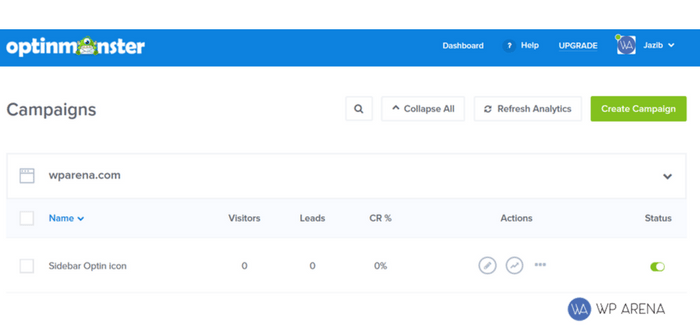 Let's take a closer look at what else OptinMonster has to offer…
The all-important opt-in form types

OptinMonster uses optin forms in an attempt to turn your readers and visitors into subscribers. The plugin provides out of the box integration with the most popular email marketing services which make the setup process very simple. The following pie-chart by buffer blog shows the results they had with different form types: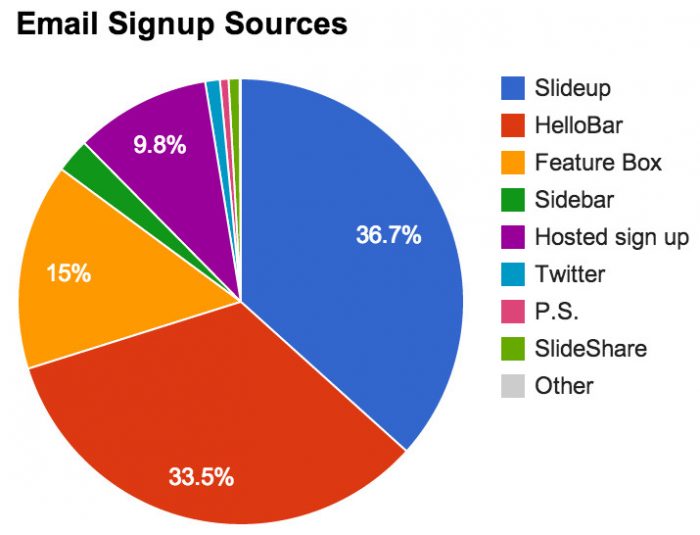 What really matters with a tool like this is where exactly can you place opt-in forms. The sales page of the OptinMonster plugin boasts a 60 second setup time. You will want to spend more time on customizing and creating the forms for them to fit in your site and content. All of these options mean you can display the right opt-in form at the right location.
OptinMonster uses a canvas form type option; with the canvas form type, you're able to show a custom popover with the use of CSS and HTML. So there are a lot of things you can do here. It's worth noting that most of these opt-in form types come with multiple templates which include the lightbox popover, after post, floating bar and sidebar.
Creating A Form
There are 7 layouts to choose from in OptinMonster to put a form in 7 different area's and each form serves a specific purpose and operating in a different way in regards to features. When you decided on a layout, it's time to choose a template. Currently, there are 9 templates to choose from.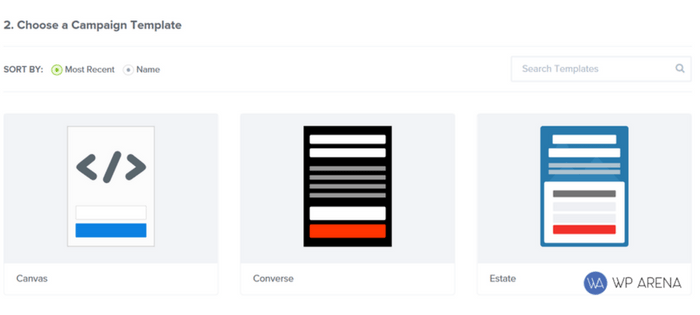 After deciding on a template, you will be prompted to name your campaign. Decided on a name that clearly indicates what this campaign will be used for.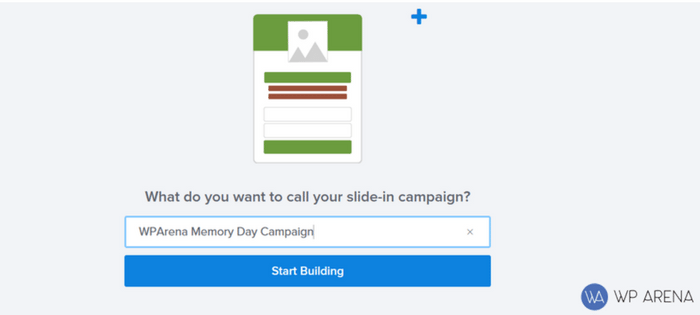 After doing this, create the "start building" button to begin the whole customization process. There are lot's of features in OptinMonster to select from to create your ultimate form. In the right-hand side of the next page, you will see the form you selected where you can customize every aspect of it.
Example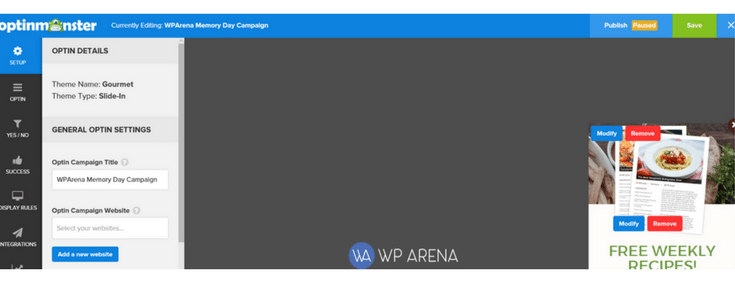 I am going to jump ahead a bit and customize some parts of the OptiMonster form. These settings are important below.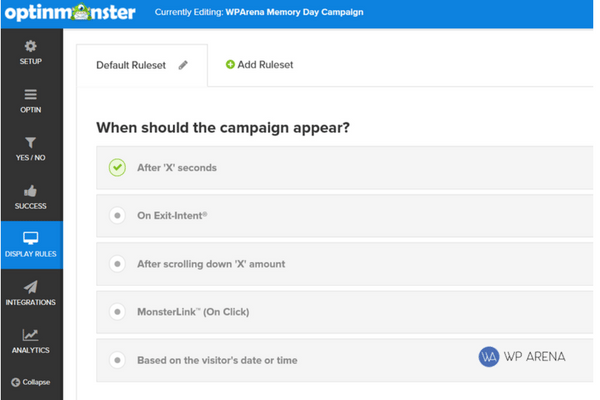 Click on your selection to edit the settings like so: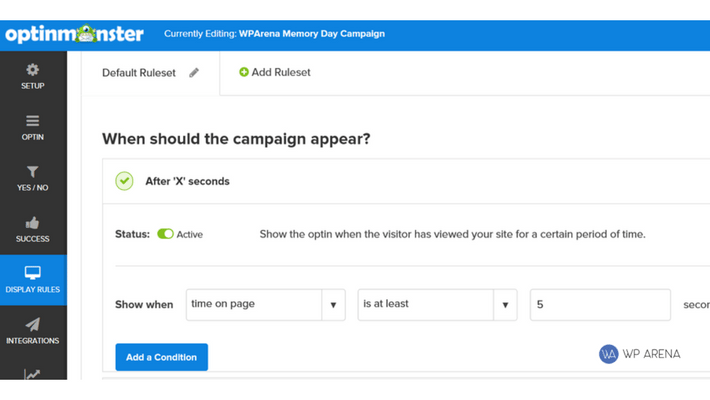 Next, you need to intergrade your form with your desired email subscription providing. We use MailChimp and would make that selection in OptinMonster to finish the whole form process.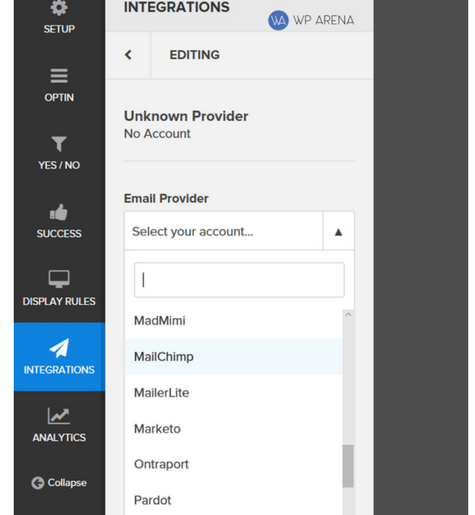 Finish customizing the whole form, save the settings when completed.
Integration with Google Analytics
This was somewhat of an unexpected feature.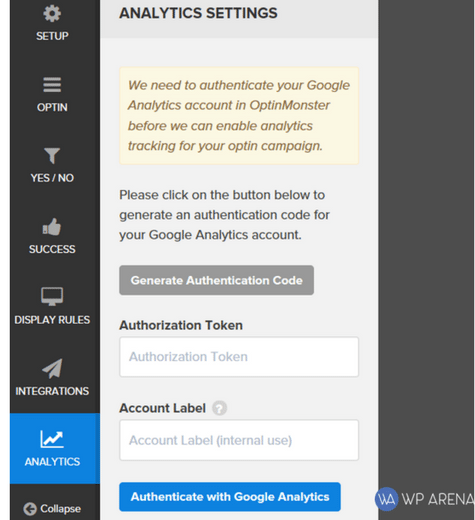 But with Google Analytics being one of the most popular analytics tools on the market – thanks to its free and handy features – it makes sense. It's great to have these stats available in OptinMonster when you check your reports for traffic.
Exit-intent technology
Perhaps the most important feature of this plugin and what separates it from the competition is the 'exit intent' technology. OptinMonster claims that '70% of site visitors who abandon your site never return'. With the premium-priced exit intent feature, the plugin will detect when a user is about to leave your site, and then launch the popup optin window.
This is a great OptinMonster feature to have because you can set the plugin only to show the sign-up form when a user is about to leave your site. People who are enjoying your content can just keep on enjoying it without disruptions, only those who are leaving will get the pop-up treatment.
OptinMonster detects when your mouse cursor moves the page area of the browser and then fires up the popup. While this isn't quite the same level of mind reading I envisioned, it is a pretty good indicator of when someone is about to leave your site.
Check out this video on OptinMonster.
OptinMonster Support
You don't usually see quality support for plugins, even for premium plugins. However, OptinMonster review revealed that it's not a regular plugin. There's a strong team behind this one. In fact, they have their content manager who runs a blog with updates. They have an extensive self-help section, but no personal real-time support. You can submit a support ticket, and they are pretty quick to respond to them, but that is not much of a substitute for talking to a person in real-time.
The self-help resources are quite useful, however. Most of the basic questions that you'll have while trying to set up your optins are easily answered in the FAQ or knowledge base.
An Incredible Number of Templates
OptinMonster has a bunch of super-nice templates that have been strong and working perfectly for quite some time. You can also customize them quite a bit, but the basic templates will be enough for most purposes.
However, since the company's inception, they've grown the number of templates to make it possible to grab a template for any occasion and plop it right into your site with minimal changes.
You can find anything from lightboxes to sidebars, and full-screen optins to mobile versions.
OptinMonster Reports & Statistics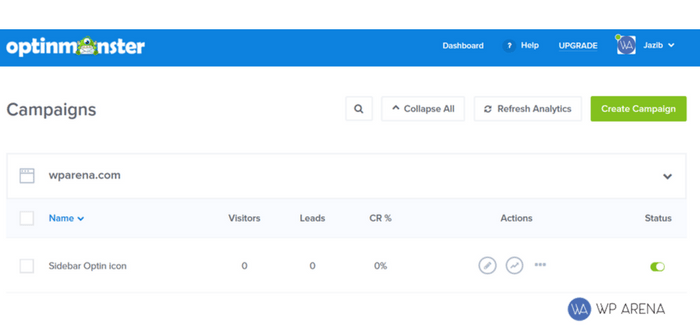 OptinMonster has a great reports section. They give you a wealth of useful data that'll streamline your pop-up attack. The A/B testing, in particular, is very useful for finding the best popup to use on your site. The A/B testing allows you to put up two very similar popups that appear to different users. Each of the popups' conversion rates is tracked individually, so you can see which one works best.
Final Verdict
OptinMonster is for the people who are looking up to build their E-mail list strong and hard, and with all the enhanced features, it is a must-have plugin for significant customer acquisition and lead generation. This means that it helps you to make it easy for your readers to join your email list and it makes it easy for you to manage.
If you value quality, innovative technology like exit intent, and a user experience that isn't matched anywhere else on the market, then OptinMonster an investment worth making, especially considering building your email list is ultimately an investment in your business.