Have you heard of DeLorean Motor Co.? How about the DMC-12 sports car with gull-wing doors? This sports car model was best known as the "Back to the Future" time machine. But, unfortunately, what could have been the nation's most famous model failed, even with a lot of publicity by the manufacturer, DeLorean Motor Co.? Due to a lack of demand for the DMC-12 sports car, DeLorean Motor Co. closed in 1982 after being in business for a meager seven years. Can you guess why?
Imagine you were in the business world two decades ago. How would you understand the market?
What means would you use to analyze whether there is a demand for your product?
The only means of understanding whether your business is doing well is based on how much profit you make. Usually, customer complaints were received through a phone call, but there was no guarantee that the complaints were heard and action was taken. As a result, you would lose your customer to a competitor, and you wouldn't know why. Those were the times when, as a brand, it was difficult to understand the customer's journey of your brand.
What About Present Times?
Understanding the customer journey is an essential part of business as it helps to understand:
where is your brand standing?
What makes your brand better than other brands?
What are your shortcomings due to which your customers shifted to a competitor?
In the present times, several tools are used which you can be successful in customer journey mapping. Customer journey mapping gives you a visual representation of every customer experience with you. It gives you a story of a customer's experience with your brand.
By mapping your customer journey, you will be able to:
See where customers interact with your business
Focus the business on particular customer needs at different stages
Identify whether the customer journey is in order
Get an outside perspective on the sales process
Highlight development priorities
See the gap between desired customer experience and the one received
Concentrate on what matters most to maximize effectiveness
How to Map Your Customer's Journey?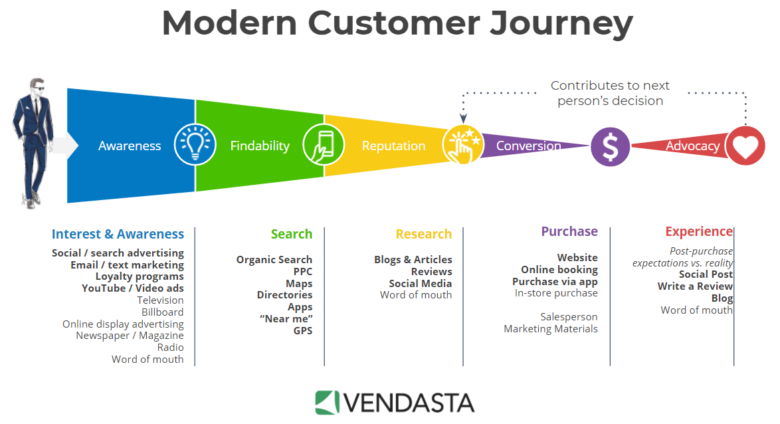 Source
Customer journey mapping helps you make every experience your customer has as good as any and enables you to understand how well the customer experience matches up to your brand promise. There are five WordPress plugins that you can use for your customer journey mapping.

Every business begins with a dream, and most times, the dream comes true with limited resources, making reaching out to customers challenging. However, unlike in the past, there are several ways to reach out to customers now.
Live chat as a tool has been around since 1973, but its popularity has increased in the recent past. It is expected to grow by as much as 80% in the next few years.
WordPress is a free platform supported by a community of thousands of professionals – service providers. In addition, wordPress offers free support to businesses that are limited to funds. Creating a website with engaging content and reaching out to your customers to understand the customer journey is made easy with WordPress live chat plugin.
ProProfs Live Chat for WordPress is one of the best ways to interact with customers and provide instant support. Once you have created your website, add live chat to WordPress, and you can quickly get ahead with communicating with your customers. With the ProProfs Chat plugin, you can:
keep your customers engaged
support customer interaction
improve online customer engagement
understand the customer journey of your brand
Besides this, ProProfs Live Chat Plugin helps a business:
provide instant answers
understand customer behavior
initiate conversations with website visitors
identify upsell and cross-sell opportunities
monitor visitor history and improve support services accordingly
The benefits mentioned above give you enough reasons to add live chat to a WordPress website.

Disqus is a comment plugin that makes it easier for you to increase reader engagement, monetize content, and grow audience and traffic. In addition, it helps you to engage your audience directly to build loyalty. Disqus WordPress plugin lets site owners keep users engaged longer on the site with a commenting experience.
Through this, it is easier to understand what the customers think about the brand, their purchase cycle, and customer queries, among much other information that customers usually post as comments. In addition, the analytics dashboard helps to measure the overall engagement on the site with interactive discussions with customers, photos, voting, mentions, tags, and such.
Disqus offers several features, such as:
Anti-spam filter to filter out spam comments
Comment flags that use automated pre-moderation controls and flags comments based on user reputation, links, and other constraints.
Participate in discussions via email or moderation panel
Receive notifications for newly posted comments, replies
Panel to search, filter, sort, and manage comments.
Disqus also offers several other tools for your website. For example, with the help of Disqus, you can map your brand's customer journey and improve SEO ranking with user-generated content.

Survicate is a platform for collecting customer feedback, acting on this feedback, and winning them for life. So what is the whole purpose of customer journey mapping? As a brand, you would want to understand your customers, their purchase decision, frequency of purchase, type of product purchased, product subscription, willingness to spend, and other things that will help you better understand the customer.
Survicate is an all-in-one tool that offers four solutions, namely:
Website Feedback Surveys
Mobile App Surveys
Surveys & Forms
Feedback Hub
This all-in-one customer feedback tool lets you collect customer feedback across all digital touchpoints and enables you to address customer needs precisely. With Survicate on your side, you can easily understand your brand's customer journey.

If you wish to know how your users interact with your website, Heatmap tools and plugins are the right choices. Heatmap helps you visualize where users click, how far and long they scroll, and how they use your website. It helps with your website issues, where it lacks user clicks. It shows how users use and interact with your site design and thus helps in understanding your brand's customer journey.
The WordPress website's best heatmap tools and plugins include Crazy Egg, Mouseflow, Lucky Orange, Inspectlet, and Heatmap.me, Ptengine, Clicktale, SeeVolution, and Hootjar.

Explicitly designed for product and marketing teams, Indicative Analytics is a customer analysis tool that helps in optimizing:
Customer Conversion
Customer Engagement
Customer Retention
How does it optimize it all? Through actionable insights.
This robust customer analytics tool integrates all the customer data, enabling complex data analysis easier.
Indicative Analytics offers several features, such as:
Unlimited user seats
Full access to behavior analytics
Multipath funnels
Dashboard visualizations
Customer Journey Mapping is the Key to a Successful Brand Building
According to a recent report, nearly 67% of consumers and 74% of businesses are ready to pay more for a great brand experience. So add these plugins to your WordPress website to better understand your customers. Many other online tools can help you in understanding customer journey mapping. But if you are a start-up or a small business with limited funds, these five WordPress plugins can help you understand every customer's journey in detail.