Most bloggers having a WordPress website do not set up blogs with the intention of making money. It is usually just an opportunity for you to share some insight or become an authority within a niche.
However, hours of maintenance, writing, and editing quickly build up. You begin to wonder if there is a way for you to cover these costs.
One of the ways in which bloggers can make money is through affiliate marketing. It is a quite easy business to get into. However, if you are a blogger who is into affiliate business, you need to do it within the law.
An affiliate disclosure page is a must (Checkout WPArena's Affiliate Disclosure policy page). You should have it placed in such a way that your visitor will surely look at it.
There are a few facts you need to know about it.
What is Affiliate Disclosure?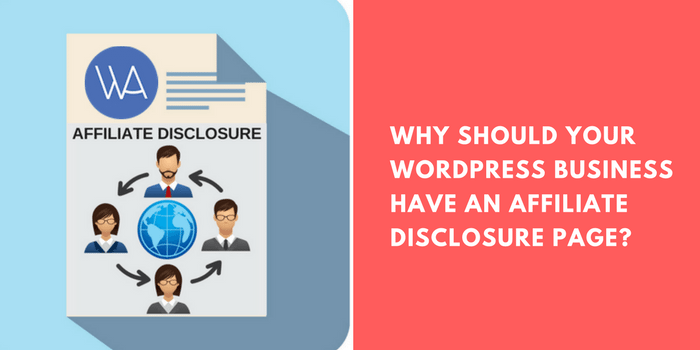 If you are an authority in your niche, it is quite easy for you to sway visitors with your opinions. That is why the Federal Trade Commission (FTC) felt it was necessary to maintain trust between consumers and merchants.
An affiliate disclosure is a statement that you make on your legal pages and elsewhere indicating that you are being paid to endorse a product.
There are a few rules to keep in mind when making an affiliate disclosure on your legal pages.
1. It Has to Be Frequent
The disclosure must appear on every web page where you are promoting products from other merchants. That means on every page where a link from a merchant appears on your page; the disclosure has to appear there.
2. It Must Be Clear
The disclosure must make it clear that you may be compensated for the review or rating of the product. You are not allowed by FTC rules to imply that you are a neutral reviewer while in fact, you are likely to get a commission for the product appearing on your blog. If you receive a commission for all the products listed on your page, you must state that is the case. A consumer may assume that the features and prices you present about the product are driving their decision are responsible for the rating.
3. It Must Be Conspicuous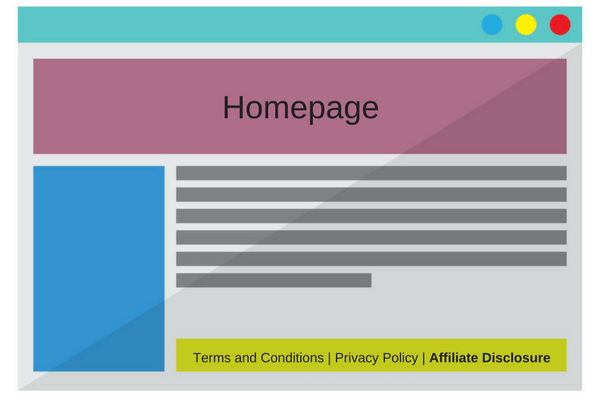 The FTC states that the disclosure must begin with the word "disclosure'. It must be written in legible letters. Besides that, it has to be placed in an area on the page that is easy to see.
4. It Should Not Require any Action
That means that the visitor should not have to hover over the link for the disclosure to be revealed. If a link needs to click, there should be text indicating that it provides the reader with further information on the disclosure.
There Are Legal Consequences
The FTC is quite serious about disclosures. They have prosecuted various cases in court over a failure to disclose. Thus, they may eventually catch up with you and impose some hefty fines. Even large corporations such as Warner Bros have been caught by the FTC flaunting the rules.
Why should your WordPress website have an affiliate disclosure and other legal pages?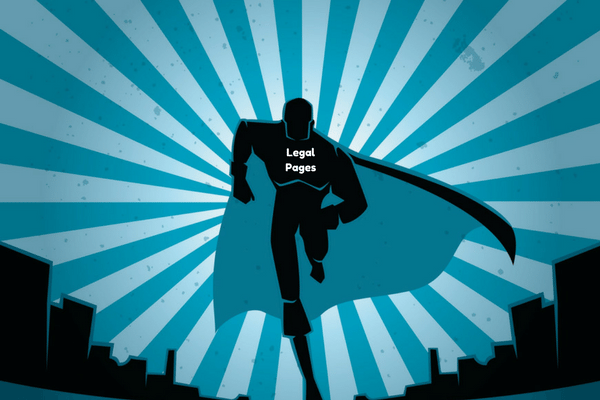 While running your affiliate business, if you ever find yourself in a legal issue, your website affiliate disclosure page, disclaimers, and terms will come under scrutiny. You have to be ready from your side. Litigations cost a lot of money and time. It's best to avoid it. Hence, you shouldn't have a second thought before buying the best WordPress legal pages plugin to protect your website from legal troubles.
How to add affiliate disclosure page to your WordPress website?
You might find many WordPress legal pages plugins in the market. But, choosing the right plugin is very important. Wp Legal Pages is one such powerful legal policies generator plugin. You can use it to add an affiliate disclosure page and many other legal pages on your WordPress website.
The legal pages are FTC compliant. It has a complete range of Legal policies that you can add to your WordPress website.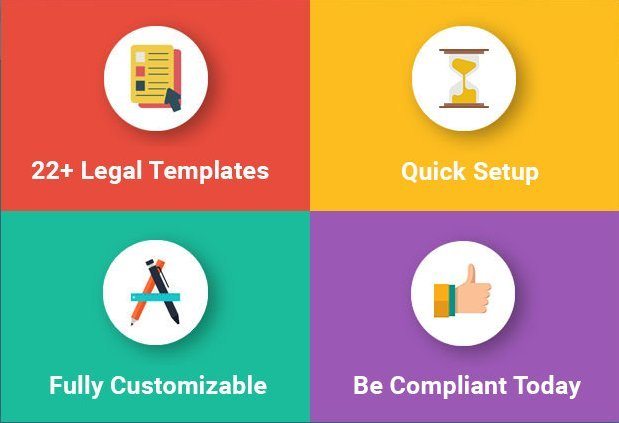 Key Features of WP Legal Pages-
Simple and powerful WP Plugin – This plugin can be installed, and legal pages can be added to your WordPress website in less than 5 minutes.
Forced Post/Page Options – You can force your visitors to agree to your Privacy Policy, Terms, etc. using its lock down features. You can use it on both WordPress pages and posts.
Easy To Edit Pages – The pages that you create with its templates are fully functioning WordPress pages, so they show up in your page listings and are easy to edit and make changes to. So you have full TinyMCE and WYSIWYG editor options just like with any other page.
Extended Menu Options – You can exclude ANY of the Legal Pages created from your custom menus. You can move the legal pages from footer to header and vice-versa quickly with these extended options.
Pre-built Legal Templates – WP Legal Pages has 24 built-in Lawyer-approved legal page templates to choose from. These templates are created by an internet attorney which overall tend to be more versed in the internet laws etc.
Custom Shortcode Integration – WP Legal Pages is heavily integrated with shortcodes. You can fill out your business information and custom templates in the form of shortcodes.
Summing up
When start a business, may that be an affiliate one of any other, the one thing that you have to make sure is that you never fall into any legal trouble. Avoiding litigations is more important than earning profits from your business.
Hence, make sure to use the best WordPress affiliate disclosure plugin to provide full transparency about your business to your visitors and in turn avoid legal troubles.
If you are still unclear about why you need to place a proper disclosure on your site, you can conduct further research online. You can also view the report prepared by the FTC about how to do a proper disclosure.