Today, we are going to review one of the best-selling WordPress themes available- "Ultra Theme"- in detail. The theme was designed by a reputable WordPress Company, "Themify".
Introduction to the Ultra theme
Ultra Theme is one of the most powerful, efficient and flexible WordPress themes. It is an extremely high-quality theme created by Themify, who kept the user's best interests in mind. Anyone can create any site easily and quickly using this fast and highly responsive theme.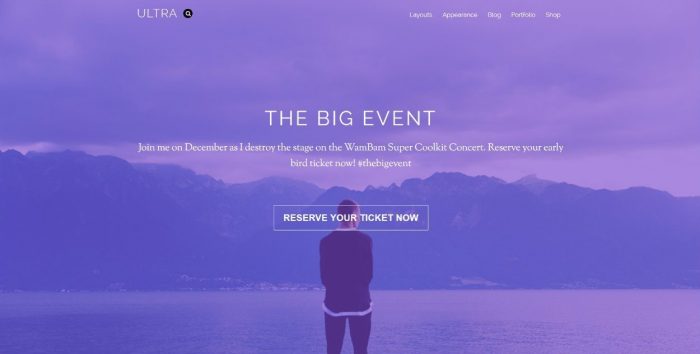 Visit Ultra Theme Now
---
Ultra theme is one of the most convenient and user-friendly themes available to date because of the fact that it allows the website developer to have complete control over their website from header to footer. This is (without a doubt) the best and most approachable theme for website developers and designers.
What does the Ultra Theme Contain?
This theme includes pre-made demo sites and design skins. Both features are very efficient and can help any website developer create a basic sample as a test run before creating the real website. This is very useful for website developers who are perfectionists and would like to go through a trial and error run in which they can observe any improvements which need to be made. The Ultra theme also saves time for those website developers who are working on a deadline to please their clients.
Ultra Theme Features
The features being offered through the Ultra theme are numerous and can help website developers establish a solid base from which they can build their website. The different features include:
1. Bonus builder add-ons (11)
The 11 bonus builder add-ons that are provided through this theme are available free of cost once you have purchased the theme and they include the following:
Countdown
Progress bar
Contact
Counter
Woocommerce
Timeline
Typewriter
Image Pro
Maps Pro
Slider Pro
Pricing table
They are highly useful because they allow for the theme to perform more functions than expected and these add-ons have made a huge contribution towards the tremendous amount of popularity that the Ultra theme has gained since its creation.
2. Pre-designed layout (60)
Over 60 pre-designed layouts are included with this theme and these layouts can make the website developer's life easier because they can help in saving time. All the website developer would have to do is make appropriate adjustments and add their desired content and (voilà) the website will be ready in no time. The selection of layouts is also vast, so there is plenty of options to choose from. This is another reason for the Ultra theme being such a popular theme in the market. Website developers nowadays do not have the time to customize themes because of their busy work schedules and their need for pleasing many different clients and this is something that the makers at Themify wanted to cater to when they were conjuring up the Ultra theme.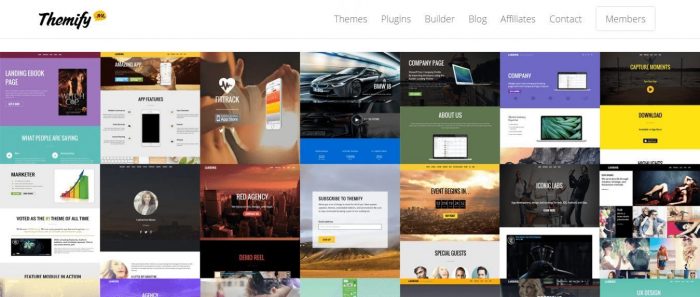 3. Smart Layout
While offering complete control over the content of the website from header to footer, the Ultra theme also provides you with the option to choose between site-wide or individual pages through the smart layout feature. This means that website developers can conveniently either choose the same look for their entire website or change the look for each page of the website. So, if you want the homepage to have a black background with white polka dots and then the "About Us" page to have a plain black background (for instance), you can do so with complete ease. You have these fantastic, smart layout options that include:
15 different page/header styles
Six options for the header background
5 Single post layouts
Preset typography
Preset colors
Toggle-able elements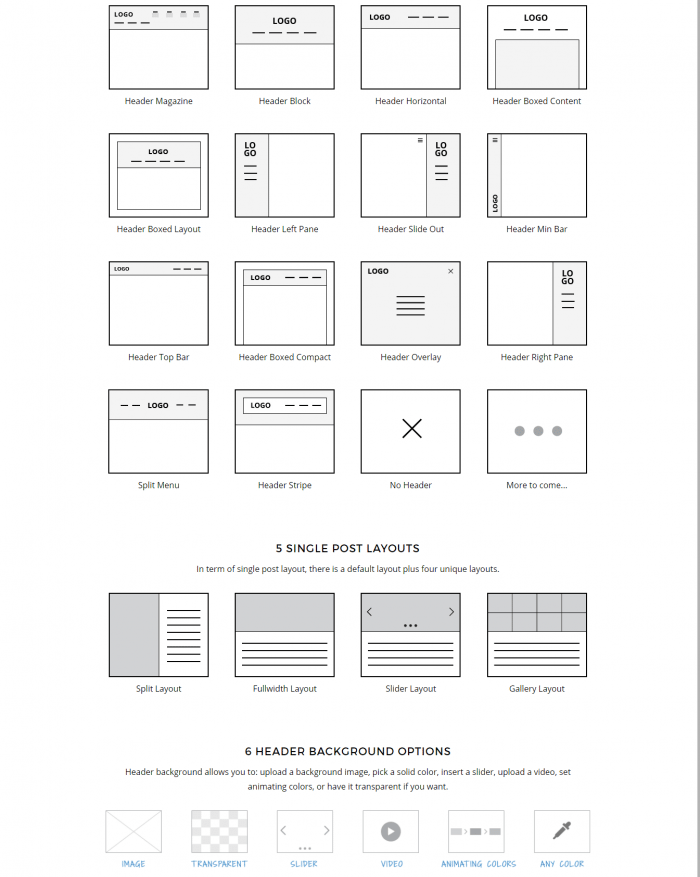 4. Section scrolling
This is a brand-new feature of the theme and it was inspired by the fullpane theme. This full section scrolling feature enables website visitors to scroll through entire sections of a certain page instead of scrolling down the old-fashioned way.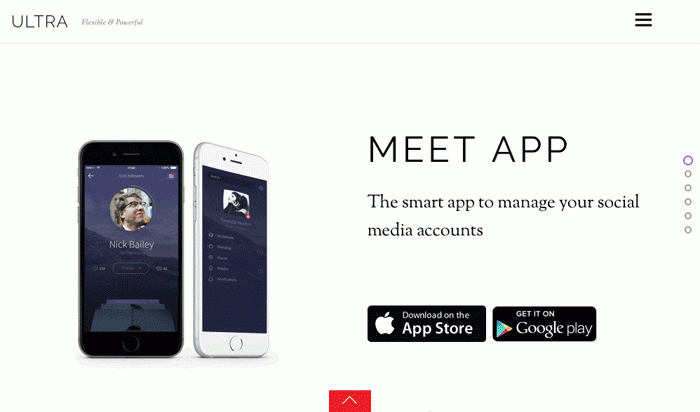 In this option, you can divide your content into different sections in order to make your content more presentable to your website visitors. With the use of this feature, your website content can be transformed into something much more entertaining and easy to go through for your visitors. This feature also gives website developers the chance to present their attention-grabbing content first so that visitors will be intrigued by what they see.
The following scroll options are available at your disposal:
Section scroll + boxed compact
Section scroll + Minbar
Section scroll + horizontal header
Section scroll + top bar header
Section scroll +overlay header
Section scroll + slide out header
5. Mega Menu
This feature enables you to present multi-column, drop-down menus, recent post, and potency to add to the widget.
Here is a great video tutorial with a complete guide to the Ultra Theme.
Final Verdict
After testing this theme thoroughly, we can easily conclude that the Ultra theme is one of the most robust themes for WordPress designers and developers. The theme's code is of a very high-quality and it is both clean and stable.
If you are a regular designer of WordPress websites, then this is the best option for you because it is a sure-fire way to save time and create quality content that will satisfy any client. This is by far one of the best themes to have come into existence for WordPress users simply because of the fact that it has so many features and is budget-friendly. The amount of documentation and support that is available with this theme is also endless and this makes it easier for beginners to effectively use the Ultra theme and everything it has to offer. Thus, if you are looking for a convenient theme that is easy to use, saves your time and has many amazing features that will enhance your website developing experience, the Ultra theme is exactly what you need.