The eCommerce market is emerging intensely on the entire web from the last decade. There's no doubt that the eCommerce businesses are focusing on the future with the latest trends and approaches. Let's say you've found the right product. The next thing that comes to your mind before starting an eCommerce business is to choose a fully functional suitable platform to start your store. There are a ton of e-commerce platforms out there in the market to set up an e-commerce store. Meanwhile, creating a WordPress eCommerce website is the most popular and easy solution among entrepreneurs to ensure their presence in the online world.
In this article, we'll go over why to choose the WordPress website for an excellent eCommerce solution. Let's begin!
Overview of WordPress
WordPress is a dynamic and flexible software that can be modified with plugins and themes to build perfect e-commerce websites. Out of the box, WordPress is primarily a blogging platform. However, it possesses applications far beyond the blogosphere. You can obtain the eCommerce platform via plugins. For example, the WooCommerce plugin is the most popular WordPress eCommerce plugin.
WordPress has a lot of things on its sphere, however, in the spectrum of eCommerce, we'll focus on the WooCommerce omitting the other features and abilities of WordPress. It is an all-in-one eCommerce website software that allows building any kind of website. You can handle the technical setup, install the software, plugins, and themes to handle your store operations.
Popular eCommerce Platforms
There are many popular eCommerce platforms that rule the internet when it comes to their frequency on the entire web. Well, WooCommerce is the most popular content management system available worldwide. The incontestable leader is WooCommerce having usage distribution of 26% in the top 1 million websites. It occupies the top in the market shares followed by Magento, OpenCart, and Shopify. The reason behind the success of WordPress is the flexibility that allows it to be deployed everywhere from personal blogs to other business websites.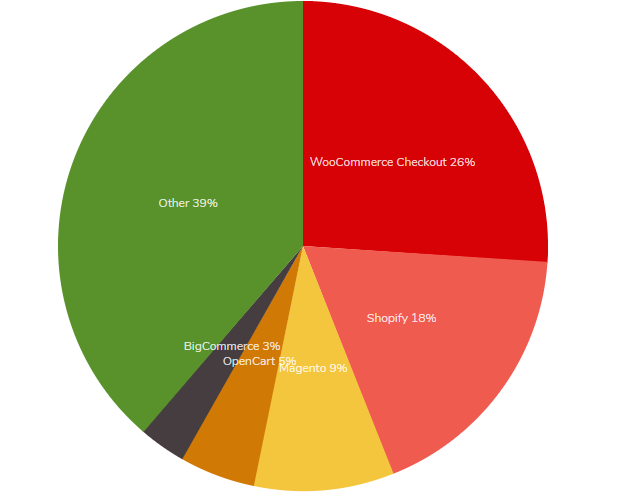 Image Source: Link
Why WooCommerce is the Leader in the market?
It's obvious from the above stats that WooCommerce is leading the eCommerce market. There are lots of WordPress users who use WooCommerce for their online shops. The services, powerful features, easy to manage websites makes it more reliable among customers. Let's know the benefits of the WordPress website.
Why you should use WordPress?
There are lots of reasons to build an e-commerce store on WordPress. In the past, to build an e-commerce site does require a vast amount of time, technical knowledge, and money.
Lots of people now prefer to use WordPress as the foundation for their online stores, and there are many reasons why we should as well. Yes, WordPress is free, it's easy to use, but it's also easy to modify and update, and you do not need a team of developers to get your store up and running.
The WordPress software is free. You need to sign up for a web host and buy a domain name to use it. You can get started with a WordPress website for $5/month. Check the following features and benefits of the WordPress website.
Great content management features
Highly scalable and stable
Solid Security
Lots of themes/designs to choose (both free and paid)
Exceptional extension possibilities through plugins.
Very helpful support community
You can add unlimited products and their attributes
Functions on all devices
Variety of customization options available
Easy to install and to use
Provides an intuitive interface
No coding skills required to manage it
WordPress: An Affordable Point of Entry for Everything:
Apart from the e-commerce plugin, you can find a bunch of other plugins to handle SEO and social media. You can also find a god interface and brandable theme to make your store unique. What it all means is that WordPress is conceivably a solution for everyone by its features. It gives you all the features for, e.g. shopping carts, product catalogs, online payments, coupons, and many more in one platform.
You can also extend its functionality with various paid and free extensions. For example, extensions can serve the AI-driven recommendations to customers on product landing pages, provides the option for scheduled groups on daily deals that trigger when a predefined number of people purchase an item.
Cost Components
When you're starting a new e-commerce platform, you'll look definitely for a minimal budget. Moreover, WordPress provides such a cost-effective solution that you can spend a lot less than as compared to other competing platforms. Let's check the minimum requirements for setting up a website:
The WordPress platform won't cost you a penny, as it's free to download and use. If you want further security, it may bump up the cost. If you'd like to outsource the development of your marketplace software, that's likely to increase the cost quite a bit. However, you can handle everything without any help from others if you know basic tech skills.
Security
Security is a key factor for any eCommerce software. It is vital to protect your customers at all costs. To explain the point, let us consider the kinds of information your platform will hold when you are starting an eCommerce store. For example, the user's login credentials, payment information, and other sensitive details in the database. Any of the data can't be compromised for your store which needs a lot of protection.
WordPress is built from an inherently secure environment. It protects you with its code and also enhances the site's security. For example, you can set up an SSL certificate with your host immediately. After that, you can install security focused plugins.
Scalability
Scalability refers to how well WordPress adapts to your eCommerce site's growth over time. As a content management system (CMS), WordPress is robust enough to expand whatever size and scale you need depending on your business requirements.
Of course, it's worth noting that your site's scalability depends on the web host you are using for your platform. For example, if you use a small shared hosting plan for simply managing a blog platform, then it will run smoothly with moderate traffic. However, if your blog receives more traffic, then it is quite difficult to cope up with the platform. Thus, you should combine a high-quality host with your platform to run smoothly.
Support from WordPress
By now it is clear that WordPress is a powerful tool that gives access to all the options you need to build an eCommerce site. Setting up a WordPress site is easy, but running a successful eCommerce site is a challenging task. There might be possibilities of some technical or conceptual information you're not familiar with. However, it is not difficult to find a solution for the help of the WordPress website.
As we mentioned previously, WordPress has a big community that always help newcomers. You can get any support if you are new to WordPress:
Official WordPress support site
Online courses on WP Apprentice and Lynda.com for easy support
YouTube channels like WPBeginner and WPCrafter
Support forums for different themes and plugins (e.g. the WooCommerce forum)
Q&A forums
Community support
Final Thoughts
With WooCommerce's important features like open-source CMS, control over your site, free and paid services, intuitive user interface, you can explore the multipurpose sites in prices for all budgets. For building an e-commerce site for your business, you need an attractive and professional storefront that gives customers what they want and runs itself smoothly. That's where WordPress comes with a flexible, customizable, and well-supported platform. To sum it up, your business process needs an eCommerce website with WordPress.