One of the greatest strengths of WordPress lies in how easy it is to modify and extend. WordPress is open-source; its functionality is nearly limitless as well. WordPress developers are creating hundreds of plugins to extend its capabilities. WP eCommerce is a free WordPress Shopping Cart Plugin that lets customers buy your products, services, and digital downloads online.
About the WP eCommerce plugin
WP eCommerce Plugin is created by the New Zealand-based company: Instinct. I found this plugin, which can easily integrate e-commerce capabilities into any WordPress theme. WP eCommerce is the most tried-and-true way to build an online store with WordPress. It's an ideal solution for selling physical goods, services, and digital products online.
WP eCommerce feature overview
---

On the above list, you have seen the WP eCommerce plugin in action. Let's take a quick look at some of the overall features.
Setting up the development environment
Always try to set up WordPress on localhost as it speeds up the process of development. If you are on Windows or Linux, you can use xampp. For Mac lovers, they can use mamp. Follow these short and easy tutorials on how to setup localhost on your computer.
Setting Up WordPress On Your PC/Linux Using XAMPP
Moreover, I am using jQ, an awesome free theme for WordPress.
Installing the plugin
Install WP eCommerce from the official plugins repository or from its official website. Activate the plugin, and you can see after activation, Products along with other tabs below the comments tab. We will start from settings, and then we will create some products to set up our demo store finally.
Settings WP eCommerce>General
On the Dashboard, there appears a Store tab under Setting. Click on Store, There you can set location, target markets, and currency in which you will sell products. There is an additional tax-option which will be applied on top of your product price.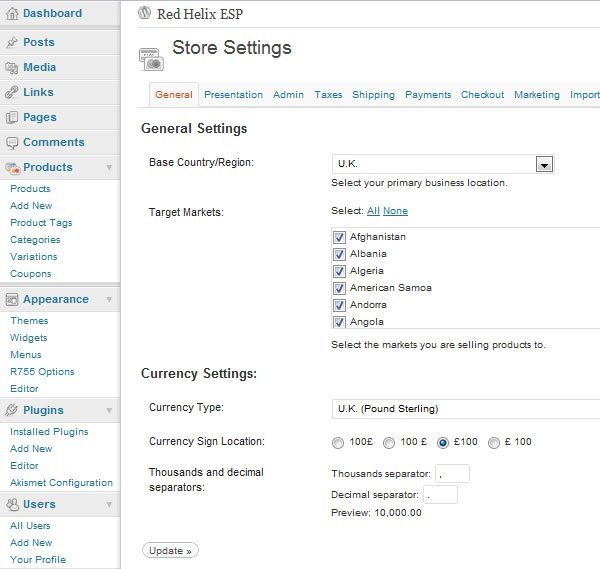 Settings WP eCommerce>Presentation
The presentation tab is at the front of your store. Instinct, the company behind WP eCommerce, also offers a gold cart premium plugin with more options.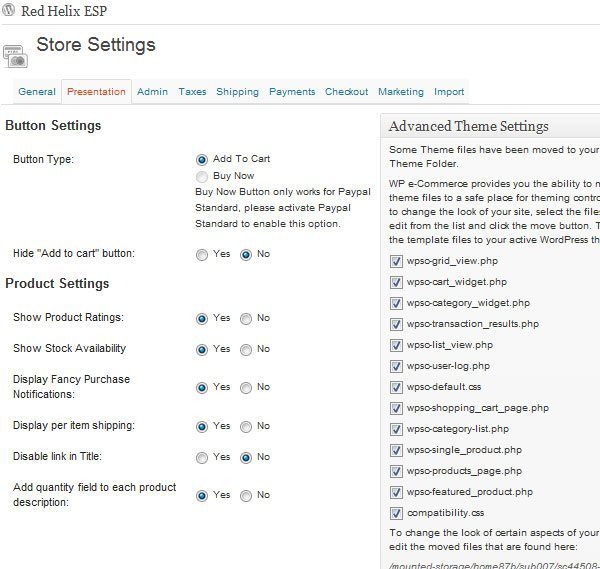 You can change setting for Product Page Settings, Shopping Cart Settings, Product Category Settings, ipThumbnail Settings, Pagination settings, and Comment Settings with the IntenseDebate Comments plugin.
Settings WP eCommerce>Admin
Under the Admin panel, you can set how much time a user can download a specific file. You can also lock downloads to that specific IP from which orders have been placed. You can customize the default email addresses. The purchase receipt is the message e-mailed to users after purchasing products from your shop.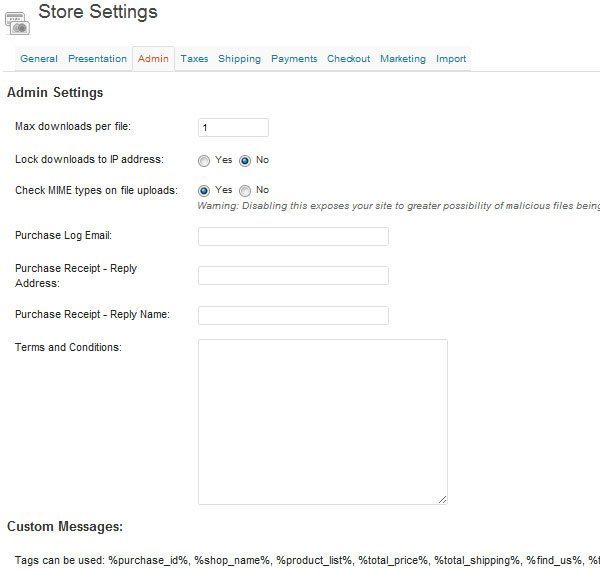 Track and Trace settings:
The Tracking Subject is the subject for The Tracking Message email. The Tracking Message is the message e-mailed to users when you click 'Email buyer' on the sales log. This option is only available for purchases with the status of 'Job Dispatched.' Tags you can use in the email message section are %trackid% and %shop_name%
Settings WP eCommerce>Shipping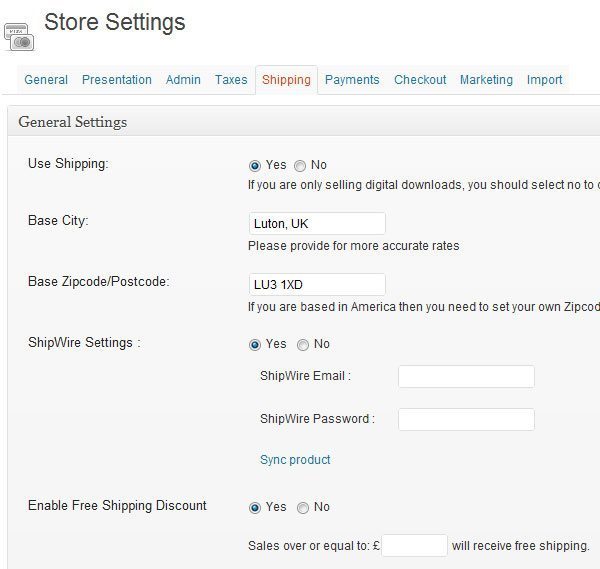 To enable shipping in WP eCommerce, you must select which shipping methods you want to allow on your site, along with different shipping schemes like flat rate and weight rate that will automatically calculate the shipping charges and will add these charges on top of your product price. WP eCommerce has built-in support for ShipWire, which is an order fulfillment company for online vendors.
If you want to use fixed-price shipping options like "Pickup – $0, Overnight – $10, Same day – $20, etc." you can download a WordPress plugin from the plugins directory for Simple shipping. It will appear in the list as "Fixed-rate."
Organization and layout
WP eCommerce has some features to assist with organizing and displaying your merchandise. These include:
Easy integration with all WordPress themes
WP eCommerce assumes your WordPress theme has a page.php, or a single.php or an index.php like any good WordPress theme should have.
Due to some limitations of the Custom Post Type system implemented by WordPress (for more information on this, please read here), WP eCommerce has an impressive job when rendering Products Pages. In fact, most WP eCommerce pages use two templates. One for the overall look of the site (The arrangements for Header, Sidebar, Content, Footer) and another for The Content section. You can find detail on WP eCommerce Templates.
Gabfire Themes Library
WPZOOM Themes
Theme Junkie
ThemShift
ThemeFuse
ThemeTrust
ThemeJam
Organized Themes
CraftyCart
Ferevens
Fusion
Market Theme
PandaTheme
Themify
up themes
gorilla themes
iThemeBuilder
GenesisThemeFramework
DIYthemes
StudioPress
Elegant Themes
MOJO Themes
TokoKoo: Best Premium WordPress eCommerce themes
Other themes should work, as well. If you have any doubt, just try it yourself.
Products and Merchandising
WP eCommerce platform provides the best solution to manage and add inventory, which gives you full control over your product catalog. You can add a new product directly from the WordPress dashboard, adding any descriptive elements with a rich text editor.
Widgets
WordPress Widgets (WPW) [1] provide a simple way to arrange the various elements of your sidebar content (known as "widgets") without having to change any code.
Product variations
You can set product attributes for a single product. For instance, an electric store owner might create one variation for product size (small, medium, large, XL, and XXL) and another variation for color (red, green, navy, and black). The product variation for product size is seen in the following screenshot:

Configuring your Payment Gateway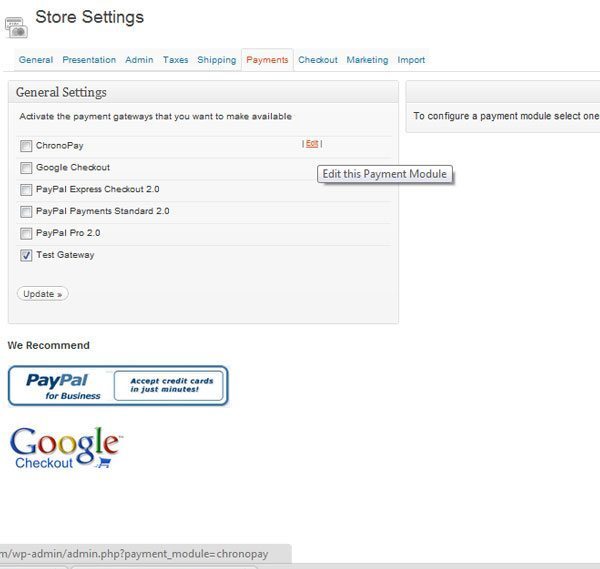 Activate the payment gateways that you want to make available to your customers by selecting them below option.
ChronoPay
Google Checkout
PayPal Express Checkout 2.0
PayPal Payments Standard 2.0
PayPal Pro 2.0
Test Gateway
The plugin not only keeps track of what items the customer wants to buy but also calculates additional shipping and handling costs that you specify. Once you start making sales, the plugin maintains a purchase log for you. All transactions are logged on a month-by-month basis. Additionally, you can download a full report as a Comma-Separated Values (CSV) file for further analysis or financial administration. Detail: Payment Gateways we support / General Information.
Shortcodes
A shortcode is a WordPress-specific code that lets you do nifty things with very little effort. Shortcodes can embed files or create objects that would normally require lots of complicated, ugly code in just one line. Shortcode = shortcut.
What Ecommerce Platform To Use
There are many eCommerce platform options you can choose from. For instance, if you're thinking about WooCommerce or Shopify, then you've got to know the benefits of each platform to make a sound final decision. 
Shopify, which is based in Canada, is an online eCommerce platform that enables web businesses to make a profit through online sales. They work with a variety of vendors to provide solutions that help retailers improve and expand their online store profits. 
On the other hand, WooCommerce is a free open-source, e-business plugin for WordPress, which has many features for businesses to use. It is developed by famous web designers in September 2020, which became very popular since it's easy to install, customize, and sell your products.
 The following are the factors that you need to consider when choosing which one to use:
Support

: One thing that you need to consider when choosing an eCommerce platform to use its support and maintenance. You want a platform that can help you whenever the need arises.

Compatibility

: The eCommerce platform should be compatible with the databases and other tools that you use, allowing you to seamlessly upload data to your website.

Security:

One important thing to check for is the security of the platform. You need to make sure that it is secure so that your customers are confident that their data will not be hacked. 
Features: Some of the features that you need to check are the security features, the payment gateway, the support for multiple currencies, and the ability to integrate with other eCommerce platforms.
The WP eCommerce plugin enhances the power and flexibility of WordPress and seamlessly integrates a Shopping Cart into it. Anyone with an existing WordPress installation can quickly add the ability to sell goods and services.