WordPress, without a single shred of doubt, is by far the most utilized platform for e-commerce websites today. To its credit, WordPress has more than 60 million installations across the globe on users' computers so far. Since a sizeable number of websites are powered by WordPress, it makes its functionality better and more secure. Even after that, it is completely free and open source. Moreover, greater flexibility, robustness and a high degree of user experience have made it the most preferred choice for software programmers.
So, what is it that makes WordPress a good e-commerce platform?
This is primarily because of two reasons – themes and plugins.
There are incredibly large numbers of eCommerce themes that are available on WordPress. Although modest numbers of them are suitable for e-commerce, yet they are still plenty as compared to other platforms. These themes are completely editable and can be modified as per requirements.
Plugins, on the other hand, are very important to increase the functionality of any website, and WordPress has no dearth of them that too free of charge. Plugins increase the capability of WordPress to integrate plenty of modern online services. Which is why WordPress is compatible with almost anything on the web.
Hence, when it comes to functionality, choosing right plugins is extremely crucial for your website because a better platform means more business opportunities. There is a huge number of WordPress plugins available on the market, but not every one of them is appropriate for you. From displaying photos well to making transactions smoother to even managing inventory better, or to even boosting WordPress speed and performance, you should factor in every utility that is important for your website.
WordPress eCommerce Plugins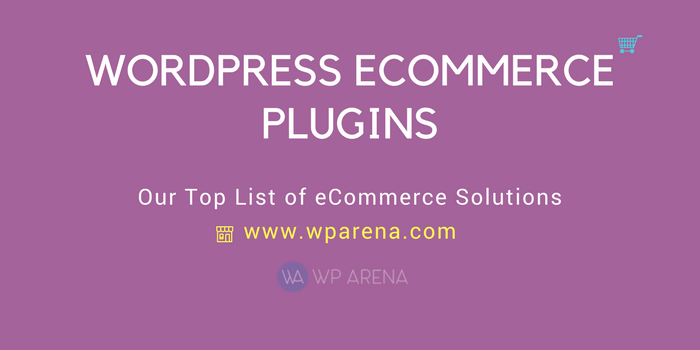 Here are 10 most useful WordPress plugins for your e-commerce website:
WooCommerce is probably the market leader in e-commerce plugins. In fact, it is the e-commerce extension of WordPress, which makes it the most popular content management system – powering 25% of all websites across the world. The reason for WooCommerce to have been accepted by most of the users is that it provides great services, comprises of powerful features, easily manageable, and most importantly – it's free. Since WooCommerce has hundreds of extensions and themes available for you, which means you have tons of options while selecting your site's design and layout.
Being highly robust and flexible, WooCommerce allows you to sell physical as well digital goods (such as e-books, music, and software) on your website. WooCommerce is fully equipped with tools that help you easily manage your inventory along with a powerful built-in support for almost all the payment gateways.
When it comes to the security of your e-commerce site, Cart66 would be a clear winner, especially if you have just started your business. It ensures your online store is PCI DSS (Payment Card Industry Data Security Standard) compliant, which is applicable to the companies (online or offline) that accept credit card payments. For that, you need a well calibrated and optimized WordPress web hosting service provider.
Cart66 helps you sell both physical and digital products by enabling your customers to create accounts while shopping. If you use Cart66 for the first time, you will be allowed free storage from Amazon Web Services, MailChimp subscription, and access to 98 different payment gateways. It also includes a recurring billing engine, which helps you include taxes and discounts at checkout.
Check out our in-depth review of Cart66. Also, read out WooCommerce vs Cart66 for a better understanding of the two big WordPress eCommerce giants.
MarketPress is an all-in-one WordPress e-commerce plugin that helps you build a basic single online storefront, without requiring any extensions. It supports all the major payment gateways along with major currencies and is adaptable to any WP theme. In other words, all the possible e-commerce functionalities that you need on your website are included in this one plugin.
MarketPress is easy to use and you can add unlimited variations to any product while displaying them in stylish galleries. In case you are using WPML for multi-language, there is a specific MarketPress plugin for integration, which helps translate everything including the checkout and purchasing confirmation emails.
WP is a simple yet comprehensive WordPress e-commerce plugin that helps you sell anything anywhere. It is easy to use and adds robust shopping cart functionality to your website. WP eCommerce is extendable (there are 27 official extensions), due to which it supports product uploads and management of orders, inventory, and tax.  You can also customize it as per your requirement using CSS and HTML.
WP e-commerce has many add-ons that you can add to your site and easily works with your secure SSL pages. It is able to specify a minimum as well as maximum checkout amount. Using this plugin, you can easily configure your products with a thumbnail image and the description can be displayed in a stylish way.
iThemes Exchange has a simple and streamlined interface, which means you can start off almost instantly. Its core is free to download and is fully extendable while PayPal Pro and PayPal Standard are the major Payment Gateways being supported by it. iThemes Exchange is very handy in customizing WordPress buttons, which means you can easily build and customize WordPress buttons.
With an advanced feature, you can even sync carts across various browsers. For an instance, if your users are using Mac and added a membership to their cart, on switching to their Windows phone, they will still see the same membership in their carts. Furthermore, a "control coupon frequency" provides you more flexibility that limits the frequency in which coupons can be used.
Jigoshop is an extremely helpful WordPress plugin for hosting an e-commerce website. From inventory tracking to one-page checkouts to products imports/exports, Jigoshop offers every solution that you need to run your online store. It has a comprehensive library of free as well as paid extensions that help you customize your site.
There are many specialized extensions that can effectively boost the user experience. The Filtering Premium, for example, allows users to quickly narrow down their search using Categories, Tags, and Attributes. The Discfoo extension helps users locate the best deals before checkout. The Jigshop Product Comparison extension generates a table that contains thumbnail images, which allows visitors to add products to cart from the comparison page itself.
WP EasyCart is relatively a newer e-commerce WordPress plugin on the market. It has many robust features like easy coupon management, tiered pricing, and live shipping integrations. You can download it on your desktop, laptop, Mac, iPad, iPhone, and Android phone and effectively manage the cart wherever you are. It allows you to sell simple, variable, configurable, downloadable, and virtual products. One of the features of EsayCart includes additional shipping method that allows you to build a rate table based on the quantity of items in the shopping cart. It also has responsive product catalog with size point options.
Shopp is highly used e-commerce plugin that seamlessly integrates with WordPress and provides you extensive features such as administration tools, widgets, shortcodes and so on. The store management basically characterizes the user-friendly interface, multiple shipping and payment options, and innovative product management features. Shopp is best for startups as it is backed with reliable Shopp support.
As far as advanced product management features are concerned, Shopp is a very handy plugin as it provides SEO friendly URL for products that help increase traffic rates. It also allows you to easily edit and modify products and create their variants. The plugin supports multiple languages and currencies, which makes purchase process convenient worldwide.
Ecwid is a comprehensive as well as easy-to-use WordPress plugin that allows you to set up your website in quick time. It includes as many as 40 international payment options and real-time shipping integration. By incorporating this plugin to your WordPress site, you can easily manage the cart on many sites from one central dashboard.
Ecwid has a number of robust features for sidebar widgets, for example, Minicart, Search, Vertical categories, recently viewed products, and so on. It is very easy to manage your store with Ecwid. Moreover, the Ecwid e-commerce shopping cart plugin offers a great option for international businesses and it optimizes your online store for desktop and mobile browsers. It also enables you to use pre-defined CSS templates or design your own templates.
EDD is primarily designed for selling digital products for example ebooks, MP3, videos or images. It is extremely easy to use and comes with powerful features to create a highly functional online store and helps you instantly figure out how to add products and display them. When it comes to extensions and add-ons, EDD has hundreds of them so that it can easily integrate with several payment gateways, platforms, and services.
With EDD you can add as many digital products as possible to your cart, and then download them from one screen. In case you lose any of those files, you can log in to customer area – from where you can re-download them. EDD also has an extensive backend reporting that allows you to track sales.
Wrap Up
WordPress is indeed a powerful platform that offers a wide array of solutions when you decide to launch your own online shopping store. However, without necessary plugins, you can't achieve your goals. As we have just explained the viability and utility of some of these crucial plugins, it is your call to select which ones you need for your shopping portal because much of your e-commerce success depends on you choosing the right one.