The easiest way to display products in a highly interactive way is to use WordPress plugin, Barn2 Media's WooCommerce Product Table that is highly effective for anyone creating a WooCommerce website. This plugin allows website visitors to easily compare multiple products with each other. Website developers have the opportunity to create filterable and organizable tables which are mobile-friendly as well. Using the filters available in this plugin, website visitors can search and sort through tables (in a way controlled by the website developer) to find the information they need.
Also Read: Best WooCommerce Plugins for Boosting Sales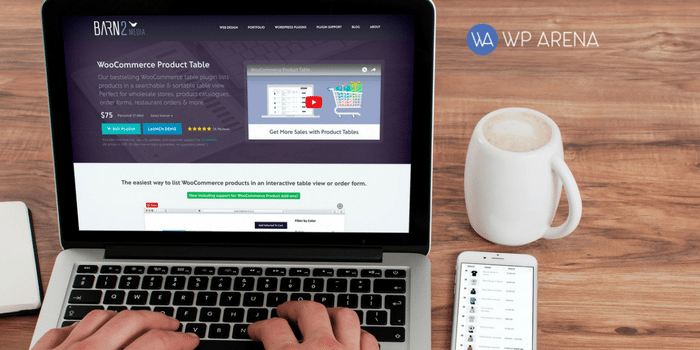 WooCommerce Product Table Features
The WooCommerce Product Table plugin has multiple features which allow for a smoother experience by any user when making a website and a great amount of benefit for website visitors when using an easy and systematic website, including:
Add to Cart buttons allow customers to select products and their quantities in an order form;
Filter widgets allows customers to filter through products according to their various characteristics, price or rating;
Fine-grained control allows the website developer to create tables that list products on the basis of their categories, tags, ID, status, date or author;
Instant search, sort, and filter gives customers an easier way to access specific product through a simple search or a filter to find a certain category of products;
AJAX Add to Cart allows products to be added to the cart using AJAX without having to refresh the page; thus, customers can buy faster and reduce any bounce rates;
Lazy load which provides website developers with the chance to allow AJAX to load the products one page at a time to improve performance and decrease server load;
Custom taxonomy support provides a way to show the custom taxonomies, filter by custom conditions and make tables which list products with specific taxonomy terms;
Product attributes and variations allow for website developers to add attribute columns with a choice of 3 display variations.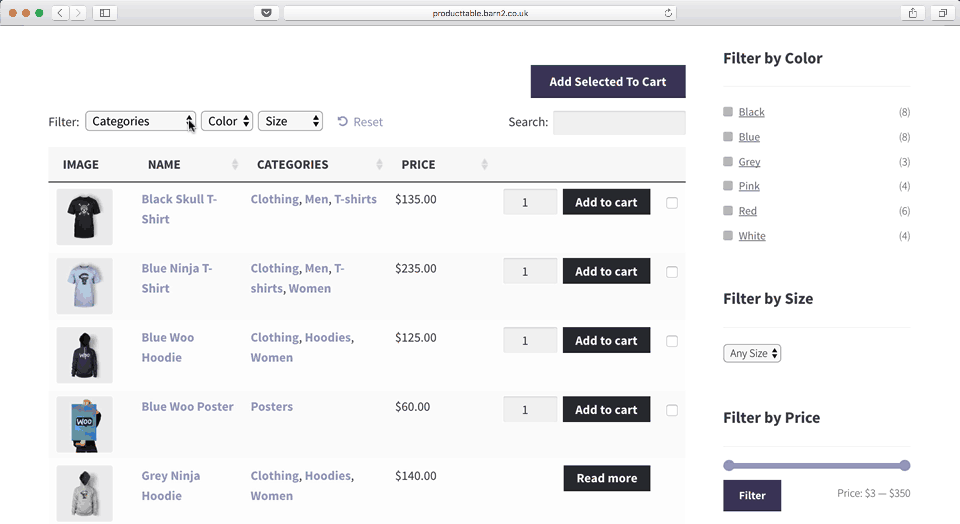 Pros and Cons
Pros
This WordPress plugin presents website developers with a variety of pros which they can benefit from when making their WooCommerce site, including:
The WooCommerce Product Table plugin is completely responsive on mobiles, where columns automatically fold and expand as needed;
This plugin makes it easy to filter and sort through various products to create a customized list that the customer can select their preferences from;
This plugin is very flexible by providing website developers with a wide range of product table options for display, column headings, page length and so on;
This plugin is very easy to use for anyone with basic knowledge of WooCommerce websites and WordPress;
The features of this plugin are very helpful for wholesale stores, product catalogs, order forms and restaurants (all of which require a vast variety of products to be displayed for ease of access by consumers);
The shortcode configuration of this plugin is user-friendly and makes using this plugin easier for beginners;
This high-quality plugin provides website developers with a way to enhance the performance of the site.
The table can be customized to suit the needs of the website developer and the requirements of the products.
Cons
However, there are also some cons of the WooCommerce Product Table plugin and it is important for anyone wanting to purchase this plugin to know such cons:
It may be a bit expensive for people using WordPress for the first time and beginners may not be able to get the worth out of this plugin;
It has a very specified use, so it cannot function for a diverse category of websites and can only cater to certain WooCommerce sites;
This plugin may be confusing for first-time users and they may find it difficult to grasp the concept if they have not had any experience with WordPress plugins before.
On the other hand, these cons can be overcome if the comprehensive documentation and support is understood. There are also many online tutorials available for first-time users who need to learn the most effective way to make use of this plugin.
Also Read: Best WooCommerce Themes
Price
The WooCommerce Product Table costs $129 for a single site license, $229 for 5 sites and $429 for 20 sites. This plugin comes with complete documentation, a year of updates and support and automatic renewals after the first year.
While the price tag may seem high, the plugin offers a range of features and widgets that make the plugin completely worthwhile.
Final Thoughts
The WooCommerce Product Table plugin is certainly worth its price because it provides WooCommerce website developers with the chance to organize their information in a way that will boost their website's performance and their sales. Website visitors will be encouraged to browse and add items to the cart with a smooth WooCommerce experience. Watch the below video for better understanding.
Having the ability to organize thousands of products with just the click of a button can help save time. This plugin also allows for an easy way to access different products through the efficient filters and reliable format. While the website developers are given a large amount of control over their WooCommerce websites, site visitors are also given a chance to exert their control through the plugin's widgets.
Website developers will face no problems in creating product tables because they are given complete control over the columns, the page lengths, product variations and how they are displayed, etc. This control is the most beneficial part of this plugin. However, beginners should proceed cautiously when purchasing this plugin and they should read about this plugin and how to use it if they want to make the most use of it.
Overall, this plugin is very impressive and it has everything a WooCommerce website developer could ask for. It may require some effort to grasp at first, but it is completely worth it because the end results are flawless and will have website visitors wanting to continuously come back to the website just for its high performance and organized format.