The WooCommerce Product Feed is a plugin that allows you to sync the information of your products to the selling center you are linked to. This plugin aims to create product data and automatically update it on the feed file contained in the merchant centers you are linked to according to the schedule you set. The plugin uses HTTP or FTP to make this synchronization possible.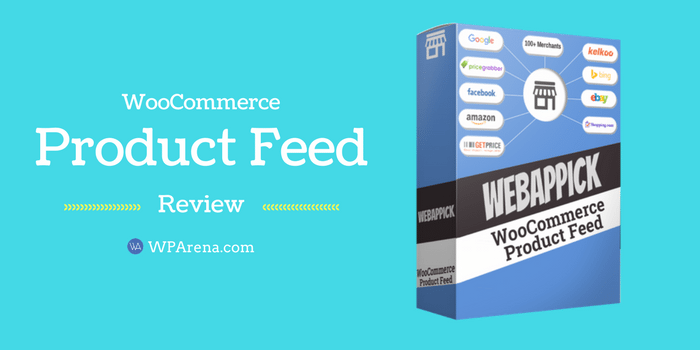 How to Use it
Once you have installed and activated the plugin, you need to begin by enabling the online shopping channels that you would like your products to be displayed in (Woo Feed > Make Feed). Next, you will need to add a new feed by selecting a file name and the channel you would like the file to be uploaded on. Other options will automatically pop up once you have selected the channel and you can even set a schedule for the product's updates.
Once you have setup all of the options and are sure of what you have selected, you can Save and Generate the feed.
Why WooCommerce Product Feed?
This plugin is an extremely convenient and time-saving technique for any product seller looking to gain advantages over their competition. While ensuring that your product gains the coverage it needs on multiple online stores, you can also ensure that the correct information is displayed at the correct time.
Everything from the price to the variety of websites you can involve are the key ingredients that make this plugin one of the greatest WooCommerce plugins available to date. Also, most of the control is in your hands because this plugin has highly customizable features (like schedules automatic updates and a variety of websites you can select from).
The Features
This plugin has a variety of features that ensure that all of your needs are catered to and accommodated easily, including the following:
There is access to over 100 different merchant sites and you can easily pick and choose which sites you would like to display your products on;
There are templates available for many of the merchant sites;
You can either post your products manually or automatically;
Feed accessibility through HTTPS or HTTP;
The supported file formats include XML, TXT, and CSV;
Marketing and promo text, product codes, descriptions, and prices can be easily added;
Feed updates can be placed on a set schedule of your choice;
Automatic feed updates can be made through FTP;
And many more.
These features are available in both the free and premium versions of this plugin.
The Merchant Sites
The merchant sites that you can synchronize with through the WooCommerce Product Feed plugin include:
Google Shopping
Google Adwords
Facebook Catalog
Amazon Seller Ad
eBay Commerce Network
Nextag.com
Pricegrabber.com
Kelkoo.com
Houzz.com
Dealtime.com
Affiliatewindow.com
Bing Ads
Idealo.de
Beslist.nl
ffshoppen.nl
vergelijk.nl
siroop.ch
Jet.com
Wish.com
bizrate.com
Shopping.com
Shopzilla.com
Shopmania.com
Shop.com
Pricespy.co.uk
Prisjakt.nu
Pricefalls.com
Pricerunner.co.uk
ComissionJunction (cj.com)
Polyvore.com
Opensky.com
11Main.com
Shopbot.ca
Twenga.com
Wine-searcher.com
Ammoseek.com
Avantlink.com
Connexity.com
Linkshareuk.com
Bonanza.com
Pepperjam.com
Criteo.com
Pixlee.com
Adroll.com
GraziaShop.com
Leguide.com
Hardware.info
Pricewatch.com
Newegg.com
Webgains.com
Rakuten.com
Quicksales.com.au
Mysmartprice.com
Pricena.com
Pricejugaad.com
Yaoota.com
Buyhatke.com
Comparekaro.pk
Adform.com
Polyvore.com
Stylight.com
Spartoo.co.uk
Choozen
Ciao
Priceminister.com
Skinflint
Rakuten
Bol.com
Crowdfox.com
Real.de
Incurvy.co.uk
Allyouneed.com
Apomio.de
Billiger.de
Domodi.de
Fashiola.de
Geizhals.de
Guenstiger.de
Hood.de
Ladenzeile.de
Livingo.de
Medizinfuchs.de
Moebel.de
Mybestbrands.de
Preis.de
Restposten.de
Sparmedo.de
Stylelounge.de
Stylefruits.de
Marktplaats.nl
Spartoo.nl
Ooshopping.nl
Vergelijk.nl
Kieskeurig.nl
Tweakers.net
Kleding.nl
Shopalike.it
Trovaprezzi.it
Skroutz.gr
Manomano.fr
Cdiscount.com
Fnac.com
Comparer.be
Cherchons.com
Miinto.com
Ricardo.ch
Ricardo.ch
Kauftipp.ch
You can find the complete list of merchant channels below.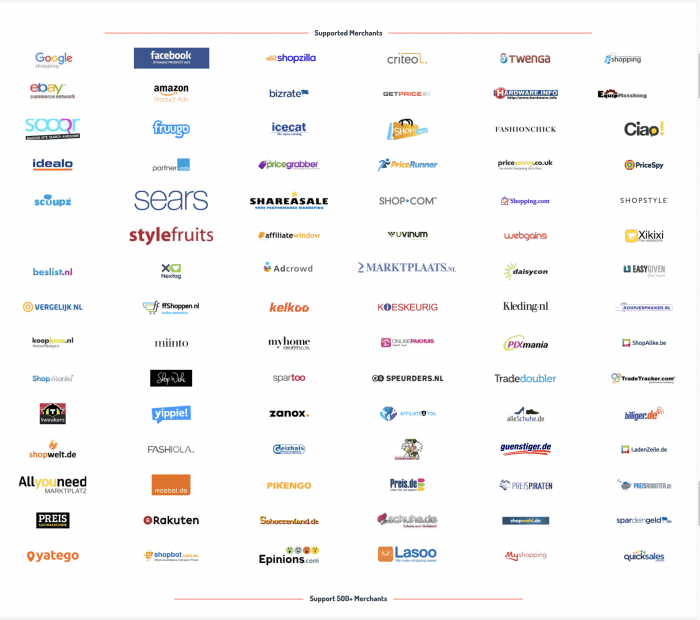 The Advantages
The biggest advantage of making use of the WooCommerce Product Feed plugin is that it connects you to multiple different online stores automatically. Any products and product descriptions that you upload can be updated to a variety of online stores within seconds. This means that you can save a lot of time by using this plugin.
Another huge advantage is that there is a huge variety of merchant websites that you can synchronize with. This means that your options are endless and you can pick and choose the websites that you would like your products to be displayed on. The variety of options allows you to ensure that there is a higher probability that your products will be sold. Your products will also gain the exposure they need through the multiple merchant websites.
WooCommerce Product Feed Pro
The paid version of this plugin includes both the features that can be found in the free version and additional features:
A smart filter that will let you hide the products that you do not want to share;
Category mapping that helps in making your products appear when the customer searches a specific category of items;
Dynamic attribute gives you the ability to set attributes for different merchant sites (you can even change the price of the product);
Custom taxonomy;
Multi-Language Feed;
Support;
WP options and Post Meta allow you to add any WP options and post-meta values into your product feed.
These features are the ones that differentiate the premium version from the free version and they make it even easier for you to create product feeds.
Price
There are two version of this plugin: a free version and a Pro version. The pro version costs $119 for 1 year.
Considering the fact that this plugin is available free of cost, there are a great number of benefits that any seller can obtain through its use. You do not have to pay for a single thing in this plugin and this is why it is one of the best WooCommerce plugins available to date. It makes your life so much more convenient and takes care of all the grunt work in an instant.
Conclusive Thoughts
There seem to be no disadvantages of downloading this plugin because you have nothing to lose. It is a very clever concept and it embraces the idea that the seller always needs the best vantage point. It also promotes the idea of diversity and plugin users can gain an understanding of the fact that the more exposure their products get, the better it is for them.
The best part about this plugin is that everything is automatic. So, once you have made the main setup, the plugin will take it from there. Your settings are customizable, so you can easily make sure that everything is set according to your own standards. Each channel has its own setting that you can customize, so you can fulfill that channel's requirements as well.
Thus, install this plugin today and get one of the best WooCommerce experiences you can ever hope to get with the WooCommerce Product Feed plugin.