Created in 2012, the Image Map Pro plugin is an innovative and advanced method for creating a map. It is the most effective way to offer visitors a highly interactive experience using images which are customized by the website developer. The Image Map Pro plugin includes an easy to use interface that will allow WordPress users the chance to create an effective experience for their website visitors.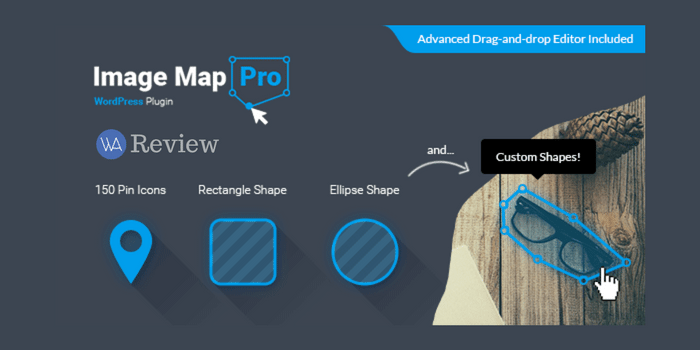 This plugin has some of the best features that one would want from an image map builder and it is very interesting to work with and would tickle any WordPress user's fancy. It is a convenient way to create unique content that would make a website entertaining for visitors.
How it Works
This Image Map Pro is fairly easy to use for avid WordPress users (however, it requires some understanding for beginners to effectively make use of). A favorite function of this plugin as reported by users is its ability to highlight specific areas on a 3D map (according to the user's own desires). Aside from this, there are plenty of other things that WordPress users can do when using this plugin in order to attract website visitors and make their content more attention-grabbing.
Read More: The Pressing Need of adding the best images while designing the website
The customizable options in Image Map Pro are endless and users can customize the opacity and strokes of images. The drag and drop interface makes is very easy to use. All the WordPress user needs to do is load their image and begin drawing shapes on top of it for the effect they need to make the image instantaneously intriguing for website visitors.
Users can isolate a specified area of any desired shape on the image and draw on that for more accurate depictions of their vision. There are also 150 readymade icons (or SVG images) available at the WordPress user's disposal and these icons make it easier to create unique and original content without the need for searching for more images.
Image Map Pro Features
The best part about this plugin is that it has an endless range of features which will keep any WordPress user busy for days. Its features are what make this plugin a highly functional one and something that users can have a satisfying experience with when trying to build their images in an attractive manner. The main features include the following:
Mobile responsive and compatibility, which ensures that the plugin works for phones as well and can help connect with a wider audience;
A drag and drop interface which allows for fast access to image maps and easy editing;
Multiple shapes can be drawn on image maps (aside from the normal shapes), including polygons, hexagons, ellipse, and pins;
There is a huge library of SVG icons that can change in color as well;
Styles and animations are easy to include in the image maps and they can be customized to match the site;
Mouseover and click actions can also be customized to the liking of the user;
A comprehensive and highly flexible JS/HTML API is also available;
6 months of free support and documentation (which is quite detailed for this plugin) are also available, which makes it easier for anyone to learn how to use Image Map Pro;
Anything can be added to the ToolTips with the use of the content builder.
Price
The price of this plugin may seem fairly steep; however, for those in search of one of the highest quality image map builders, this plugin is the best option available. It costs $24 for the regular version and $124 for the extended version.
Pros and Cons
For anyone looking to purchase this plugin, it is very important that they have a look at the pros and cons of the product before making the actual purchase. In the case of the Image Map Pro, the pros of this plugin include:
It is much more advanced than other image builders because of the number of features it has;
The ability to isolate areas of any shape means that the user can create more accurate content;
The 150 icons are easy to access and help save time;
This plugin is not time-consuming to use because it contains features and functions which are easy and convenient when used;
It is mobile responsive, so whatever is created through this plugin can be seen through a smartphone.
However, where there are pros, there are also cons and this plugin is not free of them:
The price tag may be too much of an investment for some WordPress users;
It is a bit confusing to use for beginners in WordPress and is only recommended by people who have grasped the basic concept of how to use WordPress in general;
The main function of this plugin may seem a little limited in a superficial context (however, for those who can dig deeper, they find that this plugin is much more complex than meets the eye).
Final Thoughts
The Image Map Pro is a very effective way to produce image maps that are accurate and amazing. The images that are produced are a useful way to ensure that the attention of website visitors is immediately grasped. For anyone looking to spruce up their website and create content that would be unforgettable, this plugin can be of help.
Another huge plus point of this plugin is that it allows for things that many other map builders cannot help with (like isolating areas of different shapes). It also allows for a lot of control to be in the hands of the WordPress user and this means that the user can customize many things to their liking and to make content that would fit into their website's landscape.
Although a technical and advanced plugin, the Image Map Pro is a useful one and for WordPress users who need to improve their websites in a limited amount of time, this can be a useful way to present unique material without having to jump through hoops.