If you have thousands of media files like me then you must be looking for a way to organize and declutter them. But this is not possible with the media tab of WordPress since it lacks the basic functionality of a media manager like creating a folder. WP Media Folder is a productivity plugin whose motto is to address this issue and provide further benefits such as better filters, WooCommerce support, and improved galleries. In this in-depth WP Media Folder review, we will examine all of its features, interface, safety, stability, and pricing.

Do We Really Need an Extra Media Manager?
The default WordPress media library is a basic media handler. It misses some crucial features—folders in particular—to organize and browse your media. Additionally, there are just two view modes and two search filters. Hence the searching capability of WordPress is limited. You can not quickly locate media files and order them with folders. After integrating with the WordPress's media explorer the WP Media Folder plugin extends its restricted potential with the following features.
The WP Media Folder Interface
Right away after installation, WP Media Folder requests you to make folders for each post category which can be convenient.

The plugin merges quite well with media manager of WordPress. As a result, the layout of WP Media Folder is smart and easy to understand. It has four components: a toolbar on the top, an address bar beneath it, a side panel and an additional navigation bar.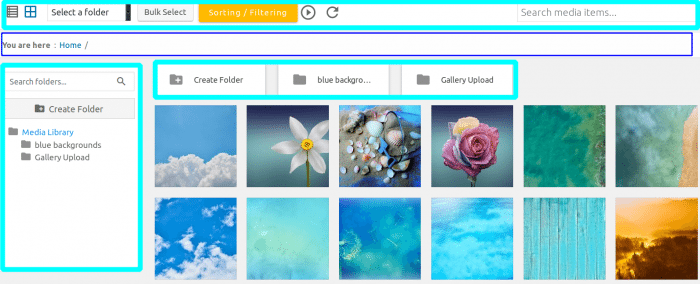 Reviewing the Plus Points of WP Media Folder
Media preview: Upon hovering an image, its enlarged preview is shown.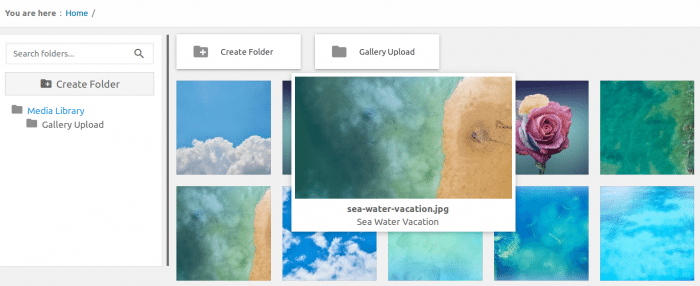 Drag and drop: Place pictures in any folder and create sub-directories through it.
Folder System: Create new folders or sub-folders and name them accordingly. Moreover, the tree view makes it easier to browse the folders. You can also display the number of media files in each directory through the Settings.

For symbolic representation, modify the color of individual folder icon:

Image linking: By default, you have to first add an image and edit it for linking or else the options do not appear in the WordPress image editor. WP Media Folder sorts this out by providing you the option from the very beginning.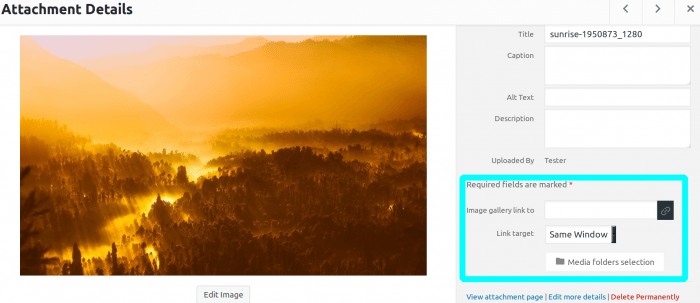 Advanced search filters: They save your time spent on searching. Media can be filtered by file type, month uploaded, resolution, size range and different ascending and descending orders.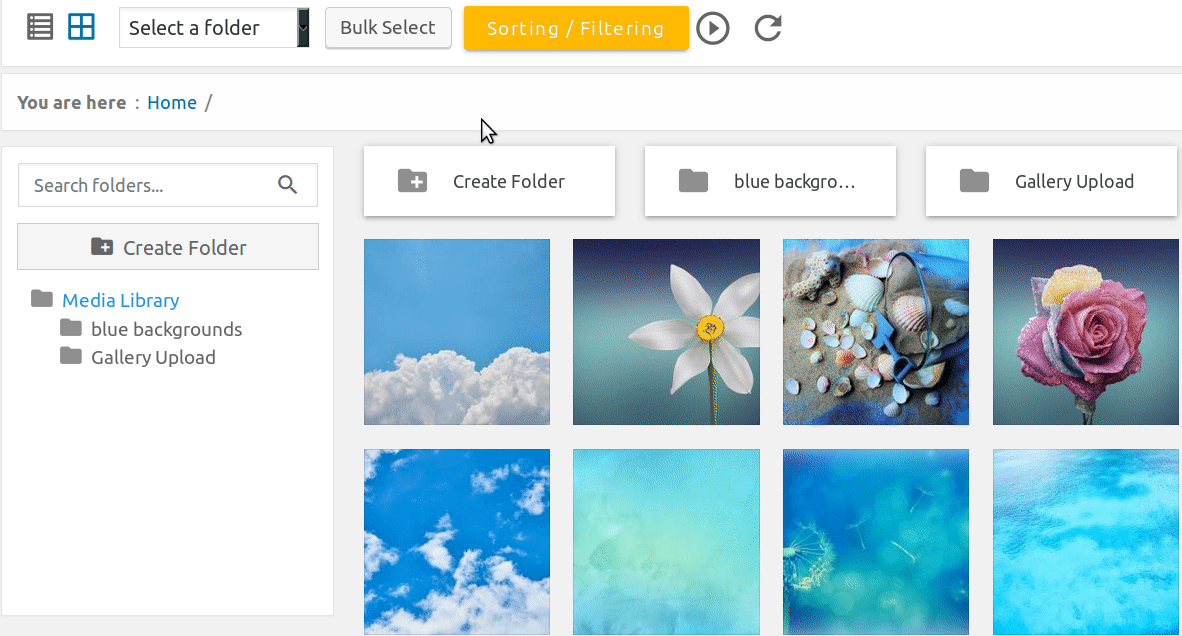 This is by far the most powerful file filtering system I have come across. WP Media Folder can even sort folders and files via custom filters in the Settings.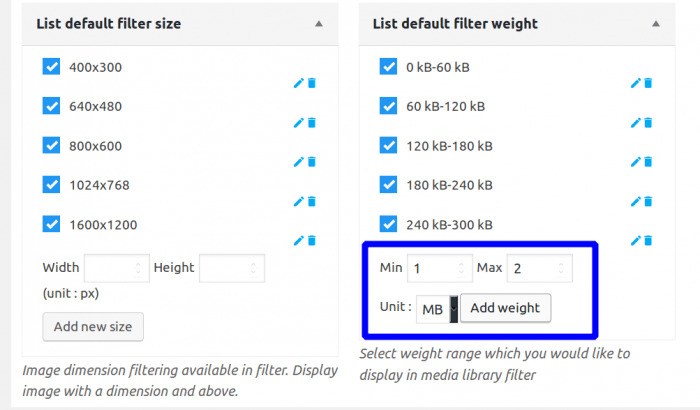 Limit User Access: To further systematize the media files, limit their access per Username or role.
Import from server: Import folders as it is with the media files from the server, that is to say, their structure is retained.
Embed PDF (add-on required): This enables live preview of PDF document which is downloaded otherwise.
Compatibility: WP Media Folder works seamlessly with major plugins and page builders, namely Visual Composer, Beaver Builder, and DIVI.
Gallery Enhancement Add-on
Insert a gallery in your post by selecting images or a folder. WP Media Folder Galleries offers an assortment of choices categorized as follows:
4 layouts: Enhanced WordPress Default, Masonry, portfolio and slider. Consider Masonry as a collage of photos. Portfolio theme displays images with fixed width and height, each having its own description and title.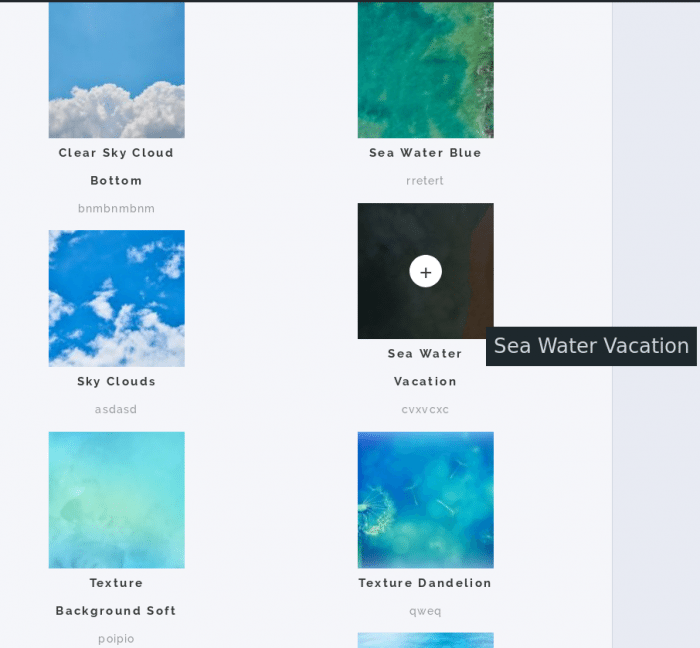 Slider theme has a hover effect which brings slider arrows, slide title and its caption. The horizontal scrolling is both automatic (turn on or off in media folder settings) and manual. Slider animation can be changed to fade in through Gallery settings.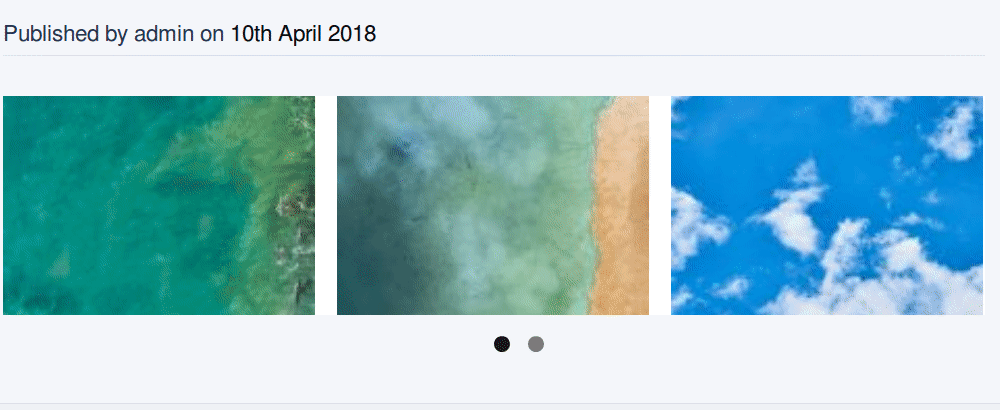 Image size: It alters the dimension of images in the gallery.
Lightbox size: When a video or photograph is clicked, WP Media Folder enlarges it while the rest of screen is almost blackened. You can control the enlargement with this property.
Auto insert: This means an image uploaded later in your folder will be automatically inserted in the gallery.
Order: Can be either reverse or random.
Columns: They stretch from 1 to 9.
Here is a live demo of the gallery.
WP Media Folder Safety
Is this WordPress plugin safe? WP Media Folder is hundred percent secure because it is non-destructive. After disabling or removing the plugin you get back your images in their previous condition. Also in the notification pop-up, there is an option to undo an unnecessary change.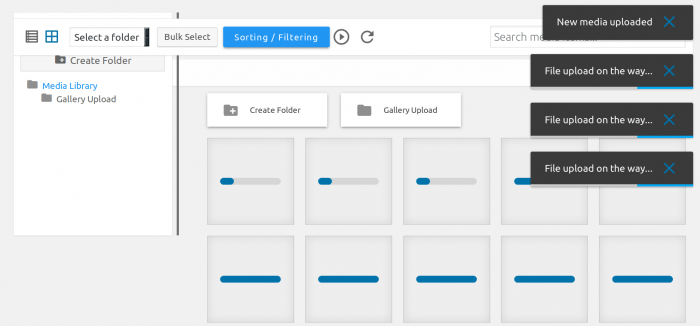 Pricing and Modules
There are three subscription plans for WP Media Folder:
1. A 39 dollar lifetime plugin license with 6-month updates.
2. The second one is priced at $39 and provides 1 year of support.
3. This is the best of the rest. You get the Gallery extension and Google Drive, Dropbox and OneDrive support. PDF embedding feature is also part of this plan.
All these pricing models have one thing in common, there is no definite number of sites for which the plugin can be used.
Product Downsides – WP Media Folder Review
Multi-select option is unavailable in the Media Library window. You have to drag and drop multiple files in a folder via "Add Media" in "Edit Post".
WP Media Folder Modules require a separate license.
Documentation is repetitive on a few occasions and it could have been more concise.
Last thoughts on WP Media Folder
After carefully reviewing the plugin features, I have come to the conclusion that WP Media Folder is not only a WordPress gallery manager enhancement but it also does well in other aspects. The additional qualities like photo preview and importing folders resemble a photo manager app. Given its economical pricing and how it unloads the burden of tons of multimedia files, WP Media Folder is indeed a powerful media searcher and organizer. Without further ado, give it a go and you will never regret your investment.