Introduction
WordPress users everywhere can generate traffic to their website in a new and creative manner – by creating their own social network on their WordPress website using the PeepSo plugin. The concept of this plugin itself is a brilliant one because it gives website developers the opportunity to create an entire social networking community on their website.
This means that people of all religions, races, and creeds can gather on a single platform to interact with each other. The website's private and one of a kind community will also be completely under the control of the website's administrator, so it's easier to create a satisfying experience for the community members.
It is also a great way to create an impact on people's lives by giving them a platform from which they can communicate with their loved ones and keep in touch with those who live far away.
The best part of this plugin is the number of add-ons that are offered which allow the website developer to give community members a wholesome medium through which they can interact with one another.
Add-Ons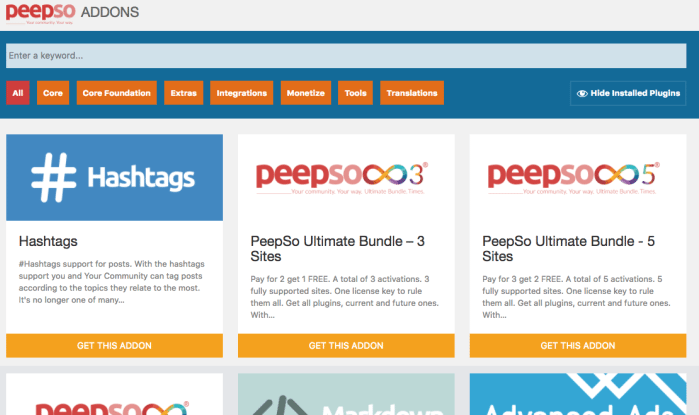 PeepSo's add-ons can be divided into five broader categories, including the following:
Foundation,
Core,
Extras,
Integration,
Monetizing.
Foundation Add-Ons
The foundation add-ons are completely free and they provide the website developers with the key tools they need to build their network. This category consists of four add-ons that are provided once the plugin is purchased, including:
PeepSo Core is the main add-on that is needed to get the community started and it is the main add-on which allows the website developer to activate the main plugin and all other add-ons;
Moods is an add-on which allows members to express their mood by posting a status using 16 different mood options;
Tags can be used to tag other community members in posts and photos;
Location allows members to give details about their location to other community members.
Core Add-Ons
This category of add-ons consists of the basic entities needed to make the network entertaining for its members. As the name "Core" suggests, this category consists of the vital add-ons any website developer would need to make the networking experience a smooth one. The core add-ons include:
Friends, which allows members to connect with other people within the community and add them as friends so they can look at each other's profiles and keep in touch;
Photos, which allows members to post their photos (or even entire photo albums), where other members can like and comment on them;
Videos, which allows members to post links of videos for other members of the community to view;
Hashtags, which allows members to make use of hashtags in their posts and search through different posts more easily using specific hashtags;
Reactions allows members to react to posts instead of just using the simple "like" option;
Groups is an add-on that creates the option to form a group within the social network with certain members;
Extended Profiles is an add-on that can help website administrators give their network members the chance to elaborate upon their profiles with more details and descriptions of their lives;
Chat is an add-on through which members can talk to one another in private or via the real-tim chat;
Polls allows members to hold ask a question and get other members to vote on the best option.
Extras Add-Ons
This category of add-ons consists of things that the website administrator may want to add when necessary because they serve a more secondary function to the social networking experience and include the following:
VIP allows the website administrator to give unique community members a VIP badge on their profiles;
User Limits gives the website administrator control over the content and members in the community;
Email Digest is an add-on which sends emails to website users as a way to pull them back to the community;
Word Filter allows the website administrator to filter out any obscene or profound language being used my community members;
Blog Posts allows for blog posts to be added into the stream;
AutoFriends lets members to be instant friends with selected community members.
Integration Add-Ons
The integration add-ons allow the website administrator to merge other services outside of WordPress with their social network. These services can be merged as a way to make the networking experience more wholesome and entertaining for its members and the add-ons include the following:
myCred Integration awards community members for points whenever they do something on the network (for example, giving a point for a new status update);
BadgeOS is another awarding system that uses badges instead of points for interacting with the community;
GIPHY Integration allows members to use gifs in their comments or chats with other members;
Markdown allows members to format texts in status updates, posts and chats in a variety of ways.
Monetization Add-Ons
These add-ons allow the website administrator to earn from their website through advertisements and paid membership. They include:
WP Adverts allows for paid advertisements to be shown on the website (which can be used by all users);
Advanced Ads allows for specific ads to be shown to specific community members according to their profiles;
PaidMembershipsPro gives users a list of membership offers that they can avail in order to make their networking experience increasingly smooth and interesting.
Price
PeepSo is offered in three different bundles:
PeepSo Ultimate Bundle costs $399 and caters to a single site;
PeepSo Ultimate Bundle for 3 sites costs $799;
PeepSo Ultimate Bundle for 5 sites costs $1199.
All three bundles provide access to all of the plugins mentioned above and all future plugins, require a single purchase, provide a yearly renewable subscription and a single license key.
The add-ons can be purchased separately for those who do not want to avail the bundles and their prices are as follows:
All of the Core add-ons cost a total of $161 (each costs $19);
Each Extras add-on costs $19 ($20 can be saved on a single purchase of all Extras add-ons);
The Integrations add-ons have a combined cost of $87;
Each Monetization add-on costs $99, but $40 can be saved upon purchasing the set.
Final Verdict
PeepSo is a fairly easy way for anyone to create their own social network and it is a brilliant concept for anyone looking to create a community. PeepSo has made it simple for even the amateurs of WordPress by creating. For those looking to create an interesting networking experience, try using the PeepSo plugin and one of these BuddyPress themes for the website.