Ever wished that you could display different content on your WordPress site depending on where your visitors are coming from?
This comes in insanely handy if you're promoting affiliate offers, running an eCommerce store, or doing anything else with a global audience.
Or maybe you just want to redirect users based on their location (helpful for multilingual sites) or straight up block some traffic from specific areas (helpful if your site doesn't serve certain areas).
Also Read: Top WordPress Geolocation plugins to geolocate your content
No matter what you want to do with geotargeting, Geotargeting WP probably has something for you. In this Geotargeting WP review, we'll go through the four different plugins that Geotargeting WP offers, discuss how they work, and share some specific ways they can benefit your site.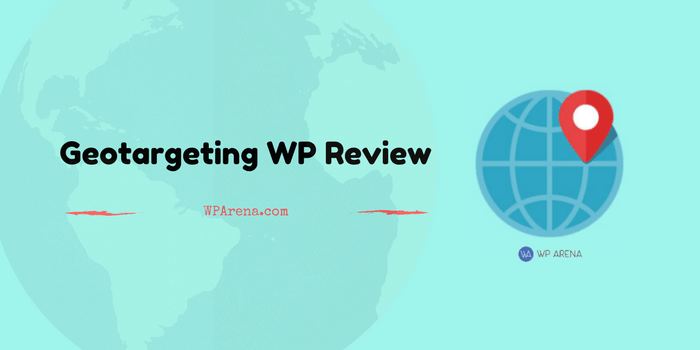 Geotargeting Pro: Display Different Content Based On A WordPress User's Location
Geotargeting Pro is the most feature-rich plugin in the foursome. While it can be applied to pretty much any type of site, you're especially going to like Geotargeting Pro if you're an affiliate marketer or eCommerce store owner.
Geotargeting Pro lets you display different content based on where a user is located. In total, the types of content you can change are:
Partial content via the included shortcodes (and shortcode builder)
Full posts, pages, or custom post types – including WooCommerce products
Menu items
Sidebar widgets
And if you need even more flexibility, Geotargeting Pro includes PHP functions that you can place anywhere in your site's code for pinpoint control.
To restrict an entire piece of content, you can use the new GeoTargeting Options meta box when editing any WordPress post, page, or custom post type (including WooCommerce products).
Notice how you can either exclude or include the targeted regions:
You can even remove the post from your blog list for people in the targeted area(s)
One popular use of this feature is to hide specific eCommerce products that aren't available in certain countries.
If you need even more control, you can also use the shortcode builder to target only part of your post.
For example, you could display different ads or CTAs depending on where a visitor is located: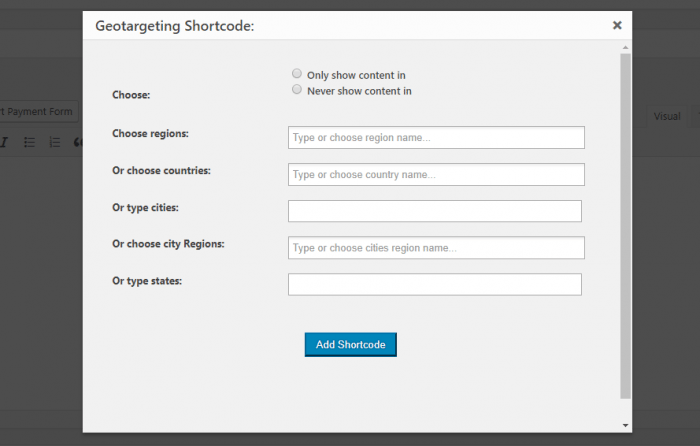 Similarly, you can also use simple controls on widgets and menu items to change their display based on a user's location: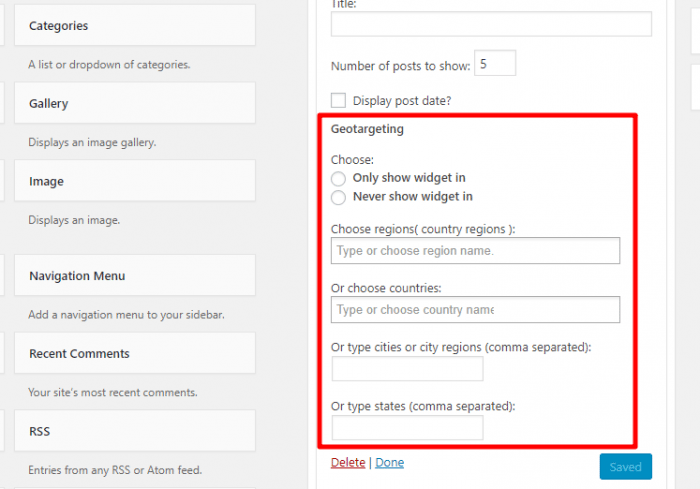 Finally, to save you time, Geotargeting Pro can help you set up predetermined Regions. Regions allow you to group different countries or cities into one category so that you can quickly target or exclude them all at once: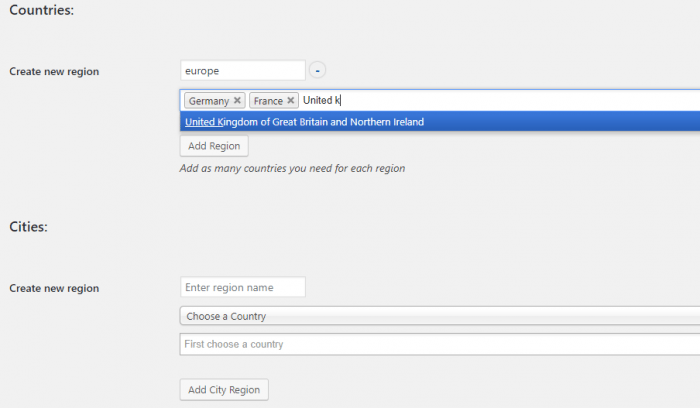 Geo Redirects: Redirect Users Based On Their Location
Rather than helping you display different content, Geo Redirects helps you redirect users to different pages based on their location.
Helpful uses for this include:
Sending visitors to a targeted landing page that's optimized for their location
Seamlessly redirecting users to the proper translation for their location (helpful for multilingual websites).
The plugin is pretty simple to use.
All you do is choose the rules that trigger a redirect using AND/OR conditions. Then:
Enter the destination URL. For multilingual sites, rather than setting up multiple redirects, you can use dynamic placeholders to automatically redirect users to the language that applies to them.
Choose whether to only redirect the user once or every time.
Enter specific IPs to whitelist, if desired.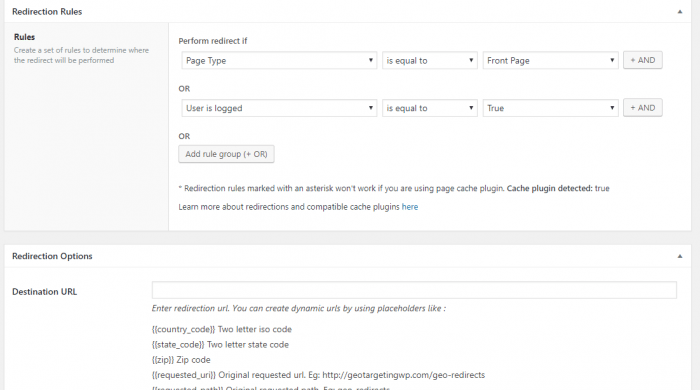 Geo Blocker: Block Users From WordPress Based On Location
Geo Blocker operates on a similar principle to Geo Redirects. Only, instead of redirecting users who meet the conditions that you set, you can block them from your site and, optionally, display a message telling them why.
You use the same AND/OR rules to set up your conditions. Then, you can configure some additional options like a message or an IP whitelist: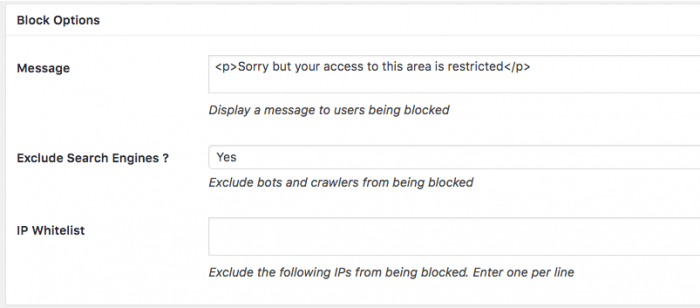 Geo Flags: Display Users Country Flag
Geo Flags is a bit less practical, but it's a neat plugin that allows you to display a visitor's country flag using a simple shortcode.
It probably won't triple your revenue! But it's a fun way to add some personalization to your site, and it might come in handy for some more practical niche situations.
How To Get Started With Geotargeting WP
Geotargeting WP gives you three different ways to geotarget your WordPress site. You can:
Display a variety of different content items depending on where a visitor is browsing from
Redirect users based on their location
Block users based on their location
Rather than charging you for the plugin, Geotargeting WP makes all its plugins available for free and only charges you for making requests to the geolocation database.
Each time a visitor comes to your site and you need to determine their location, that's one request. But don't worry – you're not going to pay based on pageviews – Geotargeting WP can cache the location of your visitors so that you're only charged once for the entire visit.
That means you only pay for unique visits and only on pages where you're actively using geotargeting.
Credits start at as little as $0.0008 depending on how many you purchase. That means $250 gets you 312,500 geotargeted unique visitors, which should last a while! You can also purchase smaller packs starting at just $5 for 1,000 credits.
To get started, go to the Geotargeting WP website and sign up.