Are you looking for a user management plugin for your WordPress site? Do you want to enhance your existing community on the WordPress site? If yes, then you have landed on the right page. Today we will review and look at different features of most renowned WordPress Plugin – UserPro developed by DeluxeThemes.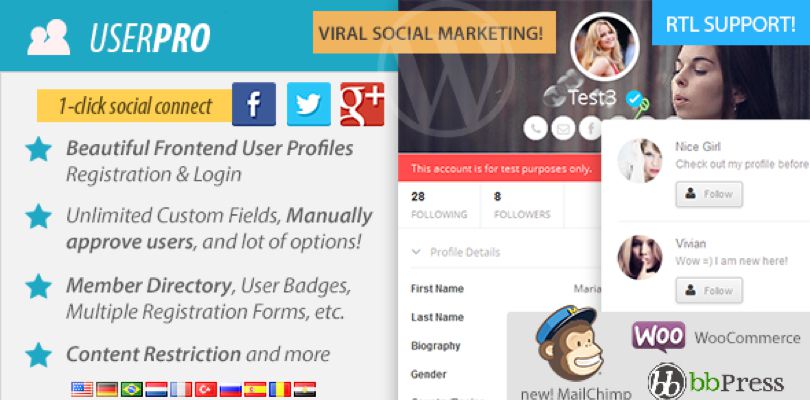 UserPro, as per its name enhances user profiles professionally. It takes WordPress management roles to the next level. But, as we are going to critically examine its features, solid framework and future-proof security, we will dive into the functionality of this awesome plugin.
Uses of UserPro
UserPro Plugin can be useful for any WordPress site. However, we will further break it to narrow down the choices. Here we go.
It can be used to build great Membership sites.
It can be used as a powerful WordPress Community Plugin.
For Managing Multi-Author Websites.
For Social Media Login Type sites.
For Forum Websites.
Prizes, Awards, Badges, Directory sites.
Online Tutorial Sites.
For any kind of sites involving different users.
Feature Availability
UserPro is one of the most feature-rich software ever created for managing user roles on WordPress. The plugin is bundled with tons of shortcodes for creating pages and is packed with awesome features including
– FrontEnd User Profiles
UserPro changed the boring looks of front end user profiles. From a simple author page, you can change it to fully customizable detailed user page with a lot of information. The shortcode to display user profiles is
[userpro template=view user=admin max_width=100%]
You can see the image below how it looks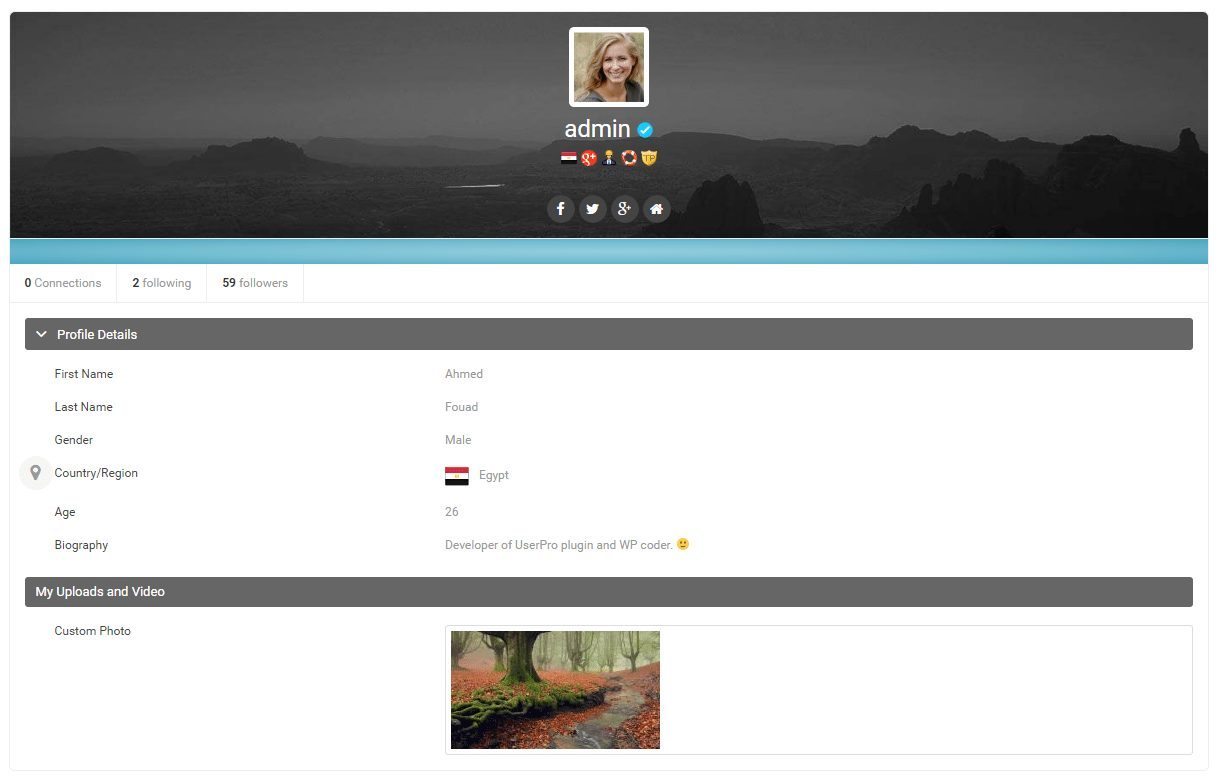 – Members Directory
One of the most awesome features of the UserPro plugin is listing users profiles in a Directory format. The directory format comes in different styles and can be enhanced via Enhanced Member Directory feature. Here are the shortcodes for displaying members directory.
Simple Members Directory
One can display a simple list of members on a specific page in different formats using UserPro.
[userpro template=memberlist memberlist_table=1]
Enhanced Members Directory
[userpro template=emd]
– Login and Registration Forms
Most of you don't like to send your users to wp-admin for login. The beauty of this superb plugin is to have frontend login and registration forms. You can have multiple number of forms for login and registration.
The Login shortcode is below with the image how it looks like.
[userpro template=login]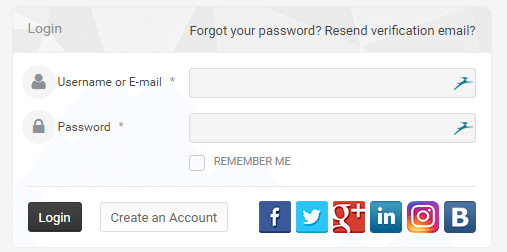 The Registration Shortcode is below with the image.
[userpro template=register]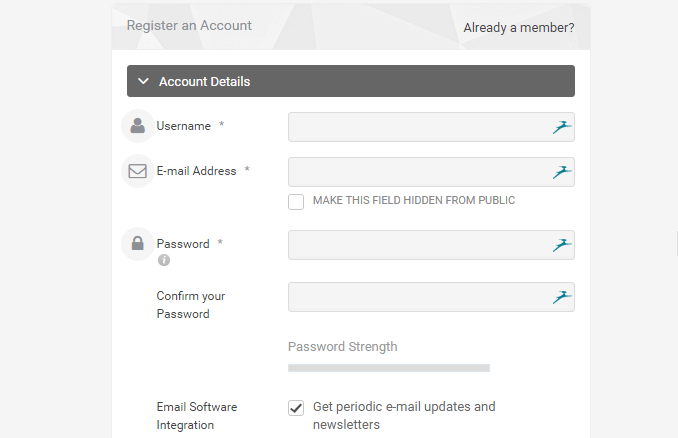 – Content Restriction
The most powerful feature of any membership plugin is to restrict content based on user role, login status etc. This plugin does the same. You can restrict any kind of pages, premium content or instruction pages to specific user roles.

Here are the shortcodes used for restricting content based on user roles and others criteria.
Restrict Content to Members
[userpro_private]Content to hide from guests[/userpro_private]
Restrict Content to Verified accounts only
[userpro_private restrict_to_verified=1]Content to restrict to verified accounts only...[/userpro_private]
Restrict Content to Specific Roles only
[userpro_private restrict_to_roles=subscriber]Content to restrict to users who have subscriber role only...[/userpro_private]
-FrontEnd Publishing
Do you want to allow your users to submit posts from the frontend? UserPro can easily do the job. By using a simple shortcode in the content area of the page, you can insert a Front End Publishing Form. Here, how it looks alike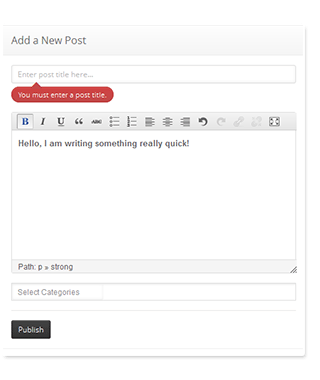 – Badges and Achievements
To create a competitive environment and a healthy community, you should award your users different badges on specific achievements. This will distinct the hardworking users from normal users. Further, Achievements can be displayed on user profiles too.
– Follow/Unfollow Feature
Haven't you seen the awesome feature of facebook, twitter of following users? Yes, this can also be made possible in WordPress now. One can easily follow or unfollow your site users to receive their updates.
– Social Activity Stream
Want to know what's going on your site? The social activity stream displays all the important updates to your users on a single page called Social Activity Steam. It will display all recent activity from all users.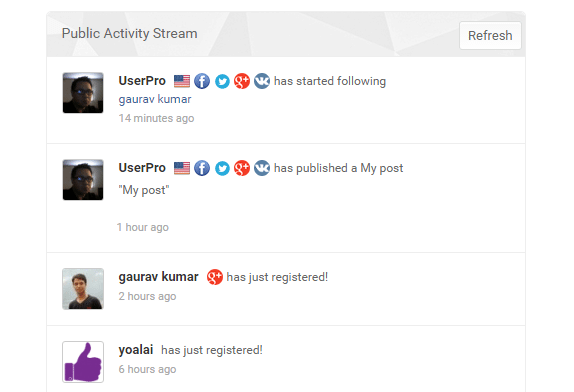 Integration
UserPro works with any WordPress Theme. It further extends its integration with different World renowned plugins like BuddyPress, Woocommerce, SVG Avatars, MyCred and Newsletters Integration with Aweber, Feedblitz, MyMail, MailChimp, Campaign Monitor and more.
Addons
UserPro is developer friendly, and almost over dozens of add-ons have been introduced in the market for it. Some of its awesome add-ons are:
Support
An awesome supports team backs the Plugin. UserPro has been on the market for many years with a credible track record and integrity. Some industry best gurus back the Plugin. The support team is friendly and almost always comes up a solution for their clients.
Pricing
All of the awesome features of this powerful plugin is priced at $29. The real worth of all these features is too much, but the company put a cap on its price to make it affordable for small businesses too.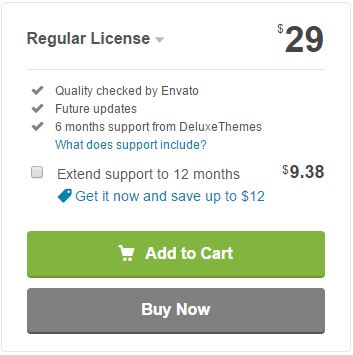 Final Verdict
As WPArena staff purchased this plugin around a year ago and after testing it thoroughly, we are much satisfied to recommend this plugin to our users. We are using it on another WordPress site satisfactorily. This Plugin will surely turn your user's simple profiles into beautifully styled profiles. Further, you can take benefits from many of its features. If you are currently using this plugin, leave your recommendations in the comments section below.