Marketers believe that email is one of the best channels to promote businesses, and that's true. Approximate emails sent per day so far in 2017 is around 269 billion. People prefer to receive not only personal messages but also promotional content via email. The WordPress platform offers an extensive list of plugins for email marketing. In this article, we will introduce you to a simple but useful plugin for launching email campaigns: WordPress Email Marketing plugin.
With the SendPulse plugin in WordPress, you can bring visitors back to your website, increase sales, and develop a trusted relationship with your audience. It helps to increase web traffic to your website and maximize conversion rates. After plugin setup you can:
Place the subscription form on your website
A sign-up form on your website provides your visitors with a quick and easy way to join your email list. By growing your email list, you can increase the click-through rates of your email campaigns. It means that you will get more engagement and sales.
Import email addresses from your WordPress website to SendPulse
Each new subscriber will be added to your mailing list, and you can launch marketing email campaigns to subscribers.
Let's dive in and find out how to use the SendPulse plugin in WordPress.
First, you need to install the plugin.
SendPulse Plugin installation
Step 1: Find SendPulse in the WordPress section "Plugins"
Log in to the WordPress admin panel, go to the tab "Plugins," and find the SendPulse plugin. Type 'SendPulse Email Marketing Newsletter' into the search field and install the plugin.
Step 2: Navigate to your SendPulse account
If you do not have a SendPulse account, you should first register at sendpulse.com.
In the drop-down menu of the "Settings" panel in SendPulse, choose "Account settings."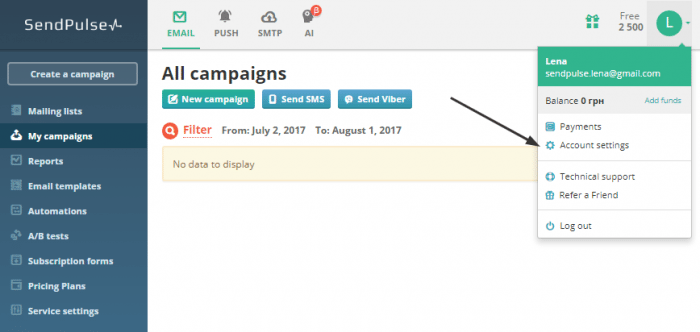 Select the API tab in "Account settings." Activate REST API and click "Save." The API ID and Secret will be created.
Step 3: Setup the plugin
Copy your "Client ID" and "Client Secret" into the tab "API Settings" in WordPress. You should also specify the mailing list where new subscribers will be collected from the subscription forms of your website. Choose a mailing list in the field "Default Address Book."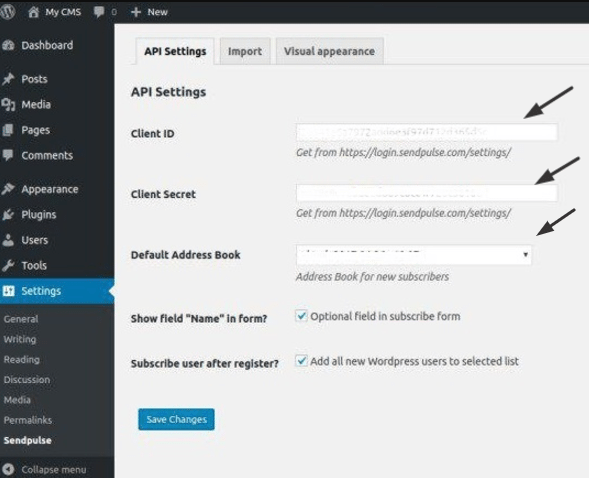 How can you add a subscription form to your site?
The subscription form on your website will be displayed similar to the example below.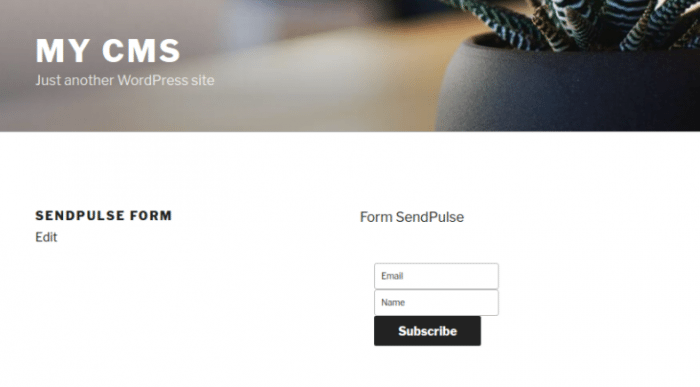 You just have to add the subscription form to your website using the [sendpulse-form] tag.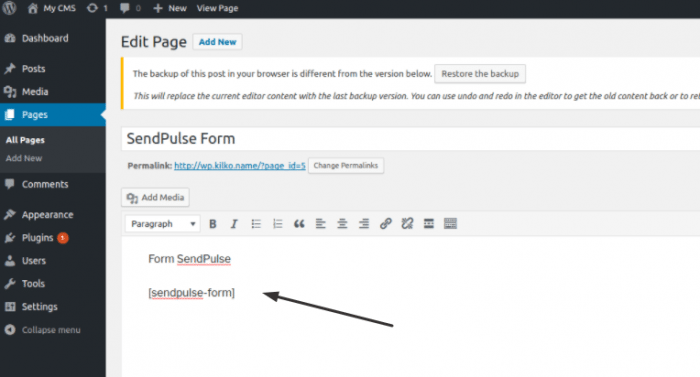 Customize the overall look of the sign-up form
The SendPulse plugin allows you to customize the overall style of a sign-up form. You may change the color, font, and text size.
In order to design your subscription form, go to the menu item "Settings" and choose the tab "Visual appearance." Add your own CSS styles in the field "Custom CSS." Don't forget to save your changes by clicking the button "Save Changes."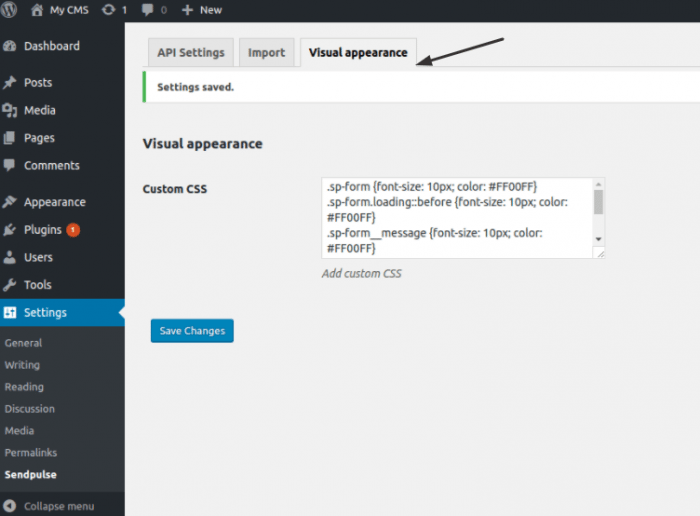 Import emails from WordPress to mailing lists in SendPulse
You can import your website subscribers' email database to SendPulse to launch email campaigns. Select "SendPulse" in the menu "Settings" and open the tab "Import." Set the mailing list in SendPulse. Email addresses from WordPress will be uploaded to this mailing list.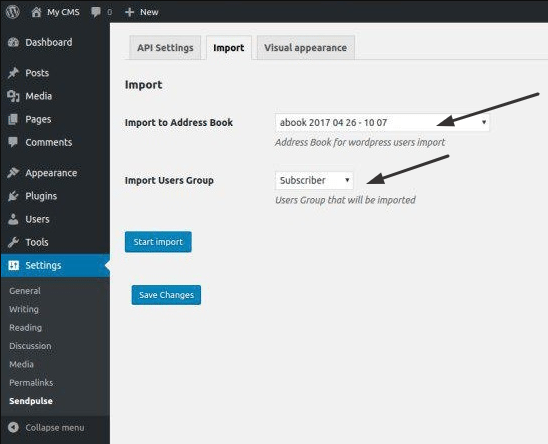 Now you can send trigger and transactional email campaigns from SendPulse
The platform focuses on maximizing email open rates and providing many other features for your email marketing campaigns:
Convenient drag and drop email editor
Email editor is an excellent tool for designing your email templates. You can create your templates in under 10 minutes by using the drag and drop editor, clicking on blocks and dragging them to the required place. Moreover, the platform provides you with more than 100 ready-made email templates in the gallery. Here you will find a template to suit any industry: restaurant, education, healthcare, e-commerce, travel, and many others. All email templates are responsive.
Personalization and segmentation
With the personalization function, you can insert any personal information of your subscribers, such as their name, job position, date of birth, location, and so on. With the segmentation function, you can divide your email list by any criteria, such as gender, city, and interests, and send special offers to each group. Both functions make your emails more relevant to subscribers.
A/B testing
A/B tests can increase open rates and click-through rates by changing any part of the email and viewing the results.
Sending automated email campaigns
Automated email campaigns are an essential part of email marketing. You can send a welcome series of emails, a sales series of emails, reactivation email campaigns, and so on.
Email scheduler
The email scheduler is used to set the particular date and time of sending emails. With this feature, you can plan email campaigns in advance.
Statistics
This report shows you the results of every email you send: open rate, click-through rate, error statistics, statistical data by device, and geographic stats. You can also use integration with Google Analytics for more data.
Mobile app
Send your business emails from a smartphone or tablet. SendPulse is available through mobile apps for iOS and Android.
Sending SMS and web push notification. One can try Jook SMS.
SendPulse has one more plugin for WordPress: SendPulse Free Web Push
In the WordPress plugin directory, you can also find another one plugin: SendPulse Free Web Push. By installing this plugin, you add web push functionality to your site. Every visitor of your website can subscribe to your web push notifications. The notifications are short instant messages that inform about sales, news, order statuses, and other important events. All notifications you send from your site via this plugin are free. The example is below: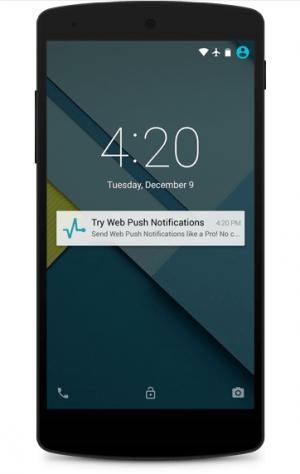 We hope our in-depth review will help you start successful email marketing campaigns. Get the plugin and test it on your website!