For WordPress themes in general and Restaurant WordPress themes in particular, there're always 2 kinds of themes: free themes and premium themes. Fee theme, as its most simple definition, a theme doesn't cost money. On the other hand, premium WordPress theme require fee. You know that there're huge types of free WordPress themes as well as free restaurant cafe themes available out there and as a result, it takes a tons of time to go around, and find out a suitable theme for your purpose. But all things do not stop there. You may be confusing with features a free theme brings. And among many free themes WordPress, sometimes you may be wonder why you should pay for a premium WP theme.
Obviously, free WordPress themes are good for the beginners but they have their own limitations and disadvantages. Although some free WordPress themes are built by talented developers, there are some benefits to use a paid WordPress theme. In this post, I will not compare paid WordPress themes and free ones. I'll go straight to list the advantages of a particular premium WordPress theme field. That's premium restaurant WordPress themes.
1. Design and look of a paid restaurant WordPress template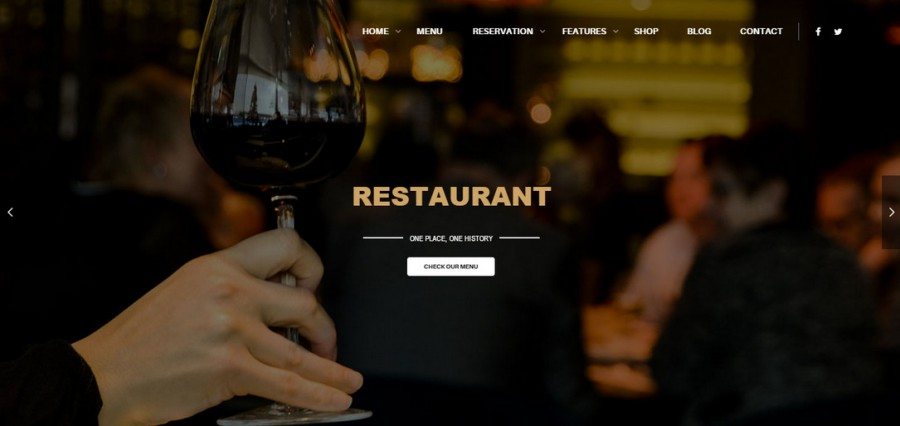 If you're going to build a restaurant, cafe or food website, the first thing you concern is that your shop must be elegant, eye – catching and look professional. A different characteristic of restaurant WordPress themes compared to other types of WordPress theme is color. With the main colors are dark colors, the design of a restaurant WordPress template requires the designers' creation and time. These restaurant WordPress themes are often designed by professional web designers with specific aim is selling on market for the people who are willing to pay more for a better product. I know there are also may free themes with good design but premium restaurant WordPress themes have more flavor and no one want to use all time and effort to make a product which they receives no compensation.
2. Premium restaurant WordPress themes – premium customer support
Not only premium restaurant cafe themes but also other fields, customer support service is the most important part. Actually, it's a line separates premium themes and free ones. Paid WordPress Restaurant theme always come with experienced support team. The supporting is provided via email or in a website forum. You want food or drinks of your restaurant more attractive? You want to create your own menu display? Or even you want to set up your restaurant site as your desire. But you are lacking of knowledge about coding or scared of making changes, the support team is always there to help you.  They're willing to give you a free custom to meet your requirements. With premium restaurant WordPress themes, your coffee shop or restaurant will have an unique design. Menu, product images will be displayed perfectly. You always have available answers instead of Google. The same can not be provided from any free themes.
3. Premium features and customization
One of the worthy advantages of premium restaurant WordPress theme is top-notch features and and an intelligent customization panel. The premium features and plugins are included which you have to pay if using free themes. These features will ensure your restaurant is different from other ones as well as bring the high quality. The premium plugins included in these premium WordPress themes Restaurant turn your website to a professional online store with creative menu, online tables booking or order foods, drinks.
Customization is easy and effective.  The premium premium restaurant WordPress theme are built by experienced developers. They have a good level of coding to write a well-coded WordPress theme. So you can manage your restaurant or cafe shop by options without touching any code. Premium WordPress restaurant themes come with intuitive user interfaces, allows you change menu, layout or colors in design and formatting your store by some clickings.
4. Unlimited update
The premium restaurant WordPress themes always come with the regular updates. The providers usually improve the plugins as well as add more features to catch up with modern restaurant website trending such as more menu styles, homepages, header, footer. All bugs and errors are also resolved in the latest version. One more important advantage is updating to match with the latest version of WordPress. This not only will make your site compatible with all plugins but also avoid website broken or even losing data.
Free or Premium restaurant WordPress themes?
No matter what theme will you choose. You can search, read reviews and select one. But there're some reasons that you should consider to pick a premium theme. If you intend to build a restaurant cafe website, here is some suggestions for a premium Premium Restaurant WordPress theme. I think these paid restaurant WordPress templates are clear proofs for my opinions above and let me know your opinions why you prefer the premium Restaurant WordPress Theme.