Rapid e-commerce growth continues pushing out brick-and-mortar stores. 2017 is claimed to be the worst season for physical shops. The sales are being shifted to the Internet while the old-fashioned retailers are closing their doors.
According to the latest global retail e-commerce sales statistics, in 2016 the e-commerce sales reached 1.86 trillion US dollars when e-retail revenues are forecasted to come up to 4.48 trillion US dollars in 2021: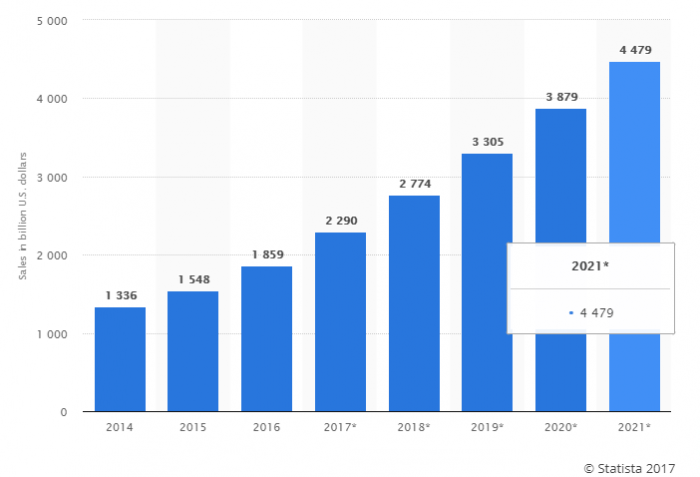 Online shopping is reputed as one of the most crowd-pleasing activities worldwide. Being termed as the revolution of self-service e-shopping attracts with its simplicity and convenience. If previously we used to say I had a wander around the shops, today we'd rather say I lay down shopping, as nobody prevents you from putting your feet up on a sofa while choosing a new dress or trousers. Having eliminated the gap between shop and home, retailers adjudged the brick-and-mortar stores to 'beggary'.
However, if you are an e-commerce newcomer, you should beware of such business sharks as eBay and Amazon, which have already taken over many targeted companies. And one of the main things for you to think about is the platforms for an online store.
Must Read: WooCommerce vs Shopify vs Magento
WordPress vs. Magento: Make the right decision
If you have done with WordPress, Magento may seem a little confusing and time-eating platform. However, the platforms have much in common, so, let's slice and dice the things.
What way are they alike?
The platforms…
have a similar architecture;
are customizable;
are SEO-friendly;
can be broadened with multiple themes;
have an online support community.
These are open-source platforms that are great for content management systems. This means you can add, edit, customize, manage your content in a simple yet effective way.
However, the two platforms have differed in their initial goals, namely, Magento is an e-commerce oriented platform, whereas WordPress is more content-oriented. So, let's consider them separately.
What can you run WordPress for?
Being initially created as a blogging platform today it can be easily tooled for any of your content management needs. The only thing limiting the possibilities now is your imagination, as everything else can be achieved with the implementation of multiple free/ paid plugins, widgets, and themes.
About 17% of total websites are run on WordPress. However, basic e-commerce functionality can be attained through third-party plugins. Being managed by volunteers it's constantly updated to perform better functionality and security. Besides, the majority of hosting providers offer a one-click WordPress installation with third-party script installers. So, if you want to scrape a robust e-commerce platform, you will have to implement multiple add-ons.
So here it is, WordPress is a flexible platform, which can suit multiple online needs. However, either for blogging or e-commerce, you'll need to install additional extensions to boost its functionality and make it customized.
Why not for e-commerce?
Even so, WordPress is a vulnerable system and is being constantly attacked by hackers. Therefore, having decided to use it in aid of e-commerce, you need to think over the implementation of protective measures;
Processing huge data is a real challenge for the system. When processing a large number of orders, the number of concurrent scripts growth rapidly and the execution can overload many web servers;
Installed plugins, themes, widgets can be incompatible with WordPress upgrades. Therefore, themes and plugins should be upgraded all the time too. The problem is that it depends on a company you've bought the add-ons from.
What can you run Magento for?
As well as WP, Magento is an open-source platform. This is a dedicated e-commerce platform being run by different merchants all over the globe from small businesses to international corporations.
The platform has been developed for e-commerce and is supplied with basic functionality tooled for the online shopping business. It's highly customizable and can be set up for your retail demands. Multi-store management, reports framing, mobile commerce, marketing, SEO – all the showings can be improved using third-party free/ paid extensions.
Being an e-commerce platform Magento is a suitable ground for the generation of complex content pages and menus. It's provided with two editions:\ a free for a community (CE) and a paid one for enterprises (EE).
Why not for blogging?
The visual redactor has too little in common with the WordPress one. Therefore, the unprepared admin user can find it challenging to post even a simple article;
The rector for content is lack of many useful tools that are provided in the basic functionality of WordPress;
The page slicing is much harder than in WordPress.
Integrating the platforms
Magento and WordPress integration is considered one of the best practices for your e-commerce website. Blogging, SEO and CMS platforms together with the giant of e-commerce can make your website competitive even in today's tough market conditions.
So, here are some benefits to the business 'marriage':
You will have a possibility to integrate WordPress site and Magento store themes;
Having applied a WordPress blog, you will Increase SEO of e-commerce products;
Static blocks, navigation menus, cart data of both of the platforms are sharable;
Implement a blog-to-cart feature to transfer customers directly to product pages from your blog;
One login options to better UEX and customer loyalty.
Note: We had written detailed posts about the integration of Magento to WordPress and WordPress to Magento as well.
The bottom line
If you run a rapidly growing and developing business and have designs upon becoming a multinational merchant, you should think over running Magento, which is one of the most in-demand and notorious platforms.
However, content marketing and blogging are great at SEO, which implements the creation of a quality and outstanding blog page for your website. here comes WordPress, which is famous for its simplicity-in-use and SEO-friendliness.
So, both the platforms are open-source and highly customizable. Being supplied with the multitude of plugins, extensions, themes, widgets, and other add-ons they can be transformed into any e-commerce needs. The only recourse you have is to integrate the platforms and tool them for your unique needs.