Microblogging is a wonderful and interesting way to keep in touch with your family, friends, and coworkers. Tumblr is the easiest way to blog and they say about Tumblr:
Tumblr lets you effortlessly share anything. Post text, photos, quotes, links, music, and videos, from your browser, phone, desktop, email, or wherever you happen to be. You can customize everything, from colors, to your theme's HTML.
Keeping yourself and your company in the forefront of your prospects' minds—by giving them valuable information and updates—Microblogging will convert prospects into customers. Try it. Set up a free account, follow some like-minded Tumblrs; invite other Tumblrs to follow you. Monitor what they say. After a short while, you will begin to see the most effective content you can deliver to your followers.
These benefits can be gainable by  WordPress 3.1, with its new feature like Post Formats. The core functionality of post formats of WordPress gave the ability to WordPress developers to create Tumblr style WordPress themes and they can enhance the Microblogging experience in a better way.
Today, I will showcase some of the best Tumblr style WordPress themes available right now in the market. Follow WordPress arena on Tumblr.
---
Themeforest is one of the largest WordPress themes providers. They have the largest collection of  WordPress themes along with their Social Media Plugin like Sociology for WordPress and SocialPop.
Fast Blog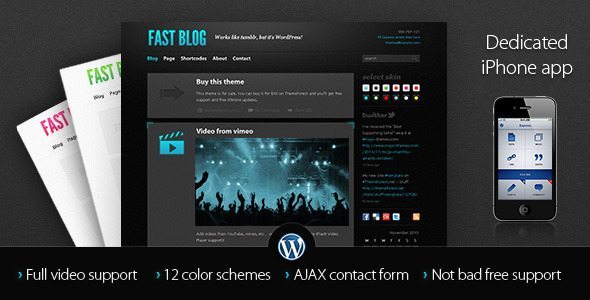 Fast Blog is a WordPress theme with some extra Tumblr-like features. It's perfect for easy blogging and included the  WooTumblog plugin of  WooThemes you can add posts quickly even from a mobile phone. There are 6 types of posts:
article
image
link
audio
video
quote
or you can create regular WordPress posts and pages too. Fast Blog can also work as a regular website.
There is also no need to install WooTumblog plugin, the theme works without it with no problem at all.
WP Notebook WordPress Theme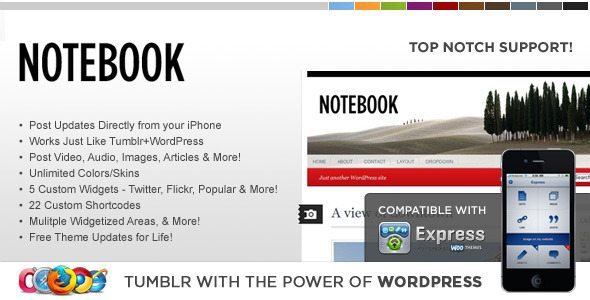 Tumblr-like functionality with the power of WordPress!. WP Notebook acts like a conventional WordPress blog and a Tumblr-like website – all the while having the benefit of having complete ownership and control over your site content.
Publish to your WordPress Tumblog from your iPhone. Express is an iPhone app built to quickly and effortlessly publish images/links/notes and short posts, on the go, to your WooThemes powered WordPress website. Available in the App Store
MultimediaWP – WordPress Tumblog theme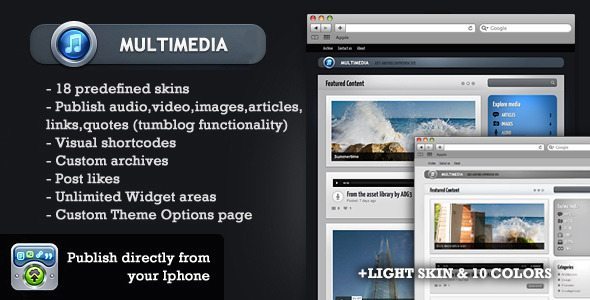 Tumblr is an impressive & very popular platform and now you can replicate that functionality & awesomeness on your WordPress-powered site with this theme. Using the WooThemes – WooTumblog plugin you can quickly create content using the dashboard widget and the Express iPhone app. The theme is ideal if your site needs to display different types of multimedia content such as audios, videos, images etc.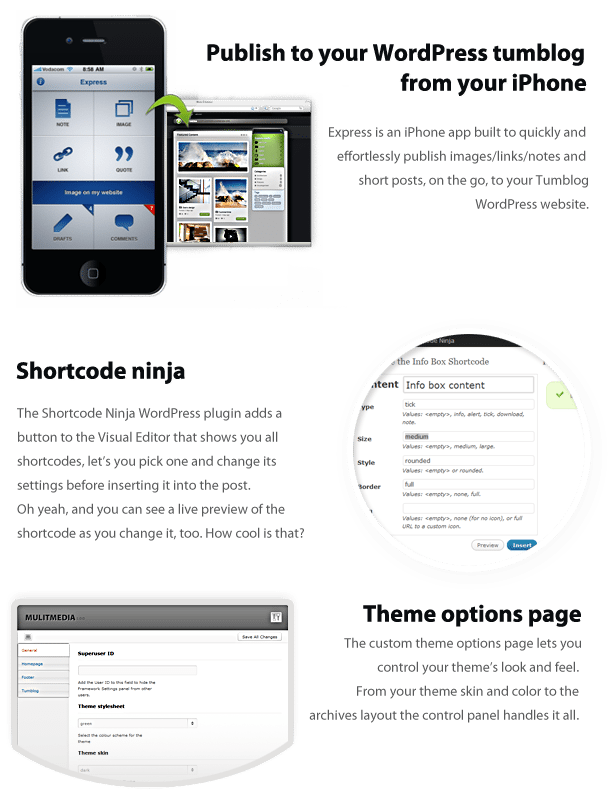 CoPilot WordPress and Tumblog Theme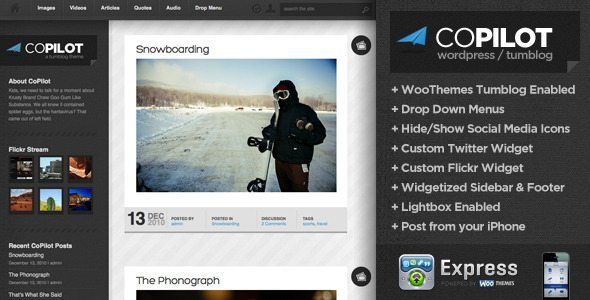 CoPilot is a WordPress theme which takes advantage of the WooThemes Tumblog plugin (Express App). Publish quick posts from WordPress's dashboard or your iPhone using the Express App. You can also just use the theme as a regular WordPress theme!
My Journey WP – Personal Blog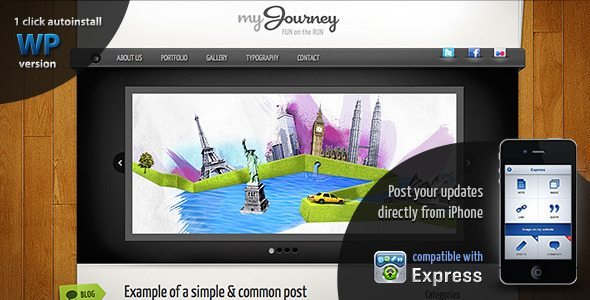 MyJourney wp theme comes with popular 1 click auto install feature that installs demo content into the theme helping you understand how your new original theme works. This theme is created by Themefuse and can be used as a  personal blog or portfolio, but Also you can even have fun on the run by posting videos, photos, links and more.
Tumblr Style Themes from WooThemes
---
Cinch
Cinch is a classy & feature-rich tumblog theme built for WordPress. Incorporating awesome advanced QuickPress functionality (exclusive to WooThemes) and an amazing design (with added jQuery awesomeness), Cinch is most definitely the tumblog theme that you want to use!
Crisp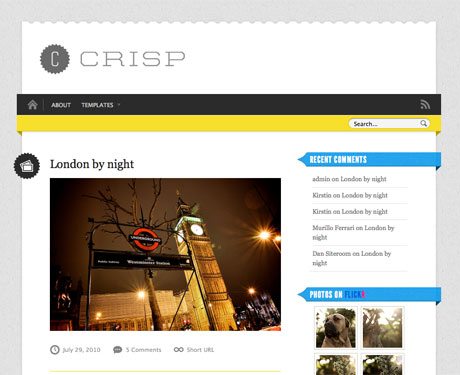 Crisp is designed by Tyler Galpin, and boasting all-new Tumblog functionality with a quick publishing form on the dashboard Crisp is perfect for lazy bloggers who want a professional, slick looking site with Tumblr-like ease-of-use.
Elefolio

Elefolio combines easy Tumblog publishing and a Portfolio to showcase your work and posts. The portfolio uses custom post types and can also stream from your Dribbble account. It will impress any visitor with its simple yet detailed look.
Auld
Designed by James McDonald, and boasting Tumblog functionality with a quick publishing form on the dashboard, Auld is perfect for lazy bloggers who want a colorful, vibrant looking site with Tumblr-like ease-of-use.
Slanted
Slanted is a tumblog theme with an extremely unique – and should we say "slanted" – design. Using some progressive CSS3 attributes and jQuery wizardry, this tumblog theme (built for WordPress) is perfect for the more experimental tumbloggers.
Retreat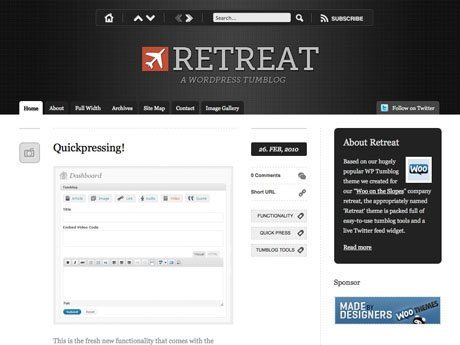 Based on successful 'Woo on the Slopes' tumblog theme that used to live blog and retreat to the Austrian Alps, the aptly named 'Retreat' theme is packed full of easy to use quick press publishing tools, unique to WooThemes. It also comes with an AJAX-based Twitter widget that updates every few minutes and can track keywords mentioned on Twitter.
Tumblr Style Themes from Elegant Themes
---
LightBright WordPress Theme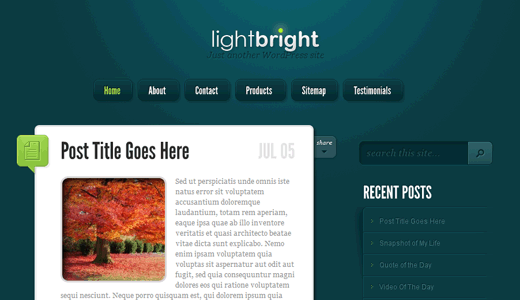 LightBright makes it easy to share your daily life through its Tumblr-style post types. Using the custom post types/taxonomies added in WordPress 3.0, the theme adds special integration options for photos, video, audio, quotes, notes and links. If you love the format of Tumblr but don't want to give up the versatility of WordPress, this is the theme for you.
DailyNotes WordPress Theme

DailyNotes was to make the simplest and most elegant medium possible through which you could share your daily life. The theme is very minimal in its design and has been trimmed down to the bare essentials. For anyone looking to create a fun and inviting personal blog, I hope that DailyNotes will serve you well!
Tumblr Style Themes from Themify
---
Themify have WordPress experts who build awesome WordPress Themes. They have released two very well designed Tumblr style WordPress themes since the launch of WordPress 3.1. Their themes are packed with a feature-rich framework and number of useful custom widgets. No coding or technical skills are required to use them. Using their framework, you can customize everything from the functionality to the look & feel of your site.
Wumblr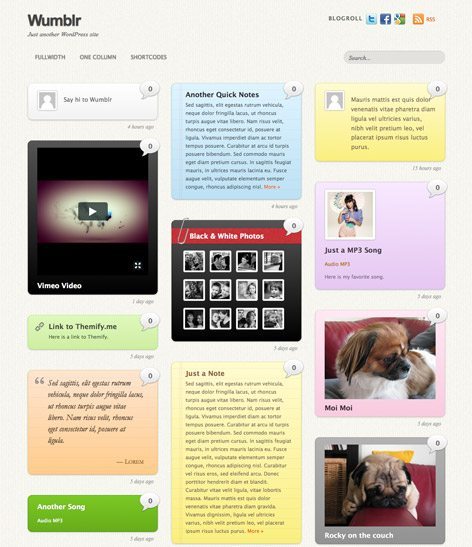 Make your WordPress installation look and feel like a Tumblr blog. 9 different post formats including 15 different color preset that help customizes the look of each post. Along with 3 different column layouts for your pages, this is definitely one of our best themes yet!
Minblr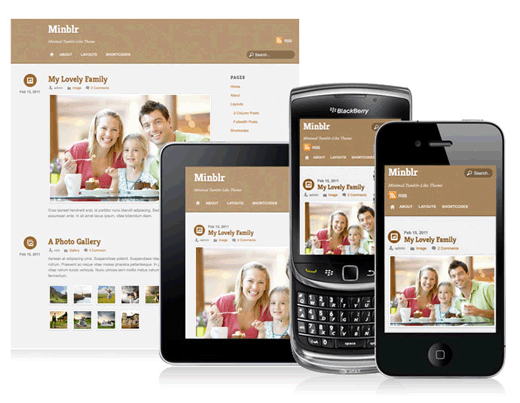 Minblr is a minimal Tumblr-like theme for WordPress. The layout design is liquid and responsive. This means the layout flows nicely across any display resolution. Minblr is promised to deliver your content nicely in all major browsers (Chrome, Firefox, Safari, Internet Explorer, etc.) and most modern mobile devices. It has 3 layout options (default with sidebar, 2-column layout, and full width with no sidebar). On top of all great features, there are 10 colorful skins. Minblr utilizes the brand new post formats if you're running WordPress 3.1 or greater, but They have made sure to add a fallback for older installs.
Tumblr Style Themes from StudioPress
---
Tapestry Child Theme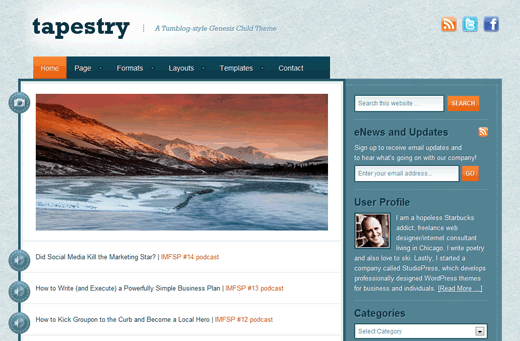 Tapestry is a child theme from StudioPress for the Genesis Framework. It is the first Tumblr style theme by StudioPress with more to come. Tapestry takes everything you make online and makes perfect, beautiful sense of it.
Tumblr Style Themes from UpThemes
---
Conversate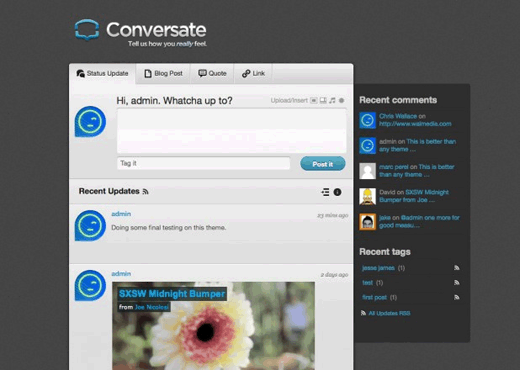 Conversate is a twitter-style microblogging WordPress theme with 5 color schemes based on the popular P2 theme by Automattic.