Microblogging is a form of blogging. A microblog differs from a traditional blog in that its content is typically much smaller, in both actual size and aggregate file size.
WordPress can also be used as a microblogging platform. Generally in Microblogging 140 characters used for posting content to the web, although there is no strict rule on this. Twitter is a real-time information network powered by people all around the world that lets you share and discover what's happening now. Twitter made microblogging popular and a number of other similar platforms, such as Identi.ca and Yammer, have emerged as alternatives. If you would like to setup your own Twitter-like blog, then there are few excellent theme for that. P2 is the best choice.
WordPress Theme for Twitter-style Blog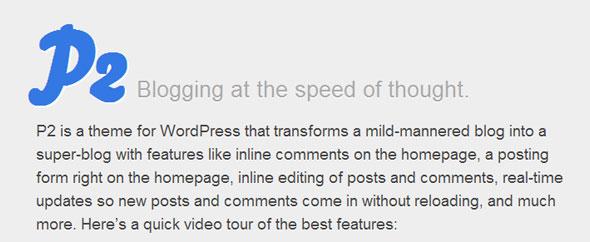 P2 is a theme that enables user posts to be entered directly from the front page of the site. It does require WordPress user registration so you can choose to register users manually. The beauty of the P2 theme is that it doesn't create any new functionality. Every feature is an integrated part of WordPress.
The P2 theme bears a resemblance to other microblogging services like Twitter and provides posting, tagging, and other post-writing functionality in the front page.
2. Twitter Style WordPress Theme:TweetPress
TweetPress 2 Beta is the next revision of TweetPress. Two key features have been included in this version; the ability to post directly to your Twitter account when logged in, and the index page shows your latest Twitter status
3. FreshTweet Theme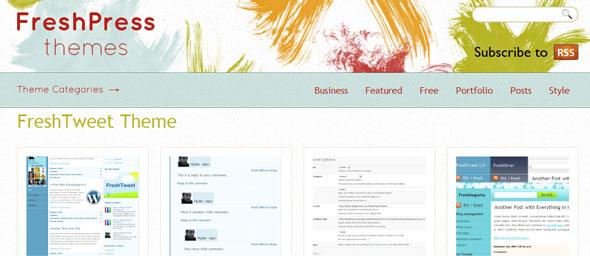 4. Twitter Journalist WordPress Theme