Google has some basic instructions for step by step guide to display your picture along Google search results, If your answer is to use a WordPress theme, then do not miss this article. The point is this article is a comprehensive list of free WordPress themes. However, it's mainly aimed at those of you who are fans of the Minimal trend. Actually, you will only find minimalist WordPress themes below, and the best thing is that all of them are free to download and use.
Please note, this article is helpful for both, people with great web design and development skills, and those who are not connected to web design at all. How can it be so? Everything is simple; some people can customize WordPress themes themselves, while others can hire a professional designer to customize themes for them. After all, it's so much cheaper than asking a designer to build a WordPress site from scratch.
Now, let's take a closer look at the WP themes featured in this article. As we've already mentioned, these are minimal WordPress themes. Some of them are responsive, meaning they work across multiple devices. Each theme is neat and clean and you can use it for any project you have in mind (whether it's a personal blog, a portfolio website, a news portal or any other type of site).
Minimalism is not the latest web design trend, but it's definitely one of the strongest trends. Why? There are many reasons for this: minimalism is strongly associated with simple and elegant feel; it allows site visitors to focus on content rather than design tricks; you will hardly find something annoying in websites following the Minimal trend, etc.
Ok, enough words. It's time to see minimal WordPress themes we've prepared for you. We hope you'll enjoy the following themes and will tell us about your favorite minimalist WP themes in the comments below.
Minimal WordPress Themes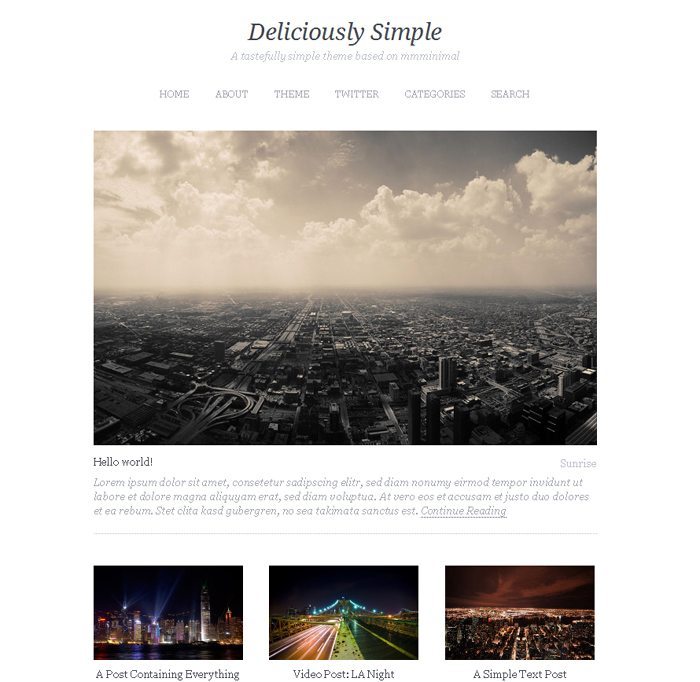 This minimalistic theme features big images, clean styles and easy browsing… perfect for modern blogs and portfolios.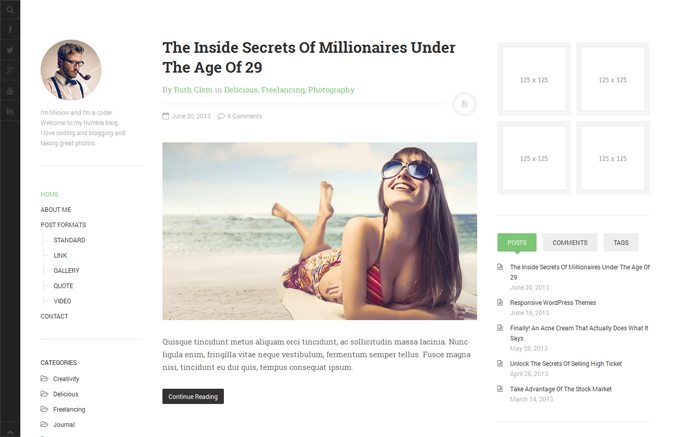 DW Minion is a simple and clean WordPress Blog Theme. This theme is designed which aims for a minimal and simple blog while showing off the most of your content.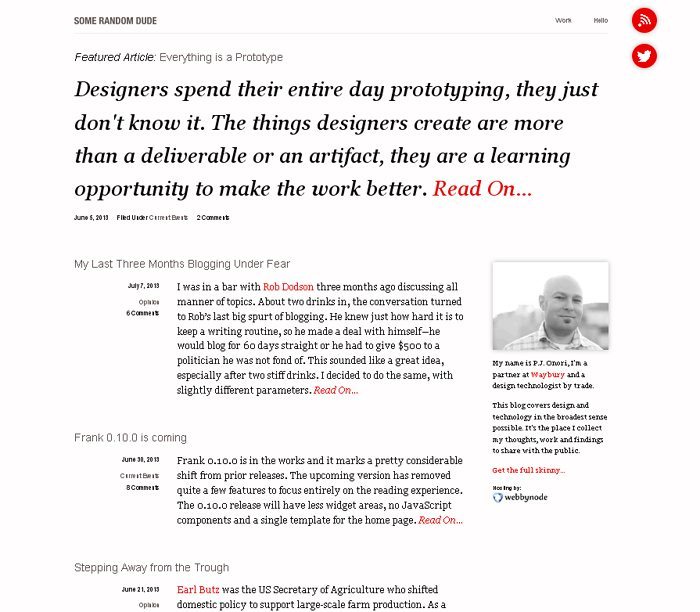 Frank is a responsive WordPress theme. It uses a modified version of the Foundation grid system. It also offers the unique feature of a modular home page layout system. The theme comes with various different layouts for your home page (1 column, 2 column, 3 column, 4 column, etc.) that can be mixed and matched. This allows for a home page with different content sections in different layouts.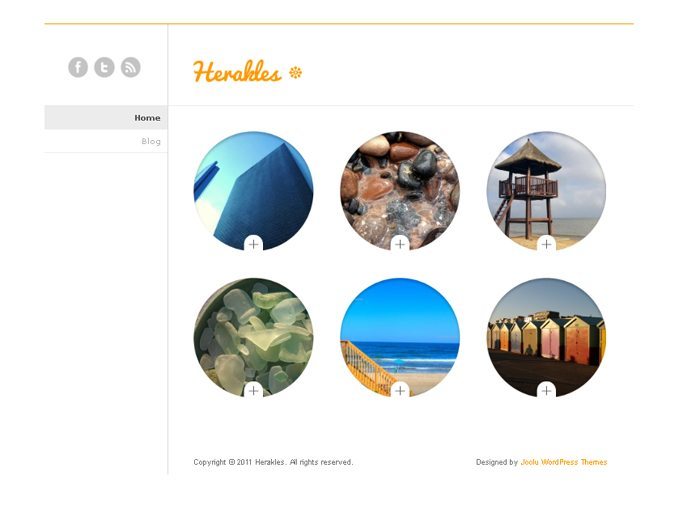 Herakles A Two-Colored in one theme makes this WordPress a dual WordPress theme not only it can change colors but also supports 3 types of homepage layouts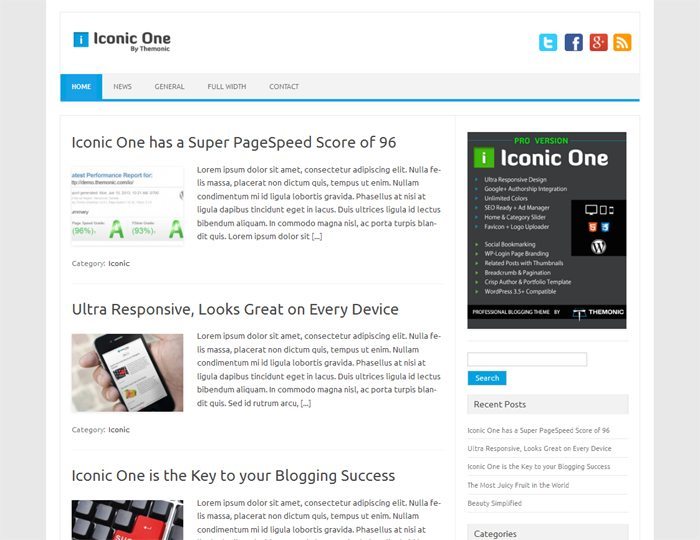 Iconic One is a premium quality theme with pixel perfect typography and responsiveness and is built for speed with pagespeed score of 95+, Iconic One implements proper SEO so that your content will rank high and is compatible with AIOSEO and Yoast SEO, It makes proper use of Live customizer that allows you to setup the theme in minutes, you can easily upload the logo, modify the background color, footer text, social media urls without touching any line of code. It utilizes latest HTML 5, CSS3 and wordPress native functions for creating the awesomeness that looks good on every browser. Free Support.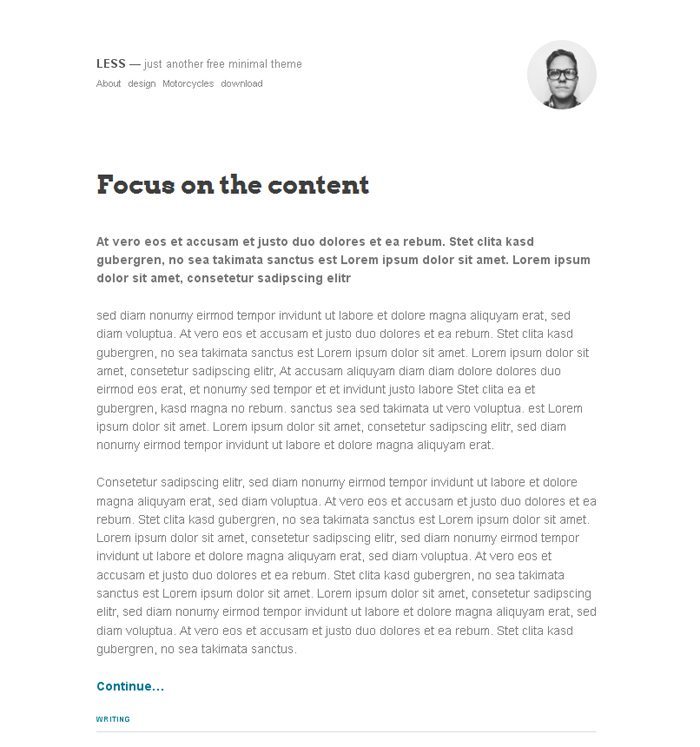 Features
single column layout
large text (since we all know our mom's are the only ones reading this)
Images are full width.. always, so don't try getting them to float.. and don't try to upload itty bitty ones.
pulls in the sites admin gravatar picture in the header
no widget
one custom menu in the header
great for LoLcats
Mobile ready
Fast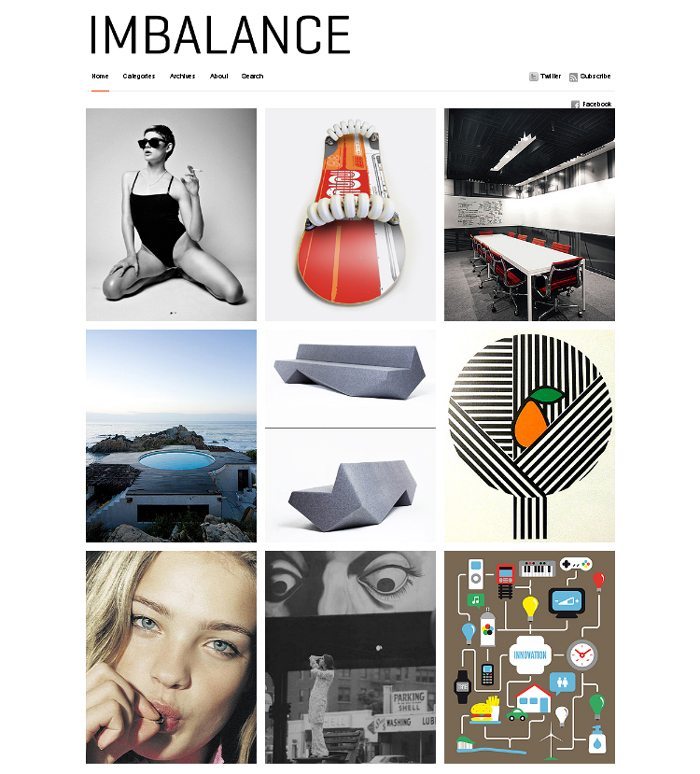 Imbalance is an excellent solution for online-mag, blog or portfolio. The user-friendly layout can attract new visitors and vibrant minimalistic design can easily fresh-up your project.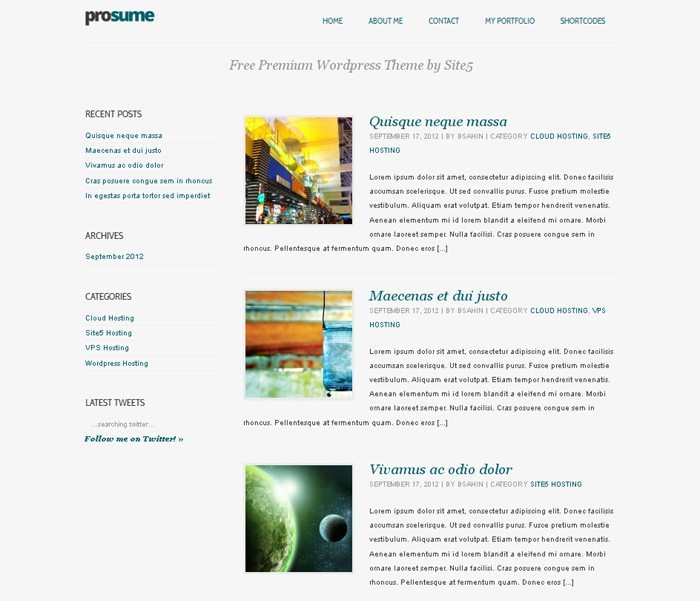 Simple, responsive, out-of-the-box theme for your blog, with portfolio templates.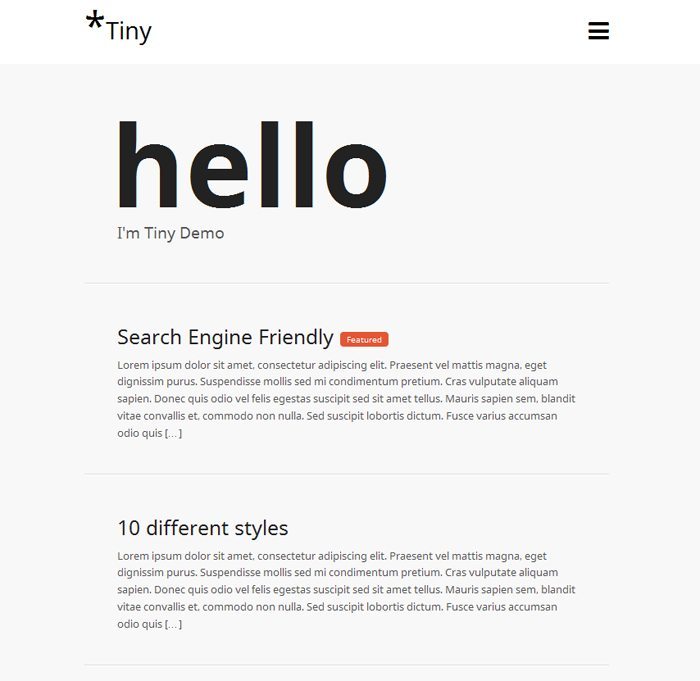 Free clean and creative WordPress theme developed by myThem.es. Theme features: custom colors, custom background, post formats, custom templates, custom logo, custom favicon; additional widgets: social, related posts, newsletter, flickr, post meta and post categories.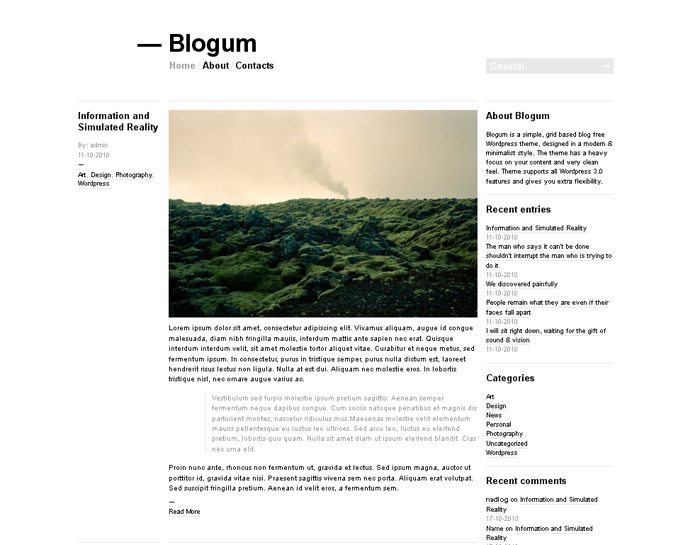 Simple grid-based WordPress minimalistic-theme, Blogum is designed in a modern style and can be used on blogs. Very clean theme markup allows your visitors to precisely focus on your content.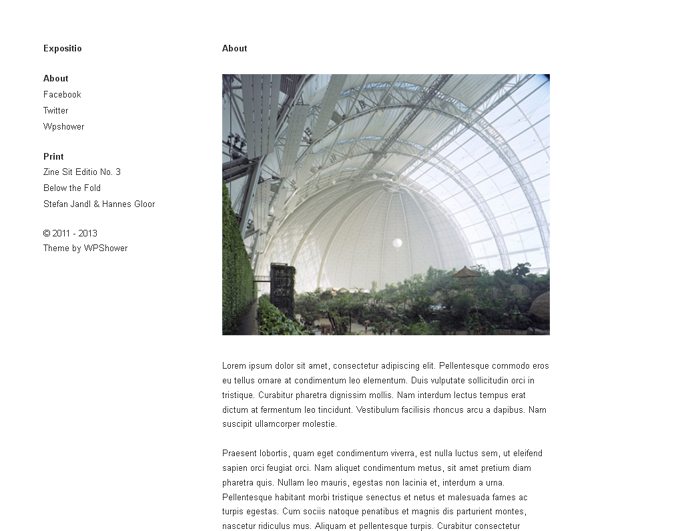 Expositio is a free portfolio-type WordPress theme for photographers and designers. Expositio theme allows you in several clicks to showcase your works to the whole world.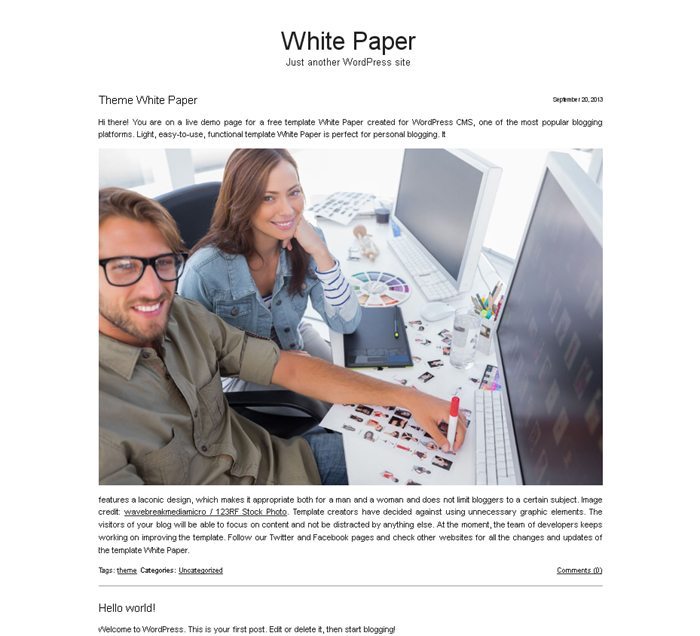 Free theme White Paper for WordPress v.3.4 +, Responsive web design
Price: Free, License: GNU GPL v3.0

FREE RESPONSIVE WORDPRESS PORTFOLIO THEME
A fully responsive portfolio theme for creative people and agencies. It's great way to display your portfolio through 4 different thumbnail size types and responsive layout. And it's completely free!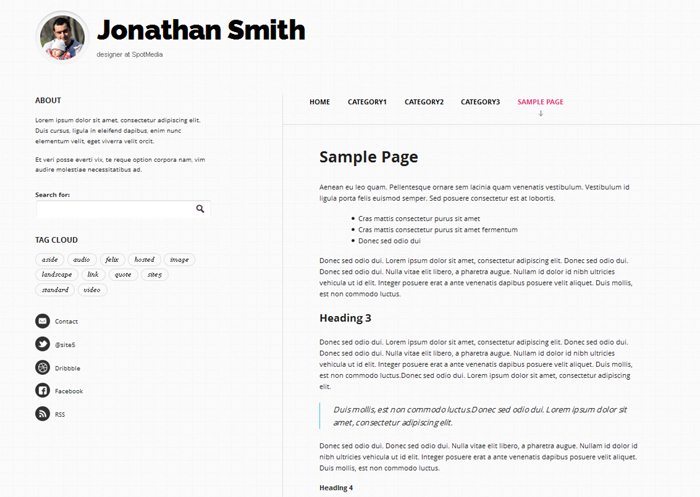 Clean, responsive theme for your targeted or personal blog.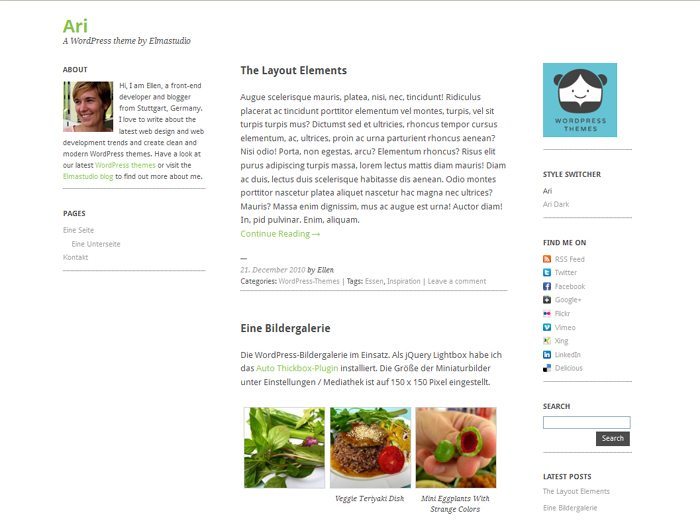 Ari is a minimalistic, flexible three-column blog theme. The theme uses CSS3 media queries for its responsive layout and is therefore optimized for tablet pcs and smart phones (the theme switches to a two-column layout when viewed on a horizontal iPad screen, and to a one-column layout on iPhones). You can also choose a dark color scheme and the backgound-, text- and link-colors can be customized in the theme options page.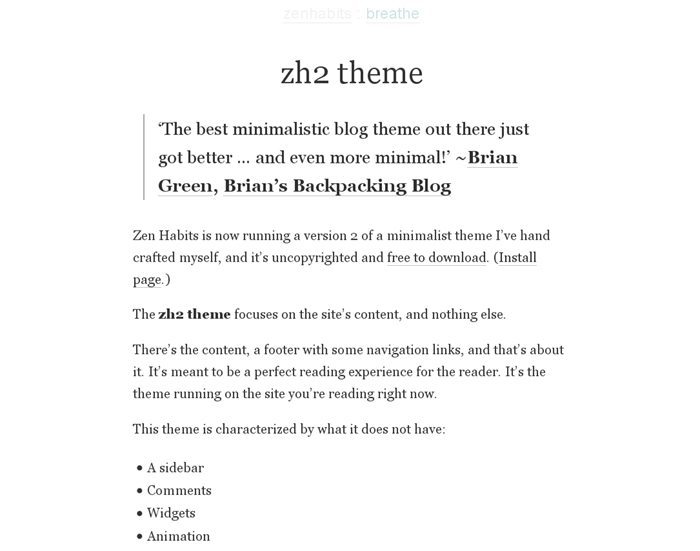 The best minimalistic blog theme out there just got better … and even more minimal!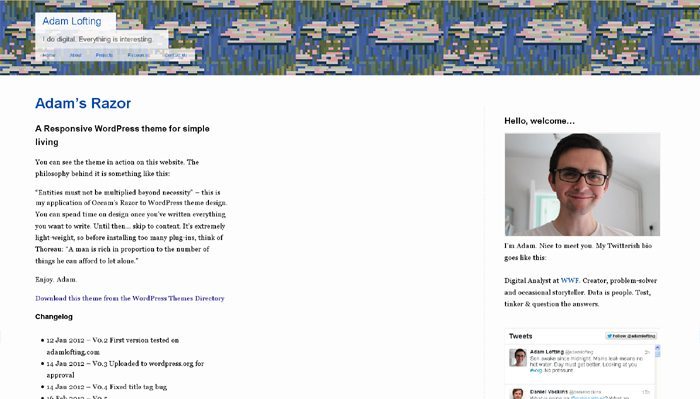 "Entities must not be multiplied beyond necessity" – this is my application of Occam's Razor to WordPress theme design. You can spend time on the design once you've written everything you want to write. It's extremely light-weight, so before installing too many plug-ins, think of Thoreau: "A man is rich in proportion to the number of things he can afford to let alone." Enjoy. Adam. P.S This theme is responsive.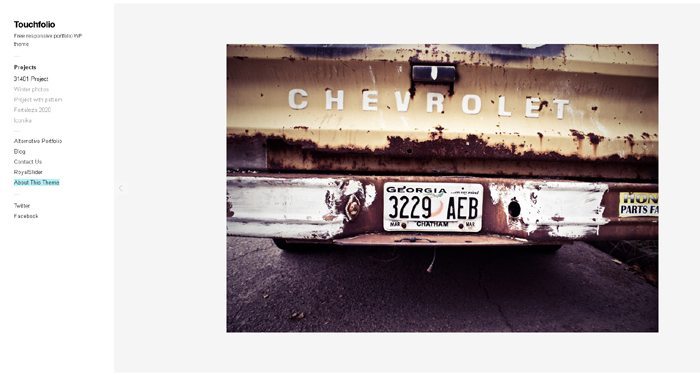 "Touchfolio" is simple theme created with the focus on content and providing a great user experience on majority of desktop and mobile devices. The theme is currently in beta, please leave feedback, report bugs and vote for ideas.
Touch-optimized free responsive portfolio WordPress theme: For photographers, designers, architects and artists. Works best on iOS.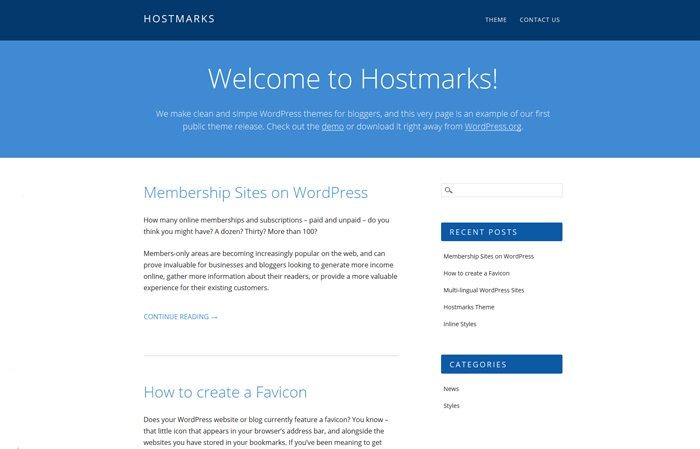 Hostmarks is a very clean and simple blog theme. It features a clean layout with contemporary typography, and the ability to customize all the principle theme colors right from the customization menu. Of course it is fully responsive, supports custom menus and widgets and comes with an alternative blog page template as well as a plain full page template for static content.
21. Satu Responsive Theme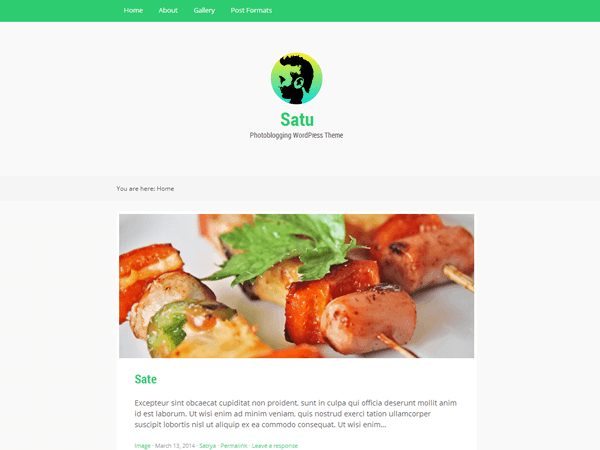 One-column beautiful and mobile friendly WordPress theme, good choice for professional blogger and smart photographer. Please open docs/readme.html to read the documentation.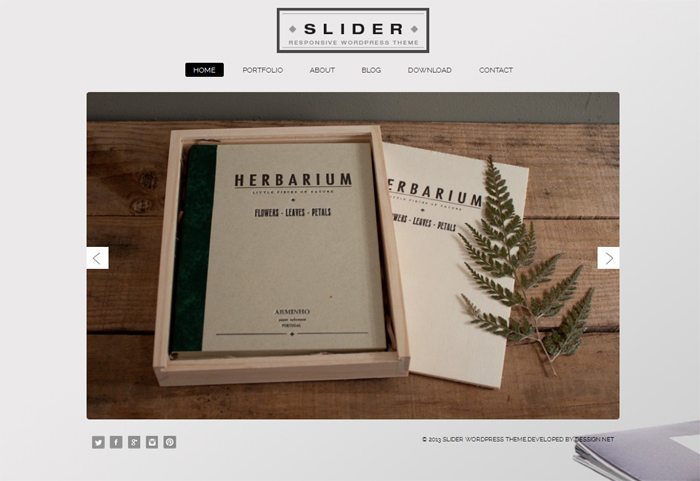 Slider FREE Responsive WordPress Theme comes with custom background and modern design great theme to showcase your portfolio. With elegant style & mobile friendly design. Your Artwork is important, showcase your imagination with style.
Wrap up
Hope you enjoyed the minimal WordPress Themes collection. We mostly prefer minimal themes on our sister sites. Do you have suggestions of minimal WordPress themes? Please let us know in the comments section to make this list more useful.